Viva Aerobus Announces First International Route from Mexico City to Las Vegas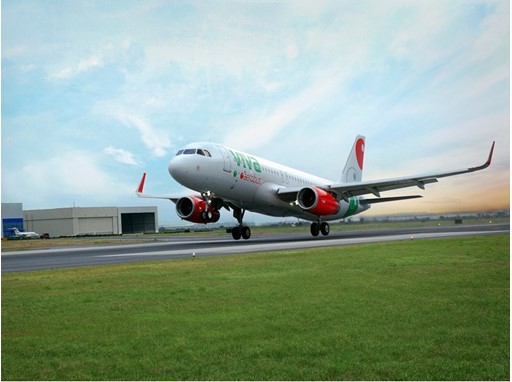 MEXICO CITY --  Viva Aerobus, Mexico's ultra low-cost airline, announces its first nonstop international route from Mexico City to Las Vegas. Passengers can now buy their tickets from $1,515 pesos (USD $82) to fly this new route that will start operations on December 16 with a daily frequency.

With this route, Viva Aerobus celebrates the launch of 12 new routes so far in 2017. Thus, the airline adds a total of 77 routes to 34 different destinations, three of them international. In this way, Viva Aerobus strengthens its commitment to tourism and to its customers, offering more and more flight options at the best price to meet the growing demand of passengers.

"We are very proud and satisfied with this new route that strengthens us, even more, as an ally of tourism. Thanks to our unbeatable prices, we make possible to more Mexican tourists to visit one of the most attractive destinations in the United States, Las Vegas. In addition, this route is also a bridge for more people to visit Mexico City from our northern neighbor ", said Gian Carlo Nucci, CEO of Grupo Viva Aerobus.

"During the first 12 months of operation of Mexico City-Las Vegas route, we will offer travelers more than 130,000 seats at the best price to fly in Mexico's most modern fleet. Therefore, with the increase in our flight offer and thanks to the trust that our passengers give us, we will continue as the fastest growing Mexican airline", said Juan Carlos Zuazua, general director of Viva Aerobus."During the first four months of 2017, we increased our passenger traffic by 44% in our entire route network", mentioned Juan Carlos Zuazua, general director of Viva Aerobus.

Additionally, according to Las Vegas Convention and Visitors Authority, the official marketing organization of this city, it is estimated that the economic impact of this new route on the economy of Las Vegas will be near $78 million dollars.

"We are thrilled Viva Aerobus has announced daily nonstop service from Mexico City to Las Vegas," said Cathy Tull, senior vice president of marketing for the Las Vegas Convention and Visitors Authority. "Mexico is the number two source of international visitation to Las Vegas, with more than 1.2 million travelers annually. Our partnership with Viva Aerobus offers additional flexibility for visitors and each seat provides opportunity for continued growth from Mexico."

"With the addition of these Viva Aerobus non-stop flights, Las Vegas is now more accessible than ever," said Chris Jones, chief marketing officer for the Clark County Department of Aviation. "In response to increased interest from travelers who live outside the United States, McCarran International Airport has recently doubled its number of international gates. Viva Aerobus passengers will find our airport is well prepared to welcome the world."

Passengers can buy their tickets on Viva's official website: https://www.vivaaerobus.com/en, in VivaTiendas, calling the Call Center 0181 82 150 150 or at any point of sale of Grupo IAMSA such as Omnibus de México, ETN, TAP, Primera Plus, Aers, TMT Caminante, La Línea and Autovías.
About Grupo Viva Aerobus
It is the holding of several companies, including the airline Viva Aerobus
About Viva Aerobus
Viva Aerobus is Mexico's low-cost airline. It started operations in 2006 and today operates the youngest Latin American fleet with 22 Airbus A320, including two A320neo on 77 routes and 34 different destinations. With a clear vision to give all people the opportunity to fly, Viva Aerobus has democratized the airline industry with the lowest rates in México and the lowest costs in Latin America, making their flights the best value offer.
The Las Vegas Convention and Visitors Authority (LVCVA) is charged with marketing Southern Nevada as a tourism and convention destination worldwide, and also with operating the Las Vegas Convention Center and Cashman Center.  With nearly 150,000 hotel rooms in Las Vegas alone and more than 11 million square feet of meeting and exhibit space citywide, the LVCVA's mission centers on attracting ever increasing numbers of leisure and business visitors to the area. Download the virtual reality app, Vegas VR, to experience Las Vegas from your iPhone or Android by visiting 
http://www.vrtv.vegas/
.   For more information, go to 
www.lvcva.com
 or 
www.visitlasvegas.com
.  
CONTACTS
Heidi Hayes

LVCVA

United States

702-892-0711
MORE FROM NEWS RELEASES
SUBSCRIBE TO RSS FEED
XML