Las Vegas News Briefs - March 2018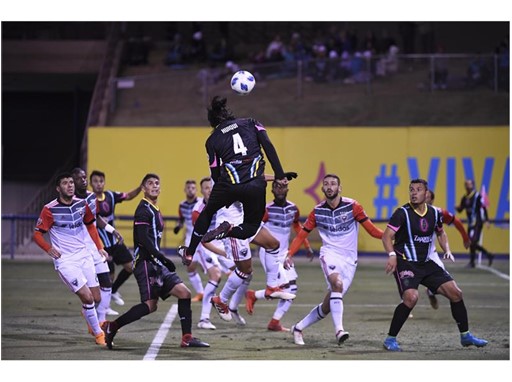 Las Vegas Lights FC Make Regular Season Debut This Month
Las Vegas' newest professional sports team, the United Soccer League (USL)'s Las Vegas Lights FC, will kick off its first regular season match on Saturday, March 17 on the road against Fresno FC. On Saturday, March 24, at 8 p.m. the Lights' first regular season home match will double as the birth of an in-state rivalry as the team hosts Reno 1868 FC at Cashman Field. The Lights will finish the month with another home match on Saturday, March 31, against the Swope Park Rangers. For more information, visit
lasvegaslightsfc.com
.
Marriott International and Witkoff to Open The Drew Las Vegas
Marriott International, Inc. and global development firm Witkoff recently announced a plan to open a new resort at 2755 Las Vegas Boulevard South, formerly known as the Fontainebleau. Ushering in a new era of world-class hospitality, the integrated resort and casino to be named The Drew Las Vegas will debut the EDITION brand in Las Vegas and mark The Strip's first JW Marriott. Anticipated to open in late 2020, the resort will feature nearly 4,000 rooms and suites as well as over 500,000 square feet of convention and meeting space. Once open, the hotels will be managed by Marriott International. Two Blackbirds Hospitality, led by renowned hotelier and former Cosmopolitan CEO John Unwin, will oversee the launch and operations of The Drew Las Vegas. As an integrated resort, The Drew Las Vegas will be home to a broad offering including a casino, luxury hotels, together with convention facilities, entertainment, nightlife, retail and dining curated into one cohesive guest experience. For more information, contact Amy Rossetti, Rossetti Public Relations,
thedrew@rossettipr.com
.
Las Vegas 51s Break Ground on New Stadium
The Las Vegas 51s recently broke ground on a new facility, Las Vegas Ballpark, in Downtown Summerlin. The team will play its final season at Cashman Field this year, and is expected to move to the new facility in time for the 2019 season. For more information, visit
milb.com
.
Harrah's Las Vegas Completes $140 Million Renovation, Celebrates 80th Anniversary of Brand
Harrah's Las Vegas has completed a $140 million transformation, which includes 1,622 modern new guest rooms and suites in its Valley Tower. Pairing seven-day-a-week free, live entertainment with a new lobby bar and casino floor, Harrah's Las Vegas offers the best value at the center of the Strip. The new look comes as Harrah's celebrates 80 years as a premier gaming brand. This latest redesign follows the renovation of 672 guest rooms and suites on the south side of the tower in 2016, resulting in a completely refreshed Valley Tower at the beloved Caesars Entertainment resort. The easily accessible Harrah's Las Vegas is steps away from various Las Vegas landmarks and attractions and is a stop on the Las Vegas Monorail line. For more information, contact Erica Johnson-McElroy, Caesars Entertainment,
ejohnsonmcelroy@caesarspalace.com
.
Neon Museum Debuts "Brilliant!"
The Neon Museum recently debuted "Brilliant!"—an audiovisual immersion experience that uses technology advances to reanimate 40 monumental examples of the museum's iconic vintage signs. Presented after dark in the Neon Museum's North Gallery, "Brilliant!" was created by digital artist and designer Craig Winslow using projection mapping to arrive at a shared augmented reality experience. Earth Water Sky served as the system designer and integrator. To guests immersed in the 30-minute experience, the unrestored, non-working and in some cases broken signs will appear to be suddenly re-electrified, as though by magic, before their eyes. Up to 50 guests at a time will be transported directly into Las Vegas' history, where the static signs come to life while accompanied by music from some of the entertainment industry's most storied performers. For more information, contact Nikki Neu, Vox Solid Communications,
nneu@wearevoxsolid.com
.
Pronto by Giada Now Open at Caesars Palace
Celebrated chef, author and television personality, Giada De Laurentiis, has officially opened her second restaurant, Pronto by Giada, at Caesars Palace. Guests can now take a quick bite of the good life with De Laurentiis' signature California-Italian fare but in a fast, casual format. All Pronto dishes are made in an abbreviated time, perfect for guests on the go or those looking for a leisurely bite. Once guests receive their dishes, a variety of seating is available from counter and bar seating to casual lounging. For more information, contact Chelsea Ryder, Caesars Entertainment,
cryder@caesars.com
.
The Mob Museum Debuts Major Renovation
The Mob Museum, the National Museum of Organized Crime and Law Enforcement, debuted its major first-floor renovation, which includes a brand-new exhibition space called Organized Crime Today, focusing on the modernization and evolution of organized crime in the present day. Two new experiential spaces include the Use of Force Training Experience and Crime Lab, which join the Museum's already robust experiential platform, focusing on methods employed by law enforcement to apprehend and prosecute criminals and their organizations. These new exhibits and experiences represent the first phase of the Museum's largest capital improvement project since opening on February 14, 2012. The final phase of the Museum's renovation and expansion will be completed this April with the opening of the enhanced Prohibition history exhibition, The Underground, which will include a working speakeasy and distillery. For more information, contact Nikki Neu, Vox Solid Communications,
nneu@wearevoxsolid.com
.
South Point Hotel, Casino and Spa Unveils $40 Million Renovation of Guest Rooms
South Point Hotel, Casino and Spa unveiled a $40 million remodel plan to its guest rooms throughout the property's three towers, which includes 2,049 rooms and 84 suites featuring new furniture, luxury flooring, crown molding, mini refrigerator and bathroom upgrades. The first phase of the redesign, which will begin in April of 2018, will be completed by September 2018, with 100 rooms currently on sale for reservations beginning in May 2018 at the South Point Hotel website. The three-year project will refurbish one hotel tower each year and is scheduled to be completed by September 2020. By the end of 2018, more than 630 newly designed rooms will be available for guests for a $10 upgraded room fee. The guest rooms offer a refreshed look with new Bernhardt furniture, such as beds, dressers, night stands, chairs, sitting tables, and lounge chairs with an ottoman. In addition, the guest rooms offer lamps with power and USB ports, functional desks for business executives and a new color palette. For more information, contact Jaclyn Dadas, Kirvin Doak Communications,
SouthPointPR@kirvindoak.com
.
Tape Face to Debut New Residency at Harrah's Las Vegas
After two successful limited engagements in 2017, modern-day mime and comedian Tape Face is returning to Las Vegas. The "America's Got Talent" alumnus has announced a multi-year residency at Harrah's Las Vegas, beginning Friday, March 16 at 7 p.m. PST. Although his show contains no dialogue, his return to Sin City will be louder than ever. In conjunction with his new show, Harrah's Las Vegas will premiere a uniquely customized theater for Tape Face's return called "House of Tape." An intimate, 200-seat venue, the brand-new showroom will be easily accessible from Harrah's main gaming floor. For more information, contact Madi Olive, Ivory Star Productions,
madi@ivorystar.com
.
The D Las Vegas Debuts Fortune Cup™ Mechanical Horse Racing Game
The D Las Vegas recently saddled up as the first Downtown Las Vegas casino to feature the new-to-market Fortune Cup™ mechanical horse racing game. Created by Konami Gaming, Inc. and to be housed on property's second-level Vintage Vegas casino floor, the new addition brings modern technology improvements to a high-demand gaming format. Fortune Cup will feature a 9-foot wide mechanical track with eight horses synchronized to real-time digital animation of the game's action through connected LCD displays. Powered by Konami's cutting-edge, cross-platform game engine, it includes 10 individualized betting stations with an intuitive touchscreen interface. Ushering in the new wave of old-versus-new throwback gaming, Fortune Cup will sit next to another famous equestrian form of entertainment at the D, the beloved Sigma Derby racing experience that has captivated gamers in Las Vegas for decades. It is one of the last two machines in the city and has served as the centerpiece of the D's Vintage Vegas section. The dueling games will offer guests two uniquely different ways to enjoy the iconic game. For more information, contact Kirsten Leeds, Kirvin Doak Communications,
kleeds@kirvindoak.com
.
Comedy Cellar to Debut First Las Vegas Location
For Comedy Lovers Only: Visit the longest-running and most successful comedy club in New York – the Comedy Cellar – without leaving Las Vegas, beginning April 5, 2018. After 36 years of selling out every show, the Comedy Cellar will open its first West Coast location at Rio All-Suite Hotel & Casino in Las Vegas. The Cellar, as insiders call it, will bring its unique vibe from the iconic, underground, Greenwich Village, "brick wall and stained glass," low ceiling design and feel —to its new, intimate 300-seat club at Rio. Even the menu will be entertaining, as the food and bar service will be provided by Rio's world-class chefs and bartenders. For more information, contact Elizabeth Furiati, The Comedy Cellar,
liz@comedycellar.com
.
Madame Tussauds Launches New DJ Experience
From pumping up the crowd to Champagne spraying and cake throwing, one never knows what fun to expect at a Steve Aoki performance. Anything can happen when the two-time Grammy-nominated international DJ and producer makes an appearance at Madame Tussauds Las Vegas, on Tuesday, March 6, for an exclusive celebration to launch a new DJ experience featuring his first ever wax figure. Guests can get behind the decks with Aoki in the state-of-the-art dance-party installation that will inspire #FOMO in any electronic dance music fan. For more information, contact Kayla Hill-Tidball, Allied Integrated Marketing,
MadameTussaudsLV@alledim.com
.
CONTACTS
Maria Phelan

LVCVA

United States

-
MORE FROM MONTHLY NEWS BRIEFS
SUBSCRIBE TO RSS FEED
XML