Las Vegas News Briefs - April 2018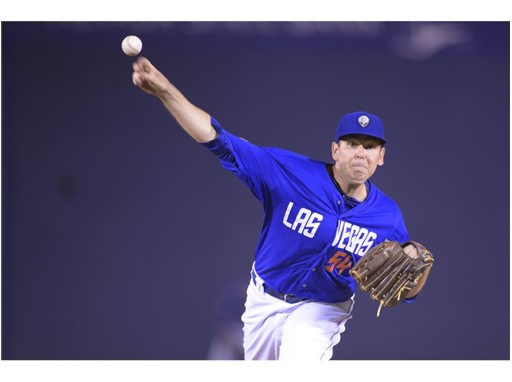 Las Vegas 51s Slide into Home for New Season
The Las Vegas 51s, professional baseball team of the Pacific Coast League (PCL), Triple-A affiliate of the New York Mets, will swing into the regular season this month with a five-game homestand against the El Paso Chihuahuas starting Thursday, April 5 at Cashman Field. In its 36
th
season in Southern Nevada, the 70-game home season will feature various promotional nights, including the traditional firework shows presented at every Friday "home" game (and a Fireworks Extravaganza on Tuesday, July 3), Dollar Beer Nights, Jersey giveaway nights and more. Additionally, eight times this season the team will take the field as the Las Vegas Reyes de Plata ("Silver Kings"), as part of a new multi-cultural fan engagement platform. Reyes de Plata celebrates the city and state's pioneering history at the forefront of the precious metal mining business that continues to define the Silver State today. For more information, visit
LV51.com
.
Madison Meeting Center to Debut at Park MGM
As part of Monte Carlo Resort and Casino's transformation into Park MGM this spring, an innovative venue within the new meetings and conference space is now booking groups for this May and beyond. The Madison Meeting Center, the first of its kind in Las Vegas, will cater to customized meetings for groups from 10 to 50 people. The 10,000-square-foot, modern-designed conference center space will offer 10 flexible rooms able to accommodate varying layouts ideal for classroom-style training, certifications, product seminars, workshops and tailored events. With two self-service lounges, ergonomic moveable furniture with integrated power along with built-in audio/visual equipment, confidence monitors and rolling whiteboards, the Madison Meeting Center will inspire interaction and encourage collaboration. For more information, contact Sandy Zanella, MGM Resorts International,
szanella@mgmresorts.com
.
The LINQ Promenade Introduces Kind Heaven
The music, film and entertainment visionaries behind a groundbreaking new entertainment venture recently announced that Kind Heaven will open at The LINQ Promenade in Las Vegas in 2019. Kind Heaven is the result of a partnership between Perry Farrell, whose Lollapalooza franchise has revolutionized the modern music festival, Immersive Artistry, whose award-winning co-founders have been responsible for major Hollywood fantasy film franchises, and Caesars Entertainment, the world's most diversified casino-entertainment provider. Combining leading edge technology and Hollywood style storytelling, Kind Heaven will take visitors on a sensual exotic journey that offers the best of Southeast Asian culture, music, food, danger, fashion, exoticism, exploration, mystery and spiritual enlightenment. Featuring a soundscape curated by Farrell, Kind Heaven will provide a wide variety of experiences, from dark and mysterious back alleys to a Forest Temple and beautiful Sanctuary. Every area will feature different food, drink, and entertainment experiences and everything will be available for purchase. For more information, contact Erica Johnson-McElroy, Caesars Entertainment,
ejohnsonmcelroy@caesarspalace.com
.
Palms Casino Resort Introduces Send Noodles
As part of its ongoing $620 million property-wide renovation, Palms Casino Resort recently unveiled Send NOODLES, an Asian-inspired concept. The restaurant will join the latest culinary additions Lucky Penny Café and A.Y.C.E. Buffet on the casino floor and will showcase an authentic and imaginative Asian fusion menu, in an intimate, art-infused environment. The restaurant features a robust menu with influences from Mandarin, Cantonese, Szechuan, Japanese, Korean and Thai cuisines as well as creative takes on American and Italian classics using Asian ingredients. Led by Executive Chef Francis Mo, the restaurant will serve vibrant dishes in a lively setting. Chef Mo has traveled the world and proudly brings to task over 40 years of experience in the culinary industry. For more information, contact Lauren Margolis,
The MINT Tavern Celebrates Opening
The MINT Tavern, a classic Las Vegas lounge featuring time-honored libations, a variety of live entertainment and 24-hour gaming, all centered around a cool and relaxed vibe, recently celebrated its official grand opening. The local-friendly spot is conveniently located just off the Las Vegas Strip. Todd Worz, nightlife mogul, and Jonathan Fine, owner of FINE Entertainment, conceptualized the space based on their mutual appreciation for the roots of Las Vegas, blending classic hospitality with a progressive tavern experience. For more information, contact Christine Moorhead, Kirvin Doak Communications,
cmoorhead@kirvindoak.com
.
SeaQuest Las Vegas Debuts Asian Small-Clawed Otter Pups
SeaQuest Las Vegas recently welcomed two new Asian small-clawed otter pups to the Interactive Aquarium located inside The Boulevard Mall. The Asian small-clawed otters are the newest addition to the aquarium, following the recent addition of two coatimundi and two capybaras. For more information, contact Kayla Agnello, Revenue Media Group,
kayla.agnello@revenuemediagroup.com
.
Zappos and Caesars Entertainment Announce Partnership
Zappos.com recently announced that it is teaming up with Caesars Entertainment, beginning with the renaming of The AXIS, Planet Hollywood Resort & Casino's world-class 7,000-seat state-of-the-art live entertainment venue. As part of the multi-year partnership, officials from both Zappos and Caesars revealed the theater will now be known as Zappos Theater at Planet Hollywood Resort & Casino. For more information, contact Talia Rothman, Caesars Entertainment,
trothman@caesars.com
.
MGM Resorts and Sydell Group Reveal Pool Oasis at Park MGM in Las Vegas
MGM Resorts International and New York-based Sydell Group have debuted the new pool oasis at the much-anticipated Park MGM. Channeling the sundrenched South of France, the vibrant outdoor escape features three pools, an oversized heated spa, 12 cabanas, lounge areas and multiple bars serving up delicious bites and beverages. Guests can mingle among friends at one of three pools – the South Pool, the East Pool or the North Pool – while lively music evokes a cool, laid-back vibe. Martin Brudnizki Design Studio drew inspiration from the natural surroundings of a country estate, incorporating layered horticulture to shape each pool space.
In addition to chaises throughout the deck area, each pool boasts Baja shelf seating and submerged wet decks, allowing guests to sunbathe while staying cool. Those seeking an elevated experience can upgrade to the VIP area by the East Pool, where they'll find deluxe cushioned chaises. For more information, contact Natalie Mounier, Kirvin Doak Communications,
nmounier@kirvindoak.com
.
Palms Casino Resort and Live Nation Present blink-182 Residency
Palms Casino Resort and Live Nation present GRAMMY-nominated trio blink-182's first-ever Las Vegas rock residency "Kings of the Weekend" at the newly renovated Pearl Concert Theater. The 16-show run, which begins May 26 with dates through November, is one of the resort's first major entertainment collaborations as part of the recently announced $620 million property-wide overhaul. In anticipation of announcing this milestone, blink-182 took a hand at making their unique mark on the property during its recent renovations. For more information, contact Alissa Kelly, PR Plus,
alissa@prpluslv.com
.
Las Vegas Monorail Unveils Mobile Ticketing with Google Pay
The Las Vegas Monorail Company announced the launch of virtual transit ticketing with the new Google Pay app for Android phones. The Monorail now offers riders the ability to quickly and easily purchase fares online and use their phone at the fare gates for immediate transit access to everything along the Las Vegas Strip. It is the first transit system in the world to fully integrate their ticketing system with Google Pay using MIFARE contactless technology. With just a few clicks, Monorail customers can now purchase and save tickets using their credit and debit cards or PayPal account linked to Google Pay with the security of Google encryption. Once customers arrive at the Monorail station, they simply tap their phone on the fare gate and ride. For more information, contact Ingrid Reisman, Las Vegas Monorail,
ingrid@lvmonorail.com
.
The Comedy Lineup debuts at Harrah's Las Vegas
Tom Green and John Caparulo will take the stage when The Comedy Lineup debuts in the Harrah's Showroom at Harrah's Las Vegas in May. Incorporating videos and music into his set, Tom Green engages the audience the minute he hits the stage, delivering laughs with every poignant observation. Known as the "under-dressed everyman," John "Cap" Caparulo is known for his impeccable comedic timing. Cap presents a sarcastic and often self-deprecating view on such topics as fatherhood and marriage, and a quick-witted approach to reflections on daily life. The Comedy Lineup will also welcome additional powerhouse comedians throughout the year. For more information, contact Hillary Smoot, PR Plus,
hillary@prpluslv.com
.
CONTACTS
Maria Phelan

LVCVA

United States

-
MORE FROM MONTHLY NEWS BRIEFS
SUBSCRIBE TO RSS FEED
XML