IMEX America Continues Setting Records in Las Vegas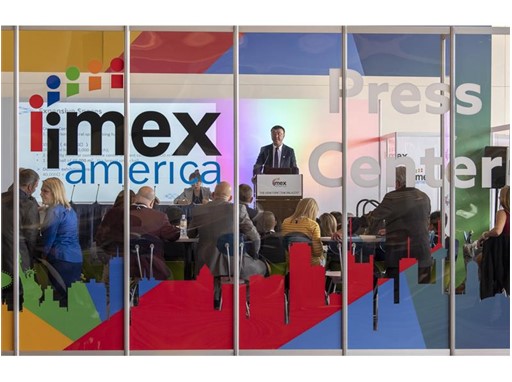 LAS VEGAS – Las Vegas' reputation as the 'meetings capital of the world' was proudly on display for thousands of the world's leading meeting and event planners during the most successful IMEX America in history. The event is billed as the industry's largest trade show in the United States.
Taking place at the Sands Expo and Convention Center Oct. 16-18, IMEX Group reports an estimated 13,000 attendees participated in this year's event generating an overall economic impact of $19.1 million. The show, which celebrated its eighth year in Las Vegas, included more than 3,500 exhibitors representing more than 150 countries. In total, IMEX Group estimates a total of 70,000 individual and group appointments in 2018.
"In Las Vegas, the event industry professionals and facilities for events represent the global industry at its best. Their professionalism and cooperation have played an important role in the development of the show," said IMEX Group CEO, Carina Bauer. "The relationships we have built here have become like family and helped to make Las Vegas feel like our second home."
During IMEX America 2018, the Las Vegas once again exhibited on the trade show floor with 32 resort and industry partners in the LVCVA trade show booth. The LVCVA conducted more than 125 meetings and group presentations. Collectively, the LVCVA and partners secured more than 600 appointments, elevating Las Vegas' presence as a leading travel destination.
"There is no doubt Las Vegas is a destination where business gets accomplished and IMEX America presents an incredible opportunity to welcome the industry's top decision makers and show them what makes our city so unique," said LVCVA Chief Marketing Officer, Cathy Tull. "Our relationship with IMEX group, paired with the support of our partners continues to keep Las Vegas at the top and we are looking forward to many more successful years."
IMEX America is committed to exhibiting in Las Vegas through 2025, a tradition both Las Vegas and IMEX Group are proud to continue.
 "From the start, the LVCVA was instrumental in helping us navigate the flow of the city and make key connections that laid the foundation for our success. They have been outstanding partners and we're grateful for all their support - it couldn't have been better," said Bauer.
In 2017, Las Vegas hosted a record-breaking 6.6 million business travelers and hosted nearly 22,000 meetings. These visitors supported nearly 65,000 Southern Nevada jobs generating $9.8 billion in economic impact.
The Las Vegas meetings industry shows continued strength with billions of dollars in investment across the destination. A marquee development for the destination's meeting sector is the construction of the Las Vegas Convention Center District (LVCCD) expansion. The project will add 1.4 million square feet to the current Las Vegas Convention Center facility, including at least 600,000 square feet of new, leasable exhibit space. It will feature a stunning design, cutting-edge technology and contemporary meeting and working spaces. The expansion is slated for completion in December 2020.
CONTACTS
Amanda Peters

LVCVA

United States

702-892-0711