Las Vegas News Briefs - October 2020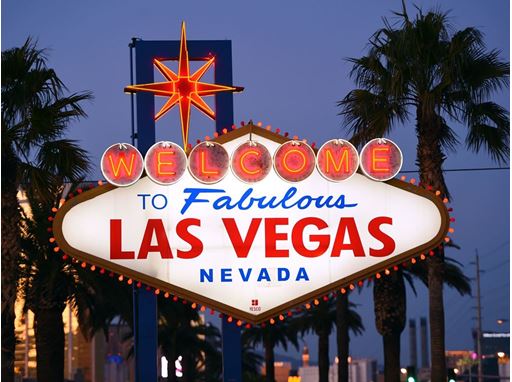 Downtown Grand Hotel & Casino Celebrates Grand Opening of Gallery Tower
Downtown Grand Hotel & Casino celebrated the grand opening of its new 495-room Gallery Tower with a rooftop ceremony on the Citrus Grand Pool Deck on September 22. The first new hotel tower constructed in Downtown Las Vegas in more than a decade, Gallery Tower at Downtown Grand is now accepting reservations. Pairing contemporary architecture with modern design and art from several mediums, the 250,000-square-foot Gallery Tower has redefined the intersection of 4th and Ogden with a vibrant new entrance to the hotel's casino floor and offers a boutique hotel experience for the modern traveler within its seven guest floors. With an assortment of room configurations, including three new 1,500-square-foot penthouse suites, 47 studio units, 20 one-bedroom suites, 313 Superior style rooms, and 112 Virtual Pad rooms, Gallery Tower's addition brings the property's total inventory to 1,124 hotel rooms. For more information, contact Thomas Judd, Kirvin Doak Communications, DowntownGrand@KirvinDoak.com.
NASCAR Cup Series returns to LVMS twice in 2021
For the fourth consecutive year, Las Vegas Motor Speedway is set to host two NASCAR Cup Series events in 2021. The speedway's annual spring date, the Pennzoil 400 Presented by Jiffy Lube, returns to its traditional first-week-of-March date and will be run on March 7, 2021. Earlier this year, the race date fell in late February. The 2021 fall South Point 400 again will kick off the second round of NASCAR's playoffs, on September 26. For more information, contact Jeff Motley, Las Vegas Motor Speedway, jmotley@lvms.com.
Circa Resort & Casino Set to Open October 28
Circa Resort & Casino – downtown Las Vegas' first integrated resort built from the ground up in 40 years – opens its doors on October 28, as the destination's only 21+ resort. The property's guestrooms and suites will debut on December 28.
On Oct. 28, Circa will debut Stadium Swim, a multi-level destination pool amphitheater operating 365 days a. Serving as the backdrop of the multifunctional pool space, a 135 x 41-foot, 14-million-megapixel LED screen will broadcast major games and popular televised events.

Circa will feature an eclectic beverage program including six original bar, lounge and coffee shop concepts that embody the essence of downtown Vegas and honor the city's most iconic eras.

The Oct. 28 opening will include the debut of Vegas' newest steakhouse, Barry's Downtown Prime. Created by Las Vegas' own Chef Barry S. Dakake, Yassine Lyoubi, Marco Cicione and Donnie Rihn, the original concept will be defined by vintage glamour, outstanding service and Chef Dakake's signature cuisine.

Additionally, Chef Dan Coughlin will open his highly anticipated pan-Asian eatery 8 East two months ahead of schedule on Oct. 28. Inspired by metropolitan Asian food markets, the dining destination will span Chinese, Japanese, Vietnamese, Korean and Thai dishes in a hip, high-energy atmosphere punctuated by great music and rare spirits.

For more information, contact Kara Rutkin, Kirvin Doak Communications, kruktin@kirvindoak.com.
AREA15, World's First Purpose-Built Art, Entertainment Complex, Now Open
AREA15, the world's first purpose-built experiential art and entertainment complex, opened to the public on Thursday, September 17. While AREA15 is free to enter, pre-registration and masks are required at this time to manage capacities and ensure a safe environment for all guests. Located in the heart of Las Vegas and minutes from the Strip, AREA15 offers immersive activations, monumental art installations, socially-distanced activations, extraordinary design elements, unique retail, ground-breaking technology, bars, eateries and much more. The complex also houses 40,000 square feet of indoor and outdoor event space with more than 800 free parking spaces. For more information, contact Desiree Webb, The Vox Agency, desiree@thevoxagency.com.
Virgin Hotels Las Vegas Announces Grand Opening Date
Virgin Hotels Las Vegas, part of Curio Collection by Hilton™, recently announced the property's grand opening date, January 15, 2021.
Virgin Hotels Las Vegas has unveiled plans for the property's more than 1,500 chambers and suites. Virgin Hotels Las Vegas and JC Hospitality LLC have recruited Studio Collective, an award-winning and highly sought-after design firm based in Los Angeles to collaborate on the design for the property's chambers and suites. The chamber designs will celebrate the property's modern desert ambiance, pairing a playful feel with the luxury and comfort that has made Las Vegas a tourist mecca. Chambers will be bright, featuring a neutral color palate with pops of whimsical touches, as well as warm and modern finishes.

Virgin has also announced its impressive roster of world-class restaurant partners. The partners will bring new and unique dining and hospitality experiences to the revitalized property. Partners include: Todd English's Olives; Chef Nobu Matsuhisa's namesake Nobu; David Morton and Michael Morton's MB Steak, and more.

Betfred USA Sports has been selected as the Sportsbook operator inside Mohegan Sun Casino at Virgin Hotels Las Vegas. The Sportsbook will be part of Mohegan Sun Casino Las Vegas' 60,000-square foot premium gaming venue, located within Virgin Hotels Las Vegas.

For more information, contact Terri Maruca, Kirvin Doak Communications, VirginHotelsLV@kirvindoak.com.
Usher Announces Headlining Las Vegas Residency at The Colosseum at Caesars Palace
Global megastar and eight-time GRAMMYÒ Award-winner Usher will headline a Las Vegas residency at The Colosseum at Caesars Palace, opening Friday, July 16, 2021. The multi-talented showman will give his fans an extraordinary immersive experience that only Usher can deliver. The exclusive, only-in-Vegas spectacular will be performed in The Colosseum, an intimate 4,300-seat world-class performance venue, allowing Usher's fans a once-in-a-lifetime opportunity to see him up close and personal. Promoted by Live Nation and Caesars Entertainment, the show will be packed with an impressive repertoire of smash hits spanning Usher's 20-year career, including his early records and more recent songs, as well as new music. The 12 performances going on sale are:
July 2021: 16, 17, 21, 23, 24, 28, 30, 31

Dec 2021: 28, 29, 31

Jan 2022: 1
For more information, contact Caesars Entertainment, Robert Jarrett, RJarrett@caesars.com.
Construction of the New MAGIC MIKE LIVE Theater at SAHARA Las Vegas Now Underway
Construction of the all-new Magic Mike Live Theater has begun at SAHARA Las Vegas ahead of the spring 2021 premiere of Channing Tatum's MAGIC MIKE LIVE Las Vegas on the world-famous Strip. Sign up now for exclusive pre-sale access and be the first to know when tickets go on sale at MagicMikeLiveLasVegas.com. MAGIC MIKE LIVE Las Vegas will take over a two-story space on the resort's second floor that will be solely dedicated to the show and its guests; utilizing this blank canvas space to the fullest, the show will implement new features and technologies making it even bigger, sexier and more magical. For more information, contact Thomas Judd, Kirvin Doak Communications, tjudd@kirvindoak.com.
Estiatorio Milos to Open at The Venetian Resort in Spring 2021
Seen as one of the finest Mediterranean seafood restaurants in the world, Estiatorio Milos will bring the flavors of Greece to The Venetian Resort in 2021. Famous for its selection of seafood imported fresh daily, Milos uses only the finest ingredients to uphold the extraordinary food philosophy of chef and owner Costas Spiliadis. Complemented by an extensive list of fine wines with a focus on Greece, and a modern aesthetic, dining at Milos is as delicious as it is memorable. For more information, contact Claudine Grant, The Venetian Resort, publicrelations@sands.com.
Las Vegas' First Smoke-Free Casino Opens
MGM Resorts International (NYSE: MGM) properties Park MGM and NoMad Las Vegas opened their doors on September 30, completing the reopening of all of its properties around the world following closures earlier this year amid the Covid-19 crisis. Park MGM/NoMad is The Strip's first fully smoke-free casino resort. For more information, contact Natalie Mounier, Kirvin Doak Communications, MGM@kirvindoak.com.
Resorts World Las Vegas Previews Design for Hilton and Conrad Guestrooms
Resorts World Las Vegas, the Strip's newest integrated resort, is providing a first look at the highly anticipated 3,500-room resort's luxury accommodations by unveiling design plans for its Hilton and Conrad guestrooms. In February, Resorts World Las Vegas and Hilton (NYSE:HLT) announced a multi-brand deal integrating three Hilton premium brands, Hilton Hotels & Resorts, LXR Hotels & Resorts and Conrad Hotels & Resorts. The US$4.3 billion integrated resort will be operated by Resorts World Las Vegas. Resorts World Las Vegas and Hilton have partnered on the overall design concepts, guest experience and service for each guestroom to create an unrivaled, fully integrated resort. For more information, contact Kristina Bello, Allied Global Marketing, ResortsWorld@alliedglobalmarketing.com.
Multi-Year Deal between Caesars Entertainment and ESPN
Caesars Entertainment, Inc. (NASDAQ: CZR) has entered into a multi-year agreement with ESPN. The new deal includes link integrations from ESPN's digital platforms to sportsbooks from Caesars Entertainment's sports betting partner, William Hill. William Hill Sports Book's odds and markets connect directly to their sports betting apps in legalized states. The deal comes shortly after William Hill became the exclusive sports betting operator for Caesars Entertainment, following the merger with Eldorado Resorts. For more information, contact Celena Haas-Stacey, Caesars Entertainment, chaas@caesars.com.
The X Pot LV, Robot Servers Debut
Founders Haibin Yang and David Zhao have completely reinvented the concept of high-tech dining with their all-new restaurant, The X Pot at Grand Canal Shoppes inside The Venetian® Resort Las Vegas. Paying tribute to traditional Chinese cuisine with its hotpot technique, The X Pot elevates the experience with a unique multi-sensory dining adventure as guests are wowed by the high-tech smart-robot technology offerings. As guests order from an expansive tasting menu filled with an array of popular Asian-fusion selections including A5 Wagyu Beef and certified Kobe Beef, they will be served by The X Pot's exclusive robotic technological program that proves the utmost efficiency in conjunction with human servers. For more information, contact Hailey Foster, NXTFactor, hailey@nxtfactor.com.
Construction of Allegiant Stadium achieves Certificate of Occupancy
On July 31, the Mortenson | McCarthy joint venture received a Certificate of Occupancy on Allegiant Stadium, the new home of the NFL's Las Vegas Raiders and notably the largest entertainment venue in Las Vegas. The joint venture team wrapped up the $1.97 billion facility on July 30, marking the end of a successful 31-month-long construction schedule, a mere 40 months after the NFL's approval of the Raiders' move to Las Vegas. The 1.8 million-square-foot stadium will also host UNLV Football and a variety of other sporting and non-sporting events. The facility features 65,000 seats, a retractable natural turf field, large operable walls that open to spectacular views of the Las Vegas Strip, a translucent roof, and a variety of premium spaces throughout all levels. On Sept. 21, the Las Vegas Raiders hosted their first game at Allegiant Stadium against the New Orleans Saints on Monday Night Football. For more information, go to Raiders.com/news.
Din Tai Fung Opening First Las Vegas Location October 19 at ARIA Resort & Casino
Din Tai Fung, the highly coveted dumpling and noodle hotspot celebrated from Taipei to Los Angeles for perfecting the art of the Xiao Long Bao, will open its first Las Vegas location at ARIA Resort & Casino on October 19. With a rich tradition dating back to 1927 in Taiwan, Din Tai Fung's Las Vegas opening marks the 25th anniversary of the concept's expansion to the United States, where it's been dazzling dumpling enthusiasts across the West Coast. The late Pulitzer Prize winner Jonathan Gold once described Din Tai Fung's precisely handcrafted Xiao Long Bao as "small miracles." The Shanghai-style soup dumplings feature the highest quality Kurobuta pork and broth that bursts upon the first bite, fragranced with aromas of fresh ginger and green onion. For more information, contact Jenn Smulo, Kirvin Doak Communications, jsmulo@kirvindoak.com.
Flamingo Las Vegas Celebrates New Partnership with Famed Potter and Designer Jonathan Adler
Flamingo Las Vegas has launched a partnership with famed potter and designer Jonathan Adler. Influenced by the resort's rich history and iconic imagery throughout nearly 75 years, Adler has elevated elements of style throughout Flamingo Las Vegas, including an exclusive lamp inspired by resort's namesake bird that will be installed in renovated rooms throughout 2020. Adler has also created a line of bespoke retail items available for purchase at the Flamingo Promenade store. Ranging from beach towels, sculptures, mugs, poker chip sets and more, the unique collection of treasures has been carefully curated by Adler and all reflect his stylish sensibilities and irreverent point-of-view. For more information, contact Kristin Soo Hoo, Caesars Entertainment, ksoohoo@caesars.com.
Henderson Silver Knights Announce Hiring of First Head Coach
Vegas Golden Knights General Manager Kelly McCrimmon recently announced that the Henderson Silver Knights have hired Emanuel "Manny" Viveiros as the first head coach of the new American Hockey League team. Prior to joining the Silver Knights, Viveiros was the Head Coach of the Western Hockey League's Spokane Chiefs for the 2019-20 season. He was also an assistant coach for the Edmonton Oilers during the 2018-19 season and served as General Manager, Head Coach and Director of Player Personnel for the WHL's Swift Current Broncos from 2016-18. For more information, contact Eric Tosi, Vegas Golden Knights, etosi@vegasgoldenknights.com.
Road to The Mirage in Las Vegas Renamed 'Siegfried & Roy Drive'
Their names lit up The Mirage marquee for nearly 14 years. Now their names will lead guests into the resort forever. As The Mirage recently reopened its doors to the public, guests turned off the Las Vegas Strip onto Siegfried & Roy Drive when they arrived at the property. The street was officially renamed for the Masters of Illusion, who were known the world over for their record-setting performance run at the resort from 1990-2003. For more information, contact Natalie Mounier, Kirvin Doak Communications, MGM@kirvindoak.com.
Bugsy & Meyer's Steakhouse at Flamingo Las Vegas Now Open
One of the most anticipated openings of the year, Bugsy & Meyer's Steakhouse at Flamingo Las Vegas is now open. The $10 million destination steakhouse embraces the resort's nearly 75-year history, while presenting it in an elevated, modern way. The restaurant's name is a nod to Flamingo Las Vegas founders, Benjamin "Bugsy" Siegel and business partner Meyer Lansky, who famously created the first resort-style hotel on the Strip back in 1946 and forever changed Las Vegas. From menu, design, and atmosphere, Bugsy & Meyer's takes notes from the past and adds fresh and elevated twists. Guests are transported from the moment they arrive, as they enter through the bakery façade, and pass the kitchen and dry aged meat cooler, giving the illusion of discreetly entering through the back as many did decades ago. From there, there are six unique experiences for guests in the space—the patio and lounge, the centerpiece bar, private dining in one of three private dining rooms perfect for groups, the raw bar, the ornate dining room and the hidden speakeasy—The Count Room. For more information, contact Chelsea Ryder, Caesars Entertainment, cryder@caesars.com.
The Neon Museum Offers New 360 Virtual Tour
The Neon Museum announces it now offers a 360 Virtual Tour, allowing visitors to "move" freely throughout the Neon Boneyard's sign collection, exploring more than 130 informational hotspots. The 360 Virtual Tour launches with an Evening Glow experience as guests tour the museum at night while the signage is illuminated. Once guests enter the museum via the virtual tour, a welcome video provides details and instruction on how to navigate the Neon Boneyard. By clicking the white circles along the museum's pathways, or by using the arrow keys, guests may freely explore the Boneyard, navigating from sign to sign while enjoying 360-degree vantage points at every stop. For more information, contact Vanessa Thill, The Vox Agency, vanessa@thevoxagency.com.
KAMU Ultra Karaoke Debuts
KAMU – Ultra Karaoke, the first high-end karaoke club on the Las Vegas Strip and the most 'note'-able in the world recently opened. Boasting an unrivaled experience with the ultimate in luxury and technology, KAMU is how Vegas does karaoke. Guests can sing that quarantine fatigue away in the comfort of one of 40 of KAMU's socially-distanced, upscale singing suites at the Grand Canal Shoppes at The Venetian Resort Las Vegas, in the Palazzo Tower. For more information, contact Michelle Wilmoth, PR Plus, michelle@prpluslv.com.