Las Vegas News Briefs - November 2017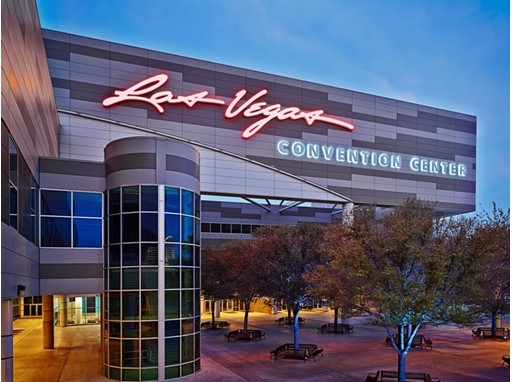 LVCVA Hosts Design Competition for Las Vegas Convention Center District Expansion Project
On Oct. 25, the Las Vegas Convention and Visitors Authority (LVCVA) received presentations by the three finalists competing to become the designer for the Las Vegas Convention Center District (LVCCD) Phase Two Expansion project. The design competition presentations took place during a joint meeting of the LVCCD Committee, a sub-committee of the LVCVA Board of Directors and the Oversight Panel for Convention Facilities in Clark County. A recommendation of a design team will be forwarded to the LVCCD Committee at its Tuesday, Nov. 7, meeting. Based on that meeting and the committee's approval, the LVCCD Committee will recommend the design team at the regular LVCVA Board of Directors meeting on Tuesday, Nov. 14, where the full board will move to vote on the recommendation. Read more about the event
here
and click
here
for images of the design renderings. For more information, contact Maria Phelan, LVCVA,
mphelan@lvcva.com
. 
WNBA Announces Relocation of San Antonio Stars to Las Vegas
The WNBA and NBA Board of Governors have unanimously approved the relocation of the San Antonio Stars to Las Vegas. MGM Resorts International will own and operate the team, which will begin play in Las Vegas in the 2018 season. The team's home arena will be the Mandalay Bay Events Center, one of the city's premier entertainment venues, having hosted major concert and sports events since opening in 1999. For more information, contact Scott Ghertner, MGM Resorts International,
sghertner@mgmresorts.com
.
Caesars Palace Completes $100 Million Palace Tower Renovation
The iconic Caesars Palace Las Vegas has completed the renovation of its Palace Tower, the resort's largest tower, featuring 1,181 stylishly designed guest rooms and suites and a price tag topping $100 million. Considered the crown jewel of the tower, the coveted 29th floor features ten luxurious new villas featuring exquisite finishes, bespoke furnishings and a curated art program. On the 29th floor, luxury abounds with ten spacious villas ranging in size from 2,750 square feet to 4,085 square feet. Like the grand villas in the Octavius, Forum and Augustus towers, the new Palace Tower villas feature the finest design details including refined flooring, intricate finishes and wall coverings imported from around the globe. For more information, contact Erica Johnson-McElroy, Caesars Entertainment,
ejohnsonmcelroy@caesars.com
.
Matt Goss Returns to Las Vegas with New Multi-Year Residency
Hit entertainer and beloved showman Matt Goss will return to the Las Vegas Strip, headlining an extended engagement at The Mirage. "Matt Goss at The Mirage" is scheduled to debut inside 1 OAK Nightclub Saturday, Dec. 2 and will be the first of its kind in the venue. Known for his impassioned performances that combine intoxicating vocal sets, big band instrumentals and old-school glamour, British-born singing sensation Goss' sleek style and unparalleled ability to engage audiences embody the magic of Las Vegas' classic lounge crooners. A favorite among visitors and locals, Goss' talents have drawn comparison to the Rat Pack, and numerous accolades proclaim him "The New King of Vegas." Goss will bring his celebrated act – including multi-piece band, sultry backup singers and Dirty Virgins dance troupe – to a scintillating new live-music experience at The Mirage. For more information, contact Lisa Campos, MGM Resorts International,
lcampos@mgmresorts.com
.
Giada De Laurentiis to Open Second Restaurant—Pronto by Giada—at Caesars Palace
Celebrated chef, author and television personality, Giada De Laurentiis, is anticipated to open her second restaurant, Pronto by Giada, at Caesars Palace in early 2018. Taking a page from her highly-successful, GIADA, at The Cromwell also in Las Vegas, Pronto, will offer guests De Laurentiis' signature Italian fare with California influences but in a fast, casual format. Pronto will be an open, light space encouraging guests from all areas of Caesars Palace to place an order, take a seat and enjoy the scenery. For more information, contact Chelsea Ryder, Caesars Palace,
cryder@caesarspalace.com
.
Master Magician Dirk Arthur Returns to Westgate Las Vegas Resort & Casino
Westgate Resorts announced the return of one of Las Vegas' most popular magicians, Dirk Arthur, and his renowned show, Dirk Arthur Wild Magic. Scheduled to open at the Westgate Cabaret inside Westgate Las Vegas Resort & Casino on Wednesday, Nov. 15, Dirk will bring a new version of his show that features breathtaking illusions and magic with comedy, sleight of hand and rare, exotic cats. Dirk Arthur Wild Magic is not only suitable for families, but great for adults too, as you'll witness sophisticated, unique magic and illusions that can only be seen at the Westgate Las Vegas Resort & Casino. The show will feature audience participation, hilarious magic with a live white duck named "Aflack," a bobcat and a rare snow leopard. Dirk's known for his work with animals and guests will even get a peek into his world of conservation and raising awareness on the humane care and preservation of wildlife. For more information, contact Laura Herlovich, PR Plus,
laura@prpluslv.com
.
Excalibur Hotel & Casino to Launch Ultimate 4-D Experience® Attraction
Excalibur Hotel & Casino is adding the much-anticipated Ultimate 4-D Experience® to its Fun Dungeon entertainment portfolio on Nov. 2. The special effects theater is created by SimEx-Iwerks Entertainment, the market leader in cinematic attractions specializing in 4-D Theaters, and brings Las Vegas a quality, family-friendly experience featuring exclusive, blockbuster content that fully immerses and entertains guests. The 72-seat Ultimate 4-D Experience® theater was developed to showcase a mix of popular, high-action brands from the world's top studios appealing to all ages.  Each blockbuster 4-D Experience® is approximately 15 minutes in length and is presented in 3-D high definition projection, producing a stunning visual experience.  The immersive nature of the attraction is heightened by incorporating the latest technologies such as in-theater and in-seat effects to create the optimum cinematic experience putting guests right in the middle of the action. For more information, contact James Woodrow, Preferred Public Relations,
james@preferredpublicrelations.com
.
The Cosmopolitan of Las Vegas Brings Back The Ice Rink
For the sixth consecutive year, The Cosmopolitan of Las Vegas welcomes the return of The Ice Rink as Boulevard Pool transforms into a winter wonderland high above the Las Vegas Strip open to the public Monday, Nov. 20. Overlooking the heart of Las Vegas Boulevard, visitors will enjoy roof-top ice skating on more than 4,200 square feet of real ice, roasting s'mores by the fire, light snow showers, adult renditions of seasonal culinary classics and breathtaking views surrounded by vibrant city lights. This year, The Cosmopolitan is thrilled to add a Christmas tree and first-ever tree lighting ceremony hosted by Olympian figure skater Kristi Yamaguchi on Monday, Dec. 4. For more information, contact Kyle Boulia, Kirvin Doak Communications,
kboulia@kirvindoak.com
.
JW Marriott Completes Two New Meetings and Special Events Venues
A transformation has taken place for meetings and events throughout Las Vegas and beyond, as JW Marriott Las Vegas Resort & Spa unveils two unique and modern spaces – Palms Executive Conference Center and Cascade. As the resort continues to invest millions of dollars in renovations, this spotlight on event space falls in line with an overall Marriott initiative that puts a focus on creative and imaginative meetings. The Palms Executive Conference Center delivers more than 15,000 square feet of customizable indoor/outdoor and pre-function space with natural light, including the Parian Room which can accommodate 50-200 guests, and nine breakout rooms to house 10-100 guests. Just off the casino floor, Cascade boasts more than 10,000 square feet of indoor/outdoor space with an open floorplan and modern design. Since opening this summer, the room has hosted special events, weddings, including the trendy wedding brunch, and business seminars. For more information, contact Alissa Kelly, PR Plus,
alissa@prpluslv.com
.
Las Vegas Monorail Partners with Lyft for New Transportation Package
The Las Vegas Monorail Company announced a new partnership with rideshare provider Lyft to allow easy and economical transport from the Strip to other destinations around the Las Vegas valley. With the Lyft partnership, anyone who purchases a full-price, unlimited-ride pass on the Monorail will receive $5 off Lyft rides issued through a special code. Purchase is available online
tickets.lvmonorail.com/lyft
. The Monorail/Lyft partnership allows visitors to enjoy unlimited access to all seven stations along the Monorail's 3.9-mile route. For more information, contact Erika Pope, Vox Solid Communications,
epope@wearevoxsolid.com
.
Maverick Helicopters and Cirque du Soleil® Launch One-of-a-Kind Package
Award-winning helicopter operator, Maverick Helicopters, has partnered with leading global entertainment company, Cirque du Soleil®, to launch a one-of-a-kind show and Vegas Nights flight package. The bundle will offer two show options, KÀ™ by Cirque du Soleil or The Beatles™ LOVE™ by Cirque du Soleil, and a spectacular Las Vegas Strip helicopter flight showcasing the entertainment capital of the world from a birds-eye-view. For more information, contact Brigette Ruiz, Kirvin Doak Communications,
bruiz@kirvindoak.com
.
Blo Blow Dry Bar Offers New Bridal Services
Las Vegas is the wedding capital of the world and Blo Blow Dry Bar is every bride-to-be's best friend.  The blow dry bar offers wedding belles signature Blo Bridal services in-bar, as well as on-location through Blo On The Go services, to produce expertly styled locks and stunning make-up for the entire entourage. Blo Bridal services start with a personalized consultation and testing of the tresses prior to the big day.  On the wedding day, brides can expect extra TLC and extended appointment times to ensure picture perfect hair and make-up, to go along with that swooning groom. For more information, contact Alissa Kelly, PR Plus,
alissa@prpluslv.com
CONTACTS
Maria Phelan

LVCVA

United States

-
MORE FROM NEWS RELEASES
SUBSCRIBE TO RSS FEED
XML