Las Vegas News Briefs - May 2021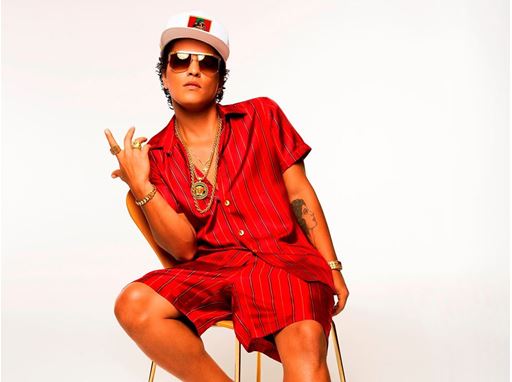 GRAMMY Award-Winning Superstar Bruno Mars Returns to Park MGM July 2021
Multi-GRAMMY Award-winning superstar Bruno Mars will mark the Entertainment Capital of the World's return to large-scale entertainment when he takes the stage over the Fourth of July weekend at Park MGM. Mars will get things started with shows July 3 and 4 at Park Theater, followed by four additional July performances. The six show dates are: July 3-4, July 9-10 and July 23-24. For more information, contact Katharine Sherrer, MGM Resorts International, ksherrer@mgmresorts.com.
Usher Adds Six Dates to Residency at The Colosseum at Caesars Palace
As he prepares to launch his headlining residency at The Colosseum at Caesars Palace on Friday, July 16, 2021, global megastar and eight-time GRAMMY Award-winner Usher has announced six additional dates from August 4 to 14, 2021 for his Las Vegas residency. The multi-talented showman will give his fans an extraordinary experience that only Usher, one of the world's best live performers, can deliver. The exclusive, only-in-Vegas spectacular will be performed in The Colosseum, an intimate 4,300-seat world-class performance venue, allowing Usher's fans a once-in-a-lifetime opportunity to see him up close and personal. For more information, contact Robert Jarrett, Caesars Entertainment, RJarrett@caesars.com.
Comedian Bill Burr Returns to The Chelsea Stage For Rescheduled Summer 2021 Dates
The Cosmopolitan of Las Vegas is pleased to announce the rescheduled summer show dates of comedian Bill Burr's 2021 residency at The Chelsea. The actor, writer, and podcast host will begin his two-year run on Friday, July 2 and Saturday, July 3 with additional dates to be announced. Burr is one of the top comedic voices of his generation achieving success in TV and film as well as on stage. For more information, contact Megan Haney, Kirvin Doak Communications, thecosmopolitan@kirvindoak.com.
SAHARA Las Vegas welcomes Chef Shawn McClain to culinary lineup
SAHARA Las Vegas is revving into high-gear, accelerating the resort's $150 million transformation with the announcement of Ballo, a new dining concept from James Beard award-winning Chef Shawn McClain and partners Richard and Sarah Camarota of MC Hospitality. With Ballo, the group will use their acumen for redefining established genres to create an experiential, high-energy destination restaurant featuring seasonal Italian cuisine representing a number of Italian regions. Signature dishes will include Ballo's selection of aperitivos, handmade pastas, Roman pizzas, an array of fresh seasonal vegetable dishes and salads, and rustic fire-roasted meats and fish, as well as a Euro-centric, eclectic wine list, unique cocktails and playful desserts featuring espresso liqueurs. For more information, contact Kelly Frey, The Publicity Lab, Sahara_PR@thepublicitylab.com.
Resorts World
Resorts World Las Vegas, the first ground-up resort development on the Las Vegas Strip in more than a decade, recently announced it will officially open its doors on June 24, 2021.
Multi-platinum, GRAMMY® Award-winning artist, DJ and producer Zedd will headline Zouk Nightclub and Ayu Dayclub

The resort unveiled its collection of exciting retail brands and shopping experiences that will debut when the Strip's newest integrated resort opens this summer. With approximately 70,000 square feet of dedicated retail space, the city's newest resort will present two levels of unique shopping experiences catering to all tastes, ranging from renowned luxury and lifestyle apparel brands to cutting-edge experiential venues. The lineup will include Judith Leiber, Hervé Léger, Pepper, Twila True Fine Jewelry and Watches, Sneaker Garden and more.

GRAMMY® Award-winning, platinum-certified, international icon and Atlantic Records recording artist Tiësto will join Zouk Group's entertainment lineup as a headliner at Zouk Nightclub and Ayu Dayclub.

Resorts World recently unveiled an utterly extravagant introduction to the US $4.3 billion property with "Stay Fabulous," an immersive, first-of-its-kind short film featuring Celine Dion, Carrie Underwood, Katy Perry, Luke Bryan, Tiësto and Zedd. The commercial offers a sneak peek of the astounding entertainment to come as a result of the unprecedented partnerships between Resorts World Las Vegas, Concerts West / AEG Presents and Zouk Group. 
For more information, contact Sarah Martinez, Allied Global Marketing (for Resorts World Las Vegas), ResortsWorld@alliedglobalmarketing.com.
Cirque du Soleil Announces Return to Stage
Cirque du Soleil Entertainment Group ("Cirque du Soleil"), the world's leading producer of high-quality live entertainment, recently marked a milestone moment in the company's history. The Cirque du Soleil sun is rising as the company proudly announces the reopening of its most iconic shows after being closed for more than a year due to the pandemic. "O" at Bellagio will mark its first performance on July 1, 2021 and Mystère at Treasure Island will return to its stage at Treasure Island on June 28, 2021. Additionally, the Group's affiliate show Blue Man Group will return to Luxor Hotel and Casino starting June 24, 2021. For more information, contact Caroline Couillard, Cirque du Soleil Entertainment Group,  caroline.couillard@cirquedusoleil.com.
Wynn Las Vegas Welcomes Mariena Mercer Boarini as Property Mixologist
Acclaimed mixologist Mariena Mercer Boarini has joined Wynn Las Vegas as the resort's new property mixologist. The Las Vegas native has been recognized as a leading cocktail alchemist and is known for her molecular prowess with multi-sensory experiences, utilizing techniques such as cham-feign foams, showstopping edible garnishes, and liquid nitrogen flourishes. In her new role, Mercer Boarini will work with bars and restaurants throughout Wynn and Encore to reinvent their cocktail programs, bringing a sense of whimsy and delight to the already beloved cocktail destinations with her exquisite, eye-catching twists on cocktail favorites. Notable among her projects is the creation of cocktail menus for several highly anticipated new restaurant concepts debuting at Wynn later this year. For more information, contact Jenn Smulo, bread & Butter, wynn@wearebreadandbutter.com.
Carlos Santana to Return to the House of Blues Stage
As Las Vegas reopens, one of the hottest tickets in town announces its return. Legendary guitarist Carlos Santana's An Intimate Evening with Santana: Greatest Hits Live will return to the House of Blues stage inside Mandalay Bay Resort and Casino this summer, marking Santana's ninth year at the intimate venue. 2021 dates are scheduled for Aug. 25, 27-29; Sept. 1-4; Nov. 3, 5-7, 10, 12-14; Dec. 1, 3-5, 8, 10-12. For more information, contact Alissa Kelly, PR Plus, alissa@prpluslv.com.
Élia Beach Club to Debut at Virgin Hotels Las Vegas
In conjunction with the continued unveiling of Virgin Hotels Las Vegas, part of Curio Collection by Hilton, JC Hospitality, owners of the resort, are pleased to announce the partnership with nightlife leaders Mio Danilovic, Jason "JROC" Craig and Michael Fuller who will operate the highly anticipated Élia (pronounced ee-LYE-uh) Beach Club. The new daylife venue will officially open its doors on June 10. For more information, contact Emily Clayton, Kirvin Doak Communications, virginhotelslvpress@kirvindoak.com.
Las Vegas Aviators Announce 2021 Ticket Sales
The Las Vegas Aviators® professional baseball team of Triple-A West (formerly the Pacific Coast League, PCL), Triple-A affiliate of the Oakland Athletics, will begin the 2021 season on Thursday, May 6 against the Sacramento River Cats, Triple-A affiliate of the San Francisco Giants, at 7:05 p.m. at Las Vegas Ballpark®, and recently announced information for purchasing reduced capacity individual game tickets at Las Vegas Ballpark®. The Aviators will release tickets on a month to month basis, beginning with the 12 home games in May.  Tickets will be sold in pods of two and four. For more information, contact Jim Gemma, Las Vegas Aviators, jgemma@aviatorslv.com.
Ribbon-Cutting Ceremony Marks Official Opening of the Expo at World Market Center Las Vegas
International Market Centers (IMC), accompanied by officials from the city of Las Vegas, held a ribbon-cutting ceremony on April 9, 2021, to celebrate the grand-opening of the Expo at World Market Center Las Vegas (WMCLV), a 315,000-square-foot exposition facility located in the heart of downtown Las Vegas. The three-year project is a $103.5-million investment by Blackstone, IMC's parent company, in the city of Las Vegas. The purpose-built facility is divisible into two halls – North and South halls – which can accommodate up to 1,000 trade show booths. The Expo at WMCLV features sizable exhibit space, an expansive lobby and registration area, onsite shuttle bus depot, attached parking garage and permanent food service areas. For more information, contact Dallas Britt, International Market Centers, dbritt@imcenters.com.
"Van Gogh: The Immersive Experience" Now Open at AREA15
Global sensation, Van Gogh: The Immersive Experience, is now showing to the public at AREA15 - the dynamic, new art, events and entertainment district located minutes from the Las Vegas Strip. Debuting in Las Vegas after international stops in Asia, the Middle East and Europe, its arrival at AREA15 marks the first time a digitally immersive and virtual reality experience of this magnitude and complexity featuring the art of Vincent Van Gogh will be seen in the United States. In advance of its wider North American release in at least eight cities this year, Van Gogh: The Immersive Experience is now exclusively showing inside The PORTAL, AREA15's 360-degree, projection-mapped room designed for events, performances and digital art installations. On view now through July 5 at AREA15, Van Gogh: The Immersive Experience is a timed 35-minute experience mapped specifically to fit the nearly 7,000-square-foot PORTAL. For more information, contact Desiree Webb, The Vox Agency, desiree@thevoxagency.com.
Red Rock Casino Resort & Spa and Vegas Golden Knights Announce 'Crimson at Knight' Pop-Up Sports Lounge
Red Rock Casino Resort & Spa, in partnership with the Vegas Golden Knights, will debut the next iteration of its experiential pop-ups with the debut of Crimson at Knight, an immersive (21+) fan viewing experience with prime game viewing, larger than life Golden Knights photo moments, plenty of food and beverage options and unmatched "Go Knights Go" energy. On the heels of the recently clinched playoff spot, Crimson at Knight debuts Friday, May 7 and will run through July. Fans will enter the space through the iconic Knight helmet down an ice hallway photo moment transporting them to a "Fortress" inspired atmosphere full of energy and the "Vegas Born" spirit. For more information, contact Alex Ladwig, Allied Global Marketing, SCMediaRequest@alliedglobalmarketing.com.
The Mirage Draws Pocket Aces as Popular 'Aces of Comedy' Series Returns July 2021
The popular Aces of Comedy series is returning to The Mirage Hotel & Casino in July with some of the biggest names in comedy scheduled to take The Mirage Theater stage. Leading the lineup are Tom Segura, Bill Maher, Chelsea Handler, Gabriel Iglesias and Jim Jefferies. For more information, contact Katharine Sherrer, MGM Resorts International, ksherrer@mgmresorts.com.
Vegas Golden Knights & Henderson Silver Knights Announce Naming Rights Partnership
Vegas Golden Knights Chairman and CEO Bill Foley recently announced the Henderson Silver Knights (HSK) and Vegas Golden Knights (VGK) have entered into a long-term partnership with Dollar Loan Center (DLC) that expands upon DLC's growing relationship with the Knights organization. Under terms of the partnership, DLC has secured naming rights for the Henderson Event Center, a 6,000-seat multi-purpose venue and future home of the American Hockey League's (AHL) Henderson Silver Knights. The Henderson Event Center, now known as the Dollar Loan Center, will also become the new home of the Southern Nevada Sports Hall of Fame. For more information, contact Brian McCormack, Henderson Silver Knights, bmccormack@hendersonsilverknights.com.
Casa Calavera Las Vegas Is Now Open at Virgin Hotels Las Vegas
Global hospitality company Hakkasan Group recently announced Casa Calavera is now open seven days a week for lunch and dinner, including Mi Casa Su Casa, its daily happy hour and Taco Tuesdays, a weekly festivity celebrating the classic entrée. Casa Calavera, a Mexican culinary and cantina concept is located poolside at Virgin Hotels Las Vegas, a part of the Curio Collection by Hilton™. Casa Calavera uses authentic flavors and techniques to create its own version of contemporary Mexican cuisine. For more information, contact Kirvin Doak Communications, VirginHotelsLVPress@kirvindoak.com.
World Series of Poker® Announces Plans for 2021
The World Series of Poker (WSOP) recently announced much-anticipated plans for 2021, including the return of the live, in-person World Series of Poker event and $10,000 No-Limit Hold'em World Championship, best known as "The Main Event®". The world-famous tournament series, which experienced record-smashing participation in 2019 and adjusted to a hybrid format to accommodate 2020, will be back in-person at Rio All-Suite Hotel & Casino this fall pending applicable state and/or regulatory approvals. Cards will be in the air for a diverse calendar of events beginning Thursday, Sept. 30 with all play concluding on Tuesday, Nov. 23. For more information, contact Chelsea Ryder, Caesars Entertainment, cryder@caesars.com.
Revel in the Warm Spring Evenings at Green Valley Ranch's "The Backyard at Sundown" Outdoor Terrace Lounge
Green Valley Ranch is inviting guests to head outdoors to its stunning new outdoor pop-up lounge "The Backyard at Sundown." The resort's lobby patio will transform into well-appointed space with picnic tables and outdoor lounge furniture all under a canopy of bistro lights overlooking the resort's sprawling "Backyard." No warm spring night is complete without an inventive array of refreshing, photogenic cocktails created by Station Casinos corporate mixologist Chelsea Caplin, and the social gathering space will be complemented by a selection of shareable snacks from the "Terrace Bites" menu including a very IG-worthy charcuterie. A carefully curated collection of wines-by-the-glass, by the bottle and flight rounds out the beverage experience. For more information, contact Sarah Martinez, Allied Global Marketing, SCMediaRequest@alliedglobalmarketing.com.
SAHARA Las Vegas reveals new resort pool plans
SAHARA Las Vegas is preparing to elevate the full resort experience with the total transformation of the main resort pool. Construction of the new Azilo Ultra Pool is nearing completion to prepare for a summer 2021 opening. Azilo's flexible poolscape and event space will combine to create Las Vegas' most immersive Ultra Pool offering an ideal location for party seekers, sunbathers and event planners. Azilo's main focal point will be its giant LED walls that wrap around the pool perimeter. The featured portion of the LED wall stretches two stories high and spans the length of the pool's south side. Totaling more than 10,000 square feet, Azilo's LED wall is one of the largest to be featured in a private setting on the Las Vegas Strip. The wall's multiple screens can be synchronized, while the main screen can be partitioned into several smaller screens, giving guests the ability to watch multiple games or events simultaneously. For more information, contact Kelly Frey, The Publicity Lab, Sahara_PR@thepublicitylab.com.
Jabbawockeez Dances to Four-Year Extension with MGM Resorts International
World-famous dance crew Jabbawockeez continues to solidify its legacy in the dance and performance world as MGM Resorts International announced today it has extended the group's contract at MGM Grand Hotel & Casino through 2025. The four-year extension follows the recent reopening of Jabbawockeez newest show, TIMELESS, in its temporary home at the MGM Grand Garden Arena. Known for their creativity, choreography, athleticism, and intricate synchronization, Jabbawockeez became the first dance crew to headline a Las Vegas theater show when they started at MGM Grand in May 2010. Over the last 11 years, the group has entertained guests at multiple MGM Resorts' properties with past productions, MUS.I.C., PRISM and JREAMZ, Journey Within as well as the current show TIMELESS, selling more than 1 million tickets. For more information, contact Katharine Sherrer, MGM Resorts, ksherrer@mgmresorts.com.
Bullring at LVMS Opens
The Bullring at Las Vegas Motor Speedway recently got back in action after a year-long absence due to the COVID-19 pandemic. The Bullring, in its 37th season (and 21st in its current configuration), is set to resume under the supervision of TJ Clark, a former driver in the NASCAR Camping World Truck Series and previous instructor at the Bob Bondurant Driving School. The Bullring has produced many great talents, including Kurt and Kyle Busch, Brendan Gaughan, Noah Gragson and Riley Herbst. For more information, contact Jeff Motley, Las Vegas Motor Speedway, jmotley@lvms.com.
Sugar Factory American Brasserie Las Vegas Set to Open at the Harmon Corner Summer 2021
Sugar Factory American Brasserie, America's favorite eatery and celebrity hotspot, is set to open a new Las Vegas location at the Harmon Corner this Summer 2021. The family-friendly, world-famous celebration destination known for its sweets and treats will have three stories of indoor and outdoor seating, a walk-up goblet bar accessible from the pedestrian bridge on Las Vegas Blvd and Harmon Ave, a whimsical candy retail store, and a fully-operable, candy dots rock climbing wall. For more information, contact Rachael Mintz, OneSeven Agency, rmintz@onesevenagency.com.
Vegas Chocolate Tour adds two new self-guided walking tours
Visitors can now explore the sweet side of the destination with a variety of tour options from Vegas Chocolate Tours. Guests can choose to take the Vegas Deluxe Chocolate Tour which includes a guide, transportation and an extended exploration of all things chocolate in Las Vegas, or choose to take the new walking only Vegas Chocolate Tour or Sweet Tastings Tour which includes a visit to Coca-Cola World for tastes of the iconic beverage from all over the globe. For more information, contact Shaena Engle, Vegas Chocolate Tours, Shaena2@aol.com.
Lip Smacking Foodie Tours Debuts New "Afternoon Culinary Adventures''
Lip Smacking Foodie Tours is excited to announce the launch of its newest excursion, "Afternoon Culinary Adventures,'' which spotlights renowned restaurants in The Venetian and Wynn Las Vegas. Offered daily at 1 p.m., this 2.5-hour tour takes guests to four top restaurants to enjoy a feast of more than 10 signature dishes. The tour begins at The Venetian with Smith & Wollensky, followed by Sugarcane raw bar grill and Estiatorio Milos and concluding with Cipriani at Wynn Las Vegas. An expert guide leads the way, offering insightful information about the resorts, restaurants, and other landmarks along the way. For more information, contact Donald Contursi, Lip Smacking Foodie Tours, don@lipsmackingfoodietours.com.
CONTACTS
Maria Phelan

LVCVA

United States

-