Las Vegas News Briefs - March 2020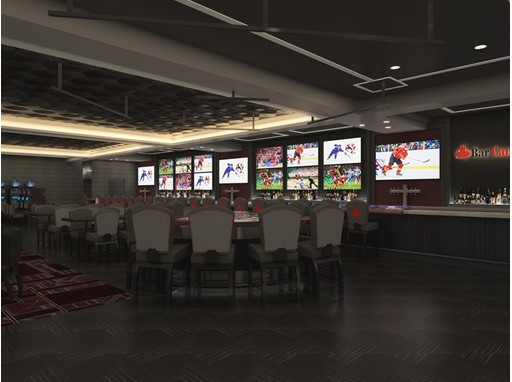 the D Las Vegas to Debut Hockey-Inspired Concept, BarCanada
Downtown Las Vegas hotspot the D Las Vegas will up the ante with the reveal of its original bar concept, BarCanada, an ode to Canadian sports and culture. Debuting in March, the hockey-inspired tavern will merge modern design, specialty cocktails and an intimate game-day viewing space as part of the hotel's second-level expansion project. BarCanada also will bring on-site programming by VSiN, where their team of experts will provide sports betting analysis and live insights. A proud partner of the D, VSiN currently broadcasts live from the hotel's sports hub LONGBAR, and will house a studio within the sportsbook at Stevens' upcoming casino-resort project, Circa Resort & Casino. For more information, contact Kara Rutkin, Kirvin Doak Communications, krutkin@kirvindoak.com.
Morrissey Takes Las Vegas by Storm with Decadent Five-Night Residency at The Colosseum at Caesars Palace
Morrissey announced his most unlikely run of dates ever, a not-to-be-missed, sure-to-be-life-changing residency "Morrissey: Viva Moz Vegas" at The Colosseum at Caesars Palace on the Las Vegas Strip this summer. Morrissey will play five nights, June 26 – 27, July 1, and July 3 – 4. The Vegas residency, his latest stateside shows after a string of acclaimed tour dates with alt-rock icons Interpol last fall, comes on the heels of the announcement of Morrissey's 13th solo album and third studio album for BMG, defiantly titled "I Am Not A Dog on a Chain," set to be released on March 20. The Vegas residency will serve as an intimate, invigorating dive into Morrissey's expansive career from his early days to the new album. For more information, contact Robert Jarrett, Caesars Entertainment, RJarrett@caesars.com.
John Fogerty Brings Final Shows of "My 50 Year Trip" Tour Back to Wynn Las Vegas
After his sold-out shows in 2019, rock legend John Fogerty is returning to Wynn Las Vegas to conclude his "My 50 Year Trip" tour. The nine shows at Encore Theater, inspired by the 50th anniversary of Woodstock and Fogerty's time with Creedence Clearwater Revival, will be the final performances of "My 50 Year Trip" and will take place on select nights from Nov. 4 – 18. For more information, contact Jesse Williams, Wynn Las Vegas, Jesse.Williams@wynnlasvegas.com.
San Francisco's Award-Winning The Slanted Door Arrives on the Las Vegas Strip March 2
The long anticipated The Slanted Door Las Vegas opens to diners on March 2, 2020. Chef Charles Phan's first project outside of the Bay Area, the restaurant offers signature favorites with Las Vegas exclusive dishes at The Forum Shops at Caesars Palace. Guests can expect award-winning Slanted Door dishes including Slanted Door Spring Rolls – gulf shrimp, pork, mint, shallot mayonnaise, and peanut sauce; Crispy Imperial Rolls – gulf shrimp, pork shoulder, vermicelli noodles, and roasted peanut; and Shaking Beef – cubed filet mignon, watercress, red onion, and lime sauce; along with exclusive dishes from Las Vegas Chef de Cuisine Lanny Chin. For more information, contact Kathryn Palmer, Authentic Public Relations, kathryn@authenticpublicrelations.com.
Famed Daylife Destination Wet Republic Ultra Pool at MGM Grand Receives Multi-Million Dollar Revamp
Global hospitality company Hakkasan Group announced plans for a multi-million dollar revamp of its internationally acclaimed daylife destination, WET REPUBLIC Ultra Pool at MGM Grand Hotel & Casino. Pioneering the 'ultra pool' concept, the 54,500-square-foot poolside party mecca will undergo an enthralling architectural and audio-visual design revitalization slated to debut in summer 2020. Identified as Las Vegas' longest-running pool party and a Strip staple, summer 2020 will offer guests additional plunge pools, a redesigned and expanded artist performance area, elevated cabanas and bungalows, furniture upgrades, and state-of-the-art immersive technology new to the Las Vegas dayclub scene. For more information, contact Krystle Anttonelli, Hakkasan Group, kanttonelli@hakkasangroup.com.
UNLVino Becomes the EVOLUTION Las Vegas Food & Wine Experience
With a nod to the past and eyes set squarely on the future, on April 18, 2020, the long-running UNLVino will transform into the EVOLUTION Las Vegas Food & Wine Experience; a multi-sensory festival with a focus on immersive activations designed around the best chefs, winemakers, brewmasters and distillers in the world. A joint collaboration between Caesars Entertainment and Southern Glazer's Wine & Spirits of Nevada, this inaugural event will be held at the new CAESARS FORUM Convention Center, located adjacent to the High Roller Observation Wheel and The LINQ Promenade. EVOLUTION will honor legendary Chef, Bobby Flay, with the Dom Perignon Award of Excellence, and will feature interactive experiences unlike any festival before it, uniting sight, sound and taste to put the attendee at the center of the action. For more information, contact Reina Herschdorfer, Caesars Entertainment, rherschdorfer@caesars.com.
LVCVA Celebrates Major Milestone as Excavation of First Tunnel in Underground Transportation System is Complete
The Las Vegas Convention and Visitors Authority (LVCVA) announced that excavation is complete in the first of two vehicular tunnels that will comprise TBC - The Boring Company d/b/a Vegas Loop underground transportation system located beneath the Las Vegas Convention Center campus. After tunneling forty feet underground for nearly a mile over the past three months, the boring machine broke through the concrete wall located near the 1.4 million square foot West Hall convention center expansion, currently under construction, signaling the official completion of excavation for the first of two one-way tunnels.  The Convention Center Loop was designed to serve as an innovative, and quick transportation solution to move thousands of convention attendees throughout the more than 200-acre campus. For more information, contact Erica Johnson, Director of Communications, LVCVA, ejohnson@lvcva.com.
SAHARA Las Vegas Goes All-In on New Poker Room as The New Resort Continues with $150 Million Transformation
SAHARA Las Vegas welcomed players to its all-new poker room on Friday, Feb. 14 with an array of game offerings and impressive room features. The new poker room boasts seven tables, a 16-foot by nine-foot LED video wall and five additional screens throughout the room along with 24/7 food options provided by Northside Café. The room also offers an extensive game chart including No Limit Texas Holdem, Limit Holdem, Pot Limit Omaha, 7-card Stud and various mix games with the ability to spread what players are seeking. For more information, contact Tara Trovato, The Publicity Lab, tara@thepublicitylab.com.
DTAlley Community Coalition Debuts dT-Alley Las Vegas' First Ever Alley Revitalization Project
The dT Alley Community Coalition, Inc (DCC), a Nevada non-profit corporation, debuts dT-Alley, a community passion project and immersive, interactive T-shaped alleyway that brings together nature, art, education, music and community in the heart of Downtown Las Vegas (DTLV). In partnership with The City of Las Vegas, the highly anticipated new outdoor corridor will serve as a gathering ground for locals and tourists alike. Located between Fremont Street & Carson and Las Vegas Boulevard & 6th Street, dT-alley will create new experiences incorporating art and interactivity through the use of murals, innovative landscaping, and multiple interactive "moments" – all of which provide a secure and beautiful space in an otherwise under-utilized area. For more information, contact Megan Fazio, Neon Public Relations, megan@neonpublicrelations.com.
Wynn Las Vegas Set to Open Delilah May 13
Wynn Las Vegas is set to open acclaimed restaurant and supper-club, Delilah Las Vegas, on May 13, 2020. The introduction of the highly-anticipated restaurant comes from the partnership between Wynn Las Vegas and Los Angeles-based hospitality company, The h.wood Group, owned by John Terzian and Brian Toll. Designed by Todd-Avery Lenahan in his first project as Chief Creative Officer of Wynn Design and Development, the room's design pays homage to the Golden Era of Hollywood with Art Deco motifs - transporting guests into the opulence of a roaring dinner party. Delilah Las Vegas at the Wynn will thrill guests with a seamless blend of restaurant and nightlife. For more information, contact Amanda Mondre, Narrative Media Group, amanda.mondre@narrativemediagroup.com.
Carol Burnett Returns to The Smith Center, June 5
Award-winning actress, comedy icon, and best-selling author Carol Burnett, best known for her work on "The Carol Burnett Show," will return to The Smith Center for the Performing Arts in Las Vegas with Carol Burnett: An Evening of Laughter and Reflection at 7:30 p.m. on Friday, June 5. Presented by Elite Entertainment, Carol Burnett: An Evening of Laughter and Reflection harkens back to the legendary openings of "The Carol Burnett Show," where her studio audience had an unfiltered opportunity to engage Burnett with questions and receive spontaneous answers. During the one-night engagement, the Television Hall of Fame member and Kennedy Center honoree will discuss memorable moments from her career, share video clips from her shows, and take questions from the audience, making each evening a unique, interactive experience. Form more information, contact Thomas Judd, Kirvin Doak Communications, Tjudd@kirvindoak.com.
Bugsy & Meyer's Steakhouse to Open at Flamingo Las Vegas
Set to debut in early 2020, the more than $10 million steakhouse will pay homage to the iconic hotels more than 70-year history. The restaurant's name is a nod to Benjamin "Bugsy" Siegel and business partner Meyer Lansky, who famously opened the Flamingo Las Vegas back in 1946 with the intention of bringing Hollywood glam to the desert. Bugsy & Meyer's Steakhouse will be a one-of-a-kind destination steakhouse, much like its resort's origins, in menu, design and atmosphere. For more information, contact Mike Young, Caesars Entertainment, myoung4@caesars.com.
LIGHTS FC ANNOUNCE MIDNIGHT SOCCER MATCH
Las Vegas Lights FC announced that its home match on Saturday, July 11th will be a "Midnight Match."  The match against Orange County SC will then kick-off at 11pm with a special midnight celebration at halftime. The original concept of "midnight" sporting events started with the former Las Vegas Wranglers professional hockey team which produced the wildly successful tradition locally years ago.  Lights FC is re-starting the local tradition and bringing it for the first time ever to professional soccer. Season Ticket members that wish to not attend due to the start time may exchange their ticket for any other home match as part of the "No Ticket Left Behind" program. For more information, contact Harry Ruiz, Las Vegas Lights FC, harry.ruiz@lasvegaslightsfc.com.
Judas Priest's 50 Heavy Metal Years Tour Coming to Zappos Theater at Planet Hollywood Resort & Casino
One of heavy metal's all-time greats, Judas Priest, will be celebrating their 50th anniversary this year with a world tour coming to the U.S. in the fall. The 50 Heavy Metal Years Tour will conclude in Las Vegas at Zappos Theater at Planet Hollywood Resort & Casino Saturday, Oct. 17 at 8 p.m. The tour will also feature Sabaton as openers and is being fueled by the highest ­charting album of Priest's career, "Firepower," which peaked at #5 on the Billboard 200. For more information, contact Robert Jarrett, Caesars Entertainment, RJarrett@caesars.com.
PSYCHO LAS VEGAS takes over Mandalay Bay Resort and Casino
PSYCHO LAS VEGAS, North America's ultimate vacation-destination music festival, will continue to redefine America's conception of what a festival can be, taking over Mandalay Bay Resort and Casino for the second year in a row August 14 – 16, 2020. Now approaching its fifth consecutive year in the sweltering neon decadence of Las Vegas, the resort-wide casino takeover will utilize four stages including the world-class Mandalay Bay Events Center, the iconic House of Blues, Mandalay Bay Beach and Rhythm & Riffs Lounge, located at the center of the casino floor. This year's PSYCHO LAS VEGAS lineup features more than 70 iconic acts, including Danzig, Mercyful Fate Down, and The Flaming Lips. For more information, contact Kelly Frey, The Publicity Lab, Kelly@thepublicitylab.com.
CONTACTS
Maria Phelan

LVCVA

United States

-
MORE FROM NEWS RELEASES
SUBSCRIBE TO RSS FEED
XML