Las Vegas News Briefs - March 2019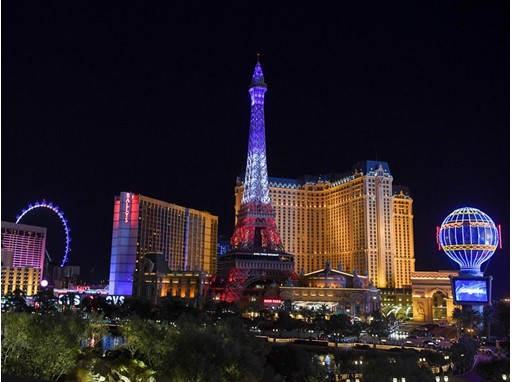 Paris Las Vegas Debuts New $1.7 Million Eiffel Tower Light Show
Paris Las Vegas illuminated the Las Vegas Strip with the debut of a $1.7 million light show at the Eiffel Tower on Wednesday, Feb. 27, joined by world-renowned chef Guy Savoy, legendary French actress and singer Line Renaud and Clark County Commissioner Jim Gibson. With a total investment of more than $92 million this year, the resort will also offer elevated experiences for its guests including an additional 1,600 renovated guest rooms and the all-new Voie Spa & Salon as it celebrates its platinum anniversary. For more information, contact Michelle Loosbrock, Jeff Wagner Agency, michelle@jeffwagneragency.com.
Jersey Shore" star, Vinny Guadagnino to guest host Chippendales
The world-famous Chippendales are thrilled to announce their latest celebrity guest host, "Jersey Shore" star, Vinny Guadagnino. The Jersey shore will meet the Las Vegas desert when Vinny joins the #1 male revue in the world for five weeks only, April 26 through May 26, 2019 (Friday through Sunday performances) at Rio All-Suite Hotel & Casino. Vinny is the latest celebrity to join the exclusive roster of guest hosts at Chippendales. From international supermodel Tyson Beckford to everyone's favorite childhood crushes, Ian Ziering and Joey Lawrence, to Dancing with the Stars and America's Next Top Model champ Nyle DiMarco, every celebrity guest who's ever donned the brand's iconic cuffs and collar has brought his own unique flavor of excitement to sold-out audiences. For more information, contact Michael Caprio, Chippendales, mc@capriomediadesign.com
Carlos Santana Announces Continued Run at House of Blues Las Vegas
Carlos Santana is looking at one of the biggest years of his career with a new album, North American tour dates, and anniversaries celebrating the band's historic Woodstock performance and the release of mega-album Supernatural. Adding to this huge year – the announcement that the guitar legend will continue his incredible live performances of An Intimate Evening with Santana: Greatest Hits Live this fall at the House of Blues Las Vegas at Mandalay Bay Resort and Casino. For more information, contact Alissa Kelly, PR Plus, alissa@prpluslv.com.
Golden Entertainment, Inc. Announces Stratosphere Rebrand to 'The STRAT'
In February the Stratosphere, Casino, Hotel & Tower began its transition to The STRAT Hotel, Casino and SkyPod, a rebrand that embodies the revolution of the iconic property since Golden Entertainment, Inc. took ownership in late 2017. Golden Entertainment began its transformation of the property through a remodel that began in mid-2018. The STRAT will continue its evolution of the property in 2019 with the introduction of BLVD & Main Taphouse; View Lounge, offering a full bar and signature cocktails with views of the casino floor; and the Race and Sports Book, a fully remodeled sports book equipped with an immersive LED wraparound wall and the highest level of wagering technology, operated by William Hill. For more information, contact Lauren Cahlan, Wicked Creative, GoldenGaming@WickedCreative.com.
Steely Dan Announces Return to The Venetian Las Vegas for Nine Show Residency
GRAMMY Award-winning jazz rock band Steely Dan has announced that it will return to The Venetian® Resort Las Vegas for a nine-night residency inside The Venetian Theatre on April 24 – May 11, 2019. Each and every night, Steely Dan will treat audiences with selections from The Dan's extraordinary catalog, packed with infectious tunes, bodacious harmonies, irresistible grooves, blazing solo work, rich ensembles and sleek, subversive lyrics. On all shows, Donald Fagen will be joined once again by the crack group of brilliant and acclaimed musicians who have famously supported him in recent years, including: Jon Herington (guitar), Connor Kennedy (guitar), Keith Carlock (drums), Freddie Washington (bass), Jim Beard (keyboards), a four-piece horn section and three backup vocalists. For more information, contact Kelly Frey (Live Nation), The Publicity Lab, kelly@thepublicitylab.com.
Pitbull Returns in 2019 to Headline Las Vegas Engagement
Following the tremendous success of his shows, GRAMMY®-winning global superstar Armando Christian Perez, aka Pitbull, will return to Las Vegas in 2019 for the fifth consecutive year of his residency, taking the stage at Zappos Theater at Planet Hollywood Resort & Casino and delivering eight high-energy performances of "Time of Our Lives" presented by SiriusXM. From Mr. 305 to Mr. Worldwide, Pitbull has landed #1 hits in over 15 countries, sold more than 80 million singles, has 84 million Twitter/Facebook/ Instagram followers and over 13 billion views on YouTube. His world tours have sold out concerts in North and South America, Europe and the Far East. For more information, contact Kelly Frey (Live Nation), The Publicity Lab, kelly@thepublicitylab.com.
Palace Station to Welcome San Diego's ¡SALUD! Tacos to its Restaurant Line Up
Palace Station, the original Las Vegas locals' casino, continues to amp up its food and beverage offerings with the addition of San Diego-based taco company, ¡SALUD! Tacos. Set to debut this March inside Palace Station's Marketplace, the Mexican food eatery will debut its first Las Vegas location and serve up a wide variety of its award-winning tacos, veggie tacos, "not taco" options, sides, and dessert – all boasting an authentic Mexican taste. For more information, contact Sara Ryan, Allied Global Marketing, stationcasinos@alliedglobalmarketing.com.
RiSE Lantern Festival Continues to Uplift and Inspire for a Sixth Year in Nevada's Mojave Desert
RiSE Lantern Festival, an inspirational gathering and movement created to awaken and uplift, returns to the Mojave Desert on Friday, October 4 and Saturday, October 5, 2019. Located just 25 miles south of Las Vegas near the Jean Dry Lake Bed, tickets for each evening of the festival are on sale beginning February 7 and are expected to go quickly. RiSE Festival is a celebratory event where thousands gather in an un-touched, serene environment to take part in a breathtaking, headlining moment of the simultaneous lantern release. Launched in 2014 near Las Vegas, RiSE is the first festival of its kind to take place in the United States and is currently the largest lantern event in the world, with events planned for Australia and Dubai. Each year, more than 25,000 guests join together to lift their spirits through witnessing an awe-inspiring release of paper sky lanterns. For more information, contact Allied Global Marketing, RiSE@alliedglobalmarketing.com.
Motley Brews to Host Ninth Annual Great Vegas Festival of Beer
Great Vegas Festival of Beer will return to Downtown Las Vegas for two days on Friday, April 5 and Saturday, April 6. Established in 2011, the festival produced by Motley Brews is expected to be the state's largest craft beer festival for the ninth time, with more than 500 beers and 10,000 attendees anticipated throughout the weekend. For more information, contact Sidney Stewart, Wicked Creative, sidney.stewart@wickedcreative.com.
Las Vegas Film Festival Announces 2019 Dates
The 2019 Las Vegas Film Festival is scheduled to take place April 28 through May 5. Additionally, Zappos has signed on as a presenting sponsor of the eight-day Festival. While the majority of the Festival will take place in venues around Downtown Las Vegas, some events will be held at the Brenden Theatres and Palms Casino Resort, which has served as home to the Festival for the past two years. For more information, contact Kelly Frey, The Publicity Lab, Kelly@thepublicitylab.com.
Aerosmith Announces 17 Additional Dates for Las Vegas Residency
Due to extraordinary demand, Aerosmith has announced 17 additional dates for their Las Vegas residency at Park Theater at the new Park MGM resort. America's all-time top-selling rock 'n' roll band will launch AEROSMITH: DEUCES ARE WILD Saturday, April 6, with several of their 18 previously announced shows already sold out. Aerosmith's Las Vegas residency, promoted by Live Nation and MGM Resorts International, will bring you face to face with America's Greatest Rock 'N' Roll band in one of the most immersive, state-of-the art audio and video technology experiences in Las Vegas. For more information, contact Kelly Frey, The Publicity Lab, Kelly@thepublicitylab.com.
UNLVino Celebrates Its 45th Year April 11-13
Las Vegas is sipping red and white as UNLVino, proudly sponsored by Southern Glazer's Wine & Spirits of Nevada since the event's inception, returns for its 45th year as Las Vegas' longest running wine and food festival. Benefitting the students of UNLV's Harrah College of Hospitality, this highly anticipated event returns for three incredible nights with Bubble-Licious on Thursday, April 11 from 7 to 10 p.m. at the Keep Memory Alive Events Center in downtown Las Vegas' Symphony Park, Sake Fever at Red Rock Casino Resort & Spa's pool on Friday, April 12 from 7 to 10 p.m., and the Grand Tasting at The Mirage Event Center on Saturday, April 13 from 7 to 10 p.m. For more information, contact Kayla Rambo, Revenue Media Group, Kayla.rambo@revenuemediagroup.com.
Def Leppard Hits Vegas: The Sin City Residency
2019 will be another influential year for legendary British rock 'n' roll icons Def Leppard. In addition to being inducted into the Rock & Roll Hall of Fame® on March 29, 2019, the band will be taking over the Las Vegas Strip later this year with their exclusive headlining residency show. Promoted by Live Nation and Caesars Entertainment, Def Leppard Hits Vegas: The Sin City Residency kicks off Wednesday, Aug. 14 at Zappos Theater at Planet Hollywood Resort & Casino. For more information, contact Kelly Frey, The Publicity Lab, Kelly@thepublicitylab.com.
Big Blues Bender Announces 2019 Lineup and Move to Hard Rock Hotel & Casino Las Vegas
Big Blues Bender has announced that it will move to the Hard Rock Hotel & Casino Las Vegas for its 6th annual festival, to be held September 5 – 8, 2019. After selling out the past several years, moving to a larger location will allow this annual only-in-Vegas hotel takeover event to accommodate more guests and feature larger acts. Big Blues Bender gives fans the opportunity to see the biggest names in Blues music in an intimate event over the course of four days in the Entertainment Capital of the World. Additionally, event organizers have announced the initial lineup for this year's Bender, with more artists to be announced in the coming months. The 2019 Big Blues Bender will feature: Robert Cray, Little Steven And The Disciples of Soul, Tab Benoit, Ruthie Foster, and many more. For more information, contact Kelly Frey, The Publicity Lab, Kelly@thepublicitylab.com.
Restored Hard Rock Café Sign to be Illuminated for the First Time in the Neon Museum Boneyard, March 4
The newly restored, re-electrified Hard Rock Café guitar sign will be illuminated for the first time during a private event for museum donors and VIPs. The sign was divided into six pieces in order to be transported to the Neon Museum Boneyard from the Young Electric Sign Company (YESCO). Prior to restoration by YESCO, the sign had been located in front of the Hard Rock Café for 27 years. In its new Boneyard home, it joins many other historical Las Vegas neon signs where its history can be shared with guests and visitors from around the world. For more information, contact Erika Pope, The Vox Agency, erika@thevoxagency.com.
AREA15 to Offer Distinctive Special Events Space
For the first time, AREA15, Las Vegas' new immersive entertainment, retail and dining destination opening this December, unveils 40,000 square feet of unique event space within a wholly reimagined world of art, technology and design. Space will be available for group event bookings of all sizes for any occasion beginning in January 2020. Located just seven minutes from the Las Vegas Strip, AREA15 is an experiential retail and entertainment complex offering live events, immersive activations, art installations and much more. The complex will attract locals and tourists of all ages seeking an ever-changing landscape of new and unique experiences. Anchor tenant, Meow Wolf, will create interactive art activations to transport audiences of all ages into fantastic realms of story, exploration and discovery. For more information, contact Marina Nicola, The Vox Agency, marina@thevoxagency.com.
The NoMad Pool To Debut In March
Having successfully infused their trademark style into Vegas' hospitality and dining scenes with the opening of NoMad Las Vegas at Park MGM, Sydell Group and Make It Nice, are set to energize the city once more with the March 22 debut of The NoMad Pool and JEMAA - The NoMad Pool Party, a lively weekend series launching in April. A seductive and energetic daytime experience, JEMAA will feature the cocktail explosions the NoMad Bar is renowned for, tableside service, a roster of DJs and artists delivering nuanced music programming — including a tropical house vibe on Sundays — and even a cocktail fountain that can be delivered to the cabana for guests who really want to step up the action. For more information, contact Renata Follmann, Rossetti Public Relations, NoMadLV@rossettipr.com.
The Venetian Resort Las Vegas Launches Immersive Tool for Meeting Professionals
Furthering The Venetian® Resort's commitment to innovation, the resort recently announced the launch of the Venetian Meetings Virtual Planner®, an industry-leading tool aimed at MICE professionals. This unique application allows prospective customers the ability to customize and research venues prior to contacting a representative at the resort. The convenient and innovative tool aims to inspire users to conduct their meetings at the resort by providing a virtual look at event space and a one-stop-shop to requesting a proposal from the knowledgeable sales team on property. In addition to providing the dimensions and capacities for each venue, Venetian Meetings Virtual Planner takes users through a virtual tour of the venues and provides fly-through videos and photos. Once a user has determined their event space, they are able to design a configuration to suit their needs, in two and three dimensions, and attach the customized layout to the RFP. For more information, contact Elaine Chaivarlis, The Venetian Resort Las Vegas, Elaine.Chaivarlis@sands.com.
Third Annual LAS RAGEOUS Music Festival Returns to the Downtown Las Vegas Events Center
Back for its 3rd year, Las Vegas' premier rock and metal music festival Las Rageous makes its highly anticipated return to the Downtown Las Vegas Events Center on Friday, Oct. 18 and Saturday, Oct. 19. In 2018, Las Rageous celebrated its second year with 20,000 in attendance over the weekend, as music fans from all over the world journeyed to Las Vegas for the rare experience of seeing huge rock and metal acts perform on intimate stages. In its first two years, Las Rageous has featured memorable sets from Five Finger Death Punch, Avenged Sevenfold, A Perfect Circle, Godsmack, Anthrax, Judas Priest, A Day To Remember, Breaking Benjamin and dozens more. For more information, contact Kelly Frey, The Publicity Lab, Kelly@thepublicitylab.com.
Xavier Mortimer's Magical Dream Hosts Debut Event at Bally's Las Vegas' Windows Showroom
Award-winning magic show, Xavier Mortimer's Magical Dream, hosted a magical grand debut event to commemorate its move to Bally's Las Vegas' Windows Showroom in February. Internationally-renowned illusionist and former Cirque du Soleil star, Xavier Mortimer, along with French celebrity and the show's producer, Alex Goude, welcomed media, entertainers and guests to the celebration of the spellbinding production's transition to the larger theater. Mortimer's revamped performance introduced new reality-defying visuals and interactive audience participation. For more information, contact Sebastian Moradi, Wicked Creative, sebastian.moradi@wickedcreative.com.
The Naked Magicians Celebrate Grand Opening of First-Ever Las Vegas Residency
The Naked Magicians celebrated the grand opening of their first-ever Las Vegas residency at MGM Grand Hotel & Casino on Friday, Feb. 22 with a night of magic, muscles and endless laughs. Guests heralded the arrival of the show's stars, Mike Tyler and Christopher Wayne, with a "stripped-down" affair at Brad Garrett's Comedy Club. Leaving little more to the imagination than their magical feats, Tyler and Wayne had guests rolling in the aisles, as they brought a whole new meaning to the phrase, "now you see it," and proved that while good magicians don't need sleeves, great magicians don't need pants. Two of Australia's most famous magicians, Tyler and Wayne have performed and undressed for millions of fans in more than 200 cities and seven countries in high-profile locations including London's world-famous West End, since following the requests of several boisterous audience members to make their clothes disappear. For more information, contact Stephen Will, The Publicity Lab, stephen@thepublicitylab.com.
The Strip Gets Raw with New Cookie Dough Dessert Bar
Doughp (pronounced 'dope') is coming in fresh from the Bay Area, making a new home at Miracle Mile Shops at Planet Hollywood Resort & Casino.  The second outpost, and first Vegas location, caters to the sweetest addiction of all – raw edible cookie dough in a fun, booze-free bar environment. Cookie dough lovers will dive spoon (or face) first into endless cookie dough flavor combinations that can all be enjoyed raw or taken home to bake. For more information, contact Michelle Wilmoth, PR Plus, michelle@prpluslv.com.
Janet Jackson Announces Las Vegas Residency Metamorphosis
Global music icon, multiple GRAMMY® Award-winner and multi-Platinum selling artist, the incomparable Janet Jackson, is taking over the Las Vegas Strip with her headlining residency Metamorphosis beginning Friday, May 17 at Park Theater at Park MGM resort. Metamorphosis peels back the layers of the immensely private life of Janet Jackson, sharing her transformation from a young girl with issues of self-esteem to global Icon. The centerpiece of this all new thought-provoking show, will be Janet herself, captivating you through your senses with electrifying visuals, explosive dance numbers, chart-topping hits and fan favorite deep cuts.The show also features a special 30-year anniversary celebration of her ground-breaking album 'Rhythm Nation.' For more information, contact Kelly Frey, The Publicity Lab, Kelly@thepublicitylab.com.
"Elvis Presley's Heartbreak Hotel in Concert" Set to Debut at Harrah's Las Vegas
From the producers of "Rock of Ages" comes "Elvis Presley's Heartbreak Hotel in Concert," the ultimate Elvis hit-driven, story-telling concert experience, opening Monday, April 15, 2019 at Harrah's Las Vegas. Presenting the music and the story of Elvis' meteoric rise to fame all in one night's immersive experience, the show features more than 18 Elvis songs that came to define "rock 'n' roll" as we know it today, while four giant LED walls present authentic imagery and scenes from his extraordinary life. "Elvis Presley's Heartbreak Hotel in Concert" is the only Elvis production in Las Vegas authorized by Authentic Brands Group, owner of Elvis Presley Enterprises, LLC. Inspired by the musical originally written and directed by Floyd Mutrux and now adapted for the stage by Ivan Menchell, the concert version of the show in Las Vegas is being staged by Broadway veteran Jeff Calhoun. Unlike previous versions of the show, the Las Vegas production will focus on the music and will be a concert performance. For more information, contact Kelly Frey, The Publicity Lab, Kelly@thepublicitylab.com.
Pursuit Expands Flight Ride Experience to Las Vegas
Pursuit, a business unit of Viad Corp (NYSE: VVI), announced today that it will expand its flight ride concept to Las Vegas. Modeled after Pursuit's highly successful FlyOver Canada attraction, FlyOver Las Vegas will provide guests with an exhilarating flight experience over the American Southwest's most iconic locations, picturesque scenery and natural wonders. With construction to begin later this year, the new attraction is anticipated to open in early 2021. This new Las Vegas experience will mark the third FlyOver attraction for the global adventure travel brand, following the highly anticipated launch of FlyOver Iceland in Reykjavik in summer 2019. The new year-round attraction will be located on Las Vegas Boulevard. For more information, contact Tanya Otis, Pursuit, totis@pursuitcollection.com.
Tropicana Las Vegas to Debut All-New Bar & Lounge Concept, Trago Lounge
Tropicana Las Vegas is pleased to announce the addition of its all-new bar and lounge concept, Trago Lounge, set to debut March 2019. Located off the casino floor, steps away from the newly renamed Legends in Concert Theater, the completely revamped bar and lounge will feature a touch of classic elegance and offer the ultimate locale to mix and mingle with friends or colleagues, paired with an upscale beverage program. From business travelers to gamblers, upscale tourists and locals alike, the new Trago Lounge will showcase its contemporary design with an open layout overlooking the casino floor, all in a warm and inviting atmosphere. Boasting over 3,500-square feet, the all-new venue will feature bar and lounge seating, allowing for up to 100 guests, complete with a full-service menu with an emphasis on scotch, tequila, and whiskey, plus high-end spirit options, making it a great destination for a variety of occasions. Whether it's business or pleasure, Trago Lounge will be the perfect location to start a conversation or cap off a memorable evening. For more information, contact Sara Ryan, Allied Global Marketing, troplv@alliedglobalmarketing.com.
Maxie's at The LINQ Promenade to Debut in March
Maxie's at The LINQ Promenade will debut on March 15, becoming Las Vegas' newest hotspot for breakfast, lunch and dinner. Maxie's menu will feature ostentatious breakfast and lunch classics, as well as a collection of contemporary deli dishes. Operated by Hospitality Boulevard, Maxie's will be located next to the base of High Roller, the world's tallest observation wheel. Maxie's will offer contemporary modern diner décor with distinctive accents such as a clean color palette of gray and white punctuated with pops of aqua and red, a black and white checkerboard ceiling and comfortable indoor and outdoor seating. For more information, contact Marina Nicola, The Vox Agency, marina@thevoxagency.com.
Music Legend Dionna Warwick Returns to the Las Vegas Strip
Six-time Grammy Award-winning, music legend Dionne Warwick returns to the Las Vegas Strip as she brings her limited engagement, "An Evening with Dionne Warwick," to Jubilee Theater at Bally's Las Vegas starting April 4, 2019. Honored with this year's Grammy Lifetime Achievement Award, Warwick will entertain audiences with a stunning musical journey of her multitude of hit songs that have made her the second-most charted female vocalist of all time. For more information, contact Brandee Taeubel, Caesars Entertainment,
Spiegelworld Announces New Las Vegas Production: ATOMIC SALOON SHOW
Could this become the wildest watering hole in Las Vegas? Her first hotel was acquired by the government as an atomic bomb test site, but, decades later, Boozy Skunkton has returned to take over the Kraken Music Hall, a hidden saloon bar in the heart of Grand Canal Shoppes at The Venetian Resort. Boozy has collected the "most abnormally sexy but sensationally amoral" troupe of entertainers on Earth and is determined to create the greatest saloon show the world has ever known.  ATOMIC SALOON SHOW begins Las Vegas performances on Sept. 8, 2019. With an international cast of comic actors, variety acts, and acrobats, ATOMIC SALOON SHOW will take audiences to the Wild West as it never was. Ensuring she can oversee the day-to-day wrangling of her band of misfits, Madam Skunkton has enlisted the assistance of Spiegelworld and Britain's leading comedy director Cal McCrystal to create the new show that's envisioned as  "Blazing Saddles" meets "America's Got Talent" meets "Westworld." For more information, contact Thomas Judd, Kirvin Doak Communications, tjudd@kirvindoak.com.
CONTACTS
Maria Phelan

LVCVA

United States

-
MORE FROM NEWS RELEASES
SUBSCRIBE TO RSS FEED
XML