Las Vegas News Briefs - April 2022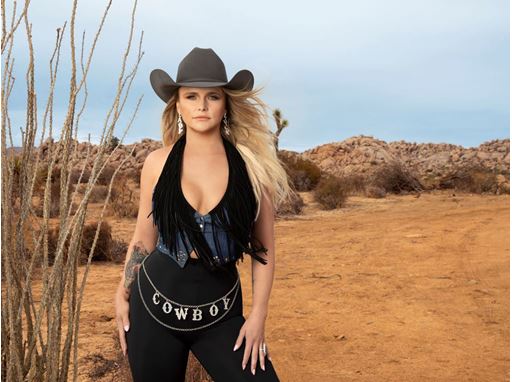 Miranda Lambert Announces Headlining Las Vegas Residency at Zappos Theater at Planet Hollywood Resort & Casino
On the heels of being crowned Entertainer of the Year at the recent Academy of Country Music Awards, where she holds the record as the most decorated artist in ACM history, Miranda Lambert will now celebrate the next chapter in her storied musical journey with a headlining Las Vegas residency. "Miranda Lambert: Velvet Rodeo The Las Vegas Residency" opens Friday, Sept. 23, 2022 for a run of 24 shows at Zappos Theater at Planet Hollywood Resort & Casino. Designed exclusively for Zappos Theater and promoted by Live Nation and Caesars Entertainment, "Miranda Lambert: Velvet Rodeo The Las Vegas Residency," will give fans an up close and personal opportunity to experience live performances of the numerous chart-topping songs and beloved album cuts from Lambert's seven No. 1 albums as well as her forthcoming project, Palomino, set for release April 29. For more information, contact Kelly Frey, KF Publicity, kelly@kfpublicity.com.
Formula 1 will race in Las Vegas from 2023
Formula 1 and the Las Vegas Convention and Visitors Authority (LVCVA) are happy to announce that the Las Vegas Grand Prix will join the FIA Formula One World Championship from 2023. The race will take place at night, on a Saturday in November, on the famous Las Vegas Strip with the track sweeping past some of the world's most legendary landmarks, hotels and casinos. The incredible neon lights of Las Vegas will be the backdrop for Formula 1's third race in the US and highlights the huge enthusiasm and excitement in the US for Formula 1 as the sport continues to grow its global fan base. Formula 1 and Liberty Media will work together to promote the race in partnership with Live Nation Entertainment and the LVCVA, as well as Founding Partners Caesars Entertainment, MGM Resorts International, and Wynn Las Vegas and Presenting Partners MSG Sphere, Resorts World Las Vegas and The Venetian Resort. The track design is 3.8 miles (6.12km) long from start to finish with top speeds estimated to be over 212 mph (342 km/h). There will be 50 race laps with three main straights and 14 corners, including a high-speed cornering sequence and a single chicane section. For more information, contact Formula 1 Press Office, f1media@f1.com.
NFL OnePass Launches For Fans To Register For NFL Draft Experience In Las Vegas
The NFL Draft Experience, the NFL's interactive football theme park, will be free and open to the public in Las Vegas at the heart of the Strip during all three days of the Draft (April 28-30). The NFL Draft Experience and Draft Theater will be located behind the High Roller and the LINQ, adjacent to Caesars Forum. For free entry to Draft Experience, fans are required to register for NFL OnePass at NFL.com/OnePass. Fans can download the NFL OnePass app to play games at Draft Experience, receive digital content and enter for a chance to win exclusive prizes, including a grand prize trip for two to Super Bowl LVII in Arizona. For more information, visit nfl.com/draft.
The Cosmopolitan of Las Vegas Announces Partnership with KultureCity in Honor of Autism Acceptance Month
The Cosmopolitan of Las Vegas is pleased to announce its partnership with KultureCity, a nonprofit dedicated to raising acceptance and assisting individuals of all ages who have sensory needs. Launched on April 1 to align with Autism Acceptance Month, the resort's 40,000 square-foot concert venue and performance space, The Chelsea, is officially certified as a sensory-inclusive venue. As a licensed sensory-inclusive venue, employees of The Chelsea received training on the needs of adults and children with sensory sensitivities, including autism, PTSD, ADHD, dementia and more. Additionally, the venue is now equipped with sensory bags featuring noise-reducing headphones, fidget tools, KultureCity VIP access passes and Feeling Zone thermometers, a tool which provide individuals an additional means of communication. The Chelsea also offers an onsite quiet room providing a space to decompress for those who may be overwhelmed by sensory elements during an entertainment event. Additionally, Beauty & Essex is also officially certified as a sensory-inclusive venue - with all employees receiving sensory training as well as offering sensory bags at the venue. For more information, contact Eirianne Kennelley, Kirvin Doak Communications, thecosmopolitan@kirvindoak.com.
El Cortez Hotel & Casino Announces Transition to 21 and Over Property
Beginning April 1, 2022, the historic El Cortez Hotel & Casino in Downtown Las Vegas has begun its transition to a 21+-only property, starting with hotel guests. This two-phase rollout comes in the final stages of the hotel and casino's complete $25 million property remodel, including the revamped 200-room Premium Tower and the redesigned casino floor and high-limit room. Still in progress is a renovation of the original 47 "vintage" rooms, built in 1941 when the gambling house first opened its doors. In its first phase, for all hotel stays booked after April 1, 2022, all guests must be 21 years of age or older with a valid state-issued identification. In its second phase, the new policy will include identification checks at every entrance, making the entire property—including all food and beverage outlets—limited to guests 21 years and older. For more information, contact Kayla Hill-Tidball, bread & Butter, elcortez@wearebreadandbutter,com,
Station Casinos Breaks Ground on Durango Casino & Resort
Station Casinos and hundreds of its team members recently celebrated the future of Durango Casino & Resort with a ceremonial groundbreaking. Station Casinos also unveiled the resort's new logo and icon and shared additional property renderings of its latest resort, which is slated to open in late 2023. Details about the project include: 83,000 square feet of casino space offering the latest games and an open floorplan seamlessly blending indoor and outdoor socializing spaces; Hotel tower with over 200 beautiful guest rooms and suites; Four signature food and beverage outlets; Exciting food hall concept featuring fast-casual favorite restaurants and eateries; State-of-the-art race and sportsbook; Serene resort pool space with private cabanas and environmentally friendly event lawn; 20,000 square feet of meeting and convention space; 40 electric vehicle charging stations; Multiple bike lanes to access the property with ample bike parking. For more information, contact Nick Flynn, Allied Global Marketing, SCMediaRequest@alliedglobalmarketing.com.
Vanderpump à Paris at Paris Las Vegas is Now Open
Restaurateur, television star and philanthropist Lisa Vanderpump and husband Ken Todd have opened their 36th establishment and second Las Vegas venue, Vanderpump à Paris, at Paris Las Vegas. The restaurant features delicious dishes, whimsical cocktails, and a lush atmosphere with eclectic, Parisian-inspired design details. The space features approximately 200 seats with multiple seating areas, decorated with plush velvet art nouveau banquettes, adorned with oversized, ornately embellished pillows, as well as light fixtures and bespoke furniture from Vanderpump and design partner Nick Alain's celebrated design line, Vanderpump Alain. Similar to Vanderpump's other locations, the cocktail menu features unique and never-before-seen offerings. The food menu features reimagined Parisian classics including unique and decadent light bites such as Ratatouille Frites, a colorful mix of spiralized and fried vegetables; Trio of Tartares, featuring three seafood tartares artfully prepared as roses; and a wickedly decadent French Onion Mac & Cheese. For more information, contact Courtney Cruz, Allied Global Marketing, caesars@alliedglobalmarketing.com.
Resorts World Las Vegas and Zouk Group Add Four New Culinary Concepts at Famous Foods Street Eats
Famous Foods Street Eats at Resorts World Las Vegas continues to diversify its list of food and beverage offerings with the debut of four new concepts. Adding to the lineup at the 24,000-square-foot Asian hawker-inspired venue, guests can now enjoy dishes from Fuhu Cha Chaan Teng, Famous Pho, Burger Barn and Harajuku Ramen. Famous Foods is an accumulation of global food stalls, paying homage to the lively scene and culture that has been savored at Asia's most popular Hawker centres for nearly a century. The interactive food destination now provides 17 food stalls, one speakeasy and a center bar, with dishes curated by top chefs and restaurateurs from around the world. Famous Foods is the only destination in the country with the most Michelin Plate and Bib Gourmand recognized concepts under one roof. For more information, contact Gia Silvaggio, Allied Global Marketing, ResortsWorld@alliedglobalmarketing.com.
Life is Beautiful Returns to Downtown Las Vegas, Sept. 16-18, 2022
Las Vegas' premier music, arts, culinary, comedy and ideas festival returns to Las Vegas Sept. 16-18. The three-day event will once again return to the bustling streets of Downtown Las Vegas, filling 18 city blocks with top talent in music and art, world-renowned culinary offerings, hilarious comedy acts and more. Nine years in the making, Life is Beautiful has evolved to become a one-stop-shop for positive thought and unexpected whimsy, while continuing to keep fans at the forefront. Since 2013, the festival has contributed over $350M of economic impact and cultural capital to the area by welcoming 170,000 attendees to the burgeoning streets of Downtown Las Vegas every year. For more information, contact Terri Maruca, Kirvin Doak Communications, LIB@kirvindoak.com.
Jonas Brothers Announce Jonas Brothers: Live in Las Vegas Coming to Park MGM
Global pop icons Jonas Brothers announce Jonas Brothers: Live in Las Vegas, an exclusive five-night Las Vegas residency at Dolby Live at Park MGM set for June 3, 4, 9, 10 and 11, 2022. Jonas Brothers took the world by storm in 2019 with the surprise release of their critically acclaimed and widely successful single "Sucker" following a six-year hiatus. The triple-platinum single debuted at #1 on Billboard's Hot 100, becoming the first #1 for the band and the first #1 debut from a group this century. The band went on to release Chasing Happiness, an Amazon Original film documenting the brothers' rise and return to music, before going on to deliver their third #1 album with the arrival of their platinum-selling Happiness Begins (Republic Records). For more information, contact Kelly Frey, KF Publicity, kelly@kfpublicity.com.
National Geographic's Rarely Seen' Exhibition Open at Bally's Las Vegas
Bally's Las Vegas visitors can experience some of the world's most astounding phenomena in the new National Geographic Society exhibition, "Rarely Seen," presented by Imagine Exhibitions. In this exhibition of visual wonders, National Geographic reveals a world very few have the chance to see for themselves. The exhibition, inspired by the book, NATIONAL GEOGRAPHIC RARELY SEEN: Photographs of the Extraordinary, features 50 striking images shot by some of the world's finest photographers of places, events, natural phenomena, and man-made heirlooms seldom seen by human eyes. With an introduction by National Geographic Explorer and photographer Stephen Alvarez, whose work has taken him from the Peruvian Andes to the deepest caves of Papua New Guinea, this exhibition captures unbelievable moments, natural wonders, and extraordinary objects from the far reaches of the globe. For more information, contact Aimee Stephens, PR Plus, aimee@prpluslv.com.
Nitro Circus Set to Explode Across North America with New Tour
For nearly two decades, Nitro Circus has been defined by the good, the bad, and the rad. This wild crew of action sports heroes, led by NBC "America's Got Talent: Extreme" competitors Ryan "R Willy" Williams and the Contraption Kings plus Aaron "Wheelz" Fotheringham, has stunned crowds across the globe with an incandescent mix of world's first tricks, bone-crushing fails and comedic moments. Now these thrill-loving hellraisers are back with a rip-roaring new live show: Good, Bad & Rad presented by A SHOC. Produced by Nitro Circus, the tour will take over outdoor stadiums across North America including a show at Las Vegas Ballpark® on July 4. For more information, contact McKinzie Cogswell, The Warren Group Public Relations, McKinzie@twgpr.com.
D-Nice Announces Club Quarantine Live Weekend in Las Vegas, Sept. 2-4
D-Nice recently revealed details for Club Quarantine Live in Vegas Weekend, September 2-4 presented by Brand Nice and Live Nation Urban. D-Nice has personally curated a dynamic and diverse lineup for what promises to be an unforgettable three-day experience in the party capital of the world. The jam-packed weekend will feature multiple performances by D-Nice, along with performances by Keyshia Cole, Fabolous, Jagged Edge, Tank, El Debarge, Amerie, Mya, Fred Hammond, and more. The weekend will also feature events both day and night including the headline event of the weekend CQ Live, the Nine Zero welcome party, Girls Dem Sugar Pool Party, Praise and Worship Brunch, Originals Closing Party, and for the nighthawks, a special CQ After Dark late-night bash. As part of the weekend experience, D-Nice will also host The Meet Up, A series of panels on health and wellness and financial literacy as he continues to find impactful ways for his community to connect with each other and grow stronger. For more information, contact Carleen Donovan, Carleen@theoriel.co.
Morrissey Returns to The Colosseum at Caesars Palace For Five New Dates of "Morrissey: Viva Moz Vegas"
Morrissey recently announced five new dates for his not-to-be-missed, sure-to-be-life-changing residency "Morrissey: Viva Moz Vegas" at The Colosseum at Caesars Palace on the Las Vegas Strip returning this summer. Morrissey will play July 1, 2, 6, 8 and 9, 2022. Morrissey, once voted the second-greatest living British cultural icon (behind David Attenborough and before Paul McCartney), takes on this residency as his third theatrical outing following a hallmark sold-out Broadway residency at the Lunt-Fontanne Theater in New York City, a string of acclaimed tour dates with alt-rock icons Interpol last fall, and the release of his 13th solo album "I Am Not A Dog on a Chain." The Vegas residency will serve as an intimate, invigorating dive into Morrissey's expansive career from his early days to the new album. For more information, contact Robert Jarrett, Caesars Entertainment, rjarrett@caesars.com.
Circa Resort & Casino to Debut 35,000 Square Feet of Meeting & Convention Space
Circa Resort & Casino, downtown Las Vegas' first new resort in four decades, will debut 35,000 square feet of meeting and convention space this September. When the property opened in late 2020, it changed the downtown landscape with unmatched amenities and architecture. The opening of its new event space marks the next phase in Circa's evolution and delivers a completely new option for planners seeking an upscale and lively Las Vegas experience off the Strip. Available to book immediately at the downtown Las Vegas casino-resort, the property will offer groups top-tier audio and visual capabilities, customizable spaces for groups of up to 1,000 guests and top-tier customer services. Circa's meeting and convention offerings will feature a ballroom, breakout rooms and banquet space, adjacent pre-function space and a robust 1,600-square-foot outdoor terrace. Outfitted to complement Circa's mid-century, art deco and modern design motifs, the spaces were designed by JCJ Architecture with the original design concept from Steelman Partners. For more information, contact Kara Rutkin, Kirvin Doak Communications, krutkin@kirvindoak.com.
Tickets Now on Sale for Illuminarium Las Vegas
On Friday, April 15, Illuminarium Experiences, a breakthrough global experiential entertainment company created by worldwide leaders in cinematic and interactive content, architecture, and theatrical design will open its flagship Illuminarium in Las Vegas at AREA15. Early bird tickets are now on sale. From exhilarating natural wonders to enriching cultural moments and beyond, guests will be immersed in the world's most extraordinary experiences. Whether that's on safari, at the bottom of the ocean, in the celestial universe, on top of the world's highest peaks or inside a visual art exhibition, Illuminarium places visitors inside the story as it unfolds around them. Illuminarium exemplifies a "VR, without the glasses" cinematic experience. Illuminarium Las Vegas also announced an exciting partnership with celebrated James Beard Award-nominated and husband-wife business partners, Elizabeth Blau and Chef Kim Canteenwalla of Blau + Associates, to further ignite guests' senses. Launching with the opening of Illuminarium, Lumin Café & Kitchen will provide a contemporary culinary experience with fresh dishes and specialty cocktails. For more information, contact Courtney Cruz, Allied Global Marketing, IlluminariumLVPublicity@alliedglobalmarketing.com.
Bobby's Burgers by Bobby Flay Now Open at Paris Las Vegas
Celebrated Chef Bobby Flay has expanded his fast-casual brand, Bobby's Burgers, with an additional location now open at Paris Las Vegas. Drawn from Flay's love of bold flavors and top-quality ingredients, this quick-service establishment brings a unique twist to traditional burgers, fries and shakes. Bobby's Burgers at Paris Las Vegas features Flay's original recipes and classic flavors, including fries with signature sauces, spoon bending milkshakes, as well as burgers with a twist. For more information, contact Courtney Cruz, Allied Global Marketing, CCruz@alliedglobalmarketing.com.
"Particle Ink: Speed of Dark," to Open in Las Vegas Arts District April 16
"Particle Ink: Speed of Dark," an original, immersive experience bringing visitors through a portal into the 2.5th dimension, will premiere on April 16 at The LightHouse, located at 918 Main Street in the 18b Las Vegas Arts District. Sprung from the inventive minds of The LightPoets, "Speed of Dark" is a mind-bending mixed reality installation with live performances. Revealing a rupture in the Particle Ink Metaverse, where the virtual world blends into the physical world, "Speed of Dark" invites visitors to explore an abandoned warehouse that contains a portal into the 2.5th dimension. Otherwise invisible, the in-between realm of the 2.5th is that liminal space between waking and sleeping, where the rabbit waits before being pulled out of the hat and where ideas reside waiting to be found. For more information, contact Desiree Webb, The Vox Agency, desiree@thevoxagency.com.
The Neon Museum and Papillon Grand Canyon Helicopters now offering Neon Night Flight Spectacular
The Neon Museum is partnering with Papillon Grand Canyon Helicopters to offer an exciting neon experience, in the air and on the ground. The new Neon Night Flight Spectacular takes guests on an unforgettable exploration through the history and splendor of the iconic sights that Las Vegas is known for - its neon lights. The journey begins with luxury transport from most Las Vegas hotels to Papillon's VIP terminal. Guests will board an EcoStar helicopter for a memorable flight high above the sparkling lights of the Las Vegas Strip and Downtown. After the helicopter tour, guests see the neon lights up close while they learn more about the unique history of Las Vegas and its iconic art form on a 45-minute guided tour at The Neon Museum. The museum's Neon Boneyard showcases more than 250 vintage Vegas signs with nearly two dozen reilluminated and the others dramatically lit from the ground on evening guided tours. The night concludes with a tour of the museum's North Gallery and its immersive 360-degree audiovisual spectacular, Brilliant! Jackpot, an augmented reality experience that reilluminates unrestored signs and incorporates archival video and an iconic soundtrack to transport guests directly into Las Vegas' history. For more information, contact Amy E. S. Maier, The Neon Museum, amy@twgpr.com, or Andrea (Dre) Merino, Papillon Grand Canyon Helicopters, andrea.merino@papillon.com.
Walk-On's Sports Bistreaux Open in Harrah's Las Vegas
Walk-On's Sports Bistreaux – a leading sports restaurant with an underdog culture, Louisiana-inspired menu, and family-friendly atmosphere recently opened at the famed Harrah's Las Vegas. The restaurant brings its unique Louisiana flavor to the world-famous Las Vegas Strip with diverse, made-from-scratch dishes including Crawfish Etouffee, Duck & Andouille Gumbo and Krispy Kreme Donut Bread Pudding, game-day classics such as burgers and everyday favorites like salads, wraps, and more. As the first Walk-On's to feature a full breakfast menu, the Las Vegas location offers new menu items such as a French Toast Bacon Double Cheeseburger and Chicken & Waffles, in addition to staple dishes like Biscuits & Gravy, Beignets and popular signature cocktails including the Mad Mary. With more than 82 TVs inside the space, Walk-On's Las Vegas is poised as a go-to destination on The Strip. For more information, contact Hillary Smoot, Red Moon PR, Hillary@redmoon88.com.
Chef Michael Symon's Mabel's BBQ set to Return to Palms Casino Resort Las Vegas
Mabel's BBQ by Chef Michael Symon will return to Palms Casino Resort with the reopening of the property this spring. Located next to the Sports Book, Mabel's will offer an authentic and traditional smokehouse feel, a high-energy experience and a variety of barbeque favorites and other distinctive dishes. The restaurant will again feature barbeque must-haves like smoked beef brisket and pork belly – served by the half pound, new sandwich offerings, an outstanding smash burger, and classic/seasonal sides. The Palms location includes an outdoor patio, complete with social games, a wide variety of craft beers and a selection of bourbons, whiskeys, and spirits from around the world. With inviting viewing areas for games and a stage for live entertainment, Mabel's is also perfect for groups and festive gatherings. Palms Casino Resort begins its new chapter in Las Vegas history with the reopening of the property this spring. For more information, contact Celena Haas-Stacey, CHS Communications, celena@chscomms.com.
Green Valley Ranch Springs into The New Season With "Spring at the Terrace" Outdoor Pop-up Lounge
Green Valley Ranch springs into the new season with its seasonal outdoor pop-up lounge, "Spring at the Terrace." Through the early summer, the resort's patio, located in The Backyard, has transformed into a botanical garden where guests will be whisked away to a blissful springtime escape. As the flowers bloom and warmer weather takes over the Vegas valley, "Spring at the Terrace" is the ultimate al fresco destination for locals and guests alike. As the garden-inspired décor creates a delightful atmosphere, guests are welcomed to bask in the picturesque destination filled with a colorful ambiance, greenery and more, while indulging in light bites and delectable botanical themed libations created by Station Casinos corporate mixologist Jamie Clark. Adding to the excitement, guests are able to reserve their own private greenhouse to further their garden experience. For more information, contact Nick Flynn, Allied Global Marketing, SCMediaRequest@alliedglobalmarketing.com.
Café Lola Expands to Las Vegas Strip
The ultra-Instagrammable Café Lola, known for its feminine décor and over-the-top menu, is opening its fourth location on the iconic Las Vegas Strip. Set to open summer 2022, the European-inspired café is bringing its floral walls, velvet couches, signature coffee, excellent dining offerings (including vegan and gluten-free options) and Champagne selection to The Forum Shops at Caesars Palace. This flagship is ready to take itself to new heights with patio seating, unique tableside experiences, a frosé walk-up window and a secret photo room. Guests can enjoy cult favorites such as Lola's Signature Frosé, avocado toast, Granny's Breakfast Sammy, and 24 Carat Gold Latté, along with Saint Honoré couture doughnuts, and soon-to-be favorites like Black Truffle Scramble. For more information, contact Kayla Hill-Tidball, bread & Butter, cafelola@wearebreadandbutter.com.
CONTACTS
Maria Phelan

LVCVA

United States

-
MORE FROM NEWS RELEASES
SUBSCRIBE TO RSS FEED
XML