Las Vegas News Briefs - April 2021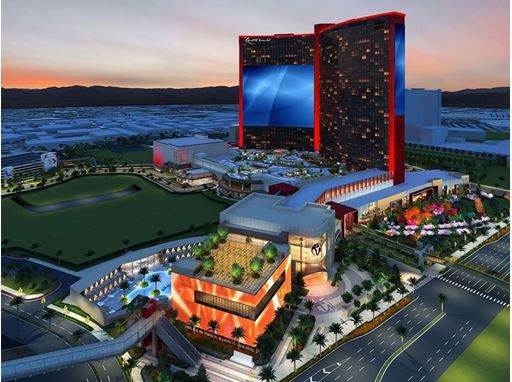 Resorts World Las Vegas Unveils Culinary Portfolio
Opening this summer, Resorts World Las Vegas is introducing its dynamic dining and cocktail portfolio. The Strip's newest resort will welcome first-to-market restaurants and beverage experiences, ranging from celebrated chef-driven dining and quick-service venues to original concepts developed by Genting and Resorts World Las Vegas. The lineup of food and beverage venues at Resorts World Las Vegas includes ¡VIVA! by Chef Ray Garcia; Genting Palace, featuring authentic Cantonese cuisine, seafood and exceptional dim sum; Kusa Nori, a modern Japanese bistro; Brezza and Bar Zazu, two new concepts from James Beard Award semi-finalist Nicole Brisson and industry veteran Jason Rocheleau, as well as a variety of casual and on-the-go options. Resorts World also announced a number of bars and lounges, including Dawg House Saloon & Sportsbook, Starlight on 66, Crystal Bar, Baccarat Bar, High Limit Bar, Conrad Lobby Bar and Crockfords Lobby Bar.
Wally's Wine & Spirits to Open First Location Outside of Southern California at Resorts World Las Vegas

Resorts World Las Vegas will bring a taste of Southern California's iconic wine and dining destination, Wally's Wine & Spirits, to the Strip's newest integrated resort this summer. An institution widely beloved by Angelenos and Hollywood celebrities for decades, the exclusive location at Resorts World will blend a restaurant, wine bar and specialty gourmet market, creating a one-stop tasting and shopping experience.

Zouk Group Brings Famous Foods Street Eats to Resorts World Las Vegas

Blending Eastern and Western food culture, Zouk Group, Singapore's leading nightlife and lifestyle brand, will introduce an Asian hawker-inspired food hall concept with authentic street food and cuisines from around the world to Resorts World Las Vegas. Famous Foods Street Eats will be an interactive 24,000-square-foot street food destination, boasting 16 diverse food stalls from top chefs and restaurateurs – and the only destination in the country with the most Michelin Plate and Bib Gourmand recognized concepts under one roof. In addition, Famous Foods will feature a vibrant 16-seat center bar and a picturesque speakeasy hidden within the depths of the food hall.
For more information, contact Allied Global Marketing, ResortsWorld@alliedglobalmarketing.com.
The Cosmopolitan of Las Vegas Welcomes David Chang's Bāng Bar
Bāng Bar, Chef David Chang's popular Momofuku to-go concept, has officially landed inside The Cosmopolitan of Las Vegas. Making its West Coast debut at the resort, Bāng Bar joins a dynamic lineup of made-to-order fast-casual concepts from foodie capitals across the nation inside Block 16 Urban Food Hall. A nod to the traditional global street meat market, Bāng Bar introduces elevated, Asian-inspired cuisine to the bustling Las Vegas culinary scene. The ethos of Bāng Bar was carefully curated to incite exploration to its guests, from the restaurant's sleek exterior, to the menu's innovative take on delicious street-food favorites. Simple yet uber-delicious menu items, such as The U-Wrap, Fold-Up Wrap and Rice Bowl, feature the restaurant's famed spit-roasted meats and bāng flatbread, designed to be enjoyed on-the-go. Quick and unique snack-sized bites are also available for purchase, like the Bourbon Every Burger Cookie, Bourbon Fettucine Cola and Jagabee Potato Sticks, alongside a refreshing selection of unique beverages including Blood Orange Negroni and Yuzu Lemonade. For more information, contact Eirianne Kennelley, Kirvin Doak Communications, thecosmopolitan@kirvindoak.com.
World Series of Poker® Announces Plans for 2021
The World Series of Poker (WSOP) announced much-anticipated plans for 2021, including the return of the live, in-person World Series of Poker event and $10,000 No-Limit Hold'em World Championship, best known as "The Main Event®". The world-famous tournament series, which experienced record-smashing participation in 2019 and adjusted to a hybrid format to accommodate 2020, will be back in-person at Rio All-Suite Hotel & Casino this fall pending applicable state and/or regulatory approvals. Cards will be in the air for a diverse calendar of events beginning Thursday, Sept. 30 with all play concluding on Tuesday, Nov. 23. For more information, contact Chelsea Ryder, Caesars Entertainment, cryder@caesars.com.
Jabbawockeez Return to Stage at MGM Grand Garden Arena
In accordance with revised state guidelines, Jabbawockeez returned to the stage Thursday, March 11 at MGM Grand Hotel & Casino. The world-famous dance crew performs its show, TIMELESS, five nights a week at the MGM Grand Garden Arena. TIMELESS, Jabbawockeez fourth stage production, is a sonically hypnotic voyage into the visionary minds of the masked members. Familiar favorites and brand-new routines are supercharged with innovative production elements, breathtaking visuals and a mesmerizing laser effect. The show takes the audience along for a ride as the beloved characters land on earth from outer space, in search of the quintessential music playlist that spans generations, locations and musical genres. For more information, contact Katharine Sherrer, MGM Resorts, ksherrer@mgmresorts.com.
Virgin Hotels Las Vegas Unlocks the Doors and Welcomes Visitors in Celebratory Fashion
Virgin Hotels Las Vegas, Curio Collection by Hilton, officially opened to the public, welcoming invited guests, locals and visitors to the newly reimagined casino-resort on Thursday, March 25, 2021 in triumphant fashion. Virgin Hotels Las Vegas delivers a one-of-a-kind integrated resort experience with 1,500 Chambers and suites, the 60,000 sq. ft. Mohegan Sun Casino, operated by Mohegan Gaming & Entertainment; a five-acre desert pool oasis including a multi-functional event lawn; an exclusive portfolio of twelve food and beverage venues, and signature Virgin Hotels restaurants and bars including The Kitchen at Commons Club, The Bar at Commons Club, The Shag Room and Funny Library Coffee Shop. For more information, contact Terri Maruca, Kirvin Doak Communications, MSCLVPR@kirvindoak.com.
Henderson Silver Knights Welcome Fans to Orleans Arena
The Henderson Silver Knights and Orleans Arena are incredibly excited to welcome fans to Silver Knights games for the first time ever. The Henderson Silver Knights are the American Hockey League affiliate of the Vegas Golden Knights and is operated by Black Knight Sports and Entertainment LLC. For more information, contact Brian McCormack, Henderson Silver Knights, bmccormack@hendersonsilverknights.com.
Life is Beautiful Returns to Downtown Las Vegas, Sept. 17-19, 2021
Returning Friday, Sept. 17 – 19 the three-day Life is Beautiful festival will once again take over 18 city blocks of the bustling streets of Downtown Las Vegas with unparalleled talent, world-renowned culinary offerings, experiential artists and more. Born as part of a community transformation project, Life is Beautiful has helped revitalize a critical urban core and given young creators and small businesses a reason to call Downtown Las Vegas home. Artists set to perform over the 3-day weekend include five-time GRAMMY Award-winning pop sensation Billie Eilish, Rock and Roll Hall of Famers Green Day, psychedelic music phenomenon Tame Impala, award-winning rapper A$AP Rocky, electronic music star Illenium, and more. For more information, contact Cassandra Down, Kirvin Doak Communications,  LIB@kirvindoak.com.
ATOMIC SALOON SHOW Swings Open its Doors on May 5, 2021
Before the party paused one year ago, ATOMIC SALOON SHOW by Spiegelworld was being hailed as the hottest new show in Las Vegas. With the recent easing of public health restrictions, proprietress Boozy Skunkton is swinging open the saloon doors once again at Grand Canal Shoppes inside The Venetian® Resort for performances at 7 p.m. and 9 p.m. Wednesday through Sunday starting May 5, 2021. ATOMIC SALOON SHOW is a riotous and raunchy romp through the wild, Wild West as it never was, with drop-dead sexy acrobats and ridiculous comedy mayhem from a cavalcade of cowboys, showgirls, nuns, lawmen and lay-abouts. With health and safety protocols in place, audiences can still expect the same side-splitting hilarity and the best variety acts this side of the Mississippi. For more information, contact Thomas Judd, Kirvin Doak Communications, tjudd@kirvindoak.com.
Penn & Teller Return to Rio All-Suite Hotel & Casino
Penn & Teller recently announced they will return to Rio All-Suite Hotel & Casino on Thursday, April 22 in their namesake Penn & Teller Theater. The show will feature all-new content and magic as well as selections from Penn & Teller's extensive catalog of fan favorites. Edgy, provocative and hilarious, Penn & Teller have been captivating live audiences at Rio Las Vegas since 2001 when their show originally opened. This show will be a culmination of years of on-stage experience mixed with innovative and creative twists to be enjoyed by long-time patrons and new fans alike. The full performance schedule is April 22 – 25, 29 – 30; May 1 – 2, 6 – 8, 28 – 31; June 3 – 6, 10 – 13 with all shows starting at 9 p.m. For more information, contact Robert Jarrett, Caesars Entertainment, rjarrett@caesars.com.
MAGIC MIKE LIVE to Return in August
The men and women of MAGIC MIKE LIVE Las Vegas can hardly wait to hit the stage at their new, custom home at SAHARA Las Vegas, which will finish construction on-schedule this spring. The debut of MAGIC MIKE LIVE at SAHARA Las Vegas has been retargeted to August 27, 2021. For more information, contact Thomas Judd, Kirvin Doak Communications, tjudd@kirvindoak.com.
The Comedy Works announces spring/summer lineup at the Plaza Hotel & Casino
The Comedy Works will reopen at the Plaza Hotel & Casino with a star-studded spring/summer lineup of nationally acclaimed headliners beginning April 30. Shows will be at 9 p.m. inside the Plaza's vintage Vegas showroom featuring red velvet booth seating, an updated sound system, full bars, and table cocktail service. Upcoming shows will feature Kevin Farley, Jim Florentine, Lavell Crawford, Augie T., Luis J. Gomez, Chris Kattan and T.J. Miller. For more information, contact Amy E. S. Maier, The Warren Group, amy@twgpr.com.
Las Vegas Lights FC Announce 2021 Season Schedule
The United Soccer League Championship recently announced the full 2021 season match schedule featuring nearly 500 matches league-wide between the 31 competing clubs. Las Vegas Lights FC's schedule can be seen at LightsFC.com/Schedule. In addition, Lights FC will continue to work with local health & government officials to maximize the number of fans permitted to attend home matches at Cashman Field in advance of the June 5th home opener.  While additional information will be made available in the coming weeks, Lights FC will continue to give priority access to season ticket members to attend home matches before individual match ticket buyers. For more information, contact Las Vegas Lights FC,  Communications@LasVegasLightsFC.com.
Hyatt Flags to Fly in Las Vegas
Hyatt Hotels Corporation recently announced that a Hyatt affiliate has entered into franchise agreements with an affiliate of Dreamscape Companies LLC, which will lead the renovation of the Rio Las Vegas. The multi-phase project is expected to bring multiple Hyatt full-service offerings to Las Vegas, one of the most visited leisure, group, and convention markets in the world, in the renovated Rio hotel. The more than 2,510-room Rio Las Vegas will be renovated and rebranded into multiple Hyatt full-service brand flags and will undergo a redevelopment of the current public spaces, including gaming, retail, food and beverage, spa and fitness, and pool recreation deck. In addition, the Rio Las Vegas will undergo a renovation of one of the hotel's existing towers, and upon completion, the tower is expected to become a 1,501-room Hyatt Regency hotel with standard guestrooms averaging 580 square feet. The remainder of the Rio's guestrooms are expected to be branded or affiliated with one or more other Hyatt full-service brands after they are renovated. Beyond redefining the hotel experience for business travelers and leisure guests, the Hyatt Regency hotel and other Hyatt-affiliated hotels will welcome meetings and event business with more than 220,000 square feet of function space and state-of-the-art meeting facilities. For more information, contact Siân Rylander, Hyatt, sian.rylander@hyatt.com.
Rock Icon Billy Idol Returns to The Cosmopolitan of Las Vegas
The Cosmopolitan of Las Vegas welcomes the pioneer of punk Billy Idol to The Chelsea stage for an exclusive engagement, Saturday, Oct. 16 – Sunday, Oct. 17 and Friday, Oct. 22 – Saturday, Oct. 23. The limited residency helps ignite the highly anticipated return of live entertainment to The Cosmopolitan of Las Vegas, with additional concerts and experiences to be announced in the near future. Billy Idol was an early architect of the sound, style, and fury of punk rock. His lip- curling sneer and fist-pumping persona vaulted him into the mainstream as one of MTV's first megastars, making him one of the most recognizable faces in pop music. He has sold 40 million albums while scoring numerous platinum albums worldwide, nine top forty singles in the U.S. and 10 in the U.K. including "Dancing With Myself, "White Wedding," "Rebel Yell," "Eyes Without A Face," "Flesh For Fantasy" and "Cradle Of Love." For more information, contact Megan Haney, Kirvin Doak Communications, thecosmopolitan@kirvindoak.com.
Styx to Return to The Venetian Resort Las Vegas
Styx, the multimega-million-selling rock band that has forged an indelible legacy both on record and onstage, will return to Las Vegas for a two-night limited engagement at The Venetian Theatre inside The Venetian® Resort Las Vegas. The shows will be held on September 25 and 26, 2021 at 8 p.m. For these special performances, Styx – James "JY" Young (lead vocals, guitars), Tommy Shaw (lead vocals, guitars), Chuck Panozzo (bass, vocals), Todd Sucherman (drums, percussion), Lawrence Gowan (lead vocals, keyboards) and Ricky Phillips (bass, guitar, vocals) – has created an exclusive set list and brand new stage production. For more information, contact Kelly Frey (Live Nation), The Publicity Lab, kelly@thepublicitylab.com.
MAT FRANCO – MAGIC REINVENTED NIGHTLY to Return to The LINQ Hotel + Experience
Magician MAT FRANCO has announced that his award-winning show, MAT FRANCO – MAGIC REINVENTED NIGHTLY, is reopening at The LINQ Hotel + Experience. A revamped version of the production, featuring new, never-before-seen magic from the America's Got Talent winner, will resume performances beginning Thursday, April 29, 2021. MAT FRANCO – MAGIC REINVENTED NIGHTLY will perform at the Mat Franco Theater inside The LINQ Hotel + Experience Thursday through Monday at 7 p.m., with an additional 9:30 p.m. show on Saturday. Following applicable guidelines set forth by health and government authorities, as well as The LINQ's enhanced health and safety protocols, masks will be mandatory for guests, and audiences will be socially distanced. For more information, contact Kelly Frey, The Publicity Lab, kelly@thepublicitylab.com.
Wish You Were Here Group to Debut Kassi Beach House
Renowned hospitality group Wish You Were Here and restaurateur Nick Mathers, creator of LA's Élephante and other notable venues, recently announced the opening of Kassi Beach House, a European style restaurant and lounge with Coastal Italian influences, poolside at Virgin Hotels Las Vegas. Mathers and his Wish You Were Here Group offer this taste of paradise which includes an authentic coastal Italian food and drink menu with DJ lineups evoking the party lifestyle inspired by the laid-back trattorias & tavernas found amongst the Mediterranean islands. Kassi Beach House looks forward to opening to the public mid-April. For more information, contact Megan Fazio, Neon PR, megan@neonpublicrelations.com
Downtown Container Park Celebrates The Return Of The Mantis
Downtown Container Park, Downtown Las Vegas' open-air shopping center & entertainment venue recently welcomed the return of its ambassador, mascot and Las Vegas legend, The Mantis. Beginning at sunset, Downtown Container Park invites friends from all over to rejoice in the return of The Mantis after her year-long hibernation. The Mantis will run every evening, Thursday – Saturday beginning at sunset with expanded hours planned for the near future. Social-distancing protocols will be prioritized in order to ensure the safety and comfort of attendees. For more information, contact Chelsea Downey, Neon PR, Chelsea.downey@neonpublicrelations.com.
Happy Half Hour Returns to High Roller
For the first time since July 2020, the High Roller Observation Wheel will reintroduce its enormously popular Happy Half Hour experience on Monday, March 29. A one-of-a-kind cocktail experience, Happy Half Hour cabins aboard the High Roller Observation Wheel include an open bar and bartender for one full 30-minute rotation of the wheel. While sipping cocktails, guests will take in the magnificent 360-degree views of the Las Vegas Strip and beyond from as high as 550 feet in the air. Happy Half Hour cabins can accommodate up to 10 guests. For more information, contact Desiree Webb, The Vox Agency, desiree@thevoxagency.com.
AREA15 Breaks Ground on New, Large-Scale Event Space, "The Grounds"
AREA15, Las Vegas' newest immersive art and entertainment district located just seven minutes from the Strip, recently started construction on "The Grounds." AREA15 designed this multi-use, outdoor event space as a site for festivals, carnivals, conventions, concerts and other large-scale events. The Grounds spans more than four acres (190,000 square feet) and can accommodate up to 20,000 guests and is expected to be ready to host events this summer. Event inquiries are currently being accepted ahead of the projected summer opening. For more information, contact Desiree Webb, The Vox Agency, desiree@thevoxagency.com.
ABSINTHE by Spiegelworld Celebrates 10 Years
On April 1, 2011, an unknown entrepreneur with more hard cash than sense erected a shaky spiegeltent on the forecourt of Caesars Palace and presented the first performance of a raunchy acrobatic show he said would pull Las Vegas out of the gloom of the global financial crisis. Prior to temporarily closing during the pandemic, ABSINTHE was playing two shows a night, 365 days of the year, and had entertained an estimated 2.5 million people over the course of more than 5,000 performances. For more information, contact Thomas Judd, Kirvin Doak Communications, tjudd@kirvindoak.com.
CONTACTS
Maria Phelan

LVCVA

United States

-
MORE FROM NEWS RELEASES
SUBSCRIBE TO RSS FEED
XML