Frontier Airlines Launches New International Service from Las Vegas to Cancun and Cabo San Lucas, Mexico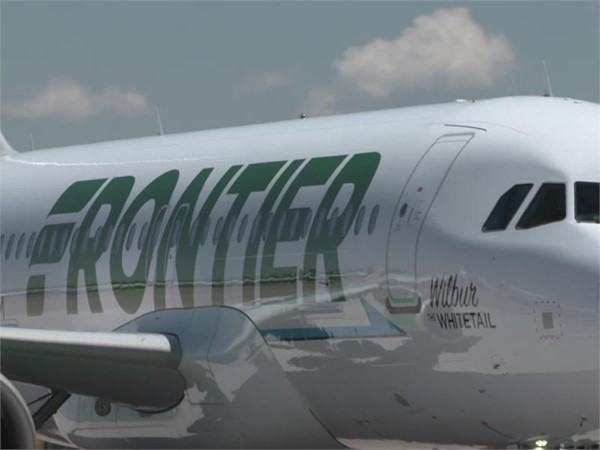 LAS VEGAS - Frontier Airlines continues to expand its signature low-fare service at McCarran International Airport (LAS) with two Mexican beach resort destinations -  Cancun (CUN) and Cabos San Lucas (SJD). Frontier will offer the only nonstop flight option on both routes, and will become be the only U.S. carrier offering international service from McCarran. Most importantly, it means the airline will now serve 31 cities non-stop from LAS. Special fares as low as $79 are available at flyfrontier.com.
"We are excited to continue our mission to make flying affordable for Las Vegas with two new international options," said Josh Flyr, vice president of network and revenue for Frontier Airlines. "We appreciate the continued support of the airport and the Las Vegas Convention and Visitors Authority and are proud to offer the only international service by a U.S. carrier here. We now serve the Las Vegas community with 31 non-stop options which support both the growth of the tourism industry and offers more choices for locals to enjoy."
"We welcome Frontier's newest nonstop flights and believe its low fares will appeal to both Las Vegas locals looking to vacation abroad and Mexican visitors interested in all we have to offer here in the Entertainment Capital of the World," said Chris Jones, Chief Marketing Officer for Clark County Department of Aviation. "In response to continued interest from around the world, McCarran International Airport recently increased its capacity to handle international arrivals by renovating gates in the D Concourse. Frontier will be the first U.S. carrier to utilize these gates for regularly scheduled international service."
"We are delighted that our partners at Frontier Airlines continue to expand service to Las Vegas, adding seasonal service from Cancun and Cabo San Lucas, Mexico," said Cathy Tull, chief marketing officer for the Las Vegas Convention and Visitors Authority. "With the announcement of these routes, Frontier will add direct service to Las Vegas from 10 new markets in 2018, with a combined economic impact of nearly $268 million. It is particularly exciting to see Frontier's commitment to underserved markets such as Cancun and Cabo San Lucas, as every new seat provides an opportunity for continuous growth in the destination."
Frontier is focused on more than low fares. The carrier offers customers the ability to customize their travel to their needs and budget. For example, customers can purchase options a la carte or in one low-priced bundle called the WORKSsm. This bundle includes refundability, a carry-on bag, a checked bag, the best available seat, waived change fees and priority boarding. The Works is only available at flyfrontier.com.
Frontier flies one of the youngest fleets in the industry, the Airbus A320 Family of nearly 80 jet aircraft. With nearly 200 new planes on order, Frontier will continue to grow to deliver on the mission of providing affordable travel across America. Frontier's young fleet also ensures that the company will continue to keep fares low and that customers will enjoy a pleasant and reliable experience flying with the airline.
Following is a summary of the new service:
LAS VEGAS (LAS) to/from CANCUN (CUN)
Depart LAS: 9:56 a.m. Arrive CUN: 5:24 p.m.
Depart CUN: 6:19 p.m. Arrive LAS: 8:20 p.m.
Frequency: Monday, Friday
Aircraft: Airbus A320
Service Start: DEC. 21
Seasonal
LAS VEGAS (LAS) to/from SAN JOSE DEL CABO (SJD)
Depart LAS: 12:09 p.m. Arrive SJD: 4:05 p.m.
Depart SJD: 5 p.m. Arrive LAS: 7:02 p.m.
Frequency: Saturday
Aircraft: Airbus A320
Service Start: Dec. 15
Seasonal
About Frontier Airlines
Frontier Airlines is committed to offering 'Low Fares Done Right' to 100 destinations in the United States, Canada, Dominican Republic, Jamaica and Mexico on more than 350 daily flights. Headquartered in Denver, Frontier's hard-working aviation professionals pride themselves in delivering the company's signature Low Fares Done Right service to customers. Frontier Airlines is the proud recipient of the Federal Aviation Administration's 2017 Diamond Award for maintenance excellence and was recently named the industry's most fuel-efficient airline by The International Council on Clean Transportation (ICCT) as a result of superior technology and operational efficiencies.
*About Intro Fare Offer:
 Fares must be purchased by 11:59 pm Eastern time on Aug. 31, 2018 for nonstop travel. Travel is valid Dec. 15, 2018 through Feb. 13, 2019. Fares are valid Saturday or Monday dependent on days of service. Higher fares may be available other days of week.  The following blackouts apply: Dec. 20, 2018 – Jan. 8, 2019, and Jan. 18 - 21, 2019.
Fares are one way and do not require roundtrip purchase.
ABOUT THE LVCVA
The Las Vegas Convention and Visitors Authority (LVCVA) is charged with marketing Southern Nevada as a tourism and convention destination worldwide, and also with operating the Las Vegas Convention Center and Cashman Center.  With nearly 150,000 hotel rooms in Las Vegas alone and more than 11 million square feet of meeting and exhibit space citywide, the LVCVA's mission centers on attracting ever increasing numbers of leisure and business visitors to the area. Download the virtual reality app, Vegas VR, to experience Las Vegas from your iPhone or Android by visiting
http://www.vrtv.vegas/
.   For more information, go to
www.lvcva.com
or
www.visitlasvegas.com
.
About McCarran International Airport
McCarran International Airport is located in the shadows of the world-famous Las Vegas Strip and is the gateway for nearly half of the people who visit Southern Nevada each year. Including arrivals and departures, McCarran hosted a record of 48.5 million passengers in 2017, making 2017 the busiest year in the airport's 70-year history. With 29 airlines providing nonstop service to more than 140 destinations, McCarran makes it possible for the world to experience one of the most alluring travel destinations. McCarran International Airport is owned and operated by Clark County, Nevada, and does not benefit from local tax dollars.
###
CONTACTS
Heidi Hayes

LVCVA

United States

702-892-0711