Eurowings to Launch Nonstop Service from Munich, Germany to Las Vegas
August 7, 2019
Las Vegas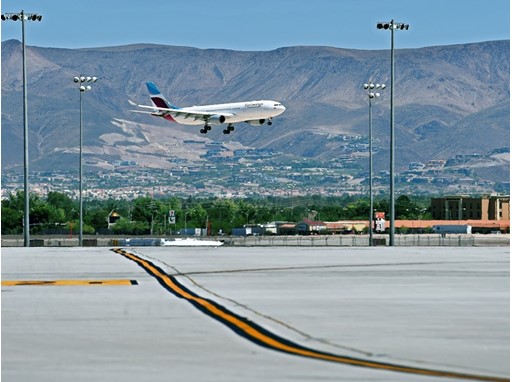 LAS VEGAS -- German air carrier Eurowings will introduce direct flights from Las Vegas to Munich for the summer 2020 season. Beginning April 6, 2020, the subsidiary company of Lufthansa will operate the connection twice per week with an Airbus A330.
With more than 42 million visitors each year, Las Vegas is one of the most popular travel destinations in the world. The new nonstop service is perfect for both leisure visitors who want to start their U.S. tour in Las Vegas and business travelers. The flights are expected to generate $18.9 million to the local economy.
Complementing the upcoming Frankfurt – Las Vegas flight that will launch in October 2019, Eurowings will be able to fly customers from this gateway to two of Lufthansa's main hubs in Germany and offer connections to Lufthansa Group's vast network of destinations in Europe, the Middle East, Africa and beyond.
"We are delighted that Eurowings will be offering direct service to Las Vegas from Munich," said Chris Meyer, vice president of global sales for the Las Vegas Convention and Visitors Authority. "Germany represents our largest source of international visitors from continental Europe and this route provides additional access and flexibility for visitors from the south of Germany and connecting cities throughout the Eurowings and Lufthansa networks."
"We are pleased to learn of the return of these Eurowings flights from Munich," said Chris Jones, chief marketing officer for McCarran International Airport. "Those wishing to visit Las Vegas now have more opportunities to travel with fewer to no connections thanks to the expansive network of the Lufthansa Group."
"Las Vegas is not only a leading leisure destination on the global tourism map, but an important gateway for local Nevada business travelers interested in flying to hundreds of destinations across Europe, the Middle East, Africa and Asia. The new Eurowings service to Munich Airport, will assist in expanding the current links between businesses on both sides of the Atlantic, offering traveling opportunities through Europe's only five-star airport," said Frank Naeve Vice President of Sales, The Americas, and Lufthansa Group.
Tickets to and from Las Vegas are now on sale and can be booked on
www.eurowings.de
ABOUT THE LVCVA
The Las Vegas Convention and Visitors Authority (LVCVA) is charged with marketing Southern Nevada as a tourism and convention destination worldwide, and also with operating the Las Vegas Convention Center and Cashman Center.  With nearly 150,000 hotel rooms in Las Vegas alone and more than 11 million square feet of meeting and exhibit space citywide, the LVCVA's mission centers on attracting ever increasing numbers of leisure and business visitors to the area. Download the virtual reality app, Vegas VR, to experience Las Vegas from your iPhone or Android by visiting
http://www.vrtv.vegas/
.   For more information, go to
www.lvcva.com
or
www.visitlasvegas.com
. 
ABOUT McCARRAN INTERNATIONAL AIRPORT
McCarran International Airport (LAS) is located just minutes away from the world-famous Las Vegas Strip and is the gateway for nearly half of the people who visit Southern Nevada each year. Including arrivals and departures, LAS hosted 49.7 million passengers in 2018, making it the ninth-busiest airport in North America last year. Through a strong and ongoing commitment to world-class customer service, LAS ranked highest (tied with MCO) among airports with more than 32.5 million annual passengers as measured in the J.D. Power 2018 North America Airport Satisfaction Study. With more than 30 airlines providing nonstop service to nearly 140 destinations, LAS makes it possible for the world to experience one of the most alluring travel destinations. LAS is owned and operated by Clark County, Nevada.
ABOUT THE LUFTHANSA GROUP
The Lufthansa Group is the world's biggest airline group in in terms of revenue, and is also the market leader in Europe's airline sector. The Group strives to be the "First Choice in Aviation" for its customers, employees, shareholders and partners. Safety, quality, reliability and innovation are the prime credentials and priorities of all its business activities.
The Lufthansa Group is divided into the three strategic areas of Hub Airlines, Point-to-Point Business and Service Companies. The Group's network carriers, with their premium brands of Lufthansa, SWISS and Austrian Airlines, serve its home market from their Frankfurt, Munich, Zurich and Vienna hubs. With its Eurowings brand, the Group also offers short- and long-haul point-to-point services in the growing private travel market. From April of 2020 Eurowings will offer direct flights between a number of U.S. gateways and Lufthansa's hubs in Frankfurt and Munich with streamlined onward connections to hundreds of destinations worldwide.
###
CONTACTS
Jim Rose

LVCVA

United States

702-892-0711