Fall Outdoor Adventures Await During Day Trips from Vegas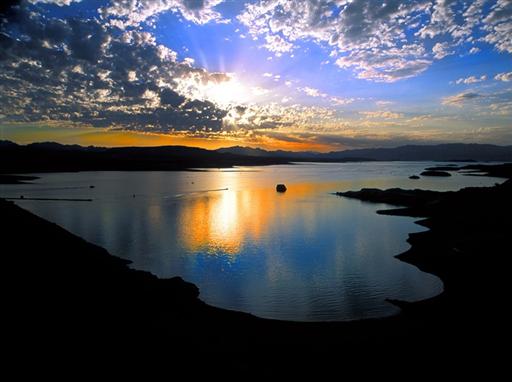 Escape Vegas to Enjoy Outdoor Activities, Scenic Kayak Trips, Hiking and More
LAS VEGAS — Adventure enthusiasts looking to escape for a day can find a variety of exciting outdoor activities in Boulder City, Laughlin and Mesquite this fall.
Can't-miss events and activities include:
Boulder City
Get Out on The Green


Featuring a unique and scenic 418-foot waterfall cascading over the mountainside, Cascata Golf Club is the ideal place to spend a day in Boulder City. This meticulously manicured 72-par course is one of Nevada's premier golf destinations with stunning vistas at every turn and a luxurious 37,000-square-foot clubhouse where guests can relax when not on the green. Boulder Creek Golf Club is a public 27-hole facility created for golfers of every skill level. Oasis-themed holes feature palm trees, beach bunkers, lakes and waterfalls. Golfers can also check out Boulder City Golf Course for wide-open fairways, two lakes, a clubhouse as well as a driving range, where visitors can practice their swing or receive golf lessons.
 

Lake Mead National Recreation Area




Famous for its connection to The Hoover Dam, Lake Mead is the largest reservoir in the United States. The peaceful, man-made lake is nestled among two beautiful mountain ranges, the River Mountains and the Muddy Mountains. Lake Mead National Recreation Area is made up of the 112-mile-long Lake Mead, and includes trails, scenic drives and campsites for those looking for a quick outdoor escape. The recreation area is open 24-hours a day, year-round.


 

Gold Strike Hot Springs


For expert adventurers, head just outside Boulder City to Gold Strike Hot Springs and take a two-mile trek through Gold Strike Canyon to the glorious hot springs next to the Colorado River. The trail is recommended for advanced hikers due to the steep 600-foot descent through the canyon, which incorporates eight ropes to help navigate down. Peppered through the canyon, visitors can enjoy pockets of hot pools, grottos and waterfalls. Due to Nevada's high summer temperatures, Gold Strike Hot Springs is closed annually from May through September.
River Mountains Loop Trail




This long loop winds through the quaint town of Boulder City, quickly escaping to the more primitive desert surrounding in the River Mountains. To the east, visitors can enjoy views of Lake Mead with several places to pause and admire the scenery. The trail then winds through Henderson before returning to Boulder City. This trail is great for hiking, climbing and cycling.
Art Mural Walking Tour




From unique sculptures and vibrant murals, visitors can enjoy Boulder City's eclectic art scene by simply taking a leisurely stroll around the small town. To navigate the town's art tour, a downloadable map is available that highlights pieces by Connie Burnett Ferraro and Patty Sullivan. For a step-by-step tour and in-depth look at each sculpture and mural, please download the Boulder City Chamber of Commerce App.


 

Desert Adventures




Founded in 2004, Desert Adventures provides unforgettable day trips, including hiking, backpacking, mountain biking, ATV tours, horseback riding, ziplines, and adventures in nearby national parks, Zion, Bryce, and the Grand Canyon. The company is known for its expertise in paddling, with 175 boats in their rental fleet, as well as other camping and outdoor gear available to rent. 


 

Skydive Las Vegas




Skydive Las Vegas is Nevada's premier professional skydiving facility, dedicated to providing the first-time jumper with an incredible and unforgettable experience. For once-in-a-lifetime adventure-seekers, free fall at 120 to 140 miles per hour and enjoy incredible views of the Hoover Dam, Lake Mead, Colorado River, Las Vegas Strip, Valley of Fire, Red Rock Canyon and Mt. Charleston.
Vegas Glass Kayaks


Vegas Glass Kayaks offer a variety of kayaking options for every skill level and desired experience in unique crystal-clear Kayak/Canoe hybrid boats. Guests can partake in half-day leisurely tours through Black Canyon, full-day excursions from the Hoover Dam down river, as well as kayaking and helicopter tour packages for a full day of adventure from the water and the sky.
Lake Mead Cruises


One of the best ways to beat the heat, Lake Mead Cruises take guests up close and personal with the Hoover Dam in a giant paddle-wheel boat that recalls 19th century Mississippi River boats. The cruises operate on Saturdays and Sundays, offering scenic sunset rides April through October.
Laughlin
Hike the Colorado River Heritage Greenway Trail




This experience is one of the best ways to get out and hike in the picturesque desert wilderness and enjoy 10.5 miles of light trails that run alongside the Colorado River. The Colorado River Heritage Greenway Trail features unique desert wildlife and natural formations along the way. The trail also takes visitors to the base of Davis Dam, a wonder of American engineering.
Get Out on the Green


With six courses in three states, golf enthusiasts have a plethora of options when planning an enjoyable golf outing in Laughlin. Each of the six courses offer impeccably manicured greens, unique character and various courses to the match the skill level of every golfer. With more than 300 days of sunshine a year, golfers can hit the green year-round in Laughlin at courses including El Rio Golf Club, Huukan Golf Club, Laughlin Ranch Golf Club, Los Lagos Gold Club, Mojave Resort Golf Club and Rivers Edge Golf Club.
Explore the Laughlin Labyrinths




Discover the beauty and serenity of the Laughlin desert by exploring the nearby labyrinths, which consist of nine stone mazes within a quarter-mile radius, ranging from 25-55 feet. Visitors can check out the collection's newest additions: a 36-foot, seven-circuit octagon and a 33-foot, seven-circuit square labyrinth. Marked by a monument marker with a purple etched disc, the Labyrinths can be found on the east side of Thomas Edison, between Bruce Woodbury and Casino Drive, a quarter mile from the intersection.
Cruise the Colorado River


Laughlin is known for its optimal location along the Colorado River, with a wide variety of available river tours and rentals, visitors can enjoy this natural feature in more ways than one. London Jet Boat Tours allows guests to experience the river and all its wonder in a sleek and quick jet boat. For those looking for a more relaxed tour of the river can enjoy the only dinner cruise on the Colorado River by Laughlin River Tours, or board the U.S.S. Riverside for guided excursion, detailing the history of this region and the Colorado River.
Mesquite
Nevada Open Golf Tournament (Nov. 9-11)




With over 40 years of championship history, the Nevada Open is one of the most respected and anticipated golf tournaments in the state. The Nevada Open is a 54-hole event with a cut after 36 holes. Each of the 224 players player will play one round at the Palms and CasaBlanca Golf Clubs before the 36-hole cut. With a $150,000 prize purse, the championship round will take place at the CasaBlanca Golf Club on Thursday, November 11.
CasaBlanca II-Man (Nov. 12-14)




This year, the CasaBlanca II-Man golf tournament will be expanding to take up to 150 teams. The tournament will take place across three stunning golf courses, CasaBlanca Golf Club, Conestoga Golf Club and Palms Golf Club and will offer Gross and Net Flights as well as 6 flights with a full field of 150 teams. Each flight will be competing for $6,000. The entry fee is $425 per player or $850 per team all entries include attendance to the welcome pairing party, three tournament rounds of golf and awards banquet.


 

The Desert Ranch Experience by Camel Safari




Situated on 176 acres along the Virgin River and just one hour north of Las Vegas, The Desert Ranch Experience by Camel Safari is a premier venue and glamping retreat that can be yours for a day, or overnight! Experience the desert in a completely new and unique way with a number of exotic animals such as camels, sloths, llamas and sand cats that visitors can learn more about and interact with.


 

Skydive Mesquite




A member of the United States Parachute Association, Skydive Mesquite offers the largest full-service drop zone in Nevada. Whether it's a thrill seeker's first jump or 1,000th, the team at Skydive Mesquite is prepared to help visitors jump over the picturesque Nevada desert.
###
About Mesquite
Close to home and yet a world away! Mesquite is located 90 miles north of Las Vegas and offers visitors an excitingly laid-back experience. Choose from several fabulous championship golf courses; explore astonishing, nearby national and state parks; or lounge by a sparkling pool. If you'd rather play indoors, then unwind and be pampered at a luxurious day-spa, practice your skill at bowling, dance the night away, or try your luck at the tables and slot machines. For more information on the destination, visit www.visitmesquite.com.
About Laughlin
Located 90 miles south of Las Vegas, Laughlin is a unique resort destination with a relaxed and friendly atmosphere that welcomes nearly two million visitors annually. This oasis along the Colorado River boasts many options for water sports and boating activities, including eight resorts with stunning accommodations that offer fine dining, spa experiences, golfing, and a close proximity to the recreational paradise known as Heritage Trails. Laughlin has also become a leading special event destination in the Southwest. For more information: www.visitlaughlin.com.
About Boulder City
Boulder City is known as a green oasis in the desert. Located approximately 20 miles from the glitter and excitement of Las Vegas and just a few miles from the grandeur of Hoover Dam and Lake Mead, the destination offers a quiet, relaxed living environment. Boulder City takes pride in its quality recreational facilities such as Bootleg Canyon mountain bike trails, Boulder City Golf Course, and Boulder Creek Golf Club. For more information visit, www.visitbouldercity.com.
CONTACTS
Erin Mowry

R&R Partners

United States

Erin.Mowry@rrpartners.com

-

Molly Castano

LVCVA

United States

702-892-7424
MORE FROM BOULDER CITY
SUBSCRIBE TO RSS FEED
XML