Sodexo Live! Partners with LVCVA and CTA to Donate Approximately 1,000 Meals from CES to Local Food Banks
Food recovered from the tradeshow was provided to community-based social service agencies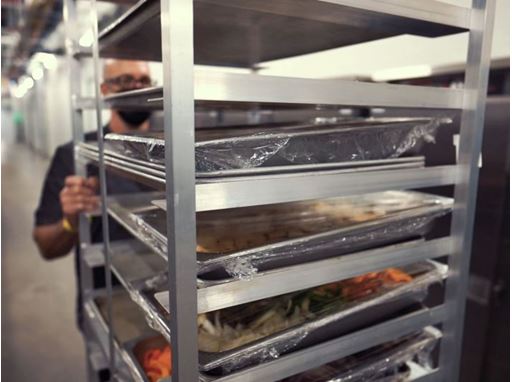 LAS VEGAS – Sodexo Live!, the hospitality partner to the Las Vegas Convention Center (LVCC) and many of the world's most iconic venues, today announced the donation of nearly 1,000 boxed lunches from this year's CES to local food banks.
Food recovered from the tradeshow was provided to community-based social service agencies supporting food insecure individuals throughout the Las Vegas area, including the Salvation Army of Southern Nevada (618 meals) and Our Savior's Lutheran Church of Henderson (360 meals), along with hundreds of juices and soft drinks for each, and other perishable items. 
"Much of the perishable food product was the result of the show shifting its schedule to end a day early, and the food donation was a good way to draw a positive from the situation and give back to the local community," said Sodexo Live! Regional Vice President Steven Potts. "Our locally-based team always jumps at any chance we get to do something positive like this, and we're thrilled that the Las Vegas Convention and Visitors Authority (LVCVA) and Consumer Technology Association (CTA) helped make it so seamless."
"We are grateful for our longstanding partnerships with Sodexo Live! and CTA," said Brian Yost, chief operating officer, LVCVA. "Tradeshows like CES are vital to the Las Vegas destination and charitable donations such as this demonstrate how they leave a lasting legacy in our community."
For additional information on Sodexo Live!, visit https://us.sodexo.com/industry/sodexo-live.html. For additional information on the LVCC, visit www.vegasmeansbusiness.com.
About Sodexo Live!
Sodexo Live! manages prestigious conference, cultural, and sporting venues and major events all over the world. With 40,000 employees and 500 sites, we offer our clients a range of bespoke catering, sales, and event management services, helping to transform the consumer experience into unforgettable memories. As strategic and responsible partners, we commit to unlocking our customers' full potential while favoring local communities. 
Sodexo Live! contributes to the success of prestigious events such as Royal Ascot, the Tour de France, the Rugby World Cup and soon the Paris 2024 Games, and showcases exceptional venues such as the Eiffel Tower Restaurants, the Hard Rock Stadium, Bateaux Parisiens, Yachts de Paris, the Royal Academy of Arts in London, the Prado museum in Madrid and the Hollywood Bowl in Los Angeles. Learn more.
ABOUT THE LVCVA 
The Las Vegas Convention and Visitors Authority (LVCVA) is charged with marketing Southern Nevada as a tourism and convention destination worldwide and with operating the 4.6 million square-foot Las Vegas Convention Center (LVCC). With nearly 150,000 hotel rooms and 14 million square feet of meeting and exhibit space in Las Vegas alone, the LVCVA's mission centers on attracting leisure and business visitors to the area. The LVCVA also owns the Las Vegas Convention Center Loop designed and operated by The Boring Company and also owns the Las Vegas Monorail, an elevated 3.9-mile system with seven stops throughout the resort corridor. 

###
MEDIA CONTACTS
Paul Pettas 
PR & Communications Director 
Paul.Pettas@sodexo.com 
203-898-0632
Erica Johnson
Director of Communications, LVCVA
Ejohnson@lvcva.com
 
CONTACTS
Kody Stover

Communications Coordinator

United States

702-892-7695
MORE FROM NEWS RELEASES
SUBSCRIBE TO RSS FEED
XML