Outstanding Hospitality Workers Honored as Recipients of the Las Vegas Convention and Visitors Authority's New Recognition Program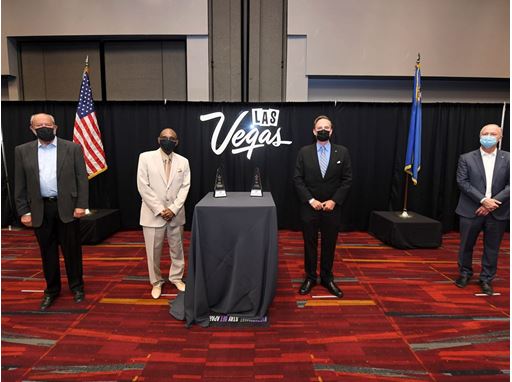 LAS VEGAS – The Las Vegas Convention and Visitors Authority (LVCVA) today announced the first two recipients of the reimagined Hospitality Heroes recognition program, which celebrates frontline hospitality workers whose hard work and dedication help make Las Vegas a world-class destination.
The LVCVA congratulates Benny Figgins, dealer at Caesars Palace, and Bryan Funai, concierge at Waldorf Astoria, on receiving the Hospitality Heroes Legacy Award. The program garnered more than 80 nominations from nearly two dozen resorts and tourism-related businesses and Figgins and Funai received the highest scores from an independent selection committee of local business leaders.
"These two workers represent the exemplary service and passion it takes to help make Las Vegas memorable for our many visitors," said Lori Nelson-Kraft, senior vice president of communications for the LVCVA. "Although all of our nominees are deserving of recognition, Benny and Bryan stood out for their decades of service and dedication."

Tourism is Southern Nevada's top economic driver, representing nearly 30 percent of overall employment in the state. Hospitality Heroes is a year-round program created to celebrate the accomplishments of an elite group of frontline hospitality workers while showcasing the resilience of the tourism industry. The section committee is made up of leaders from the Vegas Chamber of Commerce, Latin Chamber of Commerce, Urban Chamber of Commerce, Henderson Chamber of Commerce and UNLV's School of Hospitality.
Online nominations are now open for the second quarter. Visit www.LVCVA.com/HospitalityHeroes to nominate outstanding hospitality workers. 
Figgins has been a dealer at Caesars Palace for 49 years. He is not only one of the few employees who have been with the casino since its opening, but he was one of the first African American dealers to work on the Strip after casinos began integrating the workforce. Colleagues say Figgins is one of the most requested dealers at the resort and many guests return year after year to sit at his table. 
Funai has been a concierge in Las Vegas since 1998. In the middle of the great recession, he was part of the opening team at Mandarin Oriental Las Vegas and stayed with the property when it transitioned to Waldorf Astoria Las Vegas in 2018. His colleagues say his warmth and professionalism remains a constant despite the many changes he has experienced in the industry.
Both winners were recognized at today's meeting and were presented with a commemorative award and a gift bag.
ABOUT THE LVCVA 
The Las Vegas Convention and Visitors Authority (LVCVA) is charged with marketing Southern Nevada as a tourism and convention destination worldwide and with operating the 4.6 million square-foot Las Vegas Convention Center (LVCC). With nearly 150,000 hotel rooms and 14 million square feet of meeting and exhibit space in Las Vegas alone, the LVCVA's mission centers on attracting leisure and business visitors to the area. The LVCVA also owns the Las Vegas Convention Center Loop designed by The Boring Company and also owns the Las Vegas Monorail, an elevated 3.9-mile system with seven stops throughout the resort corridor. Both transportation systems will operate when conventions reconvene.
 
CONTACTS
Erica Johnson

LVCVA

United States

702 892 7655
MORE FROM NEWS RELEASES
SUBSCRIBE TO RSS FEED
XML