Las Vegas News Briefs - October 2022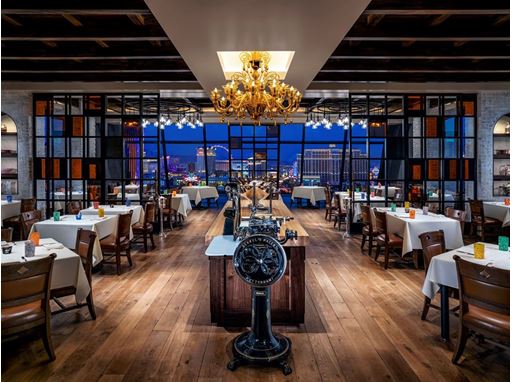 Vetri Cucina Returns to Palms Casino Resort
The return of the beloved Vetri Cucina at Palms Casino Resort in Las Vegas is official. Located on the 56th Floor and offering panoramic views of the city below, the Las Vegas restaurant will reopen its doors on November 1, 2022. Featuring only 75 seats, this intimate dining experience uniquely captures the energy of Las Vegas and it will once again feature the acclaimed Italian cuisine that made it an award-winning Las Vegas dining destination. Vetri Cucina will launch with a menu that features many of the favorite dishes and wines that brought it acclaim, as well as new menu items that will delight past and new guests. Chef Vetri and his team offer an a 'la carte menu featuring time-honored favorites and daily specialties allowing guests to explore the classic tastes of Italy and the culinary inspirations of the kitchen team featuring ingredients, products, and flavors from around the world. The menu will include a seasonal variety of antipasti, pasta, meat and fish, and delectable desserts. For more information, contact Celena Haas-Stacey, CHS Communications, celena@chscomms.com.
Maroon 5 Announces New Headlining Las Vegas Residency at Park MGM
Three-time GRAMMY Award-winning multi-platinum band Maroon 5 will headline a new Las Vegas residency at Dolby Live at Park MGM beginning March 24. Presented in partnership by Live Nation and MGM Resorts International, M5LV The Residency will be custom-designed for Dolby Live, giving fans an intimate concert experience in the 5,200-seat entertainment venue. Show dates: March 24, 25, 29, 31; April 1, 5, 7, 8; July 28, 29; August 2, 4, 5, 9, 11, 12. For more information, contact Kelly Frey, KF Publicity, kelly@kfpublicity.com.
Resorts World Las Vegas Debuts New Tequila and Mezcal Bar, Jalisco Underground
Resorts World Las Vegas recently opened a new luxury bar and lounge, Jalisco Underground. Located directly underneath Wally's Wine & Spirits, the opulent cocktail experience features a collection of agave-based cocktails and decadent bar bites inspired by bold, Mexican flavors. From the moment they arrive, guests will be immersed in Mexico City's underground tequila culture, as they sip on high-end spirits and handcrafted cocktails inspired by the birthplace of tequila, Jalisco, Guadalajara. Sounds of modern Mexican music, Latin DJs and pure Rock n' Roll will be heard as guests are transported into a Mexico City tequileria with a Las Vegas-style twist. The mixology program is inspired by authentic recipes and modern techniques from south of the border and features an all-new take on the traditional agave cocktail. The elevated food offerings include Mexican dishes, giving guests a unique interpretation of the food pairings that would be found in the greatest underground tequila spots in Mexico. For more information, contact Nick Flynn, Allied Global Marketing, ResortsWorld@alliedglobalmarketing.com.
Dominique Ansel Las Vegas to Debut at Caesars Palace Oct. 21
James Beard Award-winning pastry chef Dominique Ansel will debut Dominique Ansel Las Vegas inside Caesars Palace on Friday, Oct. 21. Chef Dominique will bring his signature creations to The Strip, including his iconic Cronut® pastry, the best-selling DKA (Dominique's Kouign Amann), freshly baked French viennoiserie and the new "Lucky 7" collection – a set of pastries as unique as Las Vegas. As a "thank you" to those looking to take the first bites of Chef Dominique's masterpieces, the first 100 guests will receive a commemorative gift in celebration of the opening. Known as an innovator in the pastry industry, Chef Dominique has created some of the most famous pastries in the world, including the Cronut®, which was named one of TIME magazine's "25 Best inventions of 2013." The Cronut® will make its debut on The Strip at Dominique Ansel Las Vegas, and each month, the shop will offer a new Cronut® flavor available only at Caesars Palace. For more information, contact Kristin Soo Hoo, Caesars Entertainment, ksoohoo@caesars.com.
The Venetian Las Vegas Presents Freestyle Love Supreme from Producer Lin-Manuel Miranda, Creator of Hamilton
Before "Hamilton" or "In the Heights" there was FREESTYLE LOVE SUPREME. From producer Lin-Manuel Miranda and fresh from Broadway, FREESTYLE LOVE SUPREME brings hip-hop improv to The Summit Showroom inside The Venetian® Resort Las Vegas beginning Nov. 10. Recipient of a 2020 Special Tony Award®, FREESTYLE LOVE SUPREME, directed by Thomas Kail, is a non-stop blend of hip-hop, improvisational comedy, music, and vocal stylings. The cast of talented performers will provide non-stop action throughout the 90-minute show, spinning suggestions from the audience into humorous bits, instantaneous songs and riffs, and fully realized musical numbers. No two shows are ever the same. The electrifying vocals of the performers – from singing to rapping to beat-boxing with harmonies and freestyle flow – are backed by tight tunes from keyboards and human percussion. Conceived by Anthony Veneziale and created by Thomas Kail, Lin-Manuel Miranda, and Anthony Veneziale, FREESTYLE LOVE SUPREME pays homage to John Coltrane's "A Love Supreme," with a nod to musical roots in jazz, soul, blues and hip-hop. Performances will run Wednesdays – Sundays. For more information, contact Emily Clayton, Kirvin Doak Communications, FLSVenetian@kirvindoak.com.
The Neon Museum reilluminates historic Plaza Hotel & Casino sign
The Neon Museum reilluminated the historic Plaza Hotel & Casino sign during a special lighting ceremony and reception after which the sign debuted to the public as a permanent addition to the Museum's collection in its Neon Boneyard. Hartlauer Signs refurbished the 1,500-pound sign that measures 9 ft. high by 18 ft. long. The project, which took a total of more than 100 hours, included repairing damaged sheet metal to return the sign to its original shape and repainting the nearly 40-year-old sign. Hartlauer also replaced 576 light bulbs and installed 14 new border neon units around the Plaza letters. When the Plaza built its South Tower in 1983, Ad-Art and Charles Barnard, the mastermind behind the design of classic Las Vegas signs like Vegas Vickie, Sassy Sally's, and the Mirage, was contracted to create the signs for the property at 1 Main Street. The Plaza still has the Barnard designed signs on its building. The one donated to The Neon Museum was located on the Main Street façade of the Plaza in between its two towers until 2011 when the Plaza underwent a property-wide renovation. The Plaza sign is the 22nd sign to be refurbished and reilluminated in the Museum's Neon Boneyard. The last sign that was reilluminated was the Moulin Rouge in September 2020. For more information, contact Amy E. S. Maier, The Warren Group, amy@twgpr.com.
Formula 1 Takes Over the Las Vegas Strip November 16-18, 2023 
Following the announcement from the World Motor Sport Council (WMSC) of the 2023 F1 calendar, the most anticipated Grand Prix in motorsports history is scheduled to take place in Las Vegas the week before Thanksgiving on November 18, 2023. With a historic 10 p.m. PT 'lights out' start on Saturday night, F1's new flagship Grand Prix is set to dominate the sports and entertainment capital of the world for four days and nights on a scale never seen before and cement the Las Vegas Grand Prix as the standout event on the sport's global calendar in 2023 and beyond. Taking place at night against the iconic Las Vegas backdrop, the track will see drivers reach jaw-dropping speeds of over 210mph (340kph) as they race around some of the world's most iconic landmarks, hotels and casinos on the legendary Las Vegas Strip. A star-studded opening ceremony, featuring music acts and staple Las Vegas entertainment, will take place on Wednesday, November 15, unveiling the spectacular new multi-use Paddock Building and signal the start of the Las Vegas Grand Prix week - which will see unprecedented levels of F1 activity and events, with Practice on Thursday, November 16 and Qualifying on Friday, November 17, ahead of the Saturday night race. For more information, contact the Las Vegas Grand Prix Press Office, press@F1lasvegasgp.com.
Meow Wolf's Omega Mart Launches the First Major Exhibit Expansion Since Opening
In the first notable expansion of the immersive art exhibition since opening, Meow Wolf's Omega Mart recently launched the Mega Art Zone. Adjacent to the Omega Mart box office, Meow Wolf has created an energetic showcase for a whole host of local artists. The Mega Art Zone is a graffitied spot that deepens the existing Omega Mart narrative while showcasing the talents of more than 40 local Las Vegas artists. Meow Wolf founders and artists traveled from Santa Fe, New Mexico to Las Vegas to work in collaboration with local artists. The creative team worked overnight and into the early morning hours over four consecutive nights while AREA15 was closed to create the new Mega Art Zone. The finished installation features two functioning vending machines filled with mini art available for the public to purchase, so everyone can take home a little piece of local art. For more information, contact Michael Duffield, Meow Wolf, VegasPR@meowwolf.com.
MGM Grand Debuts New Lobby Bar Experience
MGM Grand has reimagined the Lobby Bar experience for guests and visitors with a new beverage program by MGM Resorts International's Executive Director of Beverage Julian Cox. Now open, the new Lobby Bar offers a social gathering space with elevated bar offerings within a welcoming and fun environment for guests to enjoy on any occasion. Conceptualized by Cox exclusively for MGM Grand's Lobby Bar, the menu features an array of new specialty libations and large format cocktails. The new venue design features a beautiful color palette of purples, maroons, light pinks, and creams on lounge chairs, banquettes, barstools, pillows and drapery. Fixtures and furniture pieces are accentuated with gold metal finishes adding visual appeal as marble cocktail and communal tables sit atop a luxe patterned carpet that spans the venue. For more information, contact Ashley Farkas, MGM Resorts International, afarkas@mgmresorts.com.
Caesars Palace Enhances Guest Arrival Experience with Multimillion-Dollar Main Entrance Renovation
Following the completion of a multimillion-dollar renovation of its original main entrance, iconic casino dome and porte-cochère, Caesars Palace now offers a lavish arrival experience fit for a Caesar. The redesigned space includes a dramatic entryway with a coffered ceiling, refreshed gaming areas and the new Galleria Bar in the hotel lobby. After raising the roof of the entryway to match the grandeur of the hotel lobby, guests arriving at Caesars Palace now enter a beautifully lit space, with a coffered ceiling and an intricate marble mosaic floor. A 15-foot-tall Carrara marble statue of Augustus Caesar welcomes visitors under the raised ceiling, which features hand-painted illustrations of Roman gods and a spectacular chandelier containing 70,000 crystals. Beyond the entryway, guests will find two new state-of-the-art gaming pits. Additionally, Caesars Palace's legendary, crystal-cloaked casino dome now boasts a new, larger crystal chandelier that weighs approximately 3,200 pounds and is comprised of 12,000 individual crystals. The linear rays that radiate from the chandelier contain approximately 120,000 additional crystals. With more than $1 million in crystals, brighter, energy-efficient LED lighting and reimagined carpet, wall and ceiling coverings, the domed gaming area is everything guests loved about the iconic original with a modern twist. Another welcome addition, Galleria Bar in the hotel lobby allows guests to enjoy a cocktail as they await check-in. For more information, contact Kristin Soo Hoo, Caesars Entertainment, ksoohoo@caesars.com.
Luke Bryan Adds 2023 Shows to Electric Headlining Dates at Resorts World Theatre
Luke Bryan recently announced 2023 dates for his Las Vegas headlining engagement at Resorts World Theatre. The five-time entertainer of the year added twelve more dates for "Luke Bryan: Vegas" due to ticket demand for the must-see, high-energy show. "Luke Bryan: Vegas" features only-in-Las Vegas production elements including a shifting stage that lifts the country superstar and his band to the rhythms of his hit songs as well as a catwalk that descends from the ceiling and elevates Bryan to eye-level with the mezzanine seats. Show dates include February 1, 3, 4, 8, 10, 11; March 22, 24, 25, 29, 31; and April 1. For more information, contact Gia Silvaggio, Allied Global Marketing, ResortsWorld@alliedglobalmarketing.com.
FlyOver in Las Vegas' New Flight Ride "Windborne: Call of the Canadian Rockies" Lands on the Strip
FlyOver in Las Vegas, the Strip's premier flight ride attraction, is celebrated its first anniversary with the launch of its newest flight ride experience, Windborne: Call of the Canadian Rockies. Featuring incredible footage captured in remote areas of the Canadian Rocky Mountains, the film spotlights areas unreachable to most, providing a rare glimpse into the most isolated and untouched areas of the mountain range. Las Vegas visitors will explore Canada's snow-capped peaks, turquoise lakes, picturesque valleys and dramatic vistas as they travel over Banff, Jasper and Yoho National Parks amongst other spectacular locales. For more information, contact Sam Elliott, Kirvin Doak Communications, selliott@kirvindoak.com.
LVMS NASCAR dates set for 2023
The world's most competitive form of motorsports will make two stops in Las Vegas for the sixth consecutive year in 2023. Las Vegas Motor Speedway once again will host two NASCAR Cup Series races next year. LVMS will host a tripleheader March 3-5, headlined by the Pennzoil 400 Presented by Jiffy Lube on Sunday, March 5. The Alsco 300 NASCAR Xfinity Series race will be Saturday, March 4 and the Victoria's Voice Foundation 200 Presented by Westgate Resorts NASCAR Craftsman Truck Series race will kick off the weekend on Friday, March 4. The speedway's annual fall date, the South Point 400, will be Oct. 15. The South Point 400 will also be the first race of the round eight of the NASCAR Playoffs. The Fall weekend will begin with the Alsco 302 NASCAR Xfinity Series race on Saturday, Oct. 14. For more information, contact Jeff Motley, LVMS, jmotley@lvms.com.
Styx to Return to The Venetian Resort Las Vegas January 27 – February 4
Legendary and multi-Platinum rockers Styx will be taking the Las Vegas stage once again for an unforgettable five-night engagement at The Venetian Theatre inside The Venetian® Resort Las Vegas. The shows will be held on January 27, 28 and February 1, 3 and 4, 2023. For more information, contact Kelly Frey, KF Publicity, kelly@kfpublicity.com.
Boulder City to Create New Adventure Center with $2.2 Million Grant
Boulder City will soon build a new Adventure Center, offering visitors a centralized location for starting tours and activities. This exciting idea will become a reality due to the support of a federal grant of $3.7 million to support tourism and economic development in Nevada. The grant will support the creation of two Adventure Center locations, one in Northern Nevada (Carson City) and one in Southern Nevada (Boulder City). $2.2 million is the portion that is designated for the project in Boulder City. For more information about National Park Express, visit NationalParkExpress.com.
Donny Osmond Announces 2023 Dates for His Award-Winning Las Vegas Residency
Legendary entertainer and music icon Donny Osmond has extended his award-winning solo residency inside Harrah's Las Vegas Showroom at Harrah's Las Vegas into 2023. Winner of Best Show, Best Headliner and Best Singer for the 2021 Best of Vegas awards, Osmond's show is a dynamic, energy-filled musical journey of his unparalleled life as one of the most recognized entertainers in the world. Fans are treated to Osmond's engaging performances throughout the show including the fan favorite and showstopping "Auto-rap-ography" – a rap song accompanied by milestone photos and videos from his impressive career of six decades. Donny also does a full Broadway production of his classic Disney hit from Mulan, "I'll Make A Man Out Of You." The show also includes an audience interactive segment where anyone can request any song he's ever recorded. Newly announced performance dates: Jan. 24 – 28, 31; Feb. 1 – 4, 14 – 18, 21 – 25, 28; March 1 – 4, 7 – 11, 21 – 25, 28 – 31; April 1, 4 – 8; and May 2 – 6, 9 – 13, 16 – 20, 23 – 27. For more information, contact Robert Jarrett, Harrah's Las Vegas, RJarrett@caesars.com.
ARIA Resort & Casino Welcomes Proper Eats, an Elevated Food Hall, to Renowned Culinary Portfolio this Winter
Industry trendsetter Clique Hospitality will bring together a collection of highly sought-after imports and only-in-Las Vegas destinations with Proper Eats, an elevated food hall serving eclectic cocktails and global cuisine opening in early winter. Set to the stunning architectural design of Alessandro Munge, Proper Eats will span 24,000 square feet on the second-level promenade of ARIA Resort & Casino. Clique, which is behind more than a dozen incomparable destinations in San Diego and Las Vegas, is curating 12 palate-pleasing concepts that include four of the company's own creations, plus several in-demand restaurants and bars. First to sign on among Proper Eats offerings are the first Seoul Bird outside of London; the only Wexler's Deli outside of Los Angeles; New York's breakfast-centric Egghead by Tao Group Hospitality; and Clique's newly created Temaki, serving fresh, innovative handrolls and other modern sushi dishes. For more information, contact Lauren Cahlan, Wicked Creative, ProperEats@wickedcreative.com.
The STRAT Hotel, Casino & SkyPod to Welcome Asian Cuisine with Chī Asian Kitchen
Among the exceptional dining, entertainment and gaming offerings currently offered at The STRAT Hotel, Casino & SkyPod, the property will soon debut its new Asian restaurant, Chī Asian Kitchen. Taken from the Chinese word meaning "eat," Chī will serve an array of authentic and reimagined Chinese and other Asian dishes. Reminiscent of a bustling Chinese alley restaurant, the street-inspired interior will include a variety of traditional and unique design touches and décor. Chī will offer a wide variety of traditional dishes, and an array of signature cocktails. For more information, contact Lauren Addante, Wicked Creative, GE@WickedCreative.com.
Snow Carnival Holiday Forest to Debut at M Resort Spa Casino
In anticipation of the holiday season, Snow Carnival Holiday Forest will welcome guests of all ages beginning Wednesday, November 23. This one-of-a-kind winter-themed attraction, produced by International Special Attractions, Ltd. (ISA) in partnership with M Resort Spa Casino, celebrates the upcoming holiday season. A gentle flurry of snowflakes will greet visitors as they are welcomed into a world of more than 350 tons of real snow both falling from above and coating the ground in an inviting blanket. To keep the magic of the picturesque winter wonderland alive, 50 tons of fresh snow will be added throughout the indoor Snow Carnival engagement each day. From snowball throwing to snowman building, this celebratory attraction will offer a variety of seasonal favorites. Coast down the snowy inclines of the "Mini Matterhorn" snow slide, visit the Candy Cane forest, or stop by a snow play area for winter games and more. For more information, contact Chandra Stepanovich, Dandelion PR, chandra@dandelionpr.com.
'Enchant' World's Largest Christmas Light Extravaganza Announces Spectacular Outdoor Event at Resorts World Las Vegas "Enchant on the Strip"     
Enchant, producers of the world's largest Christmas light experience, and Resorts World Las Vegas, the Strip's newest resort, plan to brighten the holiday season in Las Vegas with over four million outdoor lights—bringing a special edition of America's fastest-growing live-holiday event to Las Vegas Boulevard for the first time billed as "Enchant on the Strip." The event officially opens on Saturday, Nov. 19 and will continue operation through Jan. 1. The spectacle will span over ten acres—more than three football fields— across the Resorts World Las Vegas property. In addition to featuring a one-of-a-kind immersive walk-thru light maze experience and a 100-foot-tall holiday tree, the event will also include ice skating, live entertainment, Santa visits, interactive games and a holiday marketplace featuring local artisans. Specialty cocktails and culinary offerings will also be available from the array of Resorts World restaurants. For more information, contact Nick Flynn, Allied Global Marketing, ResortsWorld@alliedglobalmarketing.com.
Ignite set for Full 50-Game G League Slate in 2022-2023 Season
For the first time, NBA G League Ignite will play a full 50-game NBA G League schedule, making the team eligible to compete for an NBA G League championship in the 2022-23 season. The NBA G League schedule will once again be split into two parts: the 18-game Showcase Cup, followed by a 32-game regular season. Last season, Ignite played 27 total games – participating in 14 Showcase Cup games before playing 13 games on the Ignite Tour in lieu of G League regular season contests. Ignite debuts at The Dollar Loan Center with a Friday, Nov. 4 season opener against the Oklahoma City Blue, tipping off a 16-game Showcase Cup slate. Following the Showcase Cup, team records will reset in advance of the 32-game regular season. Ignite's regular season tips off against the Clippers on Tuesday, Dec. 27. At the conclusion of the regular season, the top six teams in each conference will qualify for the NBA G League Playoffs presented by Google Pixel, followed by the NBA G League Finals presented by YouTube TV in April 2023. For more information, contact Mara Rudolph, NBA, MRudolph@nba.com.
Legendary rockers TESLA announce special Las Vegas Residency at House of Blues Las Vegas
Legendary rockers TESLA are returning to Las Vegas for a special five-night residency, in celebration of their 36 years of entertaining rock audiences around the world. Show dates: March 17, 18, 22, 24, 25 inside House of Blues Las Vegas at Mandalay Bay Resort and Casino on the famed Las Vegas Strip. During their exclusive five-night run of shows, TESLA will touch all sides of their unique discography including the heavier edge of electric songs like "Modern Day Cowboy", "Hang Tough" and "Edison's Medicine", as well as their acoustic driven songs such as "Signs" and "Love Song" (two Top 10 Billboard charting hits). For more information, contact Jeff Klein, Atomic City PR, jeff@atomiccitypr.com.
Miranda Lambert Celebrates Sold-Out Opening of Velvet Rodeo Residency
Reigning ACM Entertainer of the Year and current CMA triple-nominee Miranda Lambert recently celebrated the launch of "Miranda Lambert: Velvet Rodeo The Las Vegas Residency" at Zappos Theater at Planet Hollywood Resort & Casino. The headlining residency debut featured high-energy entertainment and poignant stripped-back moments spanning the three-time GRAMMY winner's iconic career from her 2005 debut, Kerosene, to this year's critically acclaimed Palomino. For more information, contact Robert Jarrett, Caesars Entertainment, RJarrett@caesars.com.
CONTACTS
Maria Phelan

LVCVA

United States

-
MORE FROM NEWS RELEASES
SUBSCRIBE TO RSS FEED
XML