Las Vegas News Briefs - January 2022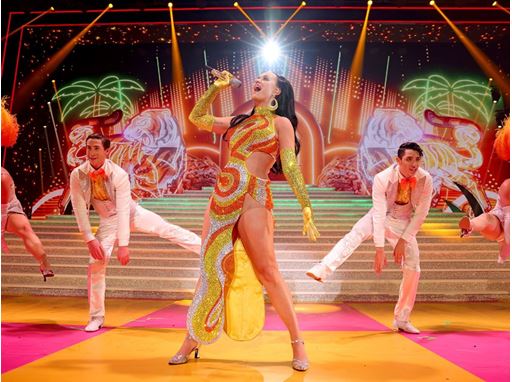 Katy Perry Debuts New Residency "Katy Perry: PLAY" at Resorts World Theatre
Global superstar Katy Perry recently kicked off her headlining Las Vegas residency, Katy Perry: PLAY at the brand-new Resorts World Theatre. The newly opened 5,000-capacity theatre at Resorts World Las Vegas, exclusively programmed and operated by Concerts West / AEG Presents, is a state-of-the-art, multi-level venue designed by the award-winning international design firm, Scéno Plus. The intimate venue, with the furthest seat only 150 feet from the stage, features unparalleled comfort, unobstructed sightlines and an unmatched spatial audio experience through more than 200 L-Acoustics speakers powered by L-ISA Immersive Hyperreal Sound technology. Additional Katy Perry: PLAY show dates on sale include Jan 7, 8, 12, 14, 15 and March 2, 4, 5, 11, 12, 16, 18, 19. For more information, contact Gia Silvaggio, Allied Global Marketing, ResortsWorld@alliedglobalmarketing.com.
John Legend Announces Headlining Las Vegas Residency, "Love in Las Vegas"
12-time GRAMMY Award-winner, multiplatinum artist, activist, and EGOT (Emmy, GRAMMY, Oscar and Tony) winner John Legend will headline a Las Vegas residency, "Love In Las Vegas," at Zappos Theater at Planet Hollywood Resort & Casino, opening Friday, April 22, 2022. Designed exclusively for Zappos Theater and promoted by Live Nation and Caesars Entertainment, "Love In Las Vegas" will be a beautiful, soulful concert experience, showcasing Legend's greatest hits, "soaring vocals [and] silky-smooth piano playing skills" (Billboard). The performance will feature Legend's incredible full band and will be a vibrant, colorful celebration of love and coming together, sentiments echoed on Legend's GRAMMY Award-winning seventh studio album, Bigger Love, and companion 2021 headline tour – which resulted in multiple sold out shows and garnered rave reviews in the press. For more information, contact Robert Jarrett, Caesars Entertainment, RJarrett@caesars.com.
San Manuel Gaming and Hospitality Authority to Assume Ownership of Palms Casino Resort
The San Manuel Gaming and Hospitality Authority (SMGHA) an affiliate of the San Manuel Band of Mission Indians recently announced they received approval from the Nevada Gaming Commission as licensees for Palms Casino Resort in Las Vegas. With this approval, SMGHA Nevada, LLC, owned by SMGHA, is set to close the transaction and become owners of Palms Casino Resort with plans to reopen next year in the spring. Recruitment for more than 1,000 positions ranging from casino, operations, hotel management, food and beverage along with supervisor positions is underway. In addition to the casino, Palms includes more than 700 hotel rooms and suites, multiple casual and upscale dining options, meeting and convention space, a 2,500-seat theater, pool and spa, and Palms Place condominiums. For more information, contact Celena Haas-Stacey, CHS Communications, celena@chscomms.com.
Bellagio Gallery of Fine Art Welcomes Aṣẹ: Afro Frequencies
Bellagio Gallery of Fine Art announces the recent opening of Ase: Afro Frequencies, a multi-sensory digital art exhibition presented by ARTECHOUSE in collaboration with Afro-Surrealist visual artist Vince Fraser and poet Ursula Rucker. Taking visitors through an immersive, interactive journey, Ase: Afro Frequencies celebrates the historical, social and cultural aspects of the Black experience through the artists' lens, brought to life in a new digital interactive context. Designed around the Yoruban philosophy of ase (pronounced ah-shay), meaning our power to exact change, this exhibition features installations inspired by West African traditions, presenting them as symbols of Black culture and hope. For more information, contact Stacy Hamilton, MGM Resorts International, shamilton@mgmresorts.com.
Shania Twain Announces Final Show Dates
Shania Twain, the top-selling female country artist of all-time, has announced the final 16 dates for her residency show, Shania Twain "Let's Go!" The Las Vegas Residency at Zappos Theater at Planet Hollywood Resort & Casino. The shows will be held June 3 – 18 and Aug. 26 – Sept. 10, 2022. Since opening in December of 2019, Shania, who serves as creative director of the show, has made several updates to the production, including seasonal surprises for the holidays as well as for her upcoming Valentine's Day weekend performances. For more information, contact Robert Jarrett, Caesars Entertainment, rjarrett@caesars.com.
Michael Bublé Announces Exclusive Las Vegas Limited Engagement at Resorts World Theatre
Michael Bublé, the multi-platinum, multi-Grammy winning artist, has announced he will headline a limited engagement at the Las Vegas Strip's newest integrated resort, Resorts World Las Vegas, beginning April 27, 2022. The six-show run is produced by AEG Presents. The exclusive Las Vegas shows will give Michael Bublé fans an extraordinary opportunity to experience the incomparable performer up-close-and-personal in the intimate setting of the new 5,000-capacity, state-of-the-art Resorts World Theatre. The spectacular production will feature the Grammy-award winning singer's timeless hits accompanied by a full orchestra and unmatched audio and video technology for an only-in-Vegas, unforgettable night with Michael Bublé. For more information, contact Nick Flynn, Allied Global Marketing, ResortsWorld@alliedglobalmarketing.com.
The Noodle Den Debuts at SAHARA Las Vegas
The Noodle Den, the new restaurant concept from Chef Guoming "Sam" Xin, recently opened at SAHARA Las Vegas. The newest addition to the property's all-new Strip-facing restaurant row features Chef Sam's popular hand-pulled noodles and dumplings, traditional Northern Chinese dishes, and a demonstration kitchen for guest viewing. The restaurant's menu features Chef Sam's renowned hand-pulled noodles in standout dishes like Beef Brisket Hand Pulled Noodle Soup, Kung Pao Chicken Stir-Fry with Cat Ear Noodle, Farmhouse Style Pork with Knife Sliced Noodle and Tomato & Eggs with Knife Sliced Noodle. Chef's specials will include Baked Sea Bass with Unagi Sauce, Spicy Cashew Prawns, Wagyu Mapo Tofu, and Sweet and Sour Port Spare Ribs, among others. For more information, contact Kelly Frey, The Publicity Lab, Sahara_PR@thepublicitylab.com.
Rock Legend John Fogerty Returns to Wynn Las Vegas' Encore Theater for Six-Show Engagement in 2022
Rock legend John Fogerty is returning to the intimate Encore Theater with an extended residency at Wynn Las Vegas in 2022 following his wildly successful run of shows at the venue this year. Performances are set for Feb. 23, 25, 26 and March 2, 4, 5. Fogerty received a key to the Las Vegas Strip during his 2019 run at Wynn Las Vegas in recognition of his dedication to supporting veterans in the city and across the country. His chart-topping hits with Creedence Clearwater Revival are known around the world, including "Proud Mary," "Centerfield," "Fortunate Son" and more. Recently, Spotify shared that Fogerty's catalog of hits were streamed over 800 million times in 2021 Wrapped, enjoyed by 62.4 million listeners and nearly 37 million hours of listening in 178 countries. For more information, contact Erica Benken, Giant Noise, erica.benken@giantnoise.com.
Zouk Group Announces Unique Residency With deadmau5 Presenting "THE CUBE" At Resorts World Las Vegas
Resorts World Las Vegas recently announced that deadmau5 will be next in line on the all-star list of residents at Zouk Nightclub. The multiple JUNO Award-winning and GRAMMY®-nominated artist will begin his residency on January 5 as a kickoff to the new year and to coincide with CES when the world's technology elite descends upon Las Vegas.  Here deadmau5 will present 'The Cube,' a new iteration of his signature structure for Las Vegas exclusively at Zouk Nightclub. Playing off his cubev3 major touring production --the most complex live show he has ever presented--Zouk Nightclub is the only place in Las Vegas where fans can experience deadmau5 in a custom cube in a state-of-the-art nightclub with additional new visuals, enhanced production and music. For more information, contact Nick Flynn, Allied Global Marketing, resortsworld@alliedglobalmarketing.com.
Wayne Newton, Mr. Las Vegas, Announces New Dates of "Wayne: Up Close and Personal"
Flamingo Las Vegas and the legendary Wayne Newton proudly announce new dates of his show, "Wayne: Up Close and Personal," in the Wayne Newton Theater inside Bugsy's Cabaret. Having achieved "headliner" status for the first time in his career at Flamingo in the 1960s, Mr. Las Vegas will make a triumphant return to the iconic resort beginning Jan. 24. Performance dates are set for January, February, March, April, May and June. "Wayne: Up Close and Personal" presents the entertainer in an intimate setting where he will interact with the audience, perform some favorite songs and share personal career highlights through songs, film clips, anecdotes and audience Q&A. For more information, contact Robert Jarrett, Caesars Entertainment, rjarrett@caesars.com.
The Neon Museum Debuts Reimagined North Gallery with New Experiences and Updated Brilliant! Jackpot Show
The Neon Museum unveiled the most significant upgrade ever to the visitor experience in its North Gallery, home of its popular 360-degree audiovisual show, Brilliant! The improvements within the newly reimagined North Gallery are focused on enhancing the educational experience offered in the space and include a new "Las Vegas Luminaries" mural, the next iteration of the museum's immersive show titled Brilliant! Jackpot, new educational components, and customer feedback options. As part of the reimagined space, The Neon Museum worked with local artists to add the "Las Vegas Luminaries" mural on the area's south wall to pay tribute to the diverse communities and lesser-known individuals who have significantly impacted Las Vegas cultural history. As a freestanding work of public art, the mural is viewable 24/7 for free; a ticket to the show or museum is not required. The mural serves as an iconic entryway for Brilliant!, which underwent its most significant update yet to its music and video presentation as part of the North Gallery's reimagination. The new iteration of the show, entitled Brilliant! Jackpot, includes an expanded playlist and remastered historical video. The show now plays a selection of 54 songs spread across various timelines. For more information, contact Amy E. S. Maier, The Warren Group, amy@twgpr.com.
Laughlin Event Center Will Be "Cool Again" this Spring when Kane Brown Takes the Stage
Country star Kane Brown will bring his pop and R&B-flavored country hits to the Laughlin Event Center when he takes the stage at Laughlin's premier outdoor concert venue on Friday, March 4. Brown, an American Music Award winner, is known for top hits including "What Ifs," "Heaven" and the album "Kane Brown," all landing on the music charts. Brown was the first artist to have simultaneous works topping five of Billboard's country music charts. The CMT Music Awards and ACM Awards winner has also crossed genres with an EDM single with artist Marshmello, lending his voice to the song, "One Thing Right." For more information, contact Taylor Goldberg, Wicked Creative, Laughlin@WickedCreative.com.
Buddy Valastro Doubles Down on Vegas with New Boss Cafe Opening in 2022
Buddy Valastro's love of Las Vegas just got sweeter with another restaurant opening early 2022. The star of the hit TLC series Cake Boss will open The Boss Café by Buddy Valastro at The LINQ Hotel + Experience. The Boss Café will join la famiglia of Buddy V's Ristorante, Carlo's Bakery and PizzaCake with casual, to-go dining capturing the savory and sweet side of the famed New Jersey chef and restaurateur. Inspired by all the neighborhood delis and markets in New Jersey and New York that Valastro and his family grew up with, The Boss Café features a variety of fresh baked breads, Italian sandwiches, hand-crafted pizzas, a house-made fresh mozzarella bar, and a variety of sweets and pastries. For more information, contact Michelle Wilmoth, PR Plus, michelle@prpluslv.com.
SAHARA Las Vegas Welcomes New Nightlife Destination AZILO Ultra Lounge
A new year brings a new nightlife destination to the Las Vegas Strip with the recent debut of AZILO Ultra Lounge at SAHARA Las Vegas. Open Friday and Saturday evenings, Las Vegas' most seductive and spirited lounge offers music, entertainment and a lively personality, where guests can indulge in well-balanced and decadent libations and immersive cocktail experiences, converse and be entertained in a warm and intimate atmosphere. Keeping the party going every Saturday evening will be a live DJ set from The Frenchies, a unique partnership between DJ Flowfly and Chris Garcia, while every Friday, DJ Marloun Dasoul will perform a high energy Top 40 DJ and electric violin set. One Saturday evening each month, AZILO Ultra Lounge will transform into VIBRA, a new concept of sexy and groovy house music with a mainstream and catchy touch of urban music. For more information, contact Kelly Frey, The Publicity Lab, Sahara_PR@thepublicitylab.com.
Caviar Bar Opens at Resorts World Las Vegas
Michelin-starred chef Shaun Hergatt's Caviar Bar recently opened its doors to guests at Resorts World Las Vegas. With a dynamic menu of fresh seafood dishes that incorporate seasonal ingredients, in addition to international caviar selections, Caviar Bar's luxe interior and intimate atmosphere makes it a true jewel box within the Las Vegas Strip. As the centerpiece of the restaurant, the caviar offerings provided by Chef Hergatt's Caspy Caviar include proprietary world-class selections of Kaluga, Golden Ostera and Classic Sevruga, served with house-made blinis, crème fraiche and chives. Guests can choose to order a tin to start or incorporate the caviar into the rest of the menu, which includes a selection of house-cured meats, fine cheeses, fresh seafood dishes, bites, large plates and more. For more information, contact Ashley Miles, bread & Butter, caviarbar@wearebreadandbutter.com.
The Doobie Brothers Announce Exclusive Las Vegas Limited Engagement
Four-time GRAMMY® Award winners and Rock & Roll Hall of Fame inductees The Doobie Brothers will headline an eight-show exclusive Las Vegas limited engagement at Zappos Theater at Planet Hollywood Resort & Casino. Off the heels of their 50th Anniversary Tour, Tom Johnston, Michael McDonald, Pat Simmons and John McFee, will perform iconic hits starting Friday, May 13, 2022 and will close out the run on May 28, 2022. For more information, contact Kelly Frey, The Publicity Lab, Kelly@thepublicitylab.com.
Green Valley Ranch Welcomes the Return of Drop Bar
The iconic center bar known for its magnetic meet-ups is back at Green Valley Ranch. Located in the heart of the casino floor, Drop Bar returns with a dramatic urban chic redesign, panoramic views of the resort, live DJs, bar top gaming, and hand-crafted cocktails. Drop Bar returns as the perfect destination for locals to unwind, and friends to enjoy late-night cocktails. Chic design details, high-energy vibes, and an extensive selection of hand-crafted cocktails and premium spirits all come together to create a luxurious and approachable bar experience. For more information, contact Nick Flynn, Allied Global Marketing, SCMediaRequest@alliedglobalmarketing.com.
MJ LIVE Moonwalks to Tropicana Las Vegas Starting February 7
MJ LIVE, the award-winning Michael Jackson tribute concert highlighting the talent of the legendary Michael Jackson, moves to Tropicana Las Vegas starting Monday, Feb. 7. As the #1 Michael Jackson tribute show in the world, MJ LIVE recreates the electrifying stage show of one of the greatest performers of all time. From iconic dance moves like the moonwalk to timeless hits like "Bad," "Billie Jean," "Thriller" and "Beat It," the spot-on show brings all the Gloved One's staples to life. Sing along during the special Jackson 5 segment featuring classics like "I'll Be There," "I Want You Back," "ABC," and more, inspired by Soul Train. Dazzling lighting and effects, plus the MJ LIVE dancers and a live band, make this show a true spectacular fitting of the King of Pop. For more information, contact Hillary Smoot, Red Moon PR, hillary@redmoon88.com.
Comedy Magician Farrell Dillon Launches Las Vegas Residency
Magician Farrell Dillon showcases his distinctive magic and comedy-in-action style with a new show and residency recently launched at The Magic Attic inside Bally's Las Vegas. Dillon combines his hilarious comedy and mind-melting family-friendly magic five nights a week. Combining eye-defying magic and hilarious comedy in a new warm and engaging style, Farrell is no stranger to the magic stage. He was a regular on the hit CW series, Masters of Illusion, as well as being named Stage Magician of the Year by the iconic Magic Castle in Hollywood, CA. Additionally, Dillon's stage prowess has been featured across television, from the Today Show to the Food Network. For more information, contact Celena Haas-Stacey, CHS Communications, celena@chscomms.com.
CONTACTS
Maria Phelan

LVCVA

United States

-
MORE FROM NEWS RELEASES
SUBSCRIBE TO RSS FEED
XML