Las Vegas News Brief - April 2016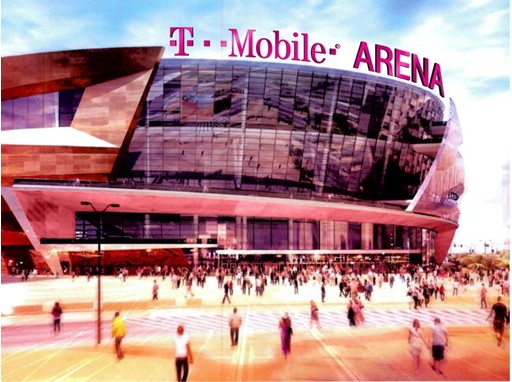 T-Mobile Arena and The Park to Open in Las Vegas 
The Park and T-Mobile Arena will transform the world-renowned Las Vegas Strip when they open April 4 and April 6, respectively. Roughly two years have been invested into bringing a 20,000-seat world-class arena and immersive outdoor park district to the Entertainment Capital of the World. These incredible experiential entertainment developments underscore Las Vegas' evolution as a destination for a new set of travelers. The Park embodies the stunning natural desert-scape of the Mojave at the epicenter of Las Vegas Boulevard, creating an open-air patio environment and community gathering place that leads to T-Mobile Arena. Offering unmatched venue capacity and technical capabilities, T-Mobile Arena will play host to the world's finest performers and athletes, hosting more than 100 major events each year. For more information, contact Natalie Mounier, Kirvin Doak Communications, nmounier@kirvindoak.com​.
SPEED Vegas Top Open Track
Starting Friday, April 15, SPEEDVEGAS, Las Vegas' newest and most exciting adrenaline attraction, will open its track for the first time to the public. Beginning that day, guests will have full access to SPEEDVEGAS' exotic supercar and muscle car driving experiences. Upon arrival, visitors will be able to select a car from SPEEDVEGAS' fleet of the world's most sought-after supercars, including models by Porsche, Ferrari, Lamborghini, Audi, Corvette and more. SPEEDVEGAS' 1.5-mile track is comparable to top circuits in the world and includes 12 sweeping turns, 15-degree banked turns, 60 feet of total elevation change and a half-mile straightaway. This summer, the rest of the $30 million motorsports complex will open, including the 22,000-square-foot, 2-story welcome center featuring indoor and outdoor observation decks, café and meetings and event space. For more information, contact Marina Nicola, Vox Solid Communications, mnicola@wearevoxsolid.com​.
Norwegian Announces Nonstop Service from Oslo, Norway to Las Vegas
Norwegian, the world's best low-cost long-haul airline, announced it is launching direct service from Las Vegas' McCarran International Airport to Oslo, Norway – its third Scandinavian destination – on November 1. Nonstop service from Las Vegas to Copenhagen, Denmark, and Stockholm, Sweden began last November. Las Vegas to Oslo flights will operate on Mondays and are now available for purchase at norwegian.com/us with fares starting as low as $179 one-way, including taxes. Flights to Stockholm will operate on Tuesdays and flights to Copenhagen will operate on Saturdays. Norwegian is also increasing the frequency of its Los Angeles to Oslo flights for winter 2016, which will operate on Tuesdays and Fridays. All transatlantic flights are operated on the Boeing 787 Dreamliner, one of the world's most modern and eco-friendly fleets. For more information, contact Réal Hamilton-Romeo, Norwegian, real.hamilton-romeo@norwegian.com​.
Las Vegas Continues Streak as No. 1 Trade Show Destination
Las Vegas maintains its long-standing reputation as the leading destination for business travel as it was recently named the No. 1 trade show destination for the 22nd consecutive year, according to the Trade Show News Network's (TSNN) "2015 TSNN Top 250 Trade Shows in the United States" list. Las Vegas hosted 54 of the largest shows held in the country last year. For more information, contact Amanda Arentsen, LVCVA, aarentsen@lvcva.com​.
The LINQ Promenade Announces New Restaurants and Retail Outlets
The LINQ Promenade – Caesars Entertainment's open-air shopping, dining and entertainment district located at the center of the Las Vegas Strip, has announced the newest restaurants and retail stores to open in 2016. The new LINQ Promenade restaurants include In-N-Out Burger opening its first location on the Strip. Additionally, seven other diverse, appealing restaurants and retailers will be opening: Gordon Ramsay Fish & Chips, Canter's Deli, Virgil's Real BBQ, Amorino, Basin White, Purple Zebra and C&E Studio Tony Vegas. For more information, contact Adrienne Prather-Marcos, Caesars Entertainment, aprathermarcos@caesars.com​.
Beerhaus to Open at The Park
The Strip's hottest social hub, Beerhaus recently opened its doors at The Park, the new outdoor dining and entertainment district on the Las Vegas Strip. The restaurant is a remix of the American beer hall and will be the ideal hangout for starting the party before attending a special event at T-Mobile Arena, keeping the party alive afterwards or livening up a weekday. The casual, inviting concept will encourage guests to come as they are to enjoy elusive beers, local craft brews, hearty food and fun, interactive games and specials.  For more information, contact Heather Yuille, MGM Resorts International, hyuille@mgmresorts.com​.
Sake Rok to Open at The Park
Located at The Park on Las Vegas Boulevard, Sake Rok is a theatrical hotspot open for lunch, dinner and a late-night bar and lounge that will thrill guests with more than just its array of delicious sushi, Japanese cuisine and private-label sake. By night, Sake Rok will transform into a high-profile social dining extravaganza, immersing guests in an experience part culinary, part performance and completely unexpected. Nightly DJs from Ultra DJs will pump up the jams with a wide variety of party music, and accompanying the music will be sporadic theatrical vignettes choreographed by JACS Entertainment and dynamic digital content by Space Cadets AV. For more information, contact Kate Stowell, Break & Butter Public Relations, kate@breadandbutterpr.com​.
Shawn McClain to Unleash Libertine Social at Mandalay Bay Summer 2016
James Beard Award-winning chef Shawn McClain challenges diners to free their minds from preconceived notions about bar restaurants and get ready to eat, drink and socialize at Mandalay Bay's soon-to-be hotspot, Libertine Social. The next-generation gastropub will stimulate the senses with New American bar food by the renowned chef, a pioneering cocktail program by Modern Mixologist Tony Abou-Ganim and a range of compelling atmospheres to fit diners' motivations. McClain's only rules? Have fun and make the experience what you want it to be. Libertine Social will open in summer 2016 and will be located on the casino level, next to Charlie Palmer's Aureole. For more information, contact Heather Yuille, MGM Resorts International, hyuille@mgmresorts.com​.
'Frankie Moreno – Under the Influence' to Open at Planet Hollywood Resort & Casino
Named "Las Vegas Headliner of the Year" two times running, beloved entertainer Frankie Moreno will make a highly-anticipated return to the Strip this spring in his new headlining show, Under the Influence. Moreno, long known to locals for his remarkable talent, tremendous versatility and nonstop energy, will take center-Strip stage for the first time in this new full-throttle production that marks him as the heir apparent to Las Vegas' legacy of iconic musical entertainers. Frankie Moreno – Under the Influence will make its debut at the PH Showroom at Planet Hollywood Resort & Casino on Wednesday, April 20. For more information, contact Brandee Taeubel, Caesars Entertainment, btaeubel@caesars.com​.
Wayne Newton to Open New Show at Bally's Las Vegas
Las Vegas actor, singer, entertainer legend, Mr. Las Vegas, Wayne Newton will make his return to the stage after more than five years with his all-new and original production, "Wayne Newton: Up Close and Personal," at the Windows Showroom at Bally's Las Vegas beginning April 21. Newton will sing crowd favorites, including platinum record hit, "Danke Schoen," as well as engage with the audience by answering questions, making for a truly extraordinary experience. His vast musical talents will be on display as he plays an assortment of the many instruments he has perfected. Voted Nevada Magazine's "Best Entertainer" eight years in a row and having performed over 30,000 shows in Las Vegas, Newton will share the fantastic stories and videos that were impactful and influential on his legendary 50+ year career. For more information, contact Brandee Taeubel, Caesars Entertainment, btaeubel@caesars.com​.
Celebrated and Multifaceted Entertainer Seth MacFarlane to Perform at Encore Theater at Wynn Las Vegas
Four-time GRAMMY-nominated singer Seth MacFarlane will bring his renowned talents to the Encore Theater Stage at Wynn Las Vegas for a two-night engagement April 29 and 30. MacFarlane's 75-minute show will be accompanied by a live, onstage orchestra, including members of Steve Wynn's Showstoppers orchestra. MacFarlane's baritone voice will perform classic songs and hidden gems of the '40s through '50s swing era and offer unique arrangements and orchestral interpretations. For more information, contact Deanna Pettit-Irestone, Wynn Las Vegas, Deanna.pettit-irestone@wynnlasvegas.com​.
Art Production Fund and Nevada Museum of Art Present Seven Magic Mountains by Ugo Rondinone, a Large Scale Desert Installation
Across the desert south of Las Vegas, Nevada, rises a large, colorful anomaly. Seven colossal stone forms defy gravity with their teetering formations. The shapes, reminiscent of naturally-occurring hoodoos, seem poised between monumentality and collapse. Mediating between geological formations and abstract compositions, Rondinone's Seven Magic Mountains consists of locally-sourced limestone boulders stacked vertically in groups ranging between three and six. Each stone boasts a different fluorescent color; each individual totem stands between twenty-five and thirty feet high. The mammoth contemporary cairns created by internationally-renowned Swiss artist Ugo Rondinone evoke the art of meditative rock balancing, and mark his place in the history of Land Art. Art Production Fund and Nevada Museum of Art present Seven Magic Mountains, a large-scale, site-specific public artwork by Rondinone that has been nearly five years in the making. The installation, comprised of seven individual towering sculptures, is situated on the far southern end of Las Vegas Boulevard along Interstate 15, approximately a half hour from downtown Las Vegas. Positioned within the Ivanpah Valley and surrounded by mountains, the piece will be on view for two years beginning May 11. For more information, contact Amanda Horn, Nevada Museum of Art, amada.horn@nevadaart.org​.
'Puppet Up! - Uncensored' Will Debut at The Venetian Las Vegas on July 21
The freewheeling, high-comedy spectacular Puppet Up! - Uncensored is set to move into The Sands Showroom inside The Venetian Las Vegas, debuting as the property's newest entertainment offering on July 21. Created by award-winning director, producer, and writer Brian Henson ("Muppet Christmas Carol", "Muppet Treasure Island"), and actor, director, and improv expert Patrick Bristow ("Ellen," "Seinfeld," "Curb Your Enthusiasm," "Whose Line Is It Anyway?"), Puppet Up! - Uncensored promises to deliver a completely unique experience, expertly combining dynamic and spontaneous off-the-cuff comedy and outrageous story lines with the unmatched talent and creativity of Henson puppeteers. For more information, contact Allied Integrated Marketing, puppetup@alliedim.com​.
Paul Zerdin, Season 10 Winner of America's Got Talent, Brings Comedic Antics to Las Vegas in an All-New, Headlining Production at Planet Hollywood Resort & Casino
Fresh from his Season 10 victory on NBC's America's Got Talent, Paul Zerdin and his band of sharp-tongued characters are set to bring their comedy and hilarious antics to the Las Vegas Strip in an all-new, headlining production this spring. The production will debut in the PH Showroom at Planet Hollywood Resort & Casino on April 30. Called the "ventriloquist for the South Park generation," Zerdin plans to pack a serious punch of comedy in his first-ever Las Vegas residency. Known for his unparalleled technical ability and comedic timing, Zerdin will have audiences bursting with laughter and astonished by his unfathomable skill. For more information, contact Erica Benken, Kirvin Doak Communications, ebenken@kirvindoak.com​.
Electric Daisy Carnival, Las Vegas Attracts Headliners from More than 60 Countries Around the World
With less than 80 days to go until Electric Daisy Carnival (EDC), Las Vegas, headliners from six continents are preparing for North America's largest dance music festival to celebrate "20 Years Under the Electric Sky." Tickets to the three-day adventure, featuring hundreds of artists across a sea of mind-blowing new stage designs, are almost sold out. This year's festival will host fans from all 50 states and 61 countries, with attendees speaking over 30 unique languages – from English and Spanish to Chinese and Arabic. California, Nevada, Texas, Arizona and Colorado dominate the U.S. in EDC attendance while Canada, Australia, the United Kingdom and Mexico draw the largest international crowds. Headliners will travel thousands of miles to get to Las Vegas, as far away as Singapore – 8,828 miles, to immerse themselves in an unparalleled world full of inspirational art and carnival-style thrills. For more information, contact Leah Komitzky, Kirvin Doak Communications, lkomitzky@kirvindoak.com​.
Liberace Garage to Open April 8
On April 8, The Liberace Foundation for the Performing and Creative Arts will unveil a brand new museum that will showcase legendary automobiles from Liberace's stage acts. The museum will be located inside the Hollywood Cars Museum at 5115 Dean Martin Dr. in Las Vegas. The new experience will feature vehicles such as: The 1961 Rolls Royce Phantom V limousine, which was used for his acts at the Las Vegas Hilton and shown in the award-winning HBO movie, "Behind the Candelabra;" the Liberace Crystal Roadster which he rode onto Radio City Music Hall's stage; the London Taxi he used to pick up friends at the Palms Springs Airport; and Liberace's 1956 Rolls Royce convertible which he would fly out of during performances. In addition to the vehicles, additional photos and artifacts from Liberace's homes will also be on display. For more information, contact Marina Nicola, Vox Solid Communications, mnicola@wearevoxsoild.com​.
New Music Experience Brings "Vegas" to Airport Patrons
When it comes to the music at McCarran International Airport, it's now all Vegas, all the time. The Clark County Department of Aviation recently launched a program that gives travelers an audible reminder of their Las Vegas experience. Thanks to new music programming branded "Voices of Vegas" featuring a custom playlist broadcast over the public address system, those at the airport and the McCarran Rent-A-Car Center now hear hits by music stars with Las Vegas ties, such as the Rat Pack, The Killers and Celine Dion. In addition to the curated playlist, the station features recorded messages from musicians closely associated with Las Vegas, including hometown boys Imagine Dragons, Strip headliners like Britney Spears and Donnie & Marie Osmond, and Mr. Las Vegas himself, Wayne Newton. For more information, contact Christine Crews, Clark County Department of Aviation, christinec@mccarran.com​.
The Smith Center for the Performing Arts Announces 2016-2017 Broadway Las Vegas Series Lineup
The Smith Center for the Performing Arts recently announced the highly anticipated lineup of performances for the 2016-2017 Broadway Las Vegas Series. From August 2016 to June 2017, the upcoming season sponsored by Southern Nevada Ford Stores, will feature Tony Award®-winning productions, Broadway smashes and first-ever national tours. The nine-part series features timeless Broadway classics as well as some of today's newest, critically acclaimed and Tony Award®-winning productions, including BEAUTIFUL - THE CAROLE KING MUSICAL, FUN HOME, MATILDA THE MUSICAL, THE SOUND OF MUSIC, IRVING BERLIN'S WHITE CHRISTMAS, MOTOWN THE MUSICAL, FINDING NEVERLAND, AN AMERICAN IN PARIS and THE PHANTOM OF THE OPERA. Combined, the celebrated roster of productions represents more than 22 Tony Award® wins. For more information, contact Erica Benken, Kirvin Doak Communications, ebenken@kirvindoak.com​.  
Montecristo Cigar Bar Opens at Caesars Palace
In its golden anniversary year, Caesars Palace continues to expand the empire with the addition of Montecristo Cigar Bar. The cigar lounge will pair notable cigar offerings with fine whiskeys, small bites and more, in a contemporary, organic 4,000 sq ft environment, designed by the award-winning architecture and design firm Rockwell Group, and executed by Bergman, Walls & Associates. Cigar aficionados will appreciate the cigar retail area and humidor, offering renowned brands like its namesake Montecristo, Romeo Y Julieta, H. Upmann, Padron, La Flor Dominicana, Arturo Fuente, Ashton, San Cristobal, La Aroma de Cuba, Mi Amor, Las Antilles and My Father, as well as a variety of others. The retail shop and humidor are comprised of two intersecting circles with custom curved glass walls and shelving. In the retail shop, floating wood and glass jewel cases create an elegant display for the cigars. Top-of-the-line accessories will also be available for purchase, including S.T. Dupont. The spacious 400 sq ft humidor can store up to 1,000 cigars in a climate controlled environment, one of the largest in the city. The transparent walls visually connect the shop and humidor with the bar/lounge, highlighting the relationship between the three areas. For more information, contact Chelsea Ryder, Caesars Entertainment, cryder@caesars.com​.
Find Your Park from Las Vegas Campaign to Help Visitors Explore National Parks
Las Vegas is the gateway to national parks in the west. There are 23 national park units and millions of acres of canyons, lakes, wildlife, trails and mountains located within five hours of the city – all waiting to be explored. From Vegas, people can find America's largest national recreation area; the hottest, lowest and driest spot in the country; and one of the seven natural wonders of the world. The park service, along with partners from the City of Las Vegas, Southern Nevada Agency Partnership and Nevada State Parks, has launched FindYourPark.Vegas to help visitors find these unique destinations. The website highlights outdoor recreation getaways located within one, three and five hours of the Las Vegas Strip. It also includes a map feature and video clips. Within an hour of Las Vegas, people can discover two national parks: Lake Mead National Recreation Area and Tule Springs Fossil Beds National Monument. For more information, contact the National Park Service, (702) 293-8691.
Bellagio Announces Lineup for 'An Executive Chef's Culinary Classroom'
Bellagio Resort & Casino invites guests to perfect their culinary finesse at An Executive Chef's Culinary Classroom, the resort's popular cooking class series. During each session, Michael Burns, one of Bellagio's skilled executive chefs and his team will take guests on a culinary journey to create coveted cuisine while sharing tips and teaching essential techniques along the way. Tuscany Kitchen, the AAA Five Diamond resort's state-of-the-art demonstration kitchen, provides a quintessential learning environment for each interactive experience. The 2016 series begins Friday, April 15 at 7 p.m.* and each class will be held quarterly throughout the year. For more information, contact Heather Yuille, MGM Resorts International, hyuille@mgmresorts.com​.
The Juice Standard Opens at The Cosmopolitan of Las Vegas
The Juice Standard has opened the doors of its third outpost, located at The Cosmopolitan of Las Vegas near the resort's iconic bar and lounge, The Chandelier. Joining The Cosmopolitan's culinary roster alongside some of the country's most celebrated chefs, restaurateurs, and food and beverage concepts, The Juice Standard's newest location offers its signature menu of juice blends and nut milks. For more information, contact Tara Woodall, Wicked Creative, tara.woodall@wickedcreative.com​.
The World's Largest Race and Sports SuperBook® at Westgate Las Vegas Resort & Casino Introduces New Non-Smoking Environment
The renowned Westgate Las Vegas Resort & Casino recently introduced its new non-smoking policy at the world-famous Race and Sports SuperBook®. Home of Nevada's largest wagering system and more than 4,488 square feet of state-of-the-art HD video screens, guests can now enjoy watching all sporting events in a comfortable, smoke-free environment in all Race and Sports SuperBook® seating areas and betting windows. The Race and Sports SuperBook® at Westgate Las Vegas Resort & Casino features newly-installed 4,488 square foot HD video screens – measuring in at 240 feet wide and 20 feet tall, it is the world's largest indoor LED video wall and the highest resolution screens in Las Vegas for the ultimate viewing experience. With more than 400 comfortable seats and 19 wagering windows, private booths, Las Vegas' most knowledgeable staff and a state-of-the-art mobile app, the Race and Sports SuperBook® is home to Nevada's largest sports betting menu. For more information, contact Jeff Klein, PR Plus, jeff@prpluslv.com​.
Boulder Station Unveils New-Look Sports Book
Boulder Station's race & sports book has a new look and feel just in time for one of the biggest sporting events of the year. The update is part of Station Casinos' reinvestment in their sports book technology and the company's continued commitment to providing the best overall experience for guests. State-of-the-art high-resolution displays, large-format video presentations and an electronic odds display system will replace existing televisions and odds boards, significantly elevating the viewing experience. At Boulder Station's race and sports book, new LED technology will supplant all plasma televisions as screen sizes increase from 58-inches to 80-inches to provide clearer and brighter video that can be seen easily from any distance. The projection screens have been retired to make way for three video walls, ranging from 184-inches up to 220-inches of diagonal displays. The large-format displays are also equipped with full high-definition technology, allowing for crisp video via the utilization of four HD feeds at one time. For more information, contact Sarah Jennings, Station Casinos, sarah.jennings@stationcasinos.com​.
Downtown Grand Hotel & Casino Opens Citrus at the Grand Pool Deck
Downtown Grand Las Vegas Hotel & Casino is kicking off the summer season with a new pool experience, Citrus at the Grand Pool Deck. Featuring skyline views of downtown Las Vegas, Citrus at the Grand Pool Deck features fresh new décor, entertainment, and a new menu with weekday specials from 4-7 p.m., doubling as downtown's newest outdoor happy hour spot. Welcoming the downtown community and all locals, Citrus at the Grand Pool Deck is open to the public and free to hotel guests and Las Vegas residents age 21 and over. With 35,000 square feet, Citrus at the Grand Pool Deck is a unique urban rooftop pool retreat featuring an infinity pool, private cabanas, full bar, dining, a fire pit, and grass seating area where guests can lounge or enjoy a variety of activities including foosball, corn hole, table tennis and more. An all-new lineup of live entertainment will include weekend DJs, concerts and special events. Locals and guests can celebrate a special occasion or beat the heat with a private cabana rental. For more information, contact Gina Yager, Preferred Public Relations, gina@preferredpublicrelations.com​.
Tropicana Las Vegas to Open Sky Beach Club
Las Vegas' newest pool club, Sky Beach Club, will open at Tropicana Las Vegas on April 8. Focused on bringing back the summertime party vibe synonymous with Las Vegas, Sky Beach Club will focus on offering guests interactive experiences such as live music performances and events hosted by high-profile celebrities. Upon entering the 37,603-square-foot South Beach-inspired venue, guests will be greeted by two sparkling luxury pools, a whirlpool hot tub, two main bars and a large pool deck lined with complimentary lounge chairs, natural palm trees and lush, tropical foliage. A large DJ booth and adjacent stage will provide partygoers with front-row views of live music acts and a chance to rub elbows with celebrities and VIPs. For an elevated poolside experience, private daybeds and VIP cabanas are available for reservation, or for the ultimate VIP party experience, guests may reserve the Cabana Hot Tub, featuring its own private hot tub, or the Cabana Party Patio with its prime location adjacent to the stage and DJ booth. For more information, contact Leslie Peterson, M Vision, lpeterson@themresort.com​.
Lazy Dog Restaurant & Bar to Open Location at Town Square Las Vegas
Award-winning Lazy Dog Restaurant & Bar has become a favorite of Summerlin and west Las Vegas locals with their incredible menu, affordable pricing and of course, the restaurant's large, dog-friendly patio. The restaurant will soon expand, opening its second location this fall at Town Square Las Vegas. For more information, contact Alissa Kelly, PR Plus, alissa@prpluslv.com​.
Marriage Can Be Murder Launches Mimosas and Murder Sunday Brunch
Marriage Can Be Murder at the D Las Vegas will start slaying audiences with a Mimosas and Murder Sunday Brunch beginning April 3. Tickets for Mimosas and Murder Sunday Brunch include award-winning murderous fun and a three-course meal. Upgrade options include bottomless Mimosas or Bloody Marys. Performances begin at 12:30 p.m., and doors open at noon. For more information, contact Renee Guglielmetti, Ivory Star Productions, renee@ivorystar.com​​.  
CONTACTS
Molly Castano

LVCVA

United States

702-892-7424