Las Vegas Launches Innovative Trade Show Booth Technology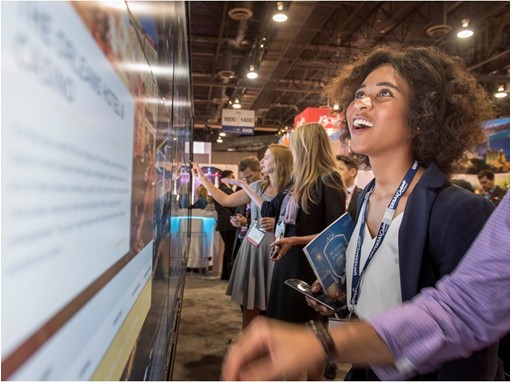 LAS VEGAS –Las Vegas unveiled its revolutionary trade show booth
Vegas Interactive
,  at
IMEX America
today, the largest meetings and convention trade show in the country.
The trade show booth features an interactive video wall that allows users to access detailed information about hotel, convention and event spaces through the power of touch-screen technology.
"Our new trade show booth creates a unique and memorable brand connection to Vegas," said Cathy Tull, senior vice president of marketing for the Las Vegas Convention and Visitors Authority (LVCVA). "The technology allows travel professionals who plan or sell leisure vacations, business meetings and events to better understand what the destination has to offer."
Vegas Interactive
features four, 55-inch touch screens with more than 4,000 pieces of content including 360-degree videos, time lapse photography and still images for guests to experience the destination through an interactive map.  Each resort, venue or attraction is designed to showcase meeting space, event venues, dining options, room product, amenities, entertainment and more.  The LVCVA developed the trade show booth over the past year in partnership with
Inhance Digital
, a leader in the technology industry.
"We are proud to work with the LVCVA to showcase all of what Las Vegas has to offer through this 3-D, animated interaction with Las Vegas and surrounding areas," said Inhance CEO Penn Arthur. "Just the animation itself really provides an inviting, initial engagement with the vibrant display of a stunningly-accurate and life-like destination."
As the No. 1 trade show destination for 22 years running and one of the most popular travel destinations in the world welcoming more than 42 million visitors annually, Las Vegas' competitive trade show presence reflects the total offerings of the destination, ensuring the first interaction stands apart and remains top of mind following the show.
Aside from being scalable from an interactive wall mural to an individual touch screen device, the trade show booth's interactive map has the capability to be versatile and mobile.  It was created to be used at events of any size, in any location all around the world. For international events, the intuitive design of the booth paired with the imaged-based content eliminates the need to translate pages of text depending on the location and audience.
Las Vegas has been a leader in innovative destination marketing. In addition to experiencing the images and videos through
Vegas Interactive
, potential visitors can also access 360-degree videos of the destination through Las Vegas' virtual reality mobile app,
Vegas VR
. When using Vegas VR, consumers are directly connected with a series of 24 original interactive videos creating immersive virtual reality experiences when used with a VR Viewer compatible with smartphones, such as Google Cardboard.
ABOUT THE LVCVA
The Las Vegas Convention and Visitors Authority (LVCVA) is charged with marketing Southern Nevada as a tourism and convention destination worldwide, and also with operating the Las Vegas Convention Center and Cashman Center.  With nearly 150,000 hotel rooms in Las Vegas alone and more than 11 million square feet of meeting and exhibit space citywide, the LVCVA's mission centers on attracting ever increasing numbers of leisure and business visitors to the area. Download the virtual reality app, Vegas VR, to experience Las Vegas from your iPhone or Android by visiting
http://www.vrtv.vegas/
.   For more information, go to
www.lvcva.com
or
www.lasvegas.com
.  
ABOUT INHANCE
Inhance is a creative agency best known for transforming complex subjects into compelling experiences. Inhance's team of strategists, designers, programmers and producers pioneer innovative approaches to audience engagement that often become award-winning content interactions. Partnering with some of the world's largest companies, Inhance delivers multimedia solutions that consistently deliver shared value. Drawing from a local talent pool steeped in Hollywood experience, Los-Angeles-based Inhance is also a go-to source for visual effects for many television studios. Learn more at
inhance.com
###
CONTACTS
Heidi Hayes

LVCVA

United States

702-892-0711