25-MAY-2021

Las Vegas, NV
Las Vegas Convention Center first in world to offer high-tech telemedicine station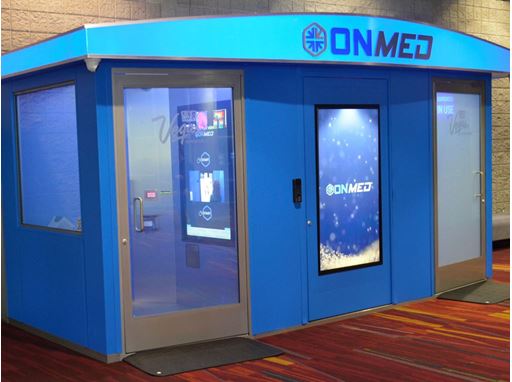 LAS VEGAS - The Las Vegas Convention Center (LVCC) will be the first convention center in the U.S. to offer customers onsite automated healthcare with the arrival of a groundbreaking hi-tech virtual health care station by the Florida based OnMed®. 
The OnMed® station will be operational in time for Informa's World of Concrete, which begins June 8. This will be the nation's first major post-pandemic convention and attendees will have access to the groundbreaking telemedicine station, emphasizing the importance of health and safety to event organizers.
"We are pleased to partner with OnMed® to offer this convenient, innovative technology to our valued convention customers and meeting attendees, providing immediate access to a healthcare professional without ever leaving the building," said Brian Yost, chief operating officer of the Las Vegas Convention and Visitors Authority (LVCVA.) 
The OnMed® station at the LVCC is a double unit that can serve two patients at once. It is located next to N-3 in the North Hall of the Convention Center and will be open from 7:00 a.m. to 5:00 p.m. during convention days. 
The OnMed® station is the world's only self-contained medical unit that uses patented technologies to directly connect patients to health care professionals who use advanced FDA cleared diagnostics to conduct a medical exam and if necessary, dispense prescription medications on the spot. 
Inside the station high-definition cameras provide not just a face-to-face interaction between patients and board-certified doctors, but also assist with actual examinations, offering caregivers a close-up look at everything from a sore throat to a tiny mole. 
Services of the station include:
●    Measuring vitals like height, weight, blood pressure, pulse rate, heart, and lung sounds
●    Thermal imaging to take body temperature and detect infection.
●    Respiration and blood oxygen saturation readings
●    On-site dispensing of common medications
●    E-prescriptions to preferred pharmacies, secondary or emergent care referrals. 
●    Transmission of results to the patient's primary care physician, and electronic delivery of notes for school and work.
Privacy glass and directional speakers safeguard patient confidentiality during visits, and record storage is HIPAA compliant. 
After every patient visit, the OnMed® station is thoroughly cleaned using high-output ultraviolet surface and ionized air sanitization. Highly reflective surfaces, even under the seating area, allow the UV lighting to sanitize the smallest crevices. 
OnMed® has the capability to e-prescribe to a local pharmacy or on-site dispensing of up to 600 of the most common medications. The cost to use the service is less than a similar visit to a medical provider outside of the convention center and significantly less than the cost for a typical emergency room visit. 
"This is the type of location that we had in mind when we were developing the stations," said OnMed® CEO Austin White. "It's an environment where there are large groups of people who can't access their regular doctor or clinic, but accessing convenient, trusted and secure health care is essential. It's really a perfect example of how technology can be used to address the most pressing health care needs of our time."
The first OnMed® station was deployed in October 2019 at Tampa General Hospital in Tampa, Florida, for use by thousands of hospital employees.
CONTACT: Preston Rudie, Preston@CatalystCommunicationsGroup.com 
About OnMed®: 
OnMed® is committed to providing quality, affordable health care solutions through technology and innovation. Founded in 2014 and based in Tampa, Florida, OnMed® leadership has decades of combined experience in healthcare, telehealth and technology. The first OnMed® station was introduced in late 2019 and they have served thousands of patients with a 98% satisfaction rate. The stations are manufactured in Florida, sourcing most all components in the United States. 
About the LVCVA
The Las Vegas Convention and Visitors Authority (LVCVA) is charged with marketing Southern Nevada as a tourism and convention destination worldwide and with operating the 4.6 million square-foot Las Vegas Convention Center (LVCC). With nearly 150,000 hotel rooms and 14 million square feet of meeting and exhibit space in Las Vegas alone, the LVCVA's mission centers on attracting leisure and business visitors to the area. The LVCVA also owns the Las Vegas Convention Center Loop, an underground tunnel designed by The Boring Company and also owns the Las Vegas Monorail, an elevated 3.9-mile system with seven stops throughout the resort corridor. Both transportation systems will operate when conventions reconvene.
# # #
 
CONTACTS
Kody Stover

Communications Coordinator

United States

702-892-7695
MORE FROM NEWS RELEASES
SUBSCRIBE TO RSS FEED
XML