Las Vegas Celebrated Independence Day with Fireworks and the Return of Live Entertainment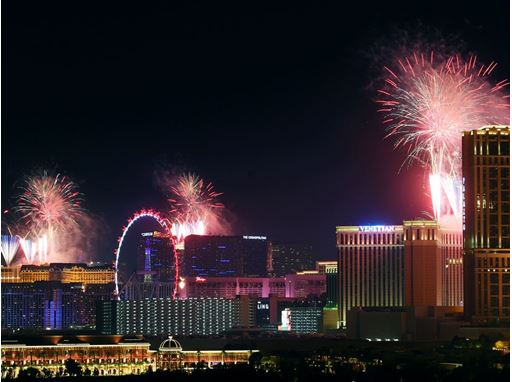 LAS VEGAS – Las Vegas announced that the Entertainment Capital of the World is back with the return of live entertainment and a spectacular Fourth of July fireworks show. This marked the first time the Las Vegas Convention and Visitors Authority (LVCVA) has presented a firework show on the Fourth of July.
At 11 p.m. the skies lit up with a themed, synchronized fireworks display from the rooftops of ARIA Resort & Casino, Caesars Palace Las Vegas, Planet Hollywood Resort & Casino, Resorts World Las Vegas, The STRAT Hotel, Casino & Skypod, Treasure Island Las Vegas and The Venetian Resort Las Vegas.
The eight-minute performance designed and created by Phil Grucci featured a state-of-the-art program with red, white and blue specialty Grucci fireworks. More than 11,000 electrical circuits were programmed to launch with lightning speed and precision, delivering an intricate and powerful synchronized performance that painted the sky to reflect the patriotic theme.
The show was coordinated to an audio track that featured a mix of classic, rock and patriotic selections, as well as popular hit songs, including "We Back" by Jason Aldean; "Think (Freedom)" by Aretha Franklin; "R.O.C.K. in The USA" by John Mellencamp; "Blinding Lights" by The Weeknd; "Waking Up In Vegas" by Katy Perry; and "Beautiful Now" by Zedd. The grand finale featured the classic "Stars and Stripes Forever" by John Philip Sousa.
Local stations KOMP-FM 92.3 and KXPT-FM 97.1 broadcast the soundtrack live.
Other fireworks throughout the destination on Fourth of July weekend included Plaza Hotel & Casino, Red Rock Casino Resort & Spa, Green Valley Ranch Resort Spa & Casino, M Resort Spa Casino and Lake Las Vegas.
Live entertainment over the weekend included performances from Dave Chappelle, Illenium, Bruno Mars, Miley Cyrus, Mystère and "O" by Cirque du Soleil and many others.
For more information on live events in Las Vegas, visit www.visitlasvegas.com.
###
ABOUT THE LVCVA
The Las Vegas Convention and Visitors Authority (LVCVA) is charged with marketing Southern Nevada as a tourism and convention destination worldwide and with operating the 4.6 million square-foot Las Vegas Convention Center (LVCC). With nearly 150,000 hotel rooms and 14 million square feet of meeting and exhibit space in Las Vegas alone, the LVCVA's mission centers on attracting leisure and business visitors to the area. The LVCVA also owns the Las Vegas Convention Center Loop, an underground tunnel designed by The Boring Company and also owns the Las Vegas Monorail, an elevated 3.9-mile system with seven stops throughout the resort corridor. For more information, go to www.lvcva.com, www.visitlasvegas.com or www.vegasmeansbusiness.com.
CONTACTS
Molly Castano

LVCVA

United States

702-892-7424

Erin McCleskey

R&R Partners

United States

Erin.McCleskey@rrpartners.com

702-228-0222