Laughlin Entertainment & Events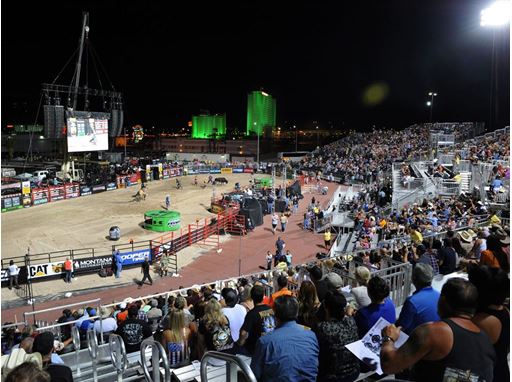 Located just 90 miles south of Las Vegas, Laughlin, Nev. is a unique resort destination with a relaxed and friendly atmosphere that welcomes nearly two-million visitors annually. This town along the Colorado River has grown to include nine casino resorts with affordable first-rate accommodations and a multitude of recreational activities.
From headliners like Tim McGraw, Carrie Underwood, Toby Keith, Bill Engvall, Larry The Cable Guy, ZZ Top, Los Lobos and Los Lonely Boys, Paul Anka and Rascal Flatts, to stage shows like "Defending the Caveman," "Cirque Shanghai" and "Masters of Illusion" - and everything imaginable in between - Laughlin's marquees boast music, comedy, production shows, theater, revues and more, all at affordable prices. The town also gets rocking with annual property events such as classic car shows, the annual River Regatta, BBQ and Chili Cook-Offs, Blues & Brews Festivals, as well as several specialty events like St. Patrick's Day, Cinco de Mayo, Rockets over the River for 4th of July and Oktoberfest.

New to the area is the Laughlin Event Center, which has hosted a variety of events and world-class performers since it opened on March 8, 2014. The outdoor venue is centrally located on property west of the Laughlin Outlet Center with 9,300 seats and suites for a concert and can accommodate up to 21,000 attendees in an arena configuration. So far the Laughlin Event Center has welcomed Reba McEntire, Alan Jackson, Jason Aldean, Ramon Ayala, rock legends Lynyrd Skynyrd, Pat Benatar and Hank Williams Jr. The versatile venue has also hosted bull riding and motocross.
The Edgewater's E Center is a 27,000 square foot indoor climate controlled event venue. The E Center opened in 2013 and provides fans with headliner concerts such as Ted Nugent, Gregg Allman, Gloriana, LeAnn Rimes, Trace Adkins, Pat Benatar and Dwight Yokam.
Recreation and Sightseeing
In Laughlin, located on the banks of the mighty Colorado River, sunny skies prevail 300-plus days a year with an average temperature of 75 degrees - ideal weather to take advantage of the multitude of outdoor activities the area provides.

The Colorado River's aquatic terrain is a boater's paradise with its unmatched beauty and sheer length, making the nation's fifth longest river one of the most popular settings for water sport enthusiasts. The town's location on the river attracts thousands each year who flock to its shores to launch their boats, ride the waves on skis and other personal watercraft, and do some fishing. Launch ramps and landings, as well as convenient services such as fishing guides are available and well-staffed with friendly and knowledgeable personnel. Several area companies offer rentals of pontoon boats, jet boats, personal watercraft, kayaks and canoes for visitors to take advantage of the abundant water recreation. For the more adventurous, check out the great scuba opportunities lying beneath the waters of Lake Mohave.
If you prefer, sit back and relax while taking advantage of one of the several river cruise tours available. Take a leisurely 90-minute trip along casino row to Davis Dam while enjoying the sights and listening to a narrated history of the Laughlin area. For a more exhilarating journey, try the jet boat trip through Topock Gorge to the foot of the famous London Bridge on Lake Havasu.
When it comes to hitting the links, golfers will delight in Laughlin's picturesque and challenging golf courses. Where else can you play golf at six courses in three states, all within a 30-minute drive? Laughlin Ranch Golf Club was designed by golf course architect David Druzisky, and showcases stunning desert, mountain and river views, as well as picturesque greens that run through deep desert arroyos. The Mojave Resort Golf Club is a championship course with all the amenities of a top-rate course. The two newest courses, El Rio Golf Club and Los Lagos Golf Club, provide upscale architectural design and accommodate all playing levels. Two other golf courses in the vicinity, Huukan Golf Club and Rivers Edge Golf Course, give avid golfers a variety of course choices from gentle, rolling fairways to greens located along the Colorado River shore.
The Lake Mohave/Lake Mead National Recreation Area is rich in wildlife and is a popular destination for fishing, boating, camping, birding and water skiing. Katherine Landing, located nine miles north of Laughlin at Lake Mohave, features RV facilities, boat rentals, boat slips, launch ramp, picnic area, marina, restaurant and other resort amenities.
A once-thriving mining community, Oatman, Ariz., takes visitors back to the days of the Old West with staged cowboy gunfights and showdowns in the middle of town. Wild burros, the town's "pets," roam the streets of this popular setting that has been the location for many movies and TV westerns. Oatman's most famous visitors were Clark Gable and Carol Lombard who spent the night at the Oatman Hotel during their well-publicized "elopement" in the 1930s.
Christmas Tree Pass and Grapevine Canyon, located about seven miles west of Laughlin on State Route 163, are ideal for hiking, camping, photography and exploring. Grapevine Canyon is a wondrous piece of archeological history and evidence of prehistoric Indians who lived in this canyon are easily traced through the hundreds of petroglyphs decorating the canyon walls. A fresh water spring flows down the wash bringing wildlife from the mountains to feed on the plants growing in the canyon.
The Laughlin Outlet Center is conveniently located in the heart of Casino Drive and within walking distance of most Laughlin hotels. The fully enclosed two-story center features distinctive art deco design throughout, with a food court on the first floor.  A nine-screen cinema is also located on the Outlet Center's second floor as well as two levels of convenient covered parking.
Annual Events
June 11

At the Chefs Food Fest, all of Laughlin's finest chefs are on hand to prepare their best dishes - appetizers, entrees, desserts, drinks - along with restaurants, distilleries, wineries and breweries in a friendly competition.
July 4

Rockets Over the River has earned its reputation as one of the most spectacular and exciting fireworks displays in the West. Just after dark huge rockets are shot into the dark desert sky and the dazzling display is reflected off the majestic Colorado River. Fabulous patriotic music is simulcast by Laughlin hotels and local radio stations.
Aug. 7 – 9

Known as the world's largest tube float, the Bullhead City River Regatta welcomes 30,000 participants to float down the Colorado River. The floats are themed every year and awards are given to the best and most creative of the bunch.
Oct. 15 – 18

The Laughlin International Film Festival operates on a platform for U.S. and International filmmakers to showcase their films, network with fellow filmmakers and enjoy the casinos and attractions of Laughlin, Nevada.
April 27 – 30, 2016

As the largest motorcycle run on the west coast, the Laughlin River Run welcomes tens of thousands of motorcycle enthusiasts to the town every year. The event includes vendors, competitions and entertainment throughout the weekend.
CONTACTS
Tamara Rocha

R&R Partners

United States

tamara.rocha@rrpartners.com

702 228 0222

Maria Phelan

LVCVA

United States

-
MORE FROM Laughlin
SUBSCRIBE TO RSS FEED
XML