Boulder City Attractions and Events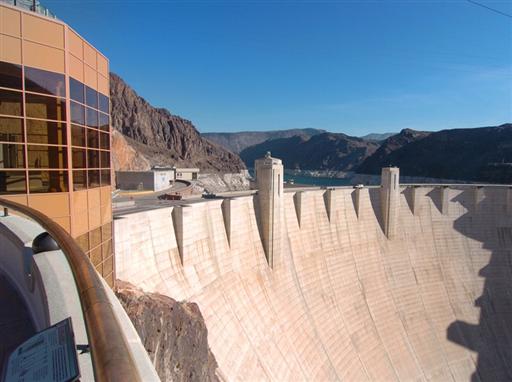 Boulder City, Nev., just 20 miles from Las Vegas, is the perfect place to spend a day. With a quaint atmosphere and beautiful historic charm, you'll find plenty to see and lots to do. Take a stroll down Main Street and peek your head into any of the unique boutiques or spend a day playing one of the majestic golf courses. Visitors also enjoy desert hiking options that include a number of trails. With the Hoover Dam just minutes away, no matter how you enjoy spending free time, Boulder City has plenty to offer.
Hoover Dam: The Bureau of Reclamation has conducted tours through the Hoover Dam and power plant since 1937. Today, close to 1,000,000 visitors annually take the tour and millions more drive across the dam. Hoover Dam is a testimony to a country's ability to construct monolithic projects in the midst of adverse conditions. Built during the Depression; thousands of men and their families came to Black Canyon to tame the Colorado River. It took less than five years, in a harsh and barren land, to build the largest dam of its time. Now, years later, Hoover Dam still stands as a world-renowned structure. The Dam is a National Historic Landmark and has been rated by the American Society of Civil Engineers as one of America's Seven Modern Civil Engineering Wonders. For information on directions, tours and ticket pricing, visit www.usbr.gov/lc/hooverdam.
Mike O'Callaghan-Pat Tillman Memorial Bridge: Opened in 2010, the bridge was the key component of the Hoover Dam Bypass project, which rerouted US 93 from its previous routing along the top of Hoover Dam. It is jointly named for Mike O'Callaghan, Governor of Nevada from 1971–1979, and Pat Tillman, an American football player who left his career with the Arizona Cardinals to enlist in the United States Army and was later killed in Afghanistan by friendly fire. The bridge was the first concrete-steel composite arch bridge built in the United States, and it incorporates the widest concrete arch in the Western Hemisphere. At 840 feet (260 m) above the Colorado River, it is the second-highest bridge in the United States, following the Royal Gorge Bridge. It is also the world's highest concrete arch bridge. Pedestrian access is provided over the bridge to tourists who wish to take in a different view of the nearby dam and river below, but the dam is not visible for those driving across it. A parking area is provided near the bridge on the Nevada side. A set of stairs and disabled access ramps lead to the sidewalk across the bridge.
Lake Mead National Recreation Area: Lake Mead is a unit of the National Park Service. This man-made lake is the largest reservoir in the United States and is probably most famous for The Hoover Dam. This peaceful lake is nestled among two, beautiful mountain ranges, The River Mountains and the Muddy Mountains. These create a gorgeous backdrop for this beautiful body of water. Approved activities for the Lake Mead National Recreation area include camping, hiking, swimming, boating and horseback riding. For information, visit www.bouldercity.com/lakemead.html.
Boulder City/Hoover Dam Museum: Located inside the historic Boulder Dam Hotel, the museum's interactive displays and exhibits describe the great social and economic forces surrounding the 1929 Stock Market Crash and Depression that drove thousands of unemployed citizens from their homes into the isolation of the Nevada desert where the Boulder Canyon Project was one of the few places in the United States where men could find work.           Photographs, artifacts, oral histories, and the sounds of Hoover Dam construction ringing off the walls of Black Canyon provide a sense of the complexity, danger, and immense scale of the construction project, as well as a picture of ordinary life in an extraordinary time and place. Listen as these pioneers tell about their lives in Boulder City and down at the Hoover Dam construction site in the desperate years of the early 1930s. For more information, visit www.bcmha.org/index.html.
Nevada Southern Railway Museum: Excursion train rides depart from the Nevada Southern Railway station and travel three and a half miles west along the historic Boulder Branch Line to Railroad Pass located within the River Mountains range. The seven mile trip lasts approximately 45 minutes and passengers get to enjoy the ride in newly refurbished Pullman Coaches that date back to 1911.The train runs every Saturday and Sunday. For more information, visit www.nevadasouthern.com.
Hemenway Park in Boulder City: The park is host to a nearly residential wild herd of desert bighorn sheep. They often come down from the hills to graze on the manicured lawns of this city park. The herd varies in size, but has been seen at more than 60 animals, and at times may include lambs and huge-horned rams. They are so common, residents refer to Hemenway as "Sheep Park." Even if the sheep aren't there, you will be treated to beautiful views of Lake Mead, as well as a nice picnic area and playground to stretch your legs.
River Mountain Loop Trail: This long loop winds through the quaint 1930s town of Boulder City and quickly escapes to the more primitive desert surrounding the River Mountains. To the east are views of Lake Mead with several places to pause, catch your breath and admire the scenery. The trail then winds through Henderson before returning to Boulder City. This trail is great for hiking, climbing and cycling. For more information, call 702.204.7810.
Flightlinez Bootleg Canyon: Afraid of heights? After flying at speeds of 50 mph between some desert mountains, you might just conquer your fear for good. Get a feel for the southwest like never before, on a zipline trip in Boulder City. For those new to this kind of zipline experience, you'll sit in a stable paragliding harness that's suspended from cable wires. Fly from one point to another from the top of Red Mountain and witness views of the colorful mountains surrounding you. During each tour, your guide tells fun facts about the area's natural and cultural history. The tour includes a total of four runs. For more information, visit www.flightlinezbootleg.com.
Helicopter Tours: A variety of helicopter tours are available in Boulder City. All of the options provide breathtaking views of Hoover Dam, Lake Mead, the Grand Canyon and surrounding areas. The companies listed below also provide unforgettable wedding packages for couples looking to say "I do."
Serenity Helicopters: Known for its Grand Canyon Sky Dancer Tour, it includes complimentary hotel pickup and drop-off, sunset tour of the Grand Canyon with a picnic meal on the canyon floor. For more information, visit www.serenityhelicopters.com/tours.
Papillon Grand Canyon Helicopters: Celebrating its 50th anniversary in 2015, Papillon (French for "butterfly" and pronounced pah-peh-YOHN) is the world's largest and longest-running helicopter tour company with 3,500 passengers served daily on 75 state-of-the-art helicopters and airplanes, specifically designed to reveal panoramic views beyond imagination. Papillon is also one of the few companies that fly the entire Grand Canyon, including the South and West rims, Las Vegas and Page, Ariz. For more information, visit www.Papillon.com.
5 Star Grand Canyon Helicopter Tours: 5 STAR Grand Canyon Helicopter Tours exclusively uses the Eurocopter AS350B2 helicopter, which guarantees passengers all forward-facing seating for the best views of the Grand Canyon. The popular first class/VIP configured Grand Canyon tour helicopter features European leather seating, cream leather trim and wooden floor finish for the ultimate first class helicopter ride. Its state-of-the-art video recording system features cameras mounted inside of the aircraft, following passengers to relive their experience once they return home. For more information, visit www.5starhelicoptertours.com.
Dam Helicopter Company: Known for providing spectacular views of the Hoover Dam from 500 feet in the air, guests can choose from three different helicopter tours. Located onsite at the Hoover Dam Lodge in Boulder City, tours are available daily. Choose from views of Lake Mead, the Hoover Dam and its bypass bridge, along with Black Canyon. For more information, visit www.damhelicopterco.com.
Gold Rush Prospecting & Adventure Tours: Learn the history of the Las Vegas valley with an adventure tour from Gold Rush Prospecting. A variety of options are available, including the gold panning tour, old gold mine & scenic Hummer tour and  Hummer tours through Valley of Fire and Red Rock Canyon. Visitors can also book a prospecting day trip which includes an exciting tour to the historic ghost town of Nelson, Nev. It includes a guided above and below ground tour of the Techatticup Mine in Eldorado Canyon. This is the oldest, richest and most famous gold mine in Southern Nevada. For more information, visit www.goldrushpros.com.
Bootleg Canyon Mountain Bike Trail: Come mountain bike the world-class hand-built trails of Bootleg Canyon and see the other side of Las Vegas. Built for bikes, these trails have a unique and predictable flow and are designated human power only. An abundant amount of trails provide lots of options for the beginner and expert rider. Commonly spotted wildlife include coyotes, desert tortoise, tarantulas, whiptail lizards, owls, crows and the Great Basin Big Horn Sheep. Tours and rentals are available through All Mountain Cyclery, located in Boulder City. For more information, visit www.allmountaincyclery.com.
Skydive Las Vegas: Skydive Las Vegas is Nevada's premier professional skydiving facility, dedicated to providing the first time jumper with the most incredible experience of their lives. Looking for that once in a lifetime adventure? Want to get your adrenaline pumping or know someone who does?  At Skydive Las Vegas, you'll free fall at 120 to 140 mph and enjoy incredible views of Hoover Dam, Lake Mead, the Colorado River, the Las Vegas Strip, Valley of Fire, Red Rock Canyon and Mt. Charleston. This view makes for a beautiful backdrop for pictures and video of your experience. For more information, visit www.skydivelasvegas.com.
Lake Mead Cruises: Lake Mead Cruises welcomes guests for a relaxing tour aboard the famed Desert Princess—just minutes from the glitter and glamour of the Las Vegas Strip. Built especially to cruise the clean, blue waters of picturesque Lake Mead and tour the Hoover Dam, the authentic, three-level, Mississippi-style paddle-wheeler offers an unrivaled sightseeing experience. Whether you choose a brunch tour, mid-day tour or evening dinner tour, you'll enjoy the wind in your hair, the sun on your face, or the absolute comfort of the climate-controlled enclosed decks—surrounded by breathtaking scenery. For more information, visit www.lakemeadcruises.com.
Forever Resorts: Forever Resorts, LLC is an authorized concessionaire of the National Park Service dedicated to providing a vast collection of destinations and products, from quaint lodges and imaginative retail venues to luxury houseboats and exciting recreational experiences. Forever Resorts focuses on properties with access to nature and one-of-a-kind surroundings for vacations. The company recently debuted the world's first floating LEED-registered building at Cottonwood Cove Resort & Marina in Searchlight, Nev. To book your houseboat, visit www.foreverresorts.com.  
Desert Adventures: Founded in 2004, this company provides unforgettable day trips, including hiking, backpacking, mountain biking, ATV tours, horseback riding, ziplines, and adventures in Zion, Bryce, and the Grand Canyon. Desert Adventures is known for its expertise in paddling, with 175 boats in their rental fleet. The outdoor company also provides rentals for camping gear. For more information, visit www.kayaklasvegas.com.
Black Canyon River Adventures: Experience Black Canyon Willow Beach River Adventures through the narrated, smooth-water river raft tour which launches from the base of Hoover Dam. This serene and scenic, five-hour glide down the Colorado River features knowledgeable tour guides, imparting information about the geology, history and wildlife of the Colorado River region. A box lunch in a souvenir cooler is included. For more information, call 702.294.1414.
Evolution Expeditions: The water adventure experts can be found at Evolution Expeditions, providing kayak guide service and outfitters for the remote and beautiful Lake Mead National Recreation area. Tour options are between four and seven hours, which include adventures on Lake Mead, Lake Mohave, Black Canyon and the Colorado River just below the mighty Hoover Dam. For more information, visit www.evolutionexpeditions.com.
4WD, ATV & Off-Road Tours: With dry lake beds surrounding Las Vegas and the Boulder City area, off-road adventures are quite popular for visitors. All of the options promise an afternoon of fun:
Vegas Off-Road Experience: VORE helps guests create their awesome Off-Road Racing Package, whether it may be corporate team building ideas, adventurous driving experience or any Vegas off-road experience. For more information visit, www.vore.com.
Las Vegas Tours and Rentals: Explore the wilderness around Las Vegas on an exciting outdoor tour, or rent an ATV and create your own adventure. Las Vegas Tours and Rentals provides an experience that lets customers tear it up at Eldorado canyon, while riding new top-of-the-line 4×4 ATVs. It's a family affair with rentals available for kids as young as six. For more information, visit www.vegasatvtours.com.
Scuba Training and Technology: Explore Lake Mead and its hidden treasures by booking dive tours that include a look at the B-29 Superfortress Bomber that's submerged underwater. The plane crashed into Lake Mead July 21, 1948, while engaged in high-altitude atmospheric research. The crew of five survived the crash, but the plane was lost in the depths of the lake. It was discovered by local divers in August 2001. The company is authorized by the National Park Service to conduct 100 guided dives at the B-29 site each year for the next two years. To schedule a guided dive, visit www.divetheb29.com.
Annual Events in Boulder City
Damboree, July 5, 2015: Enjoy a fun-filled Fourth of July weekend with activities celebrating the Boulder City Damboree, "Wings of Freedom."  Activities include the Rotary Pancake Breakfast at Bicentennial Park, a parade down Nevada Highway, water play zone for kids, midway booths, flag raising, entertainment coin toss, games, contests and so much more. Don't miss the parade at 9 a.m. followed by the carnival and entertainment. The night ends with a fireworks display at 9 p.m.
Art in the Park, Oct. 3-4, 2015: Art in the Park is one of the largest outdoor juried art festivals in the Southwest and is the largest fundraiser for the Boulder City Hospital Foundation. The event is held over two days in beautiful Boulder City, Nev. The event is free to the public and draws over 100,000 visitors.
IRONMAN 70.3 Silverman, Oct. 4, 2015: IRONMAN 70.3 Silverman begins with a 1.2-mile swim in the largest reservoir in the U.S, the pristine Lake Mead. The course then takes athletes through the surrounding Lake Mead National Recreation area on a 56-mile bike through hilly terrain. A 13.1-mile run through Henderson's scenic residential areas (with views of the Las Vegas Strip) closes out the day. 
Dam Short Film Festival, Feb. 10-13, 2016: The 12th annual Dam Short Film Festival will feature over 100 films in four days, plus a great selection of parties and events – like the filmmaker meet-n-greet, dam mixer, film market, awards screen and the awards party. The festival welcomes short films with any content and in any style, whether it be live-action, documentary, or animation. Entries must be 40 minutes or less in length. The Dam Short Film Festival accepts entries in seven categories: drama, documentary, animation, student, Nevada filmmaker and sci-fi/horror. Moviegoers can catch all the action at the historic Boulder Theatre.
Spring Jamboree, First Weekend in May: Spring Jamboree is an annual, fun-filled family event held in the heart of Boulder City, Nev. During the first full weekend in May, Boulder City's Bicentennial, Escalante and Government Parks are filled with 35,000 visitors. The two-day family festival includes; arts and crafts, antique collectibles, a car show, children's carnival, live entertainment, a dog show and more.
CONTACTS
Tamara Rocha

R&R Partners

United States

tamara.rocha@rrpartners.com

702 228 0222

Maria Phelan

LVCVA

United States

-