Mesquite Recreation and Attractions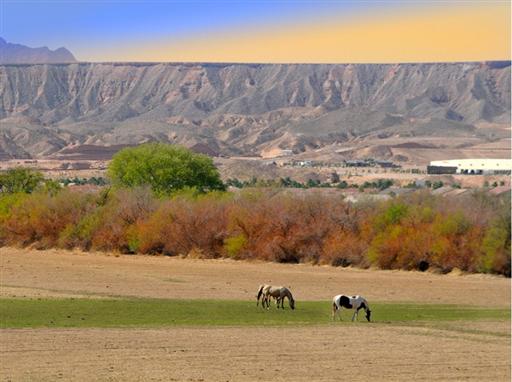 Explore natural wonders in several national parks just a short drive from Mesquite. Along the way, you'll also discover many local sights you won't want to miss. You'll find hikes of all levels, shooting ranges, mountain bike trails, nature tours, and much more. If you prefer to play indoors, visit the Cosmic Bowling Center Complex or the Mesquite Recreation Center.
Attractions 
Camel Safari: Go on a behind-the-scenes tour with Camel Safari's zookeepers to feed and learn about our camels and exotic animals. Camel Safari is an immersive experience that lets you get up-close and personal to all the exotic animals throughout the property. Explore the wonders of the Nevada desert, and tour over 30+ camels, a two-toed sloth, an African crested porcupine, six-banded armadillos, and other exotic desert dwellers. For more information, visit www.camelsafari.com/
Lost City Museum: Established in 1935, the Lost City Museum has one of the most complete collections of artifacts of the early Pueblo Indians in the Southwest and is open daily. For more information, visit www.museums.nevadaculture.org/index2f4d.html.
Mesquite Fine Arts Center and Gallery: The Mesquite Fine Arts Gallery and Center provides a venue for artistic culture and education in the Virgin Valley. The fine arts gallery promotes the arts for all age groups and cultures in the community and surrounding area. It also provides a place for all local artists, crafters and everyone with interests in the arts to learn, develop, share and display their talents. The gallery hours are Mon. through Sat. 10 a.m. to 4 p.m. For more information, visit www.mesquitefineartscenter.com.
Virgin Valley Museum: The City of Mesquite's Virgin Valley Heritage Museum has various historical items such as the first slot machine brought into the Valley, photographs, quilts, wedding dresses, a 1945 TV, early telephones, a whiskey still and much more. Mesquite offers a self-guided walking tour of the most historically significant buildings in downtown Mesquite, some of which are only remembered by the placement of a historical marker. Each historical marker contains a photograph with interesting historical facts. Open Tues. through Sat. 10 a.m. to 4 p.m. Admission is free. For more information, visit www.mesquitenv.gov/city-government/parks-facilities/facilities/museum.
Parks
Redd Hills Park: Relax in the sun at Redd Hills Park. This spacious park is perfect for a picnic and outdoor play. Featuring uncovered tables, soak up some rays for lunch with a few friends or go solo. Whether you're tossing a frisbee and taking it slow laying in the grass, this simple park is a beautiful destination to appreciate the great outdoors.
Rising Star Field: The Rising Star Sports Ranch Resort has an on-site, natural grass, lighted field that can be striped for soccer, lacrosse, or football games. The venue is located in the beautiful Rising Star backyard, perfect for groups staying at the hotel.
Rising Star Field House: The brand new, state-of-the-art, 30,000 square foot training facility, known as "The Barn", can be set up in a variety of configurations: 3 hardwood basketball courts, 6 volleyball courts, 12 pickleball courts or a 98'x193 astro turf field. The Barn has 2 concession areas, drinking stations, portable scoreboards, optional dividers, and can be customized for any event.
Town Wash Trail: Pedestrians, bicyclists, and skaters can enjoy the 58 miles of paved and natural surface trails that interconnect with the City's parks, off-street trails, and open spaces for recreation, fitness and education. Twenty-two trail lights dot the meandering pathway along with trees, plants and shrubs. Four shade structures with benches provide walkers, runners, and passers-by a chance to sit and relax out of the sun.
Veterans Memorial Park: Nevada honors the veterans of Mesquite in this outdoor space with two memorial cannons, along with flags representing each branch of service. Veterans Memorial Park is the perfect setting for a quiet day outdoors, with ample table space for groups large and small. The covered pavilions are great for hosting outdoor BBQs, whether you're using one of the four grills on site or bringing your own. And your children will enjoy the shaded playground, making this a wonderful park for the entire family.
Woodury Park: Woodbury Park offers a multi-sport grass field with lights for all your gaming needs. With restrooms on site, you'll be ready for running along the field for hours on end. Or host an official game for your local sports team − there's plenty of space for spectators to cheer on play after play.
Recreation
Adventure Rentals: Adventure Rentals offers Polaris RZR vehicles to explore Mesquite and the surrounding areas including Utah and Arizona. Rent the off-road vehicles for endless scenic trail riding whether you're searching for a quick break or a multi-day excursion. For more information, visit www.adventurerentals.org/
Mesquite Recreation Center: The City of Mesquite's Recreation Center sports two full size gymnasiums, two racquetball courts, an indoor heated pool, showers, lockers, fitness room, aerobics/dance room, meeting rooms, youth and adult gathering areas with pool tables, foosball and ping pong tables, climbing wall and outdoor basketball courts. During the summer, guests can enjoy the outdoor pool and its exciting water slide. For more information, visit www.mesquitenv.gov/city-government/parks-facilities/facilities/recreation-center.
Mesquite Sports Complex and Events Complex: This facility has five full-size soccer fields, all of which are lit and can be used for a variety of sports. Other amenities include a concession stand, three pavilions, a playground, a small splash pad, two bathroom structures, a large vendor booth area with power and water to each site, and a large parking lot. Aside from hosting large scale events, guests can participate in various activities, including soccer and football games, archery events, golf club demo days, and various outdoor recreation. For more information, visit www.mesquitenv.gov/city-government/parks-facilities/parks/sports-event-complex.
Skydive Mesquite: A member of the United States Parachute Association, Skydive Mesquite offers the largest full-service drop zone in Nevada. Whether your first jump or your 1,000th, the team at Skydive Mesquite is prepared to help your jump over the picturesque Nevada desert happen. For more information, visit www.skydivemesquite.com.
Day Trips from Mesquite 
Bryce Canyon National Park: Thousands of delicately-carved spires rise in brilliant color from the amphitheaters of Bryce Canyon National Park. Millions of years of wind and water at work have etched out the pink cliffs of Bryce Canyon. Bryce Canyon National Park is 24 miles southeast of Panguitch, Utah. The visitor center is open year-round and there is a park entrance fee. For more information, visit www.nps.gov/brca/index.htm.
Cathedral Gorge: Experience the majesty that is Cathedral Gorge. Located in a long, narrow valley where erosion has carved dramatic and unique patterns in the soft bentonite clay, it is a photographers' dream. A number of walking trails provide great views of the park. Children and adults alike love exploring the slot canyons. Moderate temperatures through the year make the park a great place to camp and explore. Fees are charged for entrance and camping. For more information, visit www.parks.nv.gov/parks/cathedral-gorge.
Cedar Breaks National Monument: Cedar Breaks National Monument is nestled high in the Cedar Mountains between Cedar City and Panguitch. Sudden contrasting landscapes come together to make one of Southern Utah's finest touring attractions. Many visitors from around the world enjoy the breathtaking beauty of Cedar Breaks annually. Grass fields, evergreen trees, wildlife and windblown sandstone make for a grand experience unique to only a few locations in the world. The area provides mild temperatures during the summer months. Cedar Breaks will become a favorite stop for those seeking the solitude and beauty of nature. Cedar Breaks National Monument is open from early June to mid-October and requires an entrance fee. For more information, visit www.nps.gov/cebr/index.htm.
Dixie National Forest: The Dixie National Forest, with headquarters in Cedar City, Utah occupies two million acres and stretches for about 170 miles across southern Utah. The largest National Forest in Utah, it straddles the divide between the Great Basin and the Colorado River. Elevations vary from 2,800 feet near St. George, Utah to 11,322 feet at Blue Bell Knoll on Boulder Mountain. The southern rim of the Great Basin, near the Colorado River, provides spectacular scenery. Colorado River canyons are made up of many-colored cliffs and steep-walled gorges. For more information, visit www.fs.usda.gov/dixie/.
Grand Canyon National Park – North Rim: You'll find that the Grand Canyon's North Rim, open from mid-May through mid-October, offers a unique experience from that of the South Rim. A mile deep and 18 miles wide in places, the 277-mile-long Grand Canyon is an awe-inspiring destination for any visitor. An entrance fee is required. For more information, visit www.nps.gov/grca/index.htm.
Great Basin National Park: From the sagebrush at its alluvial base to the 13,063-foot summit of Wheeler Peak, Great Basin National Park includes streams, lakes, alpine plants, abundant wildlife, a variety of forest types, including groves of ancient bristlecone pines, and numerous limestone caverns, including beautiful Lehman Caves. For more information, visit www.nps.gov/grba/index.htm.
Valley of Fire State Park: Valley of Fire is located about 45 miles from Mesquite and features scenic landscapes of hidden canyons and unique rock formations, petroglyphs and remains of ancient Indian civilization. Nevada Park Service visitor center open daily, 8:30 a.m. to 4:30 p.m., tours are available and an entrance fee is required. For more information, visit www.parks.nv.gov/parks/valley-of-fire-state-park.
Virgin River Gorge Recreation Area: Located off of I-15 about 20 miles northeast of Mesquite, Nev., the Virgin River Gorge Recreation Area is the only developed campground you will find on the Arizona strip. Whether you are having a picnic, or spending the night, don't neglect to hike the short trails leading to the Virgin River, and to a hilltop site where geology and history are explained. Keep a lookout for Bighorn Sheep who live on the rocky crags above the gorge. Day use and camping fees are required. For more information, visit www.blm.gov/az/st/en/prog/recreation/camping/dev_camps/vrg.html.
Zion National Park: One of the nation's oldest national parks, Zion, has a quiet grandeur that is unique. The six-mile drive into the heart of verdant Zion Canyon brings visitors past such scenic wonders as The Great White Throne, The Watchman, Grotto Picnic Area, Angels Landing, Weeping Rock, Emerald Pools and the fantastic gateway to the Narrows Trail. Park entrance fees are required. For more information, visit www.nps.gov/zion/index.htm.
CONTACTS
Tamara Rocha

R&R Partners

United States

tamara.rocha@rrpartners.com

702 228 0222

Maria Phelan

LVCVA

United States

-