Las Vegas News Briefs - September 2017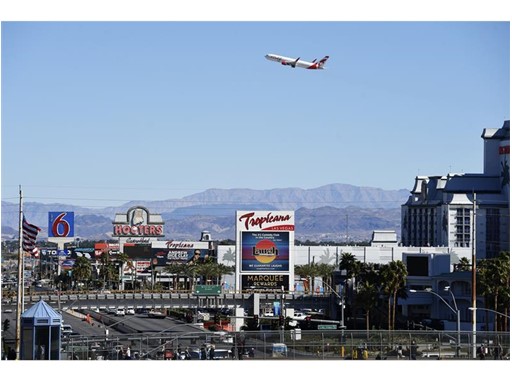 Life is Beautiful Takes Over Downtown Las Vegas
From the moment the gates open until the last stream of confetti rains down, the Life is Beautiful festival is a celebration, uniting people who love music, art, food and ideas. Now in its fifth year, Life is Beautiful will rock Downtown Las Vegas Sept. 22-24. With an all-star lineup of today's biggest artists—including Lorde, Chance the Rapper, Muse, Gorillaz and The xx—the festival will be unforgettable.
NASCAR Camping World Truck Series Puts Las Vegas in High Gear
The NASCAR Camping World Truck Series Race will speed into Las Vegas Sept. 30. Featuring the top drivers in the series, onlookers will feel the adrenaline rush as the drivers race for the checkered flag.
McCarran Has Record-Breaking Numbers for July 2017
McCarran International Airport had its busiest month ever in July 2017. The Las Vegas airport had more than 4.3 million passengers pass through during the month. This was an increase of 3.8 percent from July 2016. For more information, contact Christine Crews, McCarran International,
christinec@mccarran.com
.
Innovative Conference Space Coming to New Park MGM
MGM Resorts International and New York-based Sydell Group will debut a new meetings and conference space this fall as part of Monte Carlo Resort and Casino's transformation into the highly anticipated Park MGM. With a combination of innovative non-traditional spaces and flexible design, Park MGM will fill an unmet need in Las Vegas for small groups, while also offering beautiful spaces to host up to 5,000 attendees. The modern conference space will feature expansive ballrooms, flexible meeting places and an outdoor terrace. The space will be highlighted by the city's first Executive Meeting Center (EMC) and Ideation Labs – two meeting areas designed to maximize productivity for small groups. The main conference space will be completed in Oct. 2017 with the introduction of the Executive Meeting Center and Ideation Labs in Q1 2018. Spanning 77,000 square feet with 43 meeting rooms, Park MGM's conference and event spaces will feature high-touch, high-tech meeting venues appealing to the ever-changing needs and preferences of meeting planners. For more information, contact Sandy Zanella, MGM Resorts International,
szanella@mgmresorts.com
.
Caesars Entertainment Launches the First WeChat Digital Payment Program in Las Vegas
Leveraging its longstanding relationship with the world's 10th biggest public corporation Tencent, Caesars Entertainment Corporation launched WeChat Pay at 16 select locations inside Caesars Palace, Paris Las Vegas and The LINQ Promenade, becoming the first in the hospitality industry to offer this prominent Chinese digital payment method in Las Vegas. As one of the top two mobile payment apps in China, WeChat Pay has become a part of daily life due to its widespread availability, ranging from taxis to supermarkets to hospitals. Now, Chinese guests can make purchases with WeChat Pay just as easily at Caesars Entertainment Las Vegas resorts. The currency will automatically settle into USD at the point of sale at a dynamic exchange rate. For more information, contact Kristin Soo Hoo,
ksoohoo@caesars.com
.
Golden Gate Hotel & Casino to Unveil Anticipated Expansion
The iconic Golden Gate Hotel & Casino – one of Las Vegas' original hotels – will continue its storied 111-year legacy with the official unveiling of its fully completed expansion project on Friday, September 1. Featuring interior design from Dez Motif and architecture by MOSER Architecture Studio, the renovation will nearly double the casino in size; add a dramatic entry way on Fremont Street Experience; and extend its high-energy outdoor bar, OneBar at One Fremont Street. CEO Derek Stevens and Mayor Carolyn Goodman will commemorate the monumental event with a special ribbon cutting ceremony. In addition, Stevens has invited special guests, local casino merchandise collectors Christine and Sheldon Smith, to be the first couple to set foot inside the expanded property. This will continue the couple's tradition of attending every notable Las Vegas hotel and casino opening within the last two decades.  For more information, contact Kara Rutkin, Kirvin Doak Communications,
krutkin@kirvindoak.com
.  
McCarran Introduces Nursing Suites for Travelers
McCarran International Airport, the eighth-busiest airport in North America with more than 47.4 million passengers passing through in 2016, has opened three airport nursing suites offering an intimate and private space for traveling nursing mothers. The suites are accessible to all and can be locked from the inside via an indicator deadbolt. Created by Mamava, a company dedicated to transforming the culture of breastfeeding by making it easier for more women to achieve their breastfeeding goals, the Mamava suite is a self-contained, mobile pod with comfortable benches, a fold-down table, an electrical outlet for plugging in a breast pump, and a door that can be locked for privacy. The 4-foot by 8-foot pod is meant for individual use, but can fit more than one person, as well as mothers with babies and other children in tow. For more information, contact Christine Crews, McCarran International,
christinec@mccarran.com
.
Legendary Boxer Mike Tyson Returns to Las Vegas with UNDISPUTED TRUTH – Round 2
The gloves are off! Legendary boxer Mike Tyson will return to the stage at MGM Grand Hotel & Casino on the famed Las Vegas Strip. Following the knockout premiere of UNDISPUTED TRUTH, Tyson's stage debut, in 2012 and subsequent, sold-out runs on Broadway and again at MGM Grand, the champ will return to the stage for a limited run at Brad Garrett's Comedy Club with Mike Tyson UNDISPUTED TRUTH – Round 2. Picking up where UNDISPUTED TRUTH left off, Round 2 will be a captivating and unapologetic look at the ups and downs of Tyson's tumultuous post-boxing life and career. Mike Tyson UNDISPUTED TRUTH – Round 2 will debut Thursday, Sept. 7. For more information, contact Jeff Klein, PR Plus,
jeff@prpluslv.com
.
WOW to Make a Splash at Rio All-Suite Hotel & Casino in Las Vegas
Prepare to be transported into a world of water, wonder and fantasy as WOW, the internationally-acclaimed production, will make its North American debut with a splash at the Rio Showroom at Rio All-Suite Hotel & Casino in Las Vegas Sept. 26. WOW is a water entertainment spectacular that transforms the ordinary into the extraordinary. The cast of more than 30 international performing artists, acrobats and dancers fly, flip, fold, dance and defy the imagination in a 180-degree theatrical setting that engages the audience from beginning to end with 3D multi-media projections, water walls, and holograms. Add breathtaking acrobatics, dazzling choreography, thrilling theatrical lighting, magnificent music and even finalists from 
America's Got Talent
, and you are sure to be wowed!  For more information, contact Brandee Taeubel, Caesars Entertainment,
btaeubel@caesars.com
.
Wolfgang Puck to Launch New, Reimagined Spago at Bellagio
Wolfgang Puck's legendary flagship restaurant, Spago, recognized for igniting Las Vegas's dining scene into a culinary epicenter, will open its doors at Bellagio Resort & Casino in spring 2018. Marking 25 years since the fine-dining phenomenon debuted in Las Vegas, Puck's now revolutionary restaurant heralded the era of celebrity chefs and haute cuisine that continues to define the city's restaurant scene today. The new restaurant will offer an elevated experience, featuring an open-air patio with prime views of the iconic Fountains of Bellagio. Designed by architects Massimiliano Locatelli and Annamaria Scevola of CLS Architetti, and inspired by Spago's original flagship location in Beverly Hills, the new venue will have a sleek look and feel. Guests will enter the venue from Via Bellagio on the resort's north side, arriving into Spago's chic lounge and bar. Adorned with brass fixtures, rich smoked-oak wood floors, leather chairs and couches, the focal point will be a spectacular bar and wine room lit by a stunning neon light fixture commissioned for the space. For more information, contact Ashley Farkas, MGM Resorts International,
afarkas@mgmresorts.com
.
Downtown Project Debuts Corduroy on Fremont East
Las Vegas' Downtown Project continues its foray into unique and innovative nightlife with Corduroy, a bar reminiscent of the throw-back
rock 'n' roll
-style watering holes of the past. Unmistakably unconventional, Corduroy brings a high-energy, new social scene and takes center stage along the Fremont East Entertainment District via rock 'n' roll music, complete with its very own vintage speaker collection turned-art installation. Fun and a whole lot of nostalgic flair went into the design of Corduroy – the interior is a nod to the classic decor of the 70s, while the music and drinks are focused on today's barhopping connoisseur. For more information, contact Megan Fazio, Neon PR,
megan.fazio@neonpublicrelations.com
.
the otheroom Now Open at the Forum Shops at Caesars Palace
For those looking to jump start their evening or find the perfect end to cap their night, the otheroom now offers two daily Happy Hours that are sure to leave revelers satisfied. Located just inside The Forum Shops at Caesars Palace right off Las Vegas Blvd., afternoon Happy Hour at the otheroom begins at 3 p.m. and runs until 6 p.m. A premier social hub, the otheroom offers the perfect spot to grab a drink and unwind outside on the casual patio seating in front of the Strip-side Trevi Fountain landmark or socialize inside the lively and upscale lounge. For more information, contact Emily Wofford, The Publicity Lab,
emily@thepublicitylab.com
.
Grand Canyon Scenic Airlines Launches Three New Language Sites
Grand Canyon Scenic Airlines (GCSA), the world's largest and most experienced aerial tour operator, has launched three new language sites for
www.scenic.com
: Japanese, Mandarin and Korean. GCSA is the only aerial tour operator to offer multilingual options for tours from Las Vegas, Grand Canyon National Park, Grand Canyon West and Page, Arizona. For more information, contact Desiree Webb, Vox Solid Communications,
dwebb@wearevoxsolid.com
.
Hamptons Brings New Luxury with Timeless Tastes to Tivoli Village
A new dining experience combines leisurely lounging and luxurious dining as Hamptons opens its doors at Tivoli Village on Sept. 6. From restauranteurs Wild Thyme Restaurant Group, Hamptons will feature two levels of industrial-chic interior design with vintage touches to create a space of sophisticated ambience as the team serves up a twist on modern American cuisine. With patios on the ground level, as well as the second story, Hamptons will create a socially-engaging setting – a perfect spot to devour weekend brunch with friends, host a power lunch, or sip a glass of small-batch wines during a laidback dinner. A spacious second level private dining room can host up to 97 guests for dining or be turned into a private party room for special events with capacity up to 150 guests. For more information, contact Alissa Kelly, PR Plus,
alissa@prpluslv.com
.
Lip Smacking Foodie Tours Adds Venetian | Palazzo Experiences
Combining acclaimed and award-winning Las Vegas restaurants with the city's most exciting experiences, Lip Smacking Foodie Tours has launched two new ways for visitors and locals to enjoy Las Vegas – Vegas Sights Worldly Bites and Bright Lights & Lip Smacking Bites. Treating tour-goers to the best of The Venetian | Palazzo, Vegas Sights Worldly Bites offers a stroll of eating and exploring around one of Las Vegas' most impressive resorts. The 2 ½ hour daytime experience leads guests past iconic fountains, glitzy venues and people-packed promenades to signature dishes from the resort's most lauded restaurants. Partnering with Pink Jeep Tours, the new five-hour Bright Lights & Lip Smacking Bites experience combines a full, four-stop dining experience of The Venetian | Palazzo with an exciting tour of the city's most popular sights. After savoring tastes from SUGARCANE, Chica, SUSHISAMBA, and Bouchon, guests climb aboard a signature open-air Pink Jeep Wrangler for a fully guided tour of the Las Vegas Strip. For more information, contact Katie Conway, Revenue Media Group,
katie.conway@revenuemediagroup.com
.
Vegas EXP Now Open at Grand Bazaar Shops
The first interactive digital store in Las Vegas, Vegas EXP, has taken the Las Vegas Strip by storm, dramatically changing the retail experience for shoppers who are be able to browse inventory, personalize, purchase and even ship their merchandise from the palm of their hand via smart phone.  Vegas EXP, located at the Grand Bazaar Shops, encompasses over 3,200 square feet and features 28 digital screens with interactive technology transforming the traditional shopping environment. For more information, contact Melissa Warren, Faiss Foley Warren PR,
melissa@ffwpr.com
.