Las Vegas News Briefs - May 2017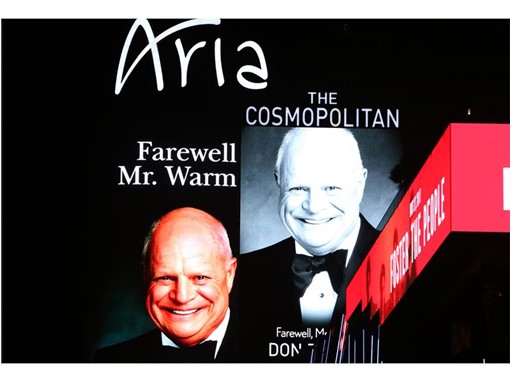 Las Vegas Celebrates NTTW17 Travel Rally Day Tuesday, May 9
Each year during the first or second week in May, the tourism industry nationwide celebrates National Travel and Tourism Week, a program developed by the U.S. Travel Association. This nationwide week of events serves to champion the power of our industry, and is America's annual salute to travel and tourism. Join us on Tuesday, May 9 from 2 – 3 p.m. in the Fashion Show Las Vegas Great Hall as the LVCVA recognizes Travel Rally Day by celebrating the visitors who make Las Vegas the world's best destination for leisure and business, and show your support for the industry by wearing red. The celebration will feature performances by the Australian Bee Gees and Vox Vegas and will be led by Host Committee Chairman Oscar Goodman, along with showgirls. Free entertainment, giveaways, and more. For more information, contact Leiandra Gaskill, LVCVA,
lgaskill@lvcva.com
.
Master Impressionist Gordie Brown Returns to Las Vegas Strip Opening at Planet Hollywood Resort & Casino
Known for his eccentric impressions of some of the biggest celebrities in the world today, longtime Las Vegas entertainer Gordie Brown is pleased to announce his return to the Las Vegas Strip, debuting Gordie Brown Live inside The Cabaret at Planet Hollywood Resort & Casino on Tuesday, May 9 at 7 p.m. Hailed as a "great entertainer" by Celine Dion, Brown has performed in numerous showrooms around Las Vegas since 2004. Gordie Brown Live promises to be a fast-paced high energy show of hilarious, spot-on impressions. For more information, contact Talia Rothman, Caesars Entertainment, 
Affinity Gaming Presents the Annual Wine to Remember to Benefit Alzheimer's Association
As part of its continued partnership, Affinity Gaming and the Alzheimer's Association will present the annual Wine to Remember event on Saturday, May 13 from 6-9 p.m. at Whiskey Pete's Hotel & Casino in Primm. With a "Denim and Diamonds" theme, attendees are encouraged to don their best western attire for a rowdy good time with fine wines, hors d'oeuvres, silent auction packages and boot stompin' live music from the Carter Hall Project. Tickets are $50 per person or $80 for a pair. All proceeds will benefit local programs, services, treatments and preventions for Alzheimer's and dementias. For more information, contact Carrie Giverson, one7 Communications,
carrie@one7communications.com
.
Las Vegas Outdoor Adventures Launches All-American Experiences for Adrenaline Seekers
Las Vegas visitors have a new all-encompassing way to make the most of the exhilarating outdoor recreational experiences the desert Southwest offers—
Las Vegas Outdoor Adventures
(LVOA). This new adventure-tour company offers convenient access to a variety of all-American outdoor experiences, with activities suitable for all ages and areas of interest. Options include ATV, Razor and Jeep tours to the Colorado River—the only tour through the Lake Mead National Recreation Area of its kind; an outdoor, military-style shooting range and thrill-inducing rides in a monster truck that holds the Guinness World Record for its truly monstrous length. LVOA tours include roundtrip transportation to and from most hotels in Las Vegas. New packages and activities will be announced later this spring.
For more information, contact Marina Nicola, Vox Solid Communications,
mnicola@wearevoxsolid.com
.
Bellagio Gallery of Fine Art Debuts "I Am The Greatest: Muhammad Ali"
The exhibit celebrates the legacy of the world's greatest heavyweight boxer through six core principles: Confidence, Conviction, Dedication, Giving, Respect and Spirituality. Inside the gallery, guests can enjoy unseen video footage, family photos, rare personal heirlooms, notable artifacts and stories from some of Ali's closest friends. Steps away, guests can sit ringside while marveling at clips of Ali's most legendary fights and learning about his philanthropic endeavors. "I Am The Greatest: Muhammad Ali" will be on view March 31 through September 30. For more information, contact Brittany Harris, MGM Resorts Public Relations,
bharris@mgmresorts.com
.
Final Shows Announced for "Britney: Piece of Me" at The AXIS at Planet Hollywood Resort & Casino
Legendary pop icon Britney Spears has announced final show dates of her record-breaking Las Vegas residency, "Britney: Piece of Me." The international superstar will return to The AXIS at Planet Hollywood Resort & Casino for her final performances September 3 through December 31, 2017. As the first contemporary superstar resident in the city, Britney pioneered the groundbreaking paradigm shift and revitalized the modern era of entertainment in Las Vegas. Since opening December 27, 2013, "Britney: Piece of Me" has received rave reviews from both critics and fans alike. Over 700,000 fans have experienced "Britney: Piece of Me" since it opened in The AXIS, which was designed exclusively for Britney's show. As the show has evolved through the years, its status as one of the hottest tickets in Las Vegas has been a constant. For more information, contact Talia Rothman, Caesars Entertainment,
trothman@caesars.com
.
On Thursday, April 13, images of Don Rickles were proudly displayed on digital marquees throughout Las Vegas to commemorate the entertainment icon. The legendary comedian was remembered as an influential and renowned entertainer, that shaped the future of Las Vegas and cemented its status as the "Entertainment Capital of the World." Numerous resorts and bsinesses across Las Vegas commemorated Rickles. Also known as 'Mr. Warmth,' Rickles' comedy career spanned more than 60 years, with more than 50 years spent entertaining Las Vegas visitors at various resorts. Since his first Las Vegas performance in 1959, Rickles' raw humor and insult comedy entertained countless audiences over the years. For more information, contact Amanda Arentsen, LVCVA,
aarentsen@lvcva.com
.
T-Mobile Arena to Become Las Vegas Home of UFC
Establishing an industry first, T-Mobile Arena has entered into an extended multi-year agreement with UFC that names the world's premier mixed martial arts (MMA) organization as an Anchor Tenant of the arena owned by AEG and MGM Resorts International. The partnership, which also establishes T-Mobile Arena as UFC's exclusive Las Vegas arena destination, marks the first time that a global sports brand, other than a professional sports franchise, has been named as an Anchor Tenant for a sports and entertainment venue. The comprehensive agreement calls for UFC to host a minimum of four events annually. UFC will have priority scheduling for designated major events windows, such as International Fight Week. UFC joins the new Vegas Golden Knights NHL expansion team, set to begin play this fall, as the arena's two Anchor Tenants. For more information, contact Scott Ghertner, MGM Resorts International,
sghertner@mgmresorts.com
. 
Circus Circus Las Vegas Makes a Splash with Expanded Pool Offerings
Set to become the coolest place to chill out when temperatures heat up, Circus Circus Las Vegas has unveiled plans to develop a new pool experience for its hotel guests, scheduled to open just in time for summer. The expanded pool complex will offer Splash Zone, a 50-foot slide tower with three water slides – a speed slide, an aqua tube and a four-lane mat racer; Splash Pad with water features for all ages including water cannons, splash falls and tilting buckets; various shade structures for couples and families; new lounger chairs; cabanas for relaxing and entertaining; personalized lockers; and Splash Snacks, a mobile food truck. Completion of the expansion is expected to be in the second quarter of 2017. For more information, contact Wendie Mosca, MGM Resorts International,
wmosca@mgmresorts.com
.
Celebrated Chef Bryce Shuman Partners with Sydell Group to Open Primrose Restaurant Coming to the New Park MGM in Las Vegas
MGM Resorts International and New York-based Sydell Group have announced that Michelin-starred Chef Bryce Shuman has partnered with Sydell Group to be the Chef of Primrose, one of the first restaurants slated to open at the much-anticipated Park MGM in Las Vegas. Last spring, MGM Resorts and Sydell Group announced a partnership to reimagine and rebrand Monte Carlo Resort and Casino, to include two distinct new hotel experiences: the launch of Park MGM, and a Las Vegas version of Sydell's widely acclaimed NoMad Hotel. Park MGM and The NoMad Las Vegas become the final pieces of MGM Resorts' complete neighborhood redesign of the central Las Vegas Strip neighborhood, which began in 2009 with the introduction of CityCenter and the recent unveiling of The Park, a spectacular outdoor dining and entertainment district, and the stunning new T-Mobile Arena. For more information, contact Natalie Mounier, Kirvin Doak,
nmounier@kirvindoak.com
.