Las Vegas News Briefs - July 2017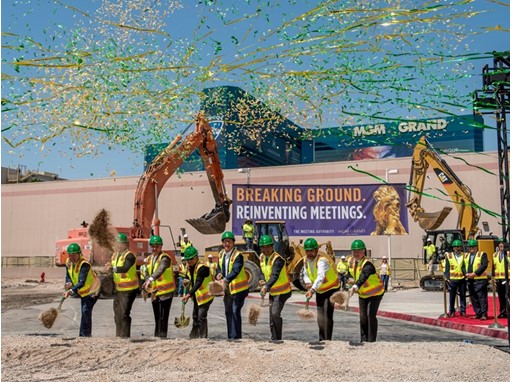 ​
Las Vegas News Bureau Celebrates the King of Cool
From his solo career to his appearances with the Rat Pack, and his infamous Celebrity Roasts, Dean Martin made the Las Vegas stage home. Known for his smooth and effortless style, Martin has become a timeless Las Vegas icon. The Las Vegas News Bureau celebrates the "King of Cool" Dean Martin with rarely seen photographs from our archives. The exhibit is now open at two locations in the Las Vegas Convention Center, the main lobby and the central concourse. 
Click here
 to watch our video tribute to Dean Martin, featuring interviews with Rich Little, Lorraine Hunt-Bono and Dennis Bono. For more information, contact Lisa Jacob, LVCVA,
ljacob@lvcva.com
​​.
the D Las Vegas is the Official Downtown Casino of Vegas Golden Knights
Details about the partnership were unveiled during a press conference on Third Street Stage in the Fremont Street Experience. The partnership will include the Annual Fan Fest in Downtown Las Vegas in the off-season, special watch parties for every game, player appearances, official merchandise pop-up shop at the D, game tickets available for purchase at the concierge, and more. The press conference took place a week ahead of the NHL Expansion Draft on June 21. Fans will be able to get in on the hockey action this fall at T-Mobile Arena. For more information, contact Kara Rutkin, Kirvin Doak Communications,
krutkin@kirvindoak.com
.
Caesars Entertainment Announces Opening of Caesars Entertainment Studios in Las Vegas
Caesars Entertainment Corporation, the world's most diversified gaming and entertainment company, announced the opening of Nevada's first full-service production studio, Caesars Entertainment Studios produced by Sidekick Productions. Located in Las Vegas, the production studio offers the newest, most advanced production facility capable of housing full-scale television, movie and eSports production - all just a short distance from Hollywood. Each year over 50 productions ranging from movies to television shows have utilized Caesars Entertainment properties for filming in Las Vegas. Featuring over 48,000 square feet of production space, the studio sits on five acres of land adjacent to Bally's Las Vegas. The soundstage is capable of hosting feature films, television shows (game shows, sitcoms) and special events (concerts, sports). For more information, contact Adrienne Prather-Marcos, Caesars Entertainment,
aprathermarcos@caesars.com
.
MGM Grand Breaks Ground on Conference Center and Stay Well Meetings Expansion
The iconic MGM Grand, one of Las Vegas' premier meeting destinations, officially broke ground on an approximately $130 million expansion of its award-winning Conference Center, reflecting MGM Resorts International's commitment to growing group business throughout the city. In response to customer demand, the MGM Grand Conference Center is adding 250,000 square feet for a total of more than 850,000 square feet. As part of the expansion, Stay Well Meetings – the industry's first-ever wellness meetings experience which launched at the hotel in 2014 – also will expand its footprint by 22,000 square feet and encompass the Conference Center's entire second floor. The project is scheduled for completion the end of 2018. For more information, contact Sandy Zanella, MGM Resorts International,
szanella@mgmresorts.com
.
The Venetian Las Vegas, in Partnership with Culture Corps Presents a New Art Installation by Anne Patterson
The Venetian Las Vegas, in association with Culture Corps, presents an immersive art installation by Anne Patterson, suspended inside the resort's Waterfall Atrium. The installation made its debut June 9.
Another Sky
is a composition of the interactions of 32 miles of satin ribbon within the soaring 55-foot ceiling of the atrium. Inspired by the sky, the installation is designed with 3,590 strategically-placed strands of reflective ribbon in 15 colors ranging from navy to plum to Navajo turquoise and emerald. The installation can be enjoyed from the floor of the atrium, where ribbons will meditatively sway above, or for a more immersive experience, guests will be able to view the kaleidoscope of blues and greens from the balcony level. For more information, contact Elaine Chaivarlis, The Venetian and The Palazzo,
Elaine.Chaivarlis@sands.com
.
Wynn Las Vegas Unveils Afternoon Tea Service at the All-New Terrace Lounge
Afternoon Tea is now available exclusively at the recently opened Terrace Lounge, just steps away from Wynn's main entrance and lush atrium. Offered daily from 12 to 4 p.m., guests may indulge in a selection of afternoon tea blends, accompanied by house-made scones, savory tea sandwiches, delicate pastries and more, all in an elegant, yet relaxed setting. Fine loose leaf tea selections include unique varieties of black tea, herbal blends, green leaves, white leaves and blooming tea.  A selection of handcrafted tea-infused cocktails are also available a-la-carte, including the Jasmine Leaf, a combination of The Botanist Gin infused with Jasmine green tea, lemongrass and tropical bitters. For more information, contact Aleksandra Baranova, Wynn Las Vegas,
aleksandra.baranova@wynnlasvegas.com
.
Neon Museum's Red Barn Sign Now Displayed on The Plaza at Fashion Show
As part of a new partnership to showcase restored, historic Las Vegas signs on the Las Vegas Strip, the Neon Museum's iconic Red Barn neon sign has been installed on the Fashion Show's newly renovated Plaza. The Red Barn opened in the late 1950s as an antique store at 1317 Tropicana Avenue and was converted into a bar in the early 1960s. By 1969, it had evolved into one of the first openly gay bars in Las Vegas. Consisting of a rotating lineup of restored signs from the Neon Museum's collection, this partnership marks the very first time signs from this renowned collection will be displayed on world-famous Strip. The Red Barn sign is on display now; in several months, it will be replaced by a different sign from the Neon Museum's collection. For more information, contact Erika Pope, Vox Solid Communications,
epope@wearevoxsolid.com
.
Eurowings Airline Launches New Nonstop Service from Cologne, Germany to Las Vegas
German air carrier, Eurowings, has launched new nonstop service to Las Vegas flying twice a week from Cologne, Germany. The subsidiary company of Lufthansa will operate the connection Mondays and Fridays with an Airbus A330. The twice-weekly flights will run seasonally from June 2, 2017 – October 27, 2017. Tickets to and from Las Vegas can be booked on the website of the airline (
www.eurowings.de
) for 199.99 Euros per flight. The flights are expected to generate $15.1 million in direct visitor spending. For more information, contact Heidi Hayes, LVCVA,
hhayes@lvcva.com
.
Bandito Latin Kitchen & Cantina Now Open
The 4,000 square feet restaurant was designed by Harman along with Punch, the architect of record.  Its décor is a mix of rustic and modern, with plenty of finished metal, hand-distressed wood and vibrant colors. As guests enter the restaurant they are greeted by a hand-pressed tortilla station that anchors the open kitchen. Bandito will cater to locals, tourists and large groups alike, with seating for 150 available both inside the cantina and dining room, and also on its outdoor patio that provides stunning nighttime views of the Las Vegas Strip. Bandito Latin Kitchen & Cantina is open daily from 11am to 10pm, with dinner service extended until 11pm on Friday and Saturday nights. For more information, contact Ken Langdon, Bandito Latin Kitchen & Cantina,
ken.langdon@banditolv.com
.
Hard Rock Hotel & Casino Las Vegas Partners with Hudson Group to Unveil New Retail Shops
Hard Rock Hotel & Casino Las Vegas has partnered with the largest travel retailer in North America, Hudson Group, a wholly owned subsidiary of Dufry AG, to unveil six new exciting and energetic shops totaling 14,500 square feet and adding to the resort's diverse retail and dining collection. The redeveloped retail spaces showcase high-end watches, timepieces and jewelry, travel essentials, electronics, wine, spirits and apparel. In collaboration with architectural firm, Designwork Studios, Chill, Hootenanny and Dunkin' Donuts are three modernized stores tailored to appeal to the guests' senses and deliver an unparalleled shopping and dining experience, 24/7. Leading, multi-dimensional brand experience and design firm, Big Red Rooster, has collaborated with retail shops Bezel, Day + Night and Shine to create their own identity and personality that offer a rock and roll vibe paired with an authentic shopping experience. For more information, contact Brigitte Ruiz, Kirvin Doak Communications,
bruiz@kirvindoak.com
.
World Series of Darts event will be held at Tropicana Las Vegas
The Professional Darts Corporation (PDC) is bringing an event to the United States for the first time since 2010 – the U.S. Masters at the Trinidad Pavilion inside Tropicana Las Vegas, July 13-15. Eight North American qualifiers will face eight of the best international professionals for a chance to earn the title of U.S. Darts Master. Two days of qualifiers on July 11-12 will allow any darts player from North America the chance to win their spot in the eight-player North American Championship, which will take place on July 13. The North American Champion will also earn a place in the 2018 World Championships in London. Each player's dramatic, walk-out song-enhanced entry and fast-paced, suspenseful matches are cheered on by the passionate, beer-chugging, costumed crowd. For more information, contact Graham McMurry, Kirvin Doak Communications,
USMastersPR@kirvindoak.com
.
CIRCUS 1903 Brings The Golden Age of Circus Back at Paris Las Vegas
In a Las Vegas premiere event, the producers of the world's biggest magic show,
The Illusionists
, have teamed up with the award-winning puppeteers from
War Horse
, to bring a thrilling turn-of-the-century circus spectacular to the Las Vegas Strip.
CIRCUS 1903 –The Golden Age of Circus
will debut inside the Paris Theater at Paris Las Vegas July 25. Coming off of successful runs in Los Angeles at Hollywood Pantages Theatre and New York at The Theater at Madison Square Garden, CIRCUS 1903 –The Golden Age of Circus has all the thrill and daredevil entertainment one would expect from the circus and will perform Tuesday through Sunday at 7p.m. with additional performances at 3p.m. on Wednesday, Saturday, and Sunday. Tickets begin at $49. For more information, contact Talia Rothman, Caesars Entertainment,
trothman@caesars.com
.
Grand Canyon Helicopters Launches New Tour: Heli & Whitewater Rafting Adventure
New for 2017, Grand Canyon Helicopters has announced the launch of its newest tour: Heli & Whitewater Rafting Adventure. Offered in partnership with Hualapai River Runners, the adventure begins by checking into the Grand Canyon Helicopters terminal, located at McCarran International Airport's Atlantic Terminal. Guests board the helicopter for a flight to the airport in Peach Springs, Arizona. There, Hualapai River Runners will transport guests to the Hualapai Lodge, where they will board an eight-person motorized river raft, designed especially for navigating the Colorado River. This 4-hour whitewater adventure consists of rapids ranging from four to seven, depending upon water levels and is experienced during the first 12 miles of the trip. Along the way, a stop is made for guests to enjoy a moderate hike to Travertine Cavern Falls and a relaxing lunch next to the sandy river bank. For more information, contact Desiree Webb or Marina Nicola, Vox Solid Communications,
dwebb@wearevoxsolid.com
or
mnicola@wearevoxsolid.com
.