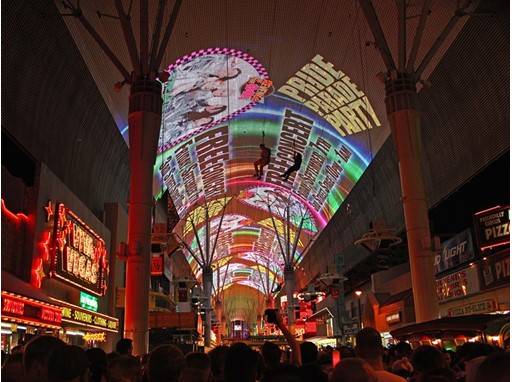 Crowned the "LGBT Destination of the Year" by Gay Travel Awards in 2016, Las Vegas empowers travelers to break through their comfort zones and embrace who they are at their very core. As one of the first destinations to design advertisements specifically focused on the LGBT community, Las Vegas has been marketing to the LGBT community for more than a decade. Featuring a wide variety of LGBT-driven entertainment, dining, nightlife and special events, Las Vegas is the ultimate escape for any occasion.
Entertainment
Las Vegas's longest-running headliner, "Divas Starring Frank Marino," will be the first interactive show to allow audiences to direct the show on the Las Vegas Strip. Named "Queen of the Strip," Frank Marino will give a behind-the-scenes look at his full female impersonator transformation in his dressing room via Facebook Live. Audiences will have full control to vote who in his all-star cast will perform that night, including new cast members dressed as Beyoncé, Gwen Stefani and Cher, making each Divas performance unique.
Las Vegas' longest running LGBT pool party, Temptation Sundays at Luxor Hotel and Casino, delivers the summer's hottest soundtracks by famed DJs, specialty cocktails and more. This sexy poolside party takes place every Sunday beginning May 13. The original, longest-running gay pool party in Las Vegas returns for its ninth season with weekly parties through September 2.
MGM Resorts International recently launched Universal Love, a collection of reimagined wedding songs for the LGBTQ community. Featuring songs by Bob Dylan and St. Vincent among other artists, the album celebrates the enduring and overwhelming power of love and music to unite humanity. Universal Love provides same-sex couples a soundtrack for their love stories and is available on all streaming platforms.
Special Events
Annually, the destination invites travelers to enjoy a collection of LGBT events during Las Vegas PRIDE weekend. This year, the festivities will take place Oct. 19-21, with a lineup of events that celebrate the diversity and pride within the Las Vegas LGBT community. Activities include the annual PRIDE Night Parade in fabulous Downtown Las Vegas; PRIDE Festival; PRIDE OUTside, a group hiking event; Queen of Sin City Pageant; the LGBT Wedding Expo and more.  
Las Vegas actively participates in Pride events throughout the country. The destination had a presence at the 2016 L.A. PRIDE Festival, where attendees saw the city come to life before their eyes through a Virtual Reality experience. 
Matinée Las Vegas Festival, the biggest gay dance festival of the summer, electrifies the Hard Rock Casino and Hotel, May 25-28. Festivalgoers will dance the days away during eight parties featuring more than 20 DJs.
Nevada Gay Rodeo Association (NGRA) was established in 1992 and ropes in Las Vegas locals and visitors with a number of entertaining events throughout the year. One of the largest rodeos on the gay circuit, NGRA's Big Horn Rodeo features competitions such as bull riding, bareback bronc riding, calf roping, barrel racing and many more. Each year, the organization supports the Las Vegas PRIDE festival through a Country-Western Dance Tent or sales assistance at the general admission box office. The Big Horn Rodeo will take place September 21-23.
The Golden Crown Literary Society's annual conference is the premier lesbian literary event for both authors and readers. With special guest speakers Lucy Jane Bledsoe and Rachel Gold, this event will bring together readers, fans, writers, editors and publishers to celebrate the best in lesbian literature at Bally's Las Vegas, July 4-8.
Nightlife
Those looking to imbibe in true Las Vegas fashion, can sip and savor the "Rainbows Reign," a specialty LGBTQ libation served exclusively at Chandelier Bar inside The Cosmopolitan of Las Vegas. The colorful cocktail is made with Absolut Pride, boasting flavors of passion fruit, ginger, lemon and cucumber, and is garnished with a rainbow lollipop.
Flex Cocktail Lounge, located just four miles off the Strip, is a hot spot for locals and visitors alike. The bar and dance club has a small town feel with a big personality and is open around-the-clock. Known for friendly staff members, strong yet affordable cocktails and free nightly entertainment, FLEX is the ideal place for a game of pool with friends new and old.  
Minutes from Hard Rock Hotel & Casino, FreeZone Nightclub and Bar pairs a casual atmosphere with upbeat music and nightly karaoke. Featuring food, pool tables and occasional drag shows, it is a solid spot to catch up with friends or let loose on the dance floor.
Serving up unforgettable parties seven nights a week, Piranha Nightclub is the ultimate late-night location for LGBT revelers. From international DJs to world famous drag queens, the entertainment is top-notch and draws a lively, diverse crowd. Notable names that have graced the stages include Adore Delano, Yara Sofia, India Ferrah and Shannel from the hit show RuPauls Drag Rac. Depending on the occasion, guests can enjoy a cocktail at one of the many bars or dance the night away on Piranha's state-of-the-art dance floors among sexy go-go dancers.
For a LGBT nightlife experience and cocktail lounge experience in Downtown Las Vegas, you can find Bastille, the oldest gay bar in Las Vegas. Formerly known as Snick's Place, the bar is located at the beginning of the Arts District on the corner of 3rd St and Imperial.
For more LGBT experiences, you can check out Rendezvous, a sexy and mysterious new hot spot or for a country western experience from line dancing lessons to Drag Queen Bingo at Charlie's Las Vegas. Fun Hog Ranch offers a casual and festive atmosphere with a friendly staff, exposed wood, booths and a rustic ambiance. More LGBT venues throughout the city include Las Vegas Eagle, Quadz Video Bar and Spotlight Lounge.
Weddings
Las Vegas is a destination for legal same-sex weddings. On Oct. 9, 2014, Clark County began issuing licenses to same-sex couples looking to marry. The 1,000th same-sex marriage license was issued Jan. 7, 2015, the 5,000th license was issued on Dec. 30, 2015 and the 10,000th same-sex marriage license was issued on Jan. 20, 2017.
Research and Statistics
Based on the annual travel survey by Community Marketing & Insights (CMI), Las Vegas is the second most popular U.S. destination among gay men. 
Through research, Las Vegas has found that individuals identifying with the LGBT community express high familiarity, favorability and likelihood to return to the destination.
Las Vegas is different from other places in that the destination does not designate one specific area or neighborhood for the LGBT community.
Casinos and gambling are a preferred past time for LGBT travelers.
Gays and lesbians are 21% more likely to have visited a casino in the past year versus straight men and women. They are also are 25% more likely to say they have visited a casino up to five times in a year.
Gay men and lesbians are 39% more likely to enjoy gambling than straight men and women, with gay men leading the trend at 49%.