Flair Airlines Launches New Direct Service from Edmonton to Las Vegas
November 8, 2018
Las Vegas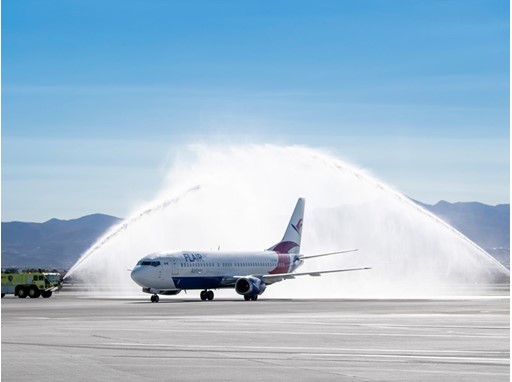 LAS VEGAS - McCarran International Airport welcomed new service from Canadian-based carrier Flair Airlines Nov. 8, 2018. with a direct flight from Edmonton, Alberta.  The sold-out inaugural flight was met with a celebratory water arch, Las Vegas showgirls, and branded cookies for deplaning passengers.
"We are pleased to welcome Flair Airlines to McCarran International Airport in Las Vegas and wish it great success with these new air service offerings from Edmonton," said Chris Jones, chief marketing officer for the Clark County Department of Aviation. 
With more than 42 million visitors in 2017, Las Vegas continues to be a top destination for domestic and international travelers. Canada continues to represent the largest source of international visitors to the destination, with nearly 1.5 million visitors each year.
"We are excited to welcome new seasonal flights from Canada with our latest airline partner, Flair Airlines," said Cathy Tull, chief marketing officer for the Las Vegas Convention and Visitors Authority. "Visitation from Canada represented more than 25 percent of the international market share to Las Vegas in 2017, and Flair's new service will provide further access and convenience for our Canadian friends to see why Las Vegas is the perfect escape this winter."
Las Vegas will welcome four weekly flights from November 8 through April 30. The economic impact from this route is expected to bring nearly $26 million to Southern Nevada. This winter, Flair Airlines will bring a second direct route from Winnipeg beginning December 15. For media images, a fact sheet, and an interview with Flair CEO, Jim Scott, please visit
https://flairair.ca/media-resources/
.
About Flair Airlines
For a decade Flair operated as a charter carrier before transitioning to scheduled service in 2017. To consistently offer affordable air travel to Canadians, Flair is focused on key airports, with its main transfer hub in Edmonton and a network that supports seasonal demand. As of November 1, 2018, Flair has flown nearly 1.2 million passengers and operates almost 200 weekly domestic and trans-border flights.  For more information, please visit
www.flairair.ca
About LVCVA
The Las Vegas Convention and Visitors Authority (LVCVA) is charged with marketing Southern Nevada as a tourism and convention destination worldwide, and also with operating the Las Vegas Convention Center and Cashman Center. With nearly 150,000 hotel rooms in Las Vegas alone and more than 11 million square feet of meeting and exhibit space citywide, the LVCVA's mission centers on attracting ever increasing numbers of leisure and business visitors to the area. Download the virtual reality app, Vegas VR, to experience Las Vegas from your iPhone or Android by visiting
http://www.vrtv.vegas/
. For more information, go to
www.lvcva.com
or 
www.visitlasvegas.com
.
About McCarran International Airport
McCarran International Airport is located in the shadows of the world-famous Las Vegas Strip and is the gateway for nearly half of the people who visit Southern Nevada each year. Including arrivals and departures, McCarran hosted a record of 48.5 million passengers in 2017, making 2017 the busiest year in the airport's 70-year history. With 29 airlines providing nonstop service to more than 140 destinations, McCarran makes it possible for the world to experience one of the most alluring travel destinations. McCarran International Airport is owned and operated by Clark County, Nevada, and does not benefit from local tax dollars.