Welcome To Fabulous Las Vegas Sign Goes Green For St. Patrick's Day
March 14, 2019
Las Vegas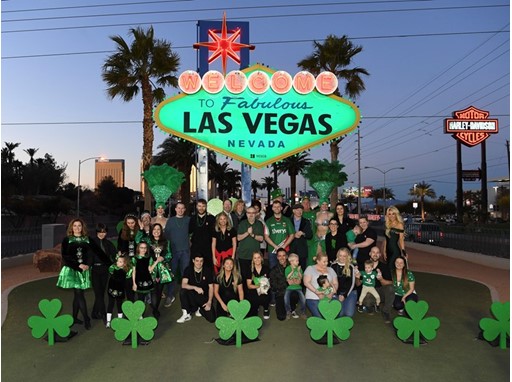 LAS VEGAS – In honor of St. Patrick's Day, the Las Vegas Convention & Visitors Authority (LVCVA) in partnership with Tourism Ireland have created a very special Irish welcome by turning the famous Welcome to Fabulous Las Vegas Sign green by replacing the traditional yellow bulbs with green ones. As the world gears up for St. Patrick's Day, the iconic Betty Willis-designed sign turned green on Thursday, March 14, kicking off this weekend's celebrations and Tourism Ireland's 'Global Greening' 2019 initiative. The Welcome to Fabulous Las Vegas Sign will stay green through March 17 in honor of all things Irish.

"Ireland is an important market for Las Vegas with approximately 70,000 visitors a year," said Chris Meyer, vice president of global sales, LVCVA. "For the seventh year running, we are pleased to partner with Tourism Ireland on its 'Global Greening' initiative by turning our iconic 'Welcome to Fabulous Las Vegas sign' green."
Las Vegas is in great company this St. Patrick's Day as many landmarks and iconic sites around the world are going green in honor of St. Patrick. The Leaning Tower of Pisa, Niagara Falls, the Sydney Opera House, the London Eye and the Pyramids of Giza are amongst the landmarks and iconic sites all going green. New landmarks for 2019 include Victoria Falls, York's medieval City Walls, the Eden Project in Cornwall, a leopard statue called 'Chiu' in Nairobi, Nation Towers in Abu Dhabi, the Château de Beaulieu on the banks of the Loire, the Atakule Tower in Ankara and the Shizuoka Stadium ECOPA in Japan.
Local landmarks going green for St. Patrick's Day include The LINQ Promenade and the High Roller, Plaza Hotel & Casino in Downtown, The Venetian and The Palazzo tower signs, and the historic La Concha Visitors Center at the Neon Museum.
The 'Global Greening' is a Tourism Ireland initiative which puts a large focus on Ireland around St. Patrick's Day. It gives people worldwide the opportunity to connect with Ireland and kicks off the organization's promotional drive to grow overseas tourism in 2019. Ireland, like Las Vegas, is a top travel business travel destination and regards tourism as the islands largest indigenous industry.
CONTACTS
Heidi Hayes

LVCVA

United States

702-892-0711