Welcome Sign Goes Green for St. Patrick's Day
March 16, 2017
Las Vegas Boulevard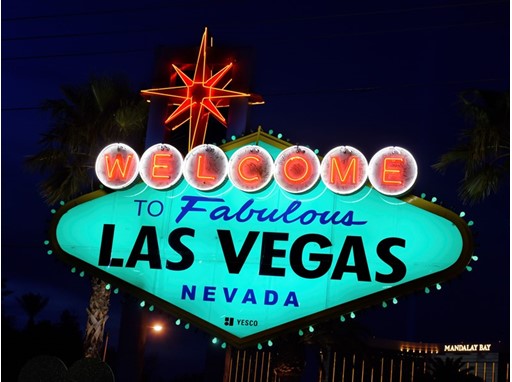 LAS VEGAS -- In honor of St. Patrick's Day, the Las Vegas Convention and Visitors Authority (LVCVA) turned the famous 'Welcome to Fabulous Las Vegas' sign green to help launch the festive St. Patrick's Day weekend. As the rest of the world gears up for St. Patrick's Day, the iconic 'Welcome to Fabulous Las Vegas' sign turned green a day early on Thursday, March 16, kicking off this weekend's festivities in conjunction with
Tourism Ireland's 'Global Greening' 2017
.

"For the fifth year running, we are pleased to partner with Tourism Ireland on its 'Global Greening' initiative by turning our iconic 'Welcome to Fabulous Las Vegas sign' green," said Cathy Tull, senior vice president of marketing for the Las Vegas Convention and Visitors Authority. "The variety of Irish offerings, not only this weekend, but throughout the year, highlight that Las Vegas is truly an international destination ready to accommodate visitors from across the globe.".

Las Vegas is in great company as many iconic landmarks and sites around the world are going green in honor of St. Patrick. The Leaning Tower of Pisa, Niagara Falls, the Sydney Opera House, the London Eye and the Pyramids of Giza are all going green. New landmarks for 2017 include One World Trade Center in New York City, City Hall in London, Matsue Castle in Japan, as well as an Ethiopian Airlines airplane in Addis Ababa.
Niall Gibbons, chief executive of Tourism Ireland, added, "The success of our Global Greening initiative is due in no small part to the great work that has been carried out across the world by Irish people down the generations and, in particular, to the great support we've received from the Irish embassy network and the Diaspora. The eagerness of cities and countries everywhere to take part underlines the strength of the deep connection that people all over the world feel to Ireland." 
The 'Global Greening' is a Tourism Ireland initiative which puts a large focus on Ireland around St. Patrick's Day. It gives people worldwide the opportunity to connect with Ireland and kicks off the organization's promotional drive to grow overseas tourism in 2017. Ireland, like Las Vegas, is a top travel destination and regards tourism as their largest indigenous industry.

Photos and video from the event are courtesy of the Las Vegas News Bureau.
ABOUT THE LVCVA
The Las Vegas Convention and Visitors Authority (LVCVA) is charged with marketing Southern Nevada as a tourism and convention destination worldwide, and also with operating the Las Vegas Convention Center and Cashman Center.  With nearly 150,000 hotel rooms in Las Vegas alone and more than 11 million square feet of meeting and exhibit space citywide, the LVCVA's mission centers on attracting ever increasing numbers of leisure and business visitors to the area. Download the virtual reality app, Vegas VR, to experience Las Vegas from your iPhone or Android by visiting
http://www.vrtv.vegas/
.   For more information, go to
www.lvcva.com
or
www.visitlasvegas.com
.  
CONTACTS
Heidi Hayes

LVCVA

United States

702-892-0711