May 9, 2019
Las Vegas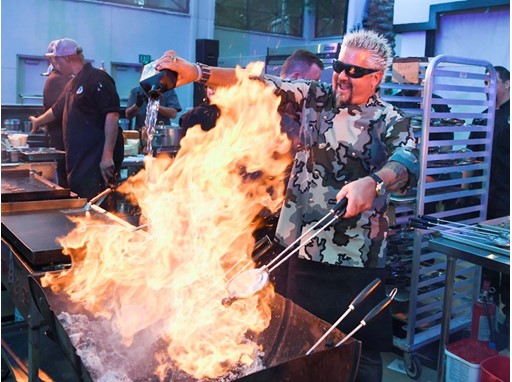 LAS VEGAS -- Vegas Uncork'd by Bon Appétit is the only festival that brings the world's most iconic chefs together for a once-in-a-lifetime gourmet experience. This year's headliners include Roy Choi, Christina Tosi, Gordon Ramsay, Lisa Vanderpump, Guy Fieri, Masaharu Morimoto, Guy Savoy, Julian Serrano, Michael Mina, Mark LoRusso, Nobu Matsuhisa, Bryan and Michael Voltaggio, Will Guidara and more. 
This year, guests can choose from a variety of experiences, ranging from intimate dinners to large-scale events. Returning favorites include The Grand Tasting at Caesars Palace, featuring exclusive Top Shelf access, and Picnic at The Park, MGM Resorts' outdoor dining and entertainment district. New and notable activations include Roses and Rosé with Lisa Vanderpump, Champagne Brunch & Truffle-Making with Christina Tosi, Master Series: Gordon Ramsay's Favorite Things, Under the Stars at The NoMad Pool and May the Best Chef Win: Celebrity Poker Tournament.
The event kicked off on Thursday, May 9, 2019 as dozens of chefs gathered at the Bouldevard Pool at The Cosmopolitan of Las Vegas for the annual "sabre off." Chef Bruce Bromberg of Blue Ribbon Restaurants does the honors and officially kick off Vegas Uncork'd when he sabers a magnum bottle of champagne. Chefs on hand for the event included: Frankie Pellegrino Jr., Steve Martorano, Greg Sherry, Wolfgang Fischer, Jennifer Murphy and Michelle Tribble of Caesars Palace; Bruce Bromberg, Stephen Hopcraft and Mariena Mercer of The Cosmopolitan of Las Vegas; Masaharu Morimoto, Roy Choi, Arturo Corpuz, Philippe Angibeaum, Florent Cheveau and Adam Arencibia of MGM Resorts International; Olivier Dubreuil, Alan Ji, Lee Man Sing, Angelo Auriana, Matteo Ferdinandi, Christian Tetedoie, Claude Le Tohic, Steve Benjamin, Simone Bregardis, Juyoung Kang, Evan Hosaka, Daniel Yang, Timon Balloo, Hedy Goldsmith, Joel Versola and Stephen Parker of The Venetian Resort; and Mark LoRusso and Ming Yu of Wynn Las Vegas.
On Friday, May 10, 2019, The Grand Tasting is the signature event of Vegas Uncork'd, where over 2,500 food enthusiasts enjoy a staggering variety of signature dishes prepared by some of the world's most celebrated chefs. The dramatic five-acre Garden of the Gods Pool Oasis at Caesars Palace features more than 50 award-winning chefs and more than 100 of the best wines and spirits from around the world.