Vegas Strong Team Heads to Boston Marathon
April 5, 2018
Las Vegas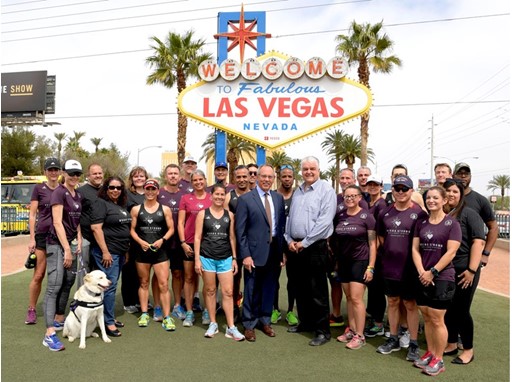 LAS VEGAS -- A team of runners from Las Vegas will participate in the Boston Marathon on March 16 in support of victims of the 2013 bombing in Boston at the 1 October tragedy in Las Vegas.  Members of the team participated in a 4.5-mile training run from the Welcome to Las Vegas sign to Sunset Park as part of an announcement by local officials on April 5, 2018.
The 22 runners and members of the Vegas Strong Resiliency Center's Boston Marathon Team will wear shirts sporting the resiliency center's name and website address,
www.VegasStrongRC.org
, on the front, and the hashtag "#BostonStrong" on the back as a tribute to the Boston community's strength and resiliency following the bombing there on April 15, 2013. Two additional local runners are wearing Vegas Strong Resiliency Center shirts as part of a 5K run over a portion of the marathon course during race weekend.
"We are reaching out to survivors and family members of victims of 1 October to let them know you are not forgotten and we encourage you to contact the Vegas Strong Resiliency Center for support and resources," said Clark County Commission Chairman Steve Sisolak. "We stand in solidarity with the people of Boston and other communities that have endured attacks of mass violence, and are proud of our local team of runners representing us and sharing our message of support and resiliency in such a meaningful way."
Commissioner Jim Gibson, whose district includes the festival grounds where the 1 October event occurred, added: "Six months have passed since the attack and thousands of people who were at the concert that night have gone home to their own communities, and we want them to know the Vegas Strong Resiliency Center is the one place to which they should turn if they aren't sure where to go for help. Please visit our website, call us, or email the center. We want you to reach out to us, so we can connect you with resources."
Commissioner Lawrence Weekly, chairman of the Las Vegas Convention and Visitors Authority Board of Directors, said: "These runners comprise a team of local residents who through their own initiative and endurance have earned a place to participate in the Boston Marathon, the oldest and one of the most premier running events in history. We believe they serve as powerful ambassadors for the Vegas Strong Resiliency Center to help our community remind anyone affected by 1 October, no matter where you live, that we are here for you."
Officials are reminding survivors of the shooting that they have six months, or until
Oct. 1, 2018
, to submit an application with the Nevada Victims of Crime Program. The program will help pay for expenses not covered by insurance such as counseling co-pays. Clark County worked with some local survivors of the shooting to create a TV and radio public service announcement to help promote the program and to encourage people to contact the Vegas Strong Resiliency Center. The PSA is available for broadcast locally and nationally. It's also posted on Clark County's social media sites including Facebook, Twitter and YouTube, and on the Vegas Strong Resiliency Center's Facebook page at:
www.Facebook.com/VegasStrongResiliencyCenter
.            
The Vegas Strong Resiliency Center is located at 1524 Pinto Lane, 89106. Hours are 10 a.m. to 7 p.m. Monday through Friday, excluding holidays. It can be reached by phone at (702) 455-2433 (AIDE) or toll-free at (833) 299-2433 and by email at:
vegasstrongresiliencycenter@clarkcountynv.gov
. A link to the Nevada Victims of Crime Program application is posted on the resiliency center's website, along with other resource information.
CONTACTS
Lisa Jacob

LVCVA

United States

702-892-7641