Tim Burton Brings His Unique Vision to the Neon Museum in Las Vegas
October 14, 2019
Las Vegas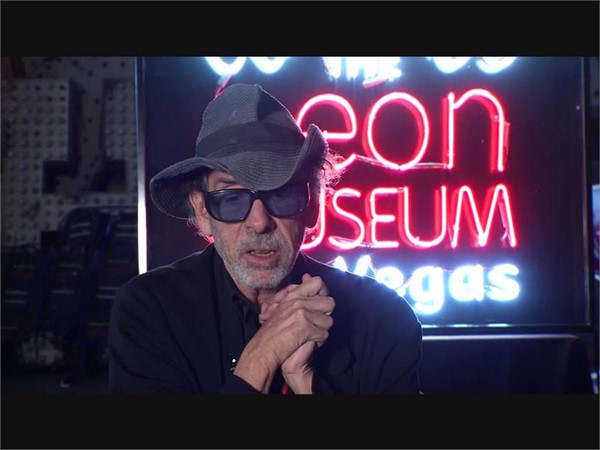 LAS VEGAS -- The Neon Museum hosted a press conference and media availability with Tim Burton on Monday, October 14, 2019, for the grand opening of "Lost Vegas: Tim Burton at The Neon Museum, presented by the Engelstad Foundation." Representatives of The Neon Museum and Tim Burton spoke about the exhibition and then unveiled it to the media at the Neon Boneyard.
The exhibition will comprise sculptural and digital installations that celebrate Burton's links to Las Vegas and its historical neon heritage. These artworks, many of which are site-specific creations, will be displayed in the Neon Boneyard and incorporated into Brilliant!, the museum's permanent projection mapping North Gallery installation. Works will play with the museum's landmark sign collection, which was prominently featured in Burton's 1996 film Mars Attacks! This irreverent homage to the sci-fi B-movies of the 1950s and 1960s and the disaster films of the 1970s unleashed gleefully destructive alien invaders upon gamblers, casino workers and Tom Jones. The presentation of Burton's art in Las Vegas represents a unique experience where the host institution also serves as creative inspiration. The museum's distinctive campus will be transformed through the artist's singular vision for this original exhibition of new work as well as previously exhibited pieces.
Tim Burton is widely regarded as one of cinema's most imaginative and visual filmmakers. He has achieved both critical and financial success in the live-action and animation genres. Burton's accomplishments in filmmaking are a consequence of his artistic eye. Long before becoming a director, he expressed himself through drawing and painting, which also became an integral part of his creative process. Burton's past exhibitions have drawn millions of patrons around the world in cities such as Melbourne, Los Angeles, Paris, Prague, Tokyo, São Paulo and Mexico City. His exhibition at MoMA in New York City drew over 800,000 visitors, making it the third most attended exhibition ever.
CONTACTS
Jim Rose

LVCVA

United States

702-892-0711