Meetings Give Back to Las Vegas Community
May 11, 2018
Las Vegas Convention Center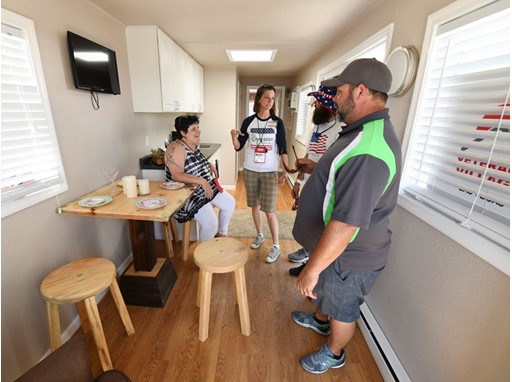 LAS VEGAS -- Corporate Social Responsibility (CSR) activities are becoming an increasingly popular aspect of the nearly 22,000 meetings and events that take place each year in Las Vegas. In 2017, a record-breaking 6.6 million delegates visited Las Vegas, a leading destination for business travel, according to the Las Vegas Convention and Visitors Authority (LVCVA). The influx of events and business travelers heading to Las Vegas each year leave a lasting impact on Southern Nevada's community through CSR initiatives. The LVCVA works with the meeting planners who organize of these events, event participants and local organizations to make connections that will create mutually beneficial opportunities for all groups involved. Initiatives include volunteer activities, donation drives, charitable contributions and even the commitment to provide materials left on the trade show floor following a large-scale event.
National Hardware Show
The most recent organization to enrich the Las Vegas community is the National Hardware Show (NHS), which partnered with Operation Tiny Home to highlight emerging trends in tiny and container home living and raise awareness about housing instability across the country while helping Las Vegas veterans learn valuable furniture design and construction skills. 
On May 8, Operation Tiny Home and Zack Giffin, tiny home specialist and the co-host of FYI's TV Show "Tiny House Nation," led a workshop focused on tiny home furniture design and construction techniques in partnership with Milwaukee Tool. Giffin will gave exclusive insight into the tips and tricks of designing and constructing furniture specifically for tiny homes, and offered his perspective on how to save space and maximize functionality. Participants, local veterans and active duty military, had the opportunity to get hands-on experience with the common tools of furniture making while building custom furniture for a container home that will provide housing support to local homeless veterans during this educational workshop.  
National Hardware Show attendees made their marks by supporting 2x4's for Hope at Operation Tiny Home in Tailgate, Backyard & BBQ. Since its founding, 2x4's for Hope has helped build safe, secure shelters for homeless veterans, people affected by natural disasters and others who are dealing with housing instability. Show attendees were invited to visit 2x4's for Hope (located behind Operation Tiny Home), make a small donation and write their name and message of hope on a piece of lumber to be used to build transitional homes to support the Veterans Village Las Vegas.
During NHS, Operation Tiny Home made a $25,000 donation to Veterans Village, Las Vegas—a local organization whose mission is to create and provide safe housing units for U.S. veterans. Veterans Village also provides an array of services to help veterans, including medical and mental health services, employment training, nutrition programs and more.
In addition, many of the exhibitors at the National Hardware Show donated supplies and equipment to Opportunity Village. Founded in 1954, Opportunity Village is a not-for-profit organization that serves people in the Southern Nevada community with intellectual disabilities, to enhance their lives and the lives of their.  Opportunity Village is dedicated to helping people with severe intellectual and related disabilities become the very best they can be. Through vocational training, community employment, day services, advocacy, arts and social recreation, citizens with severe disabilities are able to find new friends, realize future career paths, seek independence and community integration and unleash creative passions.
National Automobile Dealers Association
The National Automobile Dealers Association (NADA), which held its annual NADA Show at the Las Vegas Convention Center March 23-25, 2018,donated $50,000 to the Nellis Support Team (NST), a nonprofit organization whose broad mission includes supporting more than 30,000 airmen and women and their families at Nellis Air Force Base, Creech Air Force Base and the Nevada Test and Training Range in southern Nevada. Nellis Air Force Base is located about 10 miles northeast of downtown Las Vegas.
"A portion of NADA's donation will be used to reopen the base's Auto Skills Center, which was shuttered in 2013 from the U.S. federal budget sequestration that resulted in significant spending cuts," said Patrick McNaught, a government affairs advocate from Las Vegas who serves as honorary civilian commander of NST. "These funds will be used to renovate the Auto Skills Center—from remodeling the facility, purchasing tools, recertifying the lifts and adding eight service bays and more."
"No one is more inspiring than the men and women in the military," said Richard Stephens, chairman of the NADA Show committee. "NADA firmly believes in community service and each year contributes to an organization located in the NADA Show's host city." Las Vegas has hosted the NADA Show (formerly the convention) 16 times since 1965.
The following organizations have CSR activities to benefit the Las Vegas area in 2017:
More than 230 college admission professionals from around the country met in Las Vegas July 23- 26 for Guiding the Way to Inclusion, sponsored by the National Association for College Admission Counseling. GWI offers enrollment and admission professionals an opportunity to explore issues pertaining to campus diversity and multicultural recruitment and promotes in-depth understanding of college enrollment processes and personal and professional growth. A highlight of the three-day meeting was a service project on July 23 to support Clark County students. Workshop participants assembled 500 college kits that will be distributed through the United Way of Southern Nevadan to local students. In addition, Jesse Welsh, Clark County assistant superintendent of instructional design and professional learning, joined a panel discussion with other Las Vegas education leaders, including James McCoy, associate vice president for academic affairs at the College of Southern Nevada; Manny Lamarre, executive director of the Governor's Office of Workforce Innovation; and Erica Mosca, executive director of Leaders in Training.
Nearly 10,000 members of America's oldest service organization founded by college-trained African-American women converged in Las Vegas July 13-16 for Alpha Kappa Alpha (AKA) Sorority Incorporated's Biennial Leadership Seminar. Beyond leadership training, the sorority left its mark during the conference by donating thousands of backpacks filled with school supplies, seasonal wraps, and toiletry items to HELP of Southern Nevada's Shannon West Homeless Youth Center and Nevada Partnership for Homeless Youth. In addition, participants: packaged 50,000 meals for the undernourished around the globe, which will be donated to Rise Against Hunger; donating non-perishable food items to Serve Our Kids; and performed 1,908 dance steps for the National Alliance on Mental Health to demonstrate the sorority's commitment to improve the lives of people with mental illness, as well as taking the stigma-free pledge. AKA also dedicated benches in three Southern Nevada parks – Lorenzi Park, Heritage Park and Craig Ranch Regional Park. 
The Clean Show is the largest textile care exposition in the world that features working equipment and industry education, and was held in Las Vegas June 5-8.  In partnership with the LaundryCares Foundation, Clean Show hosted a Free Laundry Day event at Las Vegas Coin Laundry. The event also included educational activities supporting the foundation's mission to aid childhood literacy.
Las Vegas Stats & Facts:
In 2017, Las Vegas experienced a record-breaking 42.2 million visitors.
An all-time high 6.6 million delegates attended 22,000 meetings,conventions and trade shows in 2017.
Las Vegas is home to 3 of the 10 largest convention centers in North America and encompasses more than 11 million square feet of meeting/convention space.
Las Vegas has been named the No. 1 trade show destiantion for 24 consecutive years by Trade Show News Network, and has hosted 47 of the 250 largest shows.
The meetings and convention industry support 85,000 jobs and generates more than $12.4 billion annually in economic impact.
ABOUT THE LVCVA
The Las Vegas Convention and Visitors Authority (LVCVA) is charged with marketing Southern Nevada as a tourism and convention destination worldwide, and also with operating the Las Vegas Convention Center and Cashman Center.  With nearly 150,000 hotel rooms in Las Vegas alone and more than 11 million square feet of meeting and exhibit space citywide, the LVCVA's mission centers on attracting ever increasing numbers of leisure and business visitors to the area. Download the virtual reality app, Vegas VR, to experience Las Vegas from your iPhone or Android by visiting
http://www.vrtv.vegas/
.   For more information, go to
www.lvcva.com
or
www.visitlasvegas.com
.
CONTACTS
Molly Castano

LVCVA

United States

702-892-7424