MGM Grand Breaks Ground on $130M Conference Center Expansion
June 20, 2017
MGM Grand, Las Vegas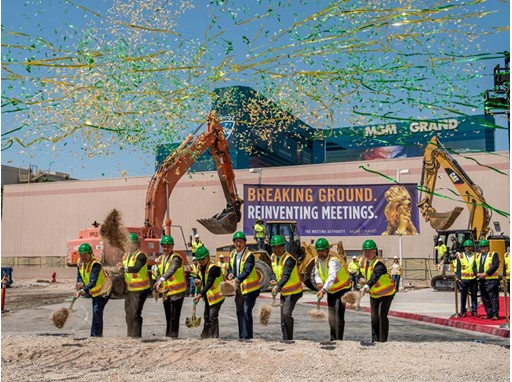 LAS VEGAS -- MGM Grand and community executives break ground on a $130 million new addition to the MGM Grand Conference Center during the Meeting Professionals International (MPI) World Education Congress 2017 at the MGM Grand Conference Center in Las Vegas on Tuesday, June 20, 2017. 
The new 250,000-square-foot space at MGM Grand will connect to the existing Conference Center on all three levels and include a new 5,500-square-foot outdoor courtyard available for private events, a 49,000-square-foot ballroom, a 32,000-square-foot ballroom, three junior ballrooms and 11 breakout rooms.  The resort's existing meeting spaces include the stand-alone, 92,000-square-foot Marquee Ballroom and the 16,800-seat Grand Garden Arena.  Upon completion,
the MGM Grand Conference Center will total more than 850,000 square feet. As part of the expansion, Stay Well Meetings – the industry's first-ever wellness meetings experience which launched at the hotel in 2014 – also will expand its footprint by 22,000 square feet and encompass the Conference Center's entire second floor. Stay Well Meetings feature amenities and programs that stimulate healthy, productive and creative work environments that many clients are actively seeking.
CONTACTS
Lisa Jacob

LVCVA

United States

702-892-7641
MORE FROM LAS VEGAS
SUBSCRIBE TO RSS FEED
XML