KLM Launches Direct Flights from Amsterdam to Las Vegas
June 6, 2019
Las Vegas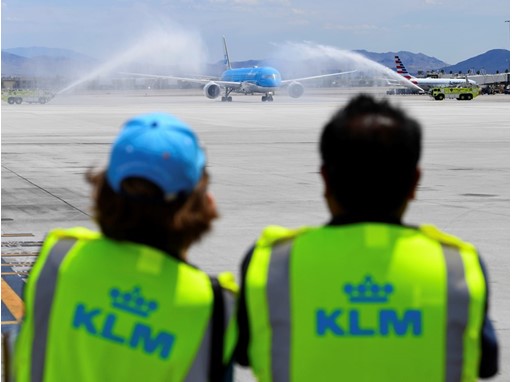 LAS VEGAS – June 6, 2019 – KLM Royal Dutch Airlines today began operating flights to Las Vegas (LAS) in the United States. KLM will operate three flights weekly between Amsterdam and this new destination in southwestern United States. Flights will be operated with B787-9 (Dreamliner) equipment, seating 294 passengers a flight.
"Las Vegas will become KLM's 18th North Atlantic destination to be served directly. Including Las Vegas as KLM's latest destination will offer our customers even more flight connections to and from the west coast of America," said KLM President & CEO Pieter Elbers.
"We are so pleased to welcome such an esteemed airline as KLM and these new nonstop flights from Amsterdam," said Rosemary Vassiliadis, director of aviation for McCarran International Airport. "With its extensive global network and SkyTeam partners, KLM will make Las Vegas more accessible to the world.
"Las Vegas is widely known as the Entertainment Capital of the World and it's a reputation that is well-deserved," said Steve Hill, CEO and president of the Las Vegas Convention and Visitors Authority (LVCVA). "Whether traveling to the destination for business or leisure, visitors can expect world-class hospitality and experiences. We look forward to sharing Las Vegas' unique offerings with guests traveling on KLM's new direct service and are confident this partnership will pave the way for tremendous opportunities in the future."
Starting today, KLM will offer service between Amsterdam Airport Schiphol and Las Vegas on Thursdays and Sundays. The Boeing 787-9 flights will offer 30 seats in World Business Class seats, 45 in Economy Comfort Class and 219 in Economy Class. A third weekly flight will be launched on Tuesdays starting July 2, 2019. The flight schedule will be as follows:
KL0635 will depart from Amsterdam Airport Schiphol at 12:30 hours and arrive at 14:15 hours local time in Las Vegas at McCarran International.
KL0636 will leave Las Vegas at 16:05 local time and arrive the next day at 11:05 in Amsterdam at Schiphol.
The new KLM flights will extend Air France-KLM's transatlantic network and strengthen its joint venture portfolio with Delta Airlines.
 About Las Vegas
The Las Vegas Convention and Visitors Authority (LVCVA) attracts visitors by promoting Las Vegas as the world's most desirable destination for leisure and business travel. The LVCVA also manages the Las Vegas Convention Center. Las Vegas has nearly 150,000 guest rooms and more than 11.5 million square feet of meeting and exhibit space.  Las Vegas has evolved tremendously in recent years, and continues to capture the world's imagination. Beyond the 24-hour-a-day casino excitement are some of the best restaurants, most unique entertainment, world-class events, professional sports teams, premier shopping and fantastic golf – not to mention the greatest variety of meetings venues and accommodations in the world.
About KLM 
For 100 years, KLM has been a pioneer in the airline industry and is the oldest airline to still be operating under its original name. KLM aims to be the most customer-focused, innovative and efficient airline in Europe, offering reliable service and top-quality products. 
KLM carried a record 34.1 million passengers in 2018, offering its passengers direct flights to 162 destinations with a modern fleet of more than 214 aircraft. The airline employs a workforce of more 33,000 people worldwide. The KLM network connects the Netherlands with all of the world's key economic regions and is a powerful engine driving the Netherlands' economy. KLM will be the first airline in the world celebrating its one hundred anniversary. 
About McCarran International Airport
McCarran International Airport (LAS) is located just minutes away from the world-famous Las Vegas Strip and is the gateway for nearly half of the people who visit Southern Nevada each year. Including arrivals and departures, LAS hosted 49.7 million passengers in 2018, making it the ninth-busiest airport in North America last year. Through a strong and ongoing commitment to world-class customer service, LAS ranked highest (tied with MCO) among airports with more than 32.5 million annual passengers as measured in the J.D. Power 2018 North America Airport Satisfaction Study. With more than 30 airlines providing nonstop service to nearly 140 destinations, LAS makes it possible for the world to experience one of the most alluring travel destinations. LAS is owned and operated by Clark County, Nevada.
CONTACTS
Molly Castano

LVCVA

United States

702-892-7658

Mark Damon

LVCVA

United States

702-735-3611
MORE FROM LAS VEGAS
SUBSCRIBE TO RSS FEED
XML