Las Vegas Welcomes New Nonstop Flight From Frankfurt Operated by Lufthansa Group's Eurowings
October 27, 2019
Las Vegas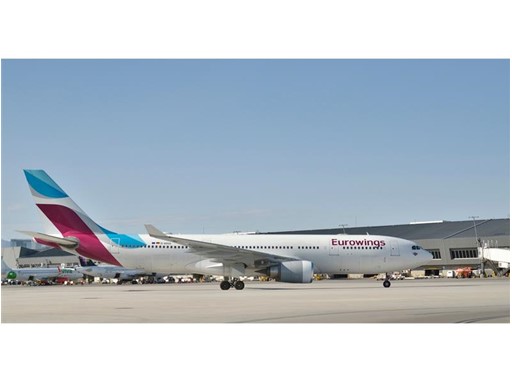 LAS VEGAS -- Lufthansa Group subsidiary, Eurowings, launched direct flights to Frankfurt, a main Lufthansa Hub, to Las Vegas. The inaugural flight, EW 1274/ LH 5436 was welcomed with an official water arch conducted by McCarran International Airport.
The flight is expected to have an economic impact of $63.2 million to the local Las Vegas economy. The new route will initially fly from October 27, 2019, the official start of the winter travel season until March 28, 2020.
The Frankfurt-Las Vegas route operates three times per week with an Airbus A330-200. During this current winter 2019/20 season, the configuration of the aircraft on these routes will consist of 21 Premium Economy Class seats and 289 Economy Class seats. Passengers will also have the opportunity to benefit from their Miles & More membership when flying to and from Las Vegas on Eurowings.
"We are thrilled to offer our Las Vegas customers direct, non-stop access to our hub in Frankfurt, where they can enjoy a large range of options to connect internationally with our vast airline network," said Larry Ryan, Senior Director Sales USA, Lufthansa Group. "North America remains one of our strongest regions and the increased route capacity continues to display that the Lufthansa Group is committed to the US market, for example, like Las Vegas with now two routes servicing the region."
"We are pleased to welcome Eurowings' latest expansion of its service to and from McCarran International Airport," said Chris Jones, Chief Marketing Officer for Clark County Department of Aviation. "With the addition of this route connecting Eurowing's Frankfurt hub and Las Vegas, travelers will have more opportunities to explore the world's most alluring destinations."
"Frankfurt is a world-renowned global hub for commerce, and Las Vegas has evolved, perhaps more than any other city in the world, to become the ultimate destination for not only leisure travel, but for the business customer as well," said Chris Meyer, vice president of global sales for the Las Vegas Convention and Visitors Authority. "We are excited to add another convenient route for our visitors coming from Germany which is one of our top sources of international visitation."
With this new route, Eurowings flies from two German cities, (Frankfurt and Düsseldorf) to Las Vegas.  For travelers from Las Vegas, it offers connections to Lufthansa Group's large network of destinations in Europe, the Middle East, Africa and beyond. These include popular destinations such as Barcelona, Budapest, Florence, Rome and Tel Aviv.
Furthermore, this flight will be code shared with United Airlines, linking Las Vegas with over 1,300  global connections from the Group's hubs in Frankfurt and Munich.
Frankfurt
Frankfurt, Germany's most international city, offers a rich culture and history, with a population of about 750,000. The Frankfurt Rhine-Main metropolitan region is one of Europe's leading economic centers and a popular travel destination. It is home to a wide range of tourist attractions and sights, including world-class ballet, opera, theaters and art exhibitions. As Germany's fifth largest city, it is the nation's financial powerhouse—home to the German Central Bank and the European Central bank, which manages the euro. It is also the gateway to Germany's robust hi-tech scene.
CONTACTS
Heidi Hayes

LVCVA

United States

702-892-0711