Las Vegas Gathers Top Business Leaders in Celebration of World Trade Centers Day 2019
June 12, 2019
Las Vegas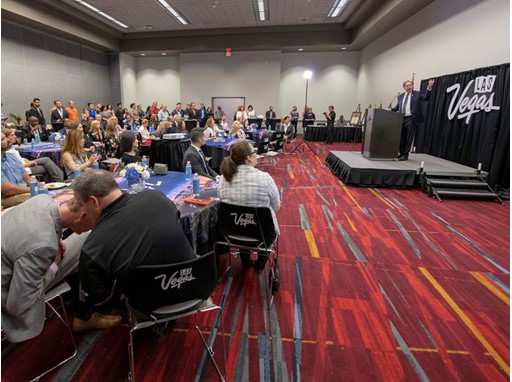 LAS VEGAS- Las Vegas continues to serve as the premier landscape for top business leaders looking to connect globally and prosper locally. On June 12, World Trade Center Las Vegas (WTC Las Vegas) gathered more than 100 business and community leaders for a Las Vegas-based networking event in support of the World Trade Center Association's (WTCA)World Trade Centers Day.
The observance recognizes the more than 300 World Trade Centers located in nearly 90 countries throughout the world for their role in enhancing global economic development through the WTCA network.
"The World Trade Centers Association was established 50 years ago with the vision that conducting business globally should be just as easy as conducting business down the street and there is no better destination than Las Vegas for fostering those global connections," said Chris Meyer, Las Vegas Convention and Visitors Authority vice president of global sales and WTC Las Vegas executive director. "As World Trade Center Las Vegas moves into its 10th year, we wanted to celebrate World Trade Centers Day with our valued partners we have connected with through the World Trade Centers Association as we continue elevating Las Vegas' reputation as a leading business destination."
WTC Las Vegas is a partnership between the LVCVA and the Consumer Technology Association (CTA) TM, owner and producer of CES®, the world's largest and most influential global technology event. In addition to marketing and branding Southern Nevada as a tourism and convention destination worldwide, the LVCVA operates the Las Vegas Convention Center, the nation's only convention center designated as a World Trade Center site and one of the largest convention centers in the United States. Together, the LVCVA and CTA market Las Vegas to business travelers around the globe under the World Trade Center brand.
WTC Las Vegas has successfully leveraged its partnerships through the WTCA to attract delegations to attend and exhibit at the several of the nearly 24,000 meetings and conventions taking place in the destination annually.  
"Las Vegas has more international conventions than any other city in the United States and the World Trade Center Las Vegas continues to attract in international presence," said Karen Chupka, CES executive vice president. "We had over 175,000 industry professionals attend CES 2019 and more than 61,000 came from more than 150 countries outside of the United States and we look forward to growing that number at CES 2020 in January."
Guests at the Las Vegas World Trade Centers Day event represented a number of organizations and industries with the common interest of fostering international business relationships and stimulating the economy.
Presentations detailing relevant economic and development updates in southern Nevada and beyond were also led by top leaders from WTC Las Vegas, LVCVA, CTA, WTCA, U.S. Department of Commerce International Trade Administration, the Nevada Governor's Office of Economic Development, Las Vegas Metro Chamber of Commerce and Tencent/WeChat.
Tencent, a leading provider of internet services in China, delivered compelling remarks regarding its recent efforts focused on enhancing experience for travelers visiting Las Vegas from China. Partnering with Tencent and WeMeet, Las Vegas has launched the "Smart Event Smart Travel" campaign aimed at attracting more Chinese visitors and enhancing business traveler experiences through innovative uses of WeChat, China's largest social media platform owned by Tencent. The goal is to further explore collaborative efforts to make Las Vegas an innovation leader.
During the event, WTC Las Vegas also acknowledged its extensive network of partnerships, which encompasses nearly 20 Memorandums of Understanding (MOU) with key agencies centered on expanding global business opportunities and attracting more visitors to destination Las Vegas.
WTC Las Vegas currently has signed memorandums of understanding with WTC Montevideo, WTC Dulles Airport, WTC Taipei, WTC Mexico City, WTC Brussels, WTC Beijing, WTC Miami, WTC Istanbul, WTC Seoul, WTC Sao Paulo, WTC Ft. Lauderdale and WTC Santiago, WTC Trieste, WTC Leeuwarden and WTC Twente. Most recently, WTC Las Vegas signed MOU agreements with WTC Dublin and WTC Queretaro during the World Trade Centers Association's 50th General Assembly in Mexico.
"As we continue our year-long commemoration of the 50th anniversary of the World Trade Centers Association, we are consistently and regularly reminded that this network was built—and still stands for—collaboration," Scott Ferguson, WTCA Chief Executive Officer, remarked. "We congratulate World Trade Center Las Vegas as they build even closer ties within our network. Their efforts are a prime example of the cooperation at the heart of our celebration of half a century of global trade connectivity."
Additionally, the LVCVA has an MOU agreement with the U.S. Department of Commerce's International Trade Administration to promote travel and tourism exports. In early 2019, WTC Las Vegas also signed an MOU agreement with the Las Vegas Metro Chamber of Commerce, establishing the chamber as WTC Las Vegas' official business club.
On World Trade Centers Day, WTCA released its 2019 WTCA Trade and Investment Report. According to the organization's findings, WTC cities represent more than 35 percent of the global gross domestic product. The full report, including interviews with WTC members globally, can be found at
http://wtcareports.org/
.
CONTACTS
Amanda Peters

LVCVA

United States

702-892-0711