Interjet Launches Daily Nonstop Flight to Las Vegas from Mexico City
November 10, 2016
McCarran International Airport, Las Vegas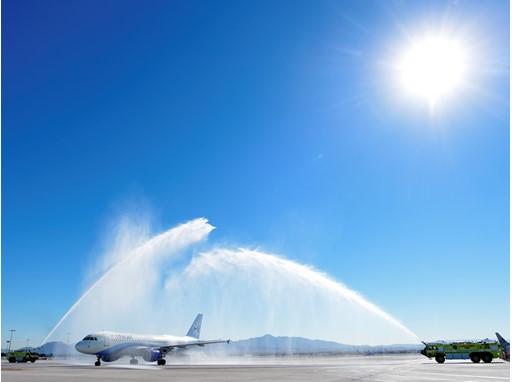 LAS VEGAS -- Today, Interjet, a Mexico-based airline carrier, celebrated the launch of its new daily nonstop operations between Mexico City and Las Vegas. The inaugural flight departed Mexico City International Airport and landed at McCarran International Airport's Terminal 3 in Las Vegas just before 12 p.m. PST on Nov. 10, 2016. The new service includes one daily flight, amounting to 2,205 seats to the destination weekly. The airline also offers service to Las Vegas from Guadalajara and Monterrey.
"Our new, nonstop Mexico City to Las Vegas flight will provide passengers with more options to enjoy entertainment in one of the cities frequently visited by travelers from Mexico.  It also reinforces the catalogue of destinations Interjet offers between Mexico and the U.S., with more than 400 weekly operations and 50,000 available seats," said Andres Martínez Reynoso, Marketing Director at Interjet.
Tickets are at an introductory roundtrip fare starting at $279, including taxes. The flight operates daily with the following schedule:
Mexico City to as Vegas: Departing at 9:50 a.m. CST and arriving at 11:45 a.m., PST 
Las Vegas to Mexico City: Departing at 1:00 p.m. PST. and arriving at 6:40 p.m., CST
"We are thrilled Interjet has announced daily nonstop service from Mexico City to Las Vegas," said Cathy Tull, Las Vegas Convention and Visitors Authority Senior Vice President of Marketing. "Mexico is the number two source of international visitors to Las Vegas, with more than 1.2 million travelers annually. The addition of these flights reinforces Las Vegas as a leading travel destination and increases the potential growth of visitors from Mexico and its surrounding region".
"It's fantastic that Interjet has increased from twice weekly Las Vegas service in November 2012 to now offer 17 weekly flights to three cities in Mexico, including new daily service to Benito Juárez International Airport," said Rosemary Vassiliadis, Director of Aviation at McCarran International Airport. "The United States and Mexico recently agreed to liberalize air carriers' ability to fly between our two countries, and we know demand for Las Vegas is strong out of Mexico City. We're happy that Interjet will serve customers in that populous market."
Interjet has a fleet of 70 aircrafts and flies to 53 destinations, 37 of which are in Mexico and 16 are international. In the U.S., Interjet flies to a number of destinations outside of Las Vegas, including Chicago, Dallas- Fort Worth, Houston, Los Angeles, Miami, New York, San Antonio and Orlando-Sanford. In Cuba, Interjet offers service to Havana, Santa Clara and Varadero. Interjet also flies to Bogota, San Jose Costa Rica, Guatemala and Lima.
For more information, or to book travel, please visit www.interjet.com. You can also interact with Interjet on social media sites, including Twitter, Facebook and Instagram.  
CONTACTS
Kala Peterson

LVCVA

United States

702-892-2847
MORE FROM EVENTS
SUBSCRIBE TO RSS FEED
XML