Eurowings Airline Launches New Nonstop Service from Munich, Germany to Las Vegas
April 16, 2018
McCarran International Airport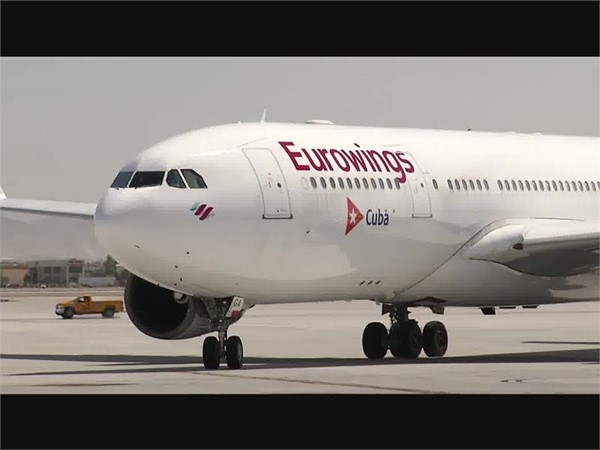 LAS VEGAS -- German air carrier Eurowings, has launched new nonstop service to Las Vegas flying twice a week from Munich. The subsidiary company of Lufthansa will operate the connection Mondays and Thursdays with an Airbus A330.
With nearly 43 million visitors each year, Las Vegas is one of the most popular travel destinations in the world. The new nonstop service is perfect for both leisure visitors who want to start their US tour in Las Vegas and business travelers. The flights are expected to generate $32.6 million to the local economy.
"We are delighted that Eurowings is initiating direct service to Las Vegas from Munich," said Cathy Tull, chief marketing officer for the Las Vegas Convention and Visitors Authority. "In 2016, more than 213,000 visitors traveled to Las Vegas from Germany, representing our largest source of international visitors from continental Europe. This new route provides additional access and travel flexibility for our visitors from the south of Germany and connecting cities throughout the Eurowings and Lufthansa networks."
"We are pleased to welcome these new flights from Munich and look forward to a successful future as Eurowings, the Lufthansa Group, and the Star Alliance continue to expand their air service offerings to McCarran International Airport in Las Vegas," said Chris Jones, chief marketing officer for the Clark County Department of Aviation.
"In view of this positive development in the south of Germany, Eurowings has decided to extend this success to long-haul routes and to reinforce Munich as the new Eurowings location. With the expansion of long-haul offering in Munich, we're positioning ourselves once again as a driver for growth in the Lufthansa Group," said Oliver Wagner, CCO of Eurowings.
Travelers have the choice of three tailored options:
BASIC- flight only
SMART- includes one carry-on luggage up to 23 kilograms, upgraded seat and a meal during the flight
BEST fare- includes premium seat, two pieces of luggage and lounge access.
The route starts in Munich on Monday at 10:10am, Thursday at 1:10pm and arrives in Las Vegas at 1:15pm and respectively at 4:15pm. The return flight starts at 2:45pm and 5:45pm local time. Tickets to and from Las Vegas can be booked on the website of the airline (
www.eurowings.de
) for 189.99 Euros per flight. The travel time is 12 hours and 05 minutes.
CONTACTS
Heidi Hayes

LVCVA

United States

702-892-0711