Alpha Kappa Alpha Sorority Gives Back to Las Vegas
July 13, 2017
Las Vegas, NV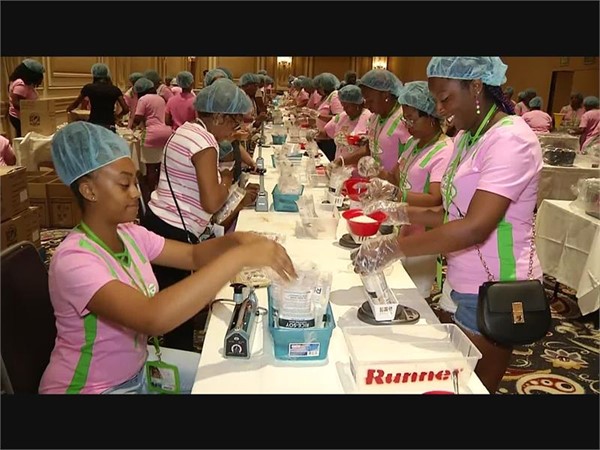 LAS VEGAS -- Nearly 10,000 members of America's oldest service organization founded by college-trained African-American women converges in Las Vegas July 13 - 16, 2017 for Alpha Kappa Alpha Sorority, Incorporated's (AKA), Biennial Leadership Seminar. Under the leadership of International President, Dr. Dorothy Buckhanan Wilson, members will engage in four days of intensive leadership training and development.
 
In addition to serving as the host city for this seminar, Las Vegas is home to Theta Theta Omega chapter (alumnae) and Kappa Xi chapter (undergraduate). Beyond leadership training, the sorority will also leave its mark during the four-day conference. Members will serve the Las Vegas community by donating thousands of backpacks filled with school supplies, seasonal wraps, and toiletry items to HELP of Southern Nevada's Shannon West Homeless Youth Center and Nevada Partnership for Homeless Youth; packaging 50,000 nutrient-rich meals for the undernourished around the globe, which will be donated to Rise Against Hunger; supporting the organization Serving our Kids by shopping in the AKA virtual grocery store and by donating non-perishable food items in the fight against childhood hunger; and performing 1,908 dance steps for the National Alliance on Mental Health (NAMI) to demonstrate the sorority's commitment to improve the lives of people with mental illness, as well as taking the stigma-free pledge.
 
During the leadership seminar, Alpha Kappa Alpha also dedicated benches in three Southern Nevada parks – Lorenzi Park, Heritage Park and Craig Ranch Regional Park. Additionally, on Thursday, July 13, at 8:20 p.m., the Bellagio Las Vegas will illuminate its world famous fountains in pink and green in honor of the more than 7,000 members of Alpha Kappa Alpha Sorority, Inc. who visited Las Vegas for the sorority's Biennial Leadership Seminar.
For additional information, please contact:
Leona Dotson, Communications Chairman
559-670-1592