17-SEP-2019

LAUGHLIN, Nev.
Laughlin Offers Exhilarating Events and Outdoor Entertainment This Fall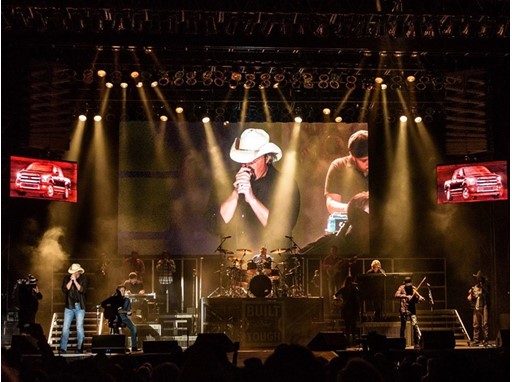 LAUGHLIN, Nev. (Sept. 17, 2019) — From outdoor concerts and car shows, to year-round outdoor hiking and water activities, Laughlin visitors are encouraged to head outside this fall with an incredible lineup of outdoor events and recreational activities.
Upcoming events and activities include:
Outdoor Concerts
From an intimate outdoor amphitheater to a 21,000-seat outdoor concert hall, a variety of entertainers will put on spectacular concerts under the desert sky this fall. ACM and CMA Award-winning country music sensation Toby Keith performs in concert at the open-air Laughlin Event Center for one night only (Nov. 9) during a stop on his "That's Country Bro" tour. At Harrah's Laughlin, check out Chicago (Sept. 21) or Los Tigres del Norte (Oct. 26) at the hotel's Rio Vista Outdoor Amphitheater.
 
Athletic Competitions
Weekend Spartan Race (Nov. 16-17): Weekend Spartan Race isn't for the faint of heart. Athletes can now register for two races: the Spartan Super and the Sprint. The Spartan Super offers the ideal blend between distance and speed, putting racers to the true athletic test with 25 obstacles over eight miles of rugged terrain. The Sprint delivers 20 obstacles over a three-mile course and is a favorite among both new and returning racers. For the kiddos, there's also Spartan Kids Races where future Spartans can run, jump and play throughout courses up to two miles long. The event will take place at the Laughlin Events Center on Nov. 16-17 with Spartan Super races on Saturday, Sprints on Sunday and Kids Races available both days.
Run Laughlin (Dec. 7): For marathon runners, Run Laughlin offers the unique opportunity to run in two states through two time zones. The 12K course travels through Laughlin's hotel corridor to the Heritage Trails for a run parallel to the beautiful Colorado River and up to the top of Davis Dam for spectacular views of Lake Mohave. There are also 5K and half-marathon courses to accommodate runners of all levels.
Car Shows & Competitions
Viva Tropicana Car Show (Sept. 27-29): For gearheads, Tropicana Laughlin will host its annual car show this fall in the north parking lot.  The two-day event features all types of custom, classic, muscle, street rod, low rider, trucks and motorcycle vehicles, in addition to a show 'n shine, vendors, DJs, contests and more. Viewing is free and open to the public.
 
Method Race Wheels Laughlin Desert Classic (Oct. 10-13): The fourth annual Method Race Wheels Laughlin Desert Classic, presented by Jimco, is a "Best in the Desert" (BITD) sanctioned event and will take place at Laughlin Events Park, providing a challenging 17-mile course for all racers. The festivities kick off on Thursday with time trials, a welcome party and UTV night race starting at 6:30 p.m. and will run throughout the weekend with two days of racing, followed by an awards ceremony at Harrah's Laughlin on Sunday.
Haunt & Glow Car Show (Oct. 25-27): Returning for the 11th year, Tropicana Laughlin's Halloween-themed Haunt & Glow Car Show will feature an impressive variety of cars, trucks and motorcycles displayed for free viewing at the Tropicana Laughlin's north parking lot. Cars will be on display Friday from 1 p.m. – 6 p.m. and Saturday from 9 a.m. – 7 p.m. 
SNORE presents MacKenzie's Rage at the River (Dec. 13-15): Southern Nevada Off-Road Enthusiasts, SNORE, brings back McKenzie's Rage at the River in Laughlin on Dec. 13-15. Featuring over 400 racers, this two-day event is full of thrilling off-road fun. Spectators are free to view contestants as they put their pedal to the metal at Laughlin Events Park during seven heats for Stock Full, Stock Bug and Trophy Lite. The 12-mile course provides endless enjoyment for racers and bystanders alike, featuring unparalleled views of the crystal-clear Colorado River and nearby waterfront hotels.
Year-Round Outdoor Recreation
Hike the Colorado River Heritage Greenway Trail: This experience is one of the best ways to get out and hike in the picturesque desert wilderness and enjoy 10.5 miles of light trails that run alongside the Colorado River. The Colorado River Heritage Greenway Trail features unique desert wildlife and natural formations along the way. The trail also takes visitors to the Davis Dam, a wonder of American engineering.
 
Get Out on the Green: With six courses in three states, all within a 30-minute drive from Laughlin, golf enthusiasts can select several options to create their own enjoyable golf experience. Each of the six courses offer their own qualities, unique character and playing challenge for golfers of every skill level. With more than 300 days of sunshine a year, the Laughlin area is a year-round golfer's paradise. Courses include El Rio Golf Club, Huukan Golf Club, Laughlin Ranch Golf Club, Los Lagos Gold Club, Mojave Resort Golf Club and Rivers Edge Golf Club.
 
Explore the Laughlin Labyrinths: Discover the beauty and serenity of the Laughlin desert by exploring nearby labyrinths, nine stone mazes that are both intriguing and energizing. There is a total of nine stone labyrinths within a quarter-mile radius, ranging from 25-55 feet. Visitors can check out the collections two newest additions: a 36-foot, seven-circuit octagon and a 33-foot, seven-circuit square labyrinth. Marked by three yellow posts, the Labyrinths can be found on the east side of Thomas Edison, between Bruce Woodbury and Casino Drive, a quarter mile from the intersection.
 
Cruise the Colorado River: Laughlin is known for its optimal location along the Colorado River, with a wide variety of available river tours and rentals, visitors can enjoy this natural feature in more ways than one. London Jet Boat Tours allows guests to experience the river and all its wonder in a sleek and quick jet boat. For those looking for a more relaxed tour of the river can enjoy the only dinner cruise on the Colorado River by Laughlin River Tours, or board the U.S.S. Riverside for guided excursion, detailing the history of this region and the Colorado River.
###
About Laughlin
Located 90 miles south of Las Vegas, Laughlin is a unique resort destination with a relaxed and friendly atmosphere that welcomes nearly two million visitors annually. This oasis along the Colorado River boasts many options for water sports and boating activities, including nine first-class resorts with stunning accommodations that offer fine dining, spa experiences, golfing, and a close proximity to the recreational paradise known as Heritage Trails. Laughlin has also become a leading special event destination in the Southwest. For more information:
www.visitlaughlin.com
.
CONTACTS
Nicole Wozniak

R&R Partners

United States

nicole.wozniak@rrpartners.com

7029512949

Molly Castano

LVCVA

United States

702-892-7424