Las Vegas Rings in the Year of the Ox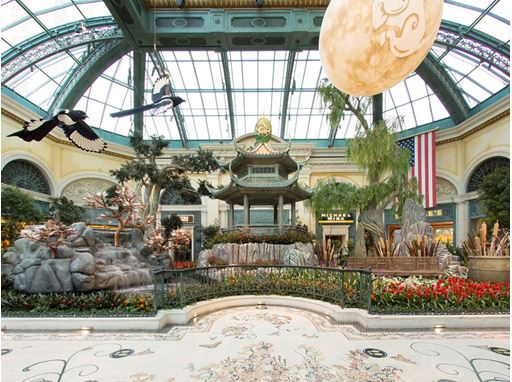 LAS VEGAS – Las Vegas commemorates the Chinese New Year with an array of decadent culinary offerings, breathtaking décor and lively experiences for visitors throughout February. The ox is the second animal in the Chinese zodiac and is known as intelligent, honest, and reliable. Remembering the significance of the sacred Spring Festival, Las Vegas will extend good fortune and prosperity to all who revel in the destination's cultural festivities.
Décor and Experiences
Bellagio Conservatory & Botanical Gardens celebrates the Year of the Ox with a captivating "A Season of Love" Lunar New Year display open through Saturday, March 6. Designed to bring prosperity, strength and tenacity in the new year, the gardens take inspiration from Asian art, architecture and culture. Radiating hues of gold and red with picture-perfect botanical creations made from flowers, seeds, silks and plants, the result is from collaborative efforts between designer Ed Libby and Bellagio's horticulture team. The centerpiece of the Conservatory is the West Bed's Jade Pavilion, bordered by a Bonsai tree and a graceful willow tree – both towering over a bed filled with a selection of shrubs, dozens of metallic cattail plants and artistic copper Bonsai tree rain fountains with individually hand-stamped leaves. Two magpie birds soar over the bed's floral arrangements which is illuminated by the Ox symbol in the moon.
Spreading wishes of prosperity throughout the valley, CNY in the Desert™ will host virtual celebrations this year on Tuesday, Feb. 9. RSVP to watch the lion dance blessing, cooking demonstrations by Chef Martin Yan and Chef Khai, a cocktail demo by mixologist Luis de Santos and a variety of raffle prizes.
Celebrate Lunar New Year at Fashion Show Las Vegas with a cultural performance as dragons and lions parade through the center on Saturday, Feb. 13. Walk through the Great Hall to experience the history and beauty of Chinese New Year with the annual lantern garden dance performances every Thursday – Sunday from Friday, Feb. 12 through Friday, Feb. 26.
Many stores and restaurants at The Forum Shops inside Caesars Palace are extending special offers for the Lunar New Year through the end of February. Additionally, the shop's décor features a 22-foot-long dragon that is not only a great photo opportunity for visitors, but is also a traditional symbol of power, strength and good luck. The decorative display is dressed in 30,000 red and amber LED lights, flickering to give the mythical creature a vibrant look and dynamic feel.
To commemorate the Year of the Ox, Fremont Street Experience is celebrating celebrate Chinese New Year with a special Viva Vision light and sound show on Friday, Feb. 12. The canopy will illuminate the pedestrian mall with all-new holiday-themed visuals created exclusively for the world's largest single video screen.
Embark on a magical experience at the Grand Canal Shoppes with the Wishing Tree installation located in the heart of the Shoppes in the Palazzo tower. Guests can add a personal wish to the wishing tree by scanning a QR code with their smartphone, unlocking an Instagram filter that uses voice-activated technology for the guest to say their wish and watch it fly to the tree where it will live virtually with all the other wishes. Additionally, guests who visit the luxury shopping destination through Sunday, Feb. 21 will receive a Chinese New Year-inspired gift with purchase that includes a $25 dining voucher and Grand Canal Shoppes red leather key chain with a collectable Year of the Ox charm after showing $200 worth of same day receipts.
Celebrating Chinese New Year through Saturday, Feb. 26, Rampart Casino will celebrate the Year of the Ox with casino games and events, beginning with a traditional lion dance on Saturday, Feb. 13. Additional festivities include a commemorative Year of the Ox statue giveaway on Tuesday, Feb. 16; lucky red envelope table drawings every Friday and Saturday Feb. 12 – 26 and dining specials at Jade Asian Kitchen & Noodles Monday, Feb. 8 through Sunday, Feb. 14.
The Shops at Crystals will be celebrating the Lunar New Year with a themed floral carpet featuring a gold Buddha and red envelopes located on the first level next to the Treehouse, along with the Hanging Gardens that are filled with red lanterns on the second level.
To commemorate the Year of the Ox, The Venetian and The Palazzo's floral and horticulture team worked with artisans to create the custom display, which stands 13 feet tall and is surrounded by I Ching coins displaying the symbols for prosperity, good health, happiness, and luck. The massive ox is female and named Alessandra Heng. The name Alessandra pays tribute to her Italian home and means "defender of mankind". Her surname means "steady and persistent." The element for the Year of the Ox is metal, which is represented by her metallic gold horns, tail, nose, and hooves, and the gold armor on her legs.
Until Tuesday, Feb 16, Waldorf Astoria Las Vegas is partnering with the neighboring Shops at Crystals to provide a complimentary $250 Crystals Amex gift card that can only be used inside of the center to guests who are staying in Villa Suites, Penthouse Suites or Presidential Suites.
Wynn Las Vegas will welcome guests into the resort with golden dragon statues at the Tower Suites entrance, as well as several ornate 45-foot silk dragons adorning the main atrium and Encore Esplanade. Offering more good fortune to guests, 60 citrus trees will be placed throughout the resort.

Cuisine
SAHARA Las Vegas is coming into 2021 strong like an ox with a special Chinese New Year menu at Northside Café & Chinese Kitchen, created by renowned Chef Guoming "Sam" Xin. In celebration of the Year of the Ox, the menu will be available through Sunday, Feb. 28 and featuring authentic Chinese flavors such as scallops with XO sauce, Yangzhou fried rice and oxtail soup.
In honor of both Valentine's Day and Chinese New Year, The STRAT Hotel, Casino & SkyPod will offer a signature cocktail, 爱—"Love" in English, available Friday, Feb. 12 through Sunday, Feb.14 .  爱 is made with ginger liqueur, simple syrup – garnished with cherry and lemon twist.  Guests are encouraged to top off one another's glass with champagne as is customary in Chinese culture. 爱/Love will be available at The STRAT at REMIX Lounge, View Lounge, 107 SkyLounge and 108 Drinks. Additionally, The STRAT will commemorate the Chinese New Year with a traditional lion dance outside its new High Limit Room at 7:30 p.m. on Sunday, Feb. 14. 
Guests at The Venetian Resort Las Vegas will be treated to a special menu commemorating the Year of the Ox at Mott 32, from Thursday, Feb. 11 through Sunday, Feb. 14 with an a la carte of whole Maine lobster, pan fried prawn, and other traditional Chinese delicacies. Majordomo Meat & Fish is also getting in on the Lunar New Year celebration with a special menu that includes Dungeness crab, Wagyu ribeye cap and the longevity lo mein that includes two pounds of lobster. Don't miss the lunar libations at The Cocktail Collective bars, each offering one Chinese New Year cocktail exclusive to its location. Order Electra's Chinese New Year cocktail and receive a complimentary cocktail offer to and try either Rosina, The Dorsey or Electra's specialty Chinese New Year cocktail, available Feb. 12 – 28.
Additional authentic Chinese and Chinese-inspired restaurants in Las Vegas include:
###
ABOUT THE LVCVA
The Las Vegas Convention and Visitors Authority (LVCVA) is charged with marketing Southern Nevada as a tourism and convention destination worldwide and with operating the 4.6 million square-foot Las Vegas Convention Center (LVCC). With nearly 150,000 hotel rooms and more than 13 million square feet of meeting and exhibit space in Las Vegas alone, the LVCVA's mission centers on attracting leisure and business visitors to the area. The LVCVA also owns the Convention Center Loop, an underground tunnel designed by The Boring Company to transport convention attendees throughout the 200-acre LVCC campus in all-electric Teslas free of charge. It also owns the Las Vegas Monorail, an elevated 3.9-mile system with seven stops throughout the resort corridor. Both transportation systems will operate when conventions reconvene. For more information, go to www.lvcva.com, www.visitlasvegas.com or www.vegasmeansbusiness.com.