Las Vegas News Briefs - November 2021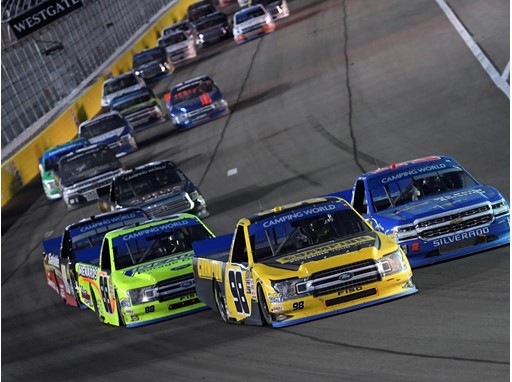 Xfinity Series returns to LVMS twice in 2022; Trucks to be part of March tripleheader weekend again
For the fifth consecutive year, the NASCAR Xfinity Series will make two stops at Las Vegas Motor Speedway in 2022, while the NASCAR Camping World Truck Series again will kick off a tripleheader of racing action in March. The Xfinity Series will precede the NASCAR Cup Series races on March 5 with the Alsco Uniforms 300 and Oct. 15 with the Alsco Uniforms 302 in 2022. The lone stop in Las Vegas for the trucks will be Friday, March 4. The speedway announced earlier that the fall event will move three weeks later from its late September date to a mid-October date. For more information, contact Jeff Motley, LVMS, jmotley@lvms.com.
Dolby and MGM Resorts International Launch Dolby Live at Park MGM
Dolby Laboratories, Inc., a leader in immersive entertainment experiences, and MGM Resorts International, a global leader in live entertainment and hospitality, announced the launch of Dolby Live at Park MGM, the first fully integrated performance venue of its kind to offer live concerts in Dolby Atmos. Located in the heart of the Las Vegas Strip, Dolby Live (formerly known as Park Theater) is the preeminent location for live music in Dolby Atmos, which offers guests a transformative music experience they won't be able to find anywhere else in the world. Dolby and MGM Resorts have worked closely over the past months to completely transform Dolby Live into one of the world's most technologically advanced performance installations. The space now features a fully integrated Dolby Atmos playback system, which was designed, calibrated, and tuned by Dolby engineers to match the size and unique characteristics of the 5,200-seat theater. While the system will be primarily used for live concerts, it has the capability to support a multitude of live events in Dolby Atmos such as musicals, eSport events, and much more. For more information, contact Scott Ghertner, MGM Resorts International, sghertner@mgmresorts.com.
Nobu Hotel Caesars Palace Begins Multimillion-Dollar Refresh Project
As the world's first Nobu Hotel Caesars Palace commemorates its eighth anniversary, the luxury boutique hotel within the iconic Las Vegas resort embarks on a multimillion-dollar refresh of all 182 guest rooms and public areas. Construction is set to be complete by the end of 2021. This is one of several projects in development as Caesars Entertainment, Inc. expands its longstanding partnership with Nobu Hospitality – the global lifestyle brand founded by Nobu Matsuhisa, Robert De Niro and Meir Teper. To create a more modern, residential feel at Nobu Hotel Caesars Palace, the award-winning global architecture and design firm Rockwell Group has re-envisioned the guest rooms and common areas it first designed in 2013. Rockwell Group has drawn inspiration from kintsugi, the Japanese art of repairing broken pottery with gold epoxy – creating cohesion from collage. This element will create a streamlined, lighter and more luxe take on the original design concept. For more information, contact Kristin Soo Hoo, Caesars Entertainment, ksoohoo@caesars.com.
Downtown Las Vegas Icon El Cortez Hotel & Casino to Commemorate 80 Years this November
This November, the historic El Cortez Hotel & Casino celebrates its monumental 80th Anniversary as the longest continuously running hotel & casino in the ever-changing landscape of downtown Las Vegas. As the only casino listed on the National Register of Historic Places, this Vegas institution has stood the test of time thanks to its dedicated owners, who continually seek to elevate the guest experience while preserving the same vintage charm and authenticity that have captivated tourists and locals for 80 years. For more information, contact Mackenzie Tucky, bread & Butter, elcortez@wearebreadandbutter.com.
Legendary Band Chicago to Return to The Venetian Resort
Due to popular demand, one of the most successful and critically acclaimed rock bands of all time – Chicago – announced it will return to The Venetian Theatre inside The Venetian® Resort Las Vegas in 2022 for the fifth year in a row for a six-show limited engagement. The shows will be held on February 16, 18, 19, 23, 25 and 26, 2022. Hailed as one of the "most important bands in music since the dawn of the rock and roll era," the legendary rock and roll band with horns, Chicago, came in as the highest charting American band in Billboard Magazine's Top 125 Artists Of All Time. And Chicago is the first American rock band to chart Top 40 albums in six consecutive decades. For more information, contact Kelly Frey, The Publicity Lab, kelly@thepublicitylab.com.
Golden Entertainment to bring Atomic Range, a new golf experience, to The STRAT
Golden Entertainment, Inc. recently announced that it entered into a definitive agreement with Flite Golf & Entertainment to bring Atomic Range, a new 92,000-square-foot golf entertainment destination, to seven acres of Company-owned land adjacent to The STRAT Hotel, Casino & SkyPod in Las Vegas. The new Atomic Range will be located on Las Vegas Boulevard, just north and adjacent to The STRAT. Development is expected to break ground in Q2 2022 with a projected completion date by the end of 2023. Construction costs are expected to be approximately $70 million and Atomic Range will create over 500 new jobs. For more information, contact Stephanie Wilson, Wicked Creative, STRAT@wickedcreative.com.
Walk-On's Sports Bistreaux Set to Bring a Taste of Louisiana to Las Vegas
Walk-On's Sports Bistreaux, a leading sports dining experience with a Louisiana-inspired menu and family friendly atmosphere, is bringing its unique flavor to the world-famous Las Vegas Strip. Walk-On's recently announced it will open its first location on the West Coast at Harrah's Las Vegas, scheduled to open by early 2022. The location will offer guests a taste of Louisiana classics with diverse, made-from-scratch dishes including Crawfish Etouffee, Duck & Andouille Gumbo and Krispy Kreme Donut Bread Pudding, as well as game day classics like burgers and everyday favorites like salads, wraps, and more. The restaurant will also be the first-ever Walk-On's to feature a breakfast menu, offering current staple items like Voodoo Shrimp and Grits, Beignets, and their popular signature cocktail, the Mad Mary. More than 60 TVs will canvas the restaurant, making it a go-to destination for fans on game day in sports-hungry Las Vegas. For more information, contact Chelsea Ryder, Caesars Entertainment, cryder@caesars.com.
Terry Fator is Bringing Holiday Cheer to Las Vegas with "A Very Terry Christmas"
A popular holiday tradition is returning to the Las Vegas Strip this year with "A Very Terry Christmas," a special holiday-themed show from famed singer, comedian, ventriloquist and "America's Got Talent" winner Terry Fator at Liberty Loft inside New York-New York Hotel & Casino. The holiday themed shows, kicking off Friday, Nov. 26, will celebrate the season with Fator and his cast of characters performing your favorite Christmas classics as well as original songs written by Fator. Expect appearances from Winston, the Impersonating Turtle; Maynard Tompkins, the Elvis impersonator; Duggie Scott Walker, the annoying neighbor; crooning soul singer Julius; Vikki "The Cougar;" and Emma Taylor, the little girl with the big voice. For more information, contact Kelly Frey, The Publicity Lab, kelly@thepublicitylab.com.
The Bronx Wanderers Celebrate Grand Opening at Westgate Las Vegas
The Bronx Wanderers recently celebrated the grand opening of their new show at Westgate Las Vegas Resort & Casino. Back by popular demand, the father-and-son duo, flanked by their top-notch band, has performed over 1,500 shows in Las Vegas for more than 200,000 fans. This multiple award-winning show thrills its audiences with an up close and personal, yet larger-than-life music performance that takes them on a journey from the early days of Rock 'N' Roll right through today's biggest hits, including numbers from Frankie Valli & The Four Seasons, Dion, Queen and Bruno Mars, as well as some exciting recent additions for the new show. For more information, contact Kelly Frey, The Publicity Lab, kelly@thepublicitylab.com.
Shriners Children's Open Extends PGA TOUR Tournament Sponsorship
Shriners Children's, which has served as title sponsor of the PGA TOUR's Las Vegas tournament since 2008, has signed a five-year extension that carries its commitment to the Shriners Children's Open through 2026. The Shriners Children's Open provides a valuable platform to raise charitable donations, share inspiring patient stories and amplify the amazing work and expertise of the Shriners Children's health care system. Each year, patients from the various Shriners Children's locations are chosen to represent the healthcare system during the tournament. The patients serve as standard bearers – carrying the scores of professional golfers competing in the tournament, while making memories that will last a lifetime. For more information, contact Kirvin Doak Communications, SHCO@kirvindoak.com.
Bobby's Burgers by Bobby Flay Expands to Two New Las Vegas Locations
Acclaimed Chef Bobby Flay and Caesars Entertainment recently announced plans to expand Flay's fast-casual brand, Bobby's Burgers, to two new locations on the Las Vegas Strip at Harrah's Las Vegas and Paris Las Vegas. Bobby's Burgers is inspired by Flay's love of the grill and the traditional burger, fries and shake combo. The menu at the two new locations features Flay's original recipes including signature burgers, fries with delicious sauces and creamy milkshakes. On the carefully curated menu, guests will find classic flavors as well as burgers with a twist. Guests looking for traditional burgers with unique flavors can indulge in the Crunchburger, topped with bacon, American cheese and potato chips; or the Bobby Blue + Bacon Burger, topped with blue cheese sauce and bacon. Guests can also opt to try burgers without beef, including Bobby's Veggie Burger with barbecue mushrooms, chickpeas, quinoa, lettuce and tomato. Additionally, the Harrah's location will offer breakfast options on their menu. For more information, contact Gia Silvaggio, Caesars Entertainment, GSilvaggio@caesars.com.
STYX Launches 50th Anniversary with Five-Night at The Venetian Resort
Legendary and multi-Platinum rockers STYX are kicking off their 50th anniversary year by taking the Las Vegas stage once again for an unforgettable five-night engagement at The Venetian Theatre inside The Venetian® Resort Las Vegas along with very special guest and fellow legendary and multi-Platinum Rock & Roll Hall of Fame rocker Nancy Wilson (Heart). The shows will be held on January 28 and 29 and February 2, 4 and 5, 2022. The multi-show run will pay tribute to both STYX's and WILSON's combined 50 years as one of the most successful rock and roll bands in history and one of rock's most illustrious guitar legends. For more information, contact Kelly Frey, The Publicity Lab, kelly@thepublicitylab.com.
Bellagio Taps Chef Dameon Evers to Lead Le Cirque Reopening
Bellagio announced Chef Dameon Evers to spearhead the revival of its recently reopened legendary lakeside destination, Le Cirque. Evers brings a wealth of experience to Le Cirque having helped open some of California's most acclaimed restaurants, including Thomas Keller's Bouchon Beverly Hills, Gordon Ramsay's eponymous establishment in West Hollywood, and Michael Mina's Bourbon Steak. Recently, he earned a Michelin star as executive chef at Angler Restaurant and was celebrated by Los Angeles Times Restaurant Critic Bill Addison. For more than 20 years, Le Cirque's unparalleled French fine dining experience overlooking the Fountains of Bellagio resulted in accolades such as a perennial AAA Five Diamond Award rating, two Michelin stars, and Forbes Travel Guide Five-Star rating. For more information, contact Robert Flicker, Kirvin Doak Communications, MGM@kirvindoak.com.
Vegas' Hottest New Social Dining Spot, Larrea, Debuts with a Star-Studded Culinary Team
This month MasterChef winner and executive chef Shaun O'Neale and master mixologist Benjamin Browning take the helm to debut Larrea, a modern American cuisine concept with international influences and inventive signature cocktails. Located in front of the luxurious Panorama Towers, the city's newest social dining venue will open its doors to the public for dinner service on November 13, 2021. After showcasing his dishes and recipes worldwide, Chef Shaun O'Neale embarks on his first restaurant endeavor serving up hand-crafted, modern American cuisine with international influences featuring locally sourced, seasonal ingredients at Larrea. For more information, contact Ashley Miles, bread & Butter, larrea@wearebreadandbutter.com.
The Neon Museum receives famed Planet Hollywood sign
The Neon Museum recently acquired the famed Planet Hollywood Restaurant sign that originally rotated upon an iconic column pedestal in front of the Caesars Palace Forum Shops and Colosseum. Donated by Planet Hollywood International/Earl Enterprises, the sign is currently being assessed for conservation and display plans. The sign, which was originally installed in 1994, is comprised of components made from a wide variety of materials including neon, incandescent lightbulbs, metal, and fiberglass. The sign's core metal structure weighs 12,000 lbs., and the fiberglass globe is approximately 25 feet in diameter. To be moved to the museum, the globe was meticulously dissected into four pieces, each weighing 1,300 lbs. For more information, contact Amy Maier, The Warren Group, Amy@twgpr.com.
Sir Rod Stewart Extends Hit Las Vegas Residency into 11th Year with New 2022 Concerts
Legendary Rockstar Rod Stewart will return to Las Vegas in 2022 for 10 shows of his acclaimed residency "Rod Stewart: The Hits." presented in partnership by Caesars Entertainment and Live Nation Las Vegas, at The Colosseum at Caesars Palace. "Rod Stewart: The Hits." will perform select dates May 13 – 21 and Sept. 23 – Oct. 1, 2022. For more than 10 years, the two-time Rock and Roll Hall of Fame inductee has delivered an arena-sized concert in an intimate concert experience that's exclusive to Las Vegas audiences, with no seat more than 145 feet from his majestic stage. Featuring chart-topping hits spanning Stewart's unparalleled over five-decade career the production remains one of the best-reviewed and must-see shows on the Las Vegas Strip. The hits-packed setlist includes songs like, "You Wear It Well," "Maggie May," "Da Ya Think I'm Sexy," "The First Cut is the Deepest," "Tonight's the Night," "Every Picture Tells A Story," "Infatuation," and "Forever Young." For more information, contact Robert Jarrett, Caesars Entertainment, rjarrett@caesars.com.
Fashion Show Las Vegas Becomes Dog Friendly Destination
Fashion Show Las Vegas (FSLV) will learn new tricks as the leading shopping destination has announced it will become a dog friendly property. To further cement FSLV as the ultimate doggy destination, guests can find dog merchandise at various retailers including Forever 21, Build A Bear Workshop, Dillard's, Saks Fifth Avenue, Macy's, Neiman Marcus, Dick's Sporting Goods and more. Additionally, FSLV will continue its dog friendly efforts with the launch of a designated pet area in the coming months. For more information, contact Courtney Cruz, Allied Global Marketing, fashionshowlv@alliedglobalmarketing.com.
The Mirage Announces 2022 Aces of Comedy Series Lineup
The Mirage Hotel & Casino recently announced more than 40 performances for the 2022 Aces of Comedy series. Comedians who will take The Mirage Theater stage include George Lopez, Daniel Tosh, Bill Maher, Ray Romano and David Spade, Bob Marley, Jim Jefferies, Kathleen Madigan and Iliza Shlesinger. The Aces of Comedy series at The Mirage Hotel & Casino features one of the country's most comprehensive and diverse comedic lineups. Over the last decade, the 1,257-seat Theatre at The Mirage has been the place to enjoy the best comedy in Las Vegas. For more information, contact Katharine Sherrer, MGM Resorts International Public Relations, ksherrer@mgmresorts.com.
Las Vegas Days Rodeo returns to the Plaza Hotel & Casino's Core Arena, Nov. 12-13
Las Vegas Days (formerly known as Helldorado Days), an annual cowboy-themed event celebrating Las Vegas' Wild West history, will return to the Core Arena at the Plaza Hotel & Casino in downtown Las Vegas with two nights of exciting rodeo events, Friday and Saturday, Nov. 12-13. Sponsored by the Commission for the Las Vegas Centennial and the Plaza Hotel & Casino, the rodeo will feature eight events each day at the Core Arena, the Plaza's outdoor equestrian center. Fully sanctioned by the Professional Rodeo Cowboys Association and the Women's Professional Rodeo Association, the Las Vegas Days Rodeo will feature bull riding, barrel racing, team roping, tie-down roping, steer wrestling, saddle bronc riding, breakaway, and bareback riding, with prize purses totaling $45,000 and custom belt buckles for champions. For more information, contact Amy Maier, The Warren Group, amy@twgpr.com.
Caesars Entertainment and Spiegelworld Announce Multi-Million Dollar Live Entertainment Deal
Caesars Entertainment, the largest gaming and entertainment company in the U.S., recently inked a monumental deal with Spiegelworld, the Las Vegas-based entertainment trailblazer, collectively investing nearly $75 million to create three, all-new live entertainment experiences at Caesars resorts in Las Vegas, Atlantic City and New Orleans. The two companies' expanded relationship will see a new permanent production open in the fourth quarter of 2022 - DiscoShow at The LINQ Hotel + Experience in Las Vegas. DiscoShow will be followed by a brand-new theater and resident show at Caesars Atlantic City, opening in the first quarter of 2023, and a third new theater and show is planned for Caesars New Orleans in 2024. For more information, contact Robert Jarrett, Caesars Entertainment, rjarrett@caesars.com.
Now Open at AREA15 "RATED RED," A Burlesque-esque Show
AREA15, Las Vegas' immersive art, event and entertainment district, announces "RATED RED" is now open. This burlesque-inspired show is a tantalizing departure from any traditional choreographed experience. RATED RED stirs all desires with sultry, stimulating performances that evoke passion, power, desire, danger, seduction and love—all while providing the perfect evening pre-party. Spectators will be immersed in the action as its fierce cast of diverse, body-positive dancers tease out every fetish with each arousing act while surrounded by erotic digital art. For more information, contact Desiree Webb, The Vox Agency, desiree@thevoxagency.com.