Las Vegas News Briefs - May 2019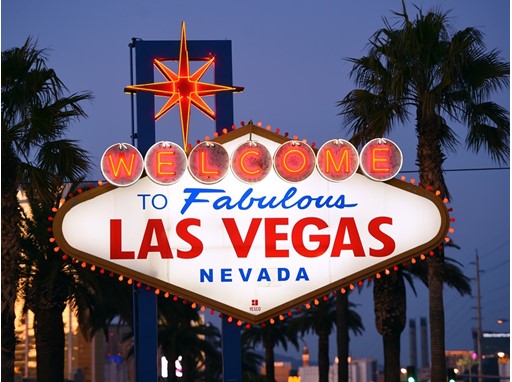 Sting: My Songs the Las Vegas Residency coming to the Colosseum at Caesars Palace
The Cherrytree Music Company, Live Nation and Caesars Entertainment announce that 17-time GRAMMY Award winning musician Sting will headline a Las Vegas residency, "My Songs," set to open at The Colosseum at Caesars Palace Friday, May 22, 2020. The show will present a compendium of Sting's songs with dynamic, visual references to some of his most iconic videos and inspirations. For more information, contact Robert Jarrett, Caesars Entertainment, RJarrett@caesars.com.
Circa Sports to Debut in Downtown Las Vegas
Las Vegas casino owner and developer Derek Stevens will blaze a new trail in the gaming industry with the introduction of Circa Sports, a new sportsbook venture that will debut in Downtown Las Vegas this year. Its first location – a sportsbook at Golden Gate Hotel & Casino – will open on June 1. Combining Stevens' customer-first approach to business with a team of the country's top oddsmakers – led by Sportsbooks Director Matt Metcalf, who introduced Westgate's SuperBook – Circa Sports will feature one of the most competitive wagering menus in Las Vegas and establish itself as a leader in the city for sports futures. Following the launch at Golden Gate, Circa Sports will introduce a satellite program at the D Las Vegas in late June 2019, paving the road for the highly anticipated multi-level, stadium-style sportsbook that will debut at Circa Resort & Casino in December 2020. While all different in size and scope, each Circa Sports location will be helmed by a best-in-class team and deliver an experience that appeals to all bettors, from professionals to novices, with a focus on strong customer service. For more information, contact Natalie Mounier, Kirvin Doak Communications, nmounier@kirvindoak.com.
Bricia Lopez and Park MGM to Bring Oaxacan Flavor to Las Vegas with Mama Rabbit Bar
James Beard Award-winner Bricia Lopez, lovingly dubbed a "Oaxacan Princess" by the late Pulitzer Prize-winning writer Jonathan Gold, has joined forces with Park MGM to celebrate the culture and spirit of Oaxaca – the birthplace of mezcal – with the debut of Mama Rabbit Bar in late July. Fusing the dynamic atmosphere of a Mexican taverna with the intimate and sexy allure of a speakeasy, Mama Rabbit will become Las Vegas' definitive mezcal-and-tequila destination. Lively music will capture the state of Oaxaca's electric energy while a bold and bright art program pays homage to the region's famously vibrant art scene. Mama Rabbit will feature Las Vegas' largest collection of tequila and mezcal, highlighting a wide range of Mexican flavors. Anything but reserved, Mama Rabbit will be a feast for the senses. For more information, contact Natalie Mounier, Kirvin Doak Communications, nmounier@kirvindoak.com.
Jimmy Kimmel's Comedy Club Opens Featuring a Stellar Lineup of Comedians
The newest chapter of comedy on the Las Vegas Strip begins. In partnership with Caesars Entertainment, Jimmy Kimmel's Comedy Club at The LINQ Promenade has announced its opening lineup of featured comedians beginning May 2. With the bar open daily at 4 p.m., Jimmy Kimmel's Comedy Club will showcase comedic performances Thursday to Sunday at 8 p.m. with additional shows at 10 p.m. on Friday and Saturday. Jimmy Kimmel's Comedy Club aims to capture the spirit of classic Vegas with late night shows, surprise guests, high-end casual cuisine and memorabilia. The club will showcase comedians ranging from household names to up-and-coming talent curated by Kimmel and his team in a venue specifically designed by Jimmy. The dual-level 8,000 square-foot venue has an expandable showroom that seats up to 300 guests. For more information, contact Robert Jarrett, Caesars Entertainment, RJarrett@caesars.com.
Rock 'n' Roll Fantasy Camp is in session this June
Just when you thought summer in Las Vegas couldn't get any hotter, Rock 'n' Roll Fantasy Camp celebrates its 25th anniversary with a return to the destination featuring special guest headliners Joe Perry (Aerosmith), Vince Neil (Mötley Crüe) and Lou Gramm (Foreigner) June 27 – 30, 2019 at Hard Rock Hotel & Casino for the ultimate rock star experience. Campers will be placed into bands led by rock star counselors where they will receive personal instruction, participate in jam sessions and Q&As, and attend Master Classes by Joe Perry, Vince Neil and Lou Gramm, culminating in a live performance with Gramm at Vinyl inside Hard Rock Hotel & Casino on Sat., June 29. For more information, contact Hillary Smoot, Red Moon PR, hillary@redmoon88.com.
Journey the Las Vegas Residency Coming to The Colosseum at Caesars Palace
One of the world's greatest rock bands, Journey, is taking over the Las Vegas Strip this fall with a limited engagement inside The Colosseum at Caesars Palace October 9 – 26, 2019. The nine performances are: October 2019: 9, 11, 12, 16, 18, 19, 23, 25 and 26. For more information, contact Robert Jarrett, Caesars Entertainment, RJarrett@caesars.com.
Golden Entertainment, Inc., Brings Craft Beer Expertise and Craft Cocktails to The STRAT
The STRAT Hotel, Casino and SkyPod has something fresh on tap with the openings of BLVD & MAIN Taphouse and View Lounge on the main casino floor next to the new, state-of-the-art William Hill Sports Book. Located just steps from the main entrance, BLVD & MAIN and View Lounge are now open daily for lunch and dinner. The 6,000+-square-foot BLVD & MAIN combines craft beer and elevated pub cuisine with a lively scene, complete with comfortable seating to settle in and catch any game or sporting event. Next door, the 3,000+-square-foot View Lounge offers craft cocktails and small bites, introducing a stylish new hotel bar offering at The STRAT. BLVD & MAIN and View Lounge offer flat screen televisions and convenient access to the William Hill Sports Book for betting. For more information, contact Lauren Cahlan, Wicked Creative, GoldenGaming@WickedCreative.com.
Witkoff Announces Diller Scofidio + Renfro As The Design Architect For Drew Las Vegas
Moving toward a second quarter 2022 opening of Drew Las Vegas, global real estate developer Witkoff announces Diller Scofidio + Renfro as the design architect for the project, with an eye toward realizing a fresh vision for the next integrated resort on the North Strip's emerging luxury corridor. Drew Las Vegas will be DS+R's first Las Vegas concept and among its first forays into hospitality. DS+R's work has been recognized with WSJ Magazine's 2017 Architecture Innovator of the Year Award, the American Federation of the Arts 2018 Cultural Leadership Award, the National Design Award from the Smithsonian and the Brunner Prize from the American Academy of Arts and Letters. Their international portfolio of work includes the High Line, the redesign of the Lincoln Center for the Performing Arts Campus, and The Shed in New York, The Broad contemporary art museum in Los Angeles, Zaryadye Park in Moscow, and the Museum of Image and Sound in Rio de Janeiro. For more information, contact Amy Rossetti & Renata Follmann, Rossetti Public Relations, thedrew@rossettipr.com.
SLS Las Vegas announces new show dates for 'Mo'Nique Does Vegas'
Academy Award-winning actress and comedian Mo'Nique's groundbreaking residency at SLS Las Vegas® will continue through Summer 2019. Meeting popular demand, "Mo'Nique Does Vegas" will perform inside The Sayers Club® through June. Tickets for newly announced performances are now on sale. Since its January debut, "Mo'Nique Does Vegas" has been met with acclaim from critics and audiences alike. Delivering consistently sold-out performances, "Mo'Nique Does Vegas" performs Thursdays, Fridays and Saturdays at 8 p.m., with additional 11 p.m. shows Fridays and Saturdays. The newly announced shows include dates in May and June. For more information, contact Stephen Will, The Publicity Lab, stephen@thepublicitylab.com.
The Naked Magicians Announce Extension Through June 2019
A heatwave is in the forecast: The Naked Magicians, who began their first-ever Las Vegas residency in February, have announced that they will continue to perform inside Brad Garrett's Comedy Club at MGM Grand through June 2019. Starring Mike Tyler and Christopher Wayne, The Naked Magicians perform six nights a week at 10 p.m. For more information, contact Stephen Will, The Publicity Lab, stephen@thepublicitylab.com.
Tattoo'd America Pop-Up Attraction at The LINQ Promenade Opens
Tattoo'd America, the first interactive experience at Pop Vegas located at The LINQ Promenade, celebrates the artistic, provocative and expressive qualities—as well as the sex appeal—of tattoo and body art. Tattoo'd America's immersive experiences—which are designed to delight both tattooed and non-tattooed guests—encompass 12 interactive installations called "rooms," including an Ink Pool Party—a tattoo-themed ball pit for grown-ups; 45 clones tattooed to showcase the diversity and artistry of tattoo and body painting; live 3-D full-body projection mapping, which projects tattoo designs on guests; a confetti-and-pillow-fight darkroom; a Sailor Jerry Spiced Rum exhibit; and "My Tattoo, My Story," an installation powered by people's own personal stories. NOTE: Inked individuals who would like a chance to have their tattoos featured in Tattoo'd America's "My Tattoo, My Story" exhibit should post photos to Instagram tagging @tattoodamerica and use the hashtag #tattoodamerica. Each week, winners will be chosen to have their tattoo integrated into the Tattoo'd America experience, to be seen by thousands of visitors. For more information, contact Erika Pope, The Vox Agency, erika@thevoxagency.com.
Golden Rainbow Presents "Summer of Love"
Tickets are on sale now for Golden Rainbow's 33rd annual Ribbon of Life on Sunday, June 23 at Tropicana Las Vegas. Celebrating the 50th anniversary of Woodstock, "Summer of Love" will feature performances inspired by the three-day music festival of peace, love, and music. Last year's Ribbon of Life raised nearly $85,000 for critically needed services for those living with or affected by HIV/AIDS. Co-founded in 1987, Golden Rainbow is a non-profit organization that provides housing and financial assistance to people living with HIV/AIDS in Southern Nevada. The organization was established by members of the Las Vegas entertainment industry who saw the need to provide housing for people with AIDS when one of their fellow performers was forced to live and eventually die in his family's garage. EDIE, the Mistress of Sensuality from "Zumanity," and Sean McAllister, from FOX 5's MORE Show will return as hosts as they introduce talent from nearly every major show on the Strip. For more information, contact Anthony DeFelice, one7 communications, anthony@one7communications.com.
CRAFT + COMMUNITY Now Open at Hard Rock Hotel & Casino Las Vegas
CRAFT + COMMUNITY is now open inside Hard Rock Hotel & Casino. Taking over the space formally occupied by Culinary Dropout, CRAFT + COMMUNITY features a relaxed and loungy atmosphere serving favorite comfort foods with a curated drink menu to match. Operated by The Morton Group, CRAFT + COMMUNITY is open seven days a week. CRAFT + COMMUNITY will offer all the elements of a laidback backyard party, encouraging guests to wear what they want and eat what they want. With garage-style doors that open directly onto the pool patio, the restaurant is the definition of ease. For more information, contact Terri Maruca, Kirvin Doak Communications, HRHPR@kirvindoak.com.
Caesars Entertainment Enhances The Colosseum at Caesars Palace
Caesars Entertainment recently announced plans to renovate The Colosseum at Caesars Palace with significant technical and design updates to its landmark venue recognized as Billboard Magazine's "Venue of the Decade." The Colosseum will undergo an exciting evolution to incorporate a new state-of-the-art sound system, new moving light fixtures and high-definition LED video wall into the technical capabilities of the space, while still preserving the celebrated character and prestige of the iconic theater. Also, the world's top venue of its size will now be able to facilitate multiple seating arrangements, including VIP banquettes with bottle service and a general admission setup on the main floor, to accommodate many genres and entertainment experiences for guests through the city's only automated lift seating system. For more information, contact Robert Jarrett, Caesars Entertainment, RJarrett@caesars.com.
The Hunger Games: The Exhibition to Open at MGM Grand
The Hunger Games: The Exhibition is set to launch at MGM Grand Hotel & Casino in May and features a new spectacular, fully-immersive archery training experience, as well as new interactives, set decoration and costumes. The previous tour of the exhibition included New York, San Francisco, Louisville and Sydney, Australia. The Hunger Games attraction is based on the world-renowned films from Lionsgate, which grossed over $3 billion at the worldwide box office. It celebrates the epic journey of Katniss Everdeen from her humble beginnings in District 12 to her rise as the Mockingjay. This is the second family-friendly, film-themed attraction in Las Vegas to be opened by international entertainment and exhibition company, Cityneon Holdings Limited, and its subsidiary Victory Hill Exhibitions. For more information, contact Gina Yager, GYC Vegas, Public Relations, gina@gycvegas.com.
RELEASE:  Hard Rock Hotel & Casino Las Vegas Offering World-Class Entertainment, Dining Into 2020
Hard Rock Hotel & Casino Las Vegas has revealed that the property will remain open into early 2020. Design plans for the upcoming, reconceptualized and revitalized property, Virgin Hotels Las Vegas, have significantly been brought close to completion and the construction schedule has been determined. The property is currently offering a full slate of world-class entertainment, dining, hospitality and gaming options. For more information, contact Terri Maruca, Kirvin Doak Communications, HRHPR@kirvindoak.com.
Chateau Nightclub & Rooftop Presents 'Stars-N-Stilettos' Brunch Featuring Top Female Impersonators
Chateau Nightclub & Rooftop at Paris Las Vegas recently debuted 'Stars-N-Stilettos' brunch featuring Las Vegas' top celebrity female impersonators. The showstopping rooftop brunch will begin at noon and will feature over-the-top celebrity impersonators, flavorful brunch selections and bottomless drinks. Some of Las Vegas' top female impersonators will be featured in a rotating lineup, featuring an array of different acts inspired by notable celebrities including Cher, Lady Gaga, Cardi B, Jennifer Lopez, Mariah Carey, Tina Turner, Whitney Houston and more. For more information, contact Megan Roberts, Wicked Creative, Chateau@wickedcreative.com.
Super Summer Theatre Announces 2019 Summer Series Lineup
The Super Summer Theatre is back for its 44th year with the 2019 Summer Series. Held at Spring Mountain Ranch State Park, the season kicks off with Into the Woods, beginning Wednesday, May 22. Super Summer Theatre has come a long way since the curtain first went up in 1976 with a run of Shakespeare plays performed by actors who doubled as ticket agents and passed the microphone to one another. Since then, more than one million patrons have thrown down a blanket in the Meadow, shared a picnic dinner with friends and enjoyed great theatre "under the stars." All performances are outdoors and run Wednesday – Saturday, excluding September's production which runs Thursday – Saturday. Productions for 2019 will include: Into the Woods,  A Midsummer Night's Dream, Chicago, ANNIE and NOISES OFF. For more information, contact Todd Harbach, Super Summer Theatre, todd@supersummertheatre.org.
CONTACTS
Maria Phelan

LVCVA

United States

-
MORE FROM NEWS RELEASES
SUBSCRIBE TO RSS FEED
XML