Las Vegas News Briefs - June 2021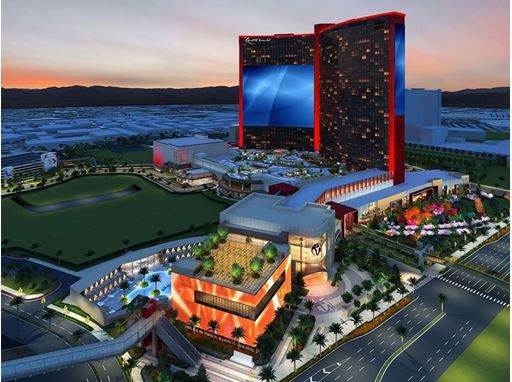 Resorts World
Resorts World Las Vegas, the first ground-up resort development on the Las Vegas Strip in more than a decade, will officially open its doors on June 24, 2021.
Resorts World will host its grand opening celebration on July 4 at Ayu Dayclub with a can't-miss live performance by Miley Cyrus. The headlining show will be broadcast on the resort's 100,000-square-foot LED Screen – one of the largest exterior LED displays in the U.S. – for Las Vegas Boulevard onlookers and partygoers to join in on the action. The live show will take place at Ayu Dayclub and conclude with a spectacular Fourth of July firework show. 
Concerts West / AEG Presents and Resorts World Las Vegas recently announced global music stars Celine Dion, Carrie Underwood, Katy Perry and Luke Bryan will become the founding headliners at the Strip's highly anticipated new 3,500-room luxury destination and will call The Theatre at Resorts World Las Vegas their performing home. The 5,000-capacity, world-class theatre will open its doors in November 2021 and is exclusively programmed and operated by Concerts West / AEG Presents. Performances will begin with Celine Dion's return to Las Vegas with a brand-new show and a special opening night performance to benefit COVID-19 Relief on Friday, Nov. 5. Carrie Underwood follows in December with an exciting all-new production beginning Wednesday, Dec. 1. Katy Perry will take the stage on Wednesday, Dec. 29, to launch a spectacular run including exclusive New Year's Eve and New Year's Day performances. Luke Bryan will keep the party going in 2022 when he kicks off his engagement beginning on Friday, Feb. 11. Due to extraordinary ticket demand,

all four entertainers have added show dates to their headliner engagements.
Resorts World Las Vegas and Zouk Group announced an impressive lineup of diverse talent joining previously announced resident DJs Zedd and Tiësto set to perform at the property's immersive nightlife and daylife venues throughout the year. The lineup of talent, spanning a variety of music genres, will feature headlining artists including Becky G, DJ Snake, Madison Beer and more. Zouk Group will also debut Moonbeam, a day-to-night Sunday concept party at Ayu Dayclub that will transport guests from the glitz and glamour of the Las Vegas Strip to a tropical oasis. The party will be energized by the sun in the afternoon and powered by the moon into the evening and late night, offering a unique experience with special performances and themed activations like hair braid bars, art installations, retail opportunities, shareable photo moments and more.
For more information, contact Sarah Martinez, Allied Global Marketing, resortsworld@alliedglobalmarketing.com.
Wynn Field Club to Debut Nightlife Experience in the End Zone at Allegiant Stadium
Wynn Resorts will launch a new club concept at Allegiant Stadium later this year. As the Official Nightlife Partner of the Las Vegas Raiders and Allegiant Stadium and an Official Gaming Partner of the Raiders, the exclusive agreement will bring a Wynn Nightlife experience to a premier location within Allegiant Stadium. Wynn Field Club is situated at field level, spans the entire length of the north end zone, and offers ticketed guests an upgraded high-energy nightlife experience in the center of the action. The nearly 11,000-square-foot venue will feature appearances by Wynn Nightlife's legendary roster of world-class DJs, premium bottle service and over-the-top access that can only be found in Las Vegas. For more information, contact Deanna Pettit-Irestone, Wynn Las Vegas and Encore, Deanna.Pettit-Irestone@wynnlasvegas.com.
Amalfi by Bobby Flay at Caesars Palace is Now Open
After 16 years of consumer and critical acclaim at Caesars Palace, award-winning chef Bobby Flay has opened his highly-anticipated first Italian restaurant, Amalfi by Bobby Flay. Inspired by Flay's extensive travels to Italy and the Amalfi Coast, Amalfi transports guests to the Mediterranean with its vibrant blend of coastal ease and fresh, bright flavors. The beauty of southern Italy's Amalfi Coast has inspired many for centuries with its picturesque scenery, fresh sea life and produce, vibrant greenery and ease of life—these elements are all seen, smelled, felt and, most importantly, tasted at Flay's new Amalfi restaurant. For more information, contact Kristina Bello, Allied Global Marketing, kbello@alliedglobalmarketing.com.
Bellagio Gallery of Fine Art's Exhibit "Leather Throwers" Explores Entertainment Capital of the World's Boxing History
Las Vegas' rich history in the sports and entertainment world comes center stage with MGM Resorts Art & Culture's newest exhibition, Leather Throwers, which recently debuted at Bellagio Gallery of Fine Art. Multiple Las Vegas collectors have loaned their beloved pieces to be exhibited for the first time. Works by seminal artists such as Jean-Michel Basquiat and Andy Warhol will be seen next to some of today's most influential artists. Titled after a drawing by California artist Ed Ruscha, the exhibition will highlight historic and Contemporary artists who have utilized imagery and the personalities of boxing to create sculptures, paintings and drawings that tell the story of boxing through political, social and visual lenses. Alongside these pieces will be photographs, objects and historical memorabilia commemorating great moments from the storied history of boxing. Adrienne Prather-Marcos, MGM Resorts, aprather@mgmresorts.com.
Earth, Wind & Fire to Return to Venetian Resort Las Vegas
The legendary music group Earth, Wind & Fire will return to The Venetian Theatre inside The Venetian® Resort Las Vegas for a six-show limited engagement in November 2021. Earth, Wind & Fire are a music institution. Over their five-decade history, they've sold out concerts all around the globe, scored eight number one hits and have sold over 100 million albums worldwide. For more information, contact Kelly Frey (Live Nation), The Publicity Lab, kelly@thepublicitylab.com.
Chef Bruce Kalman Opens Soulbelly BBQ in Las Vegas
Leaving fine dining Italian cuisine for American BBQ, James Beard nominated and Bravo Top Chef favorite Chef Bruce Kalman recently opened his first Las Vegas restaurant with business partner Richard Camarota, dubbed Soulbelly BBQ, in the heart of the Downtown's Arts District. Soulbelly will feature Kalman's Salt & Pepper Brisket, Carolina Pulled Pork, Chipotle Cider Glazed Drumsticks, Pork Spare Ribs, housemade Hatch Chile and Cheddar Hot Links, and Texas Sausages, as well as beer and cocktail selections and live music. For more information, contact Mikayla Jones, Authentic Public Relations, Mikayla@authenticpublicrelations.com.
George Strait Announces Rescheduled Dates for Upcoming 'Strait to Vegas' Series
George Strait has announced his return to Las Vegas, gracing the T-Mobile Arena stage for back-to-back "Strait to Vegas" shows on Friday, August 13 and Saturday, August 14 with previously announced special guest Caitlyn Smith. Tickets to the original 2020 dates will be honored for the rescheduled shows: August 28, 2020 tickets will apply to the August 13, 2021 show, while August 29, 2020 tickets will apply to the August 14, 2021 show. With an unmatched 60 singles hitting the top of the charts—more than any other artist in any genre—during the span of his 30+ year career, Strait has collected 33 Platinum or multi-Platinum-selling albums, more than any other Country artist and ranking third across all genres behind The Beatles and Elvis Presley. For more information, contact Katharine Sherrer, MGM Resorts International, ksherrer@mgmresorts.com.
Gwen Stefani Announces New Show Dates for Headlining Residency
Multi-Platinum recording artist and global icon Gwen Stefani has announced eight new performance dates for her headlining residency, "Gwen Stefani – Just A Girl" at Zappos Theater at Planet Hollywood Resort & Casino. The shows will be held October 22 – November 6, 2021. Designed exclusively for Zappos Theater and promoted by Live Nation and Caesars Entertainment, the eye-popping spectacular celebrates the breadth of the star's illustrious musical career with fan-favorite hits, including "Hollaback Girl," "The Sweet Escape" and "What You Waiting For?." For more information, contact Robert Jarrett, Caesars Entertainment, RJarrett@caesars.com.
SAHARA Las Vegas debuts new mural by Las Vegas-native artist Brett Rosepiler at Retro Pool
SAHARA Las Vegas has unveiled a new mural installation at the resort's Retro Pool by local tattoo artist and large-scale muralist, Brett Rosepiler. The piece, created in collaboration with Las Vegas-based Kevin Barry Art Advisory, seamlessly ties together nods to SAHARA Las Vegas' iconic history and glimpses into the resort's new era, currently being ushered in with a $150 million transformation nearing completion. Elements of Moroccan design and lush greenery are featured throughout the mural, serving as a subtle sneak peek into what's to come at the resort's new ultra pool, Azilo, coming this summer. For more information, contact Nicole Easley, The Publicity Lab for SAHARA Las Vegas, Sahara_PR@thepublicitylab.com.
Tropicana Las Vegas Celebrates the Return of Entertainment
Tropicana Las Vegas® is celebrating the return of Legends in Concert and Purple Reign: The Prince Tribute. Legends in Concert continues to celebrate the world's most famous and influential icons giving audiences an extraordinary chance to experience the most captivating music, fashion and memories of these true legends live on one stage, and dazzles fans with historic showgirl costumes. Purple Reign: The Prince Tribute Show, presented by Reign Entertainment Productions, Inc. in partnership with Red Mercury Entertainment, seamlessly re-creates the blistering performances and raw energy of Prince in his prime and returns guests to the era that made "The Artist" an international superstar. Featuring a tribute to Morris Day and The Time and Vanity 6, this show is a must see for "Purple Rain" movie fans and all live music fans alike. For more information, contact Chandra Stepanovich, Dandelion PR, chandra@dandelionpr.com.
Illuminarium Experiential Entertainment Company Coming to AREA15 in January 2022
Illuminarium Experiences, a breakthrough global experiential entertainment company created by worldwide leaders in cinematic and interactive content, architectural and theatrical design, and venue operations, recently announced plans to open Illuminarium at AREA15, Las Vegas' newest immersive events and entertainment district in January 2022. The 33,000 square-foot, purpose-built building will be on the western side of the main AREA15 complex and will be the second Illuminarium location in the U.S. Illuminarium combines and amplifies techniques used in traditional motion picture production and virtual reality that allows visitors to experience real world, filmed content (like a safari) and authentic, re-created worlds (like the planet Mars) in an immersive environment, all without wearable hardware. Think VR, without the glasses. For more information, contact Desiree Webb, The Vox Agency for AREA15, Desiree@TheVoxAgency.com.
Las Vegas Restaurant Week Returns
Southern Nevada's culinary community and foodies alike are preparing for the return of Las Vegas Restaurant Week, June 7 - 18, 2021. Nearly 5.5 million meals have been provided for those in need through Las Vegas Restaurant Week since 2007. This year, the 12-day event will take a different approach, allowing Three Square to give back to the local culinary community while feeding families and individuals throughout Southern Nevada. Three Square traditionally collects $4-$6 of every meal sold from participating restaurants. This year, in order to provide additional support to local restaurants, Three Square is requiring a donation of just $1 per cover. For more information, contact Lindsey Yaskin, The Firm Public Relations & Marketing, lindseyy@thefirmpr.com.
London-Based Concept, Flight Club, to Open in Las Vegas
The wildly popular "eatertainment" concept, Flight Club, is thrilled to announce a new location in Las Vegas set to open in Spring 2022. Flight Club Las Vegas will be located in the luxurious Grand Canal Shoppes inside The Venetian® Resort, its third US location. Flight Club Las Vegas will be a social experience unlike any other, offering a super-charged social gaming experience with multi-player games set in semi-private playing areas and will serve up delectable food offerings and bespoke cocktails. Inspired by the heritage of darts from the British pubs and fairgrounds, Flight Club, the home of Social Darts, has taken the traditional game of darts and revolutionized it with ground-breaking technology that enables automatic scoring and runs exciting multi-player games for groups of six people up to groups of 400. For more information, contact Courtney Cruz, Allied Global Marketing (Grand Canal Shoppes), grandcanalshoppes@alliedglobalmarketing.com.
Museum of Selfies Opens at The LINQ Promenade
The LINQ Promenade, the open-air dining, retail and entertainment district in the heart of the Las Vegas Strip, recently welcomed the new, permanent location of Museum of Selfies. The interactive exhibition provides guests premium selfie opportunities featuring works by artists from around the world. Museum of Selfies is located on the Promenade next to the Welcome to Las Vegas gift store. A family-friendly attraction, Museum of Selfies features iconic photo opportunities made famous by celebrity visitors at its Hollywood location, such as the mind-blowing Upside-Down room, the joyful Emoji Pool, the optical illusion-filled Bathroom Selfie and many more. New vignettes exclusive to the Las Vegas location include the Private Jet Experience, an installation built to give all visitors the chance to plunge themselves into the world of luxury. Visitors are encouraged to use their smartphones and selfie sticks to make the most of the opportunity to capture hundreds of stunning photographs. For more information, contact Desiree Webb, The Vox Agency, desiree@thevoxagency.com.
Lionel Richie Returns to Encore Theater with "Back to Las Vegas!" Residency
Following multiple sold-out engagements at Wynn Las Vegas, international music icon Lionel Richie will return to the Encore Theater for ten performances this fall. Richie will present his all-new "Lionel Richie: Back to Las Vegas!" show on select nights in September, October and November. The Oscar®, Golden Globe®, and four-time GRAMMY Award® winner will share stories from his multi-decade career and present his iconic hits such as "All Night Long," "Hello," "Easy," and others in this exclusive production. Richie has sold more than 125 million albums worldwide and is one of only two songwriters in history to have charted No. 1 records for nine consecutive years. For more information, contact Jesse Williams, Wynn Las Vegas, Jesse.Williams@wynnlasvegas.com.
Shin Lim Signs Multi-Year Residency with The Mirage
MGM Resorts recently announced it signed illusionist and "America's Got Talent" winner Shin Lim to a multi-year run as a resident headliner at The Mirage Hotel & Casino. Lim, "AGT's" only two-time winner will bring the magic back to The Mirage Theater starting Thursday, July 1 with his acclaimed show, LIMITLESS. "America's Got Talent" alum mentalist Colin Cloud will perform as a special guest. For more information, contact Allyson Wadman, MGM Resorts International, awadman@mgmresorts.com.
Shania Twain Announces 14 New Show Dates
Shania Twain, the top-selling female country artist of all-time, has announced 14 new dates for her residency show, Shania Twain "Let's Go!" The Las Vegas Residency at Zappos Theater at Planet Hollywood Resort & Casino. The shows will be held December 2 – 21, 2021 and February 11 – 26, 2022, including a special Valentine's Day performance. Designed exclusively for Zappos Theater and promoted by Live Nation and Caesars Entertainment, the high-energy production is a nonstop party, taking fans on a spectacular journey through Shania's monumental catalogue of hits, including "Man! I Feel Like A Woman!," "You're Still The One," and "That Don't Impress Me Much." For more information, contact Robert Jarrett, Caesars Entertainment, rjarrett@caesars.com.
Mermaid Swims and Interactive Stingray Feedings Return to Silverton Casino Hotel's Aquarium
Named "Best Free Attraction in Las Vegas," Silverton Casino Hotel's famous mermaids have made a splashy return to their 117,000-gallon reef aquarium, including interactive stingray feedings. Get up close and personal with thousands of tropical fish, stingrays, and sharks swimming throughout the 15-foot deep tank. Both the mermaid swims and interactive stingray feedings are free for admission. For more information, contact Rachael Mintz, OneSeven Agency, silverton@onesevenagency.com.
Mayfair After Dark Returns to Bellagio in Las Vegas
Recently named one of the world's best new restaurants by Conde Nast Traveler's Hot 100 list, The Mayfair Supper Club at Bellagio recently revived Mayfair After Dark, the sensory-consuming, late-night revelry. The nightlife soiree starts at 11 p.m. every Friday and Saturday and blends live musical acts and performances with a menu of gourmet bites and bottle service; unexpected show vignettes, and more to create an interactive dance party unlike anything else on The Strip. For more information, contact Robert Flicker, Kirvin Doak Communications,  rflicker@kirvindoak.com.
Wynn Las Vegas Announces 'A Summer of Comedy' At Encore Theater
Wynn Las Vegas recently announced a jam-packed summer comedy lineup coming to Encore Theater, featuring top comedians including Sebastian Maniscalco, Jo Koy, Jim Gaffigan, Nate Bargatze, Demetri Martin and Tom Papa. Guests can enjoy the intimate comedy experience that Encore Theater offers with performances scheduled June through September 2021, including previously announced shows from Trevor Noah (July 9-10) and Jo Koy (Sept. 3-5). For more information, contact Jesse Williams, Wynn Las Vegas, Jesse.Williams@wynnlasvegas.com.
Kassi Beach House Open at Virgin Hotels Las Vegas
Restaurateur Nick Mathers and Wish You Were Here Group recently debuted the highly anticipated Kassi Beach House, located at the all-new Virgin Hotels Las Vegas, part of the Curio Collection by Hilton. Kassi Beach House offers an escape to the Italian seaside serving authentic coastal Italian cuisine alongside a refreshing wine, beer, and cocktail menu. Kassi Beach House introduces brunch, dinner, and dessert menus offering guests authentic coastal Italian cuisine from Executive Chef Josh Stockton. Guests can experience Kassi Beach House from an intimate booth in the secluded Rattan Room, lounging on the patio, sun-bathing from one of Kassi Beach House's private VIP day beds or overlooking the lively social scene in a cabana. For more information, contact Megan Fazio, Neon PR, megan@neonpublicrelations.com.
Downtown Rocks Again - Free Live Music Returns to Fremont Street Experience
Fremont Street Experience, the six-block entertainment district located in historic downtown Las Vegas, announces its long-awaited return of free live music to its iconic stages. Guests will be able to experience free nightly music under the upgraded Viva Vision screen. Fans of the destination's iconic resident house bands will once again be able to party and celebrate nightly with exhilarating performances from artists such as Alter Ego, Crush, Rock Steady, Spandex Nation, The Tony Marques Band, Velvet Elvis, Zowie Bowie, Dancing DJ's and more. For more information, contact Terri Maruca, Kirvin Doak Communications, fsepr@kirvindoak.com.
Bellagio's Conservatory & Botanical Gardens Captures Elements of Earth with New Summer Display
Bellagio's Conservatory & Botanical Gardens welcomes summer with the debut of its new display, "Eco: A Season of Earthly Awareness." Paying homage to the elements needed for life to flourish, with more than 30,000 flowers and plants, the garden beds are artistically designed to represent earth, wind, water and fire. Guests are transported into an extravagant rainforest as they enter the Conservatory, welcomed by an array of blooming flowers, bright greenery and seven whimsical animal sculptures. Designer Ed Libby and Bellagio's horticulture team carefully curated "Eco: A Season of Earthly Awareness," bringing to life the importance of keeping our planet beautiful. For more information, contact Allyson Wadman, MGM Resorts International, awadman@mgmresorts.com.
ABSINTHE Announces Additional Performances
Starting July 4, ABSINTHE by Spiegelworld will return to performing every night of the year and for the first time in the show's history, will deliver an impressive 16-show weekly schedule with three shows on Fridays and Saturdays. Spiegelworld continues to observe all current regulations to protect the safety of its guests and employees as it moves back toward full capacity. Masks are now optional for guests and performers who have been fully vaccinated. Guests who are not fully vaccinated must continue to wear a mask at all times, except when actively drinking. ABSINTHE is currently performing at 7 p.m. and 9 p.m. every Wednesday through Sunday. Starting Sunday July 4, ABSINTHE will perform Sunday to Thursday at 7 p.m. and 9 p.m. and on Friday and Saturday at 7 p.m., 9 p.m. and 11 p.m. For more information, contact Tawny Strelic, Kirvin Doak Communications, tstrelic@kirvindoak.com.
Adam Lambert to Perform Five-Show Limited Engagement
Billboard chart topping, multi-award winning, multi-platinum-selling-singer-songwriter and performer Adam Lambert is bringing his soaring voice to Las Vegas with a five-show limited engagement at The Venetian Theatre inside The Venetian® Resort Las Vegas. After performing in arenas with Queen over the past several years, fans will have a once-in-a-lifetime opportunity to see Adam perform solo in an up-close-and-personal setting in the intimate, 1,800-seat theater. The shows will be held on October 22, 23, 27, 29 and 30, 2021. Kelly Frey (Live Nation), The Publicity Lab, kelly@thepublicitylab.com.
Hofbräuhaus Las Vegas Reopens
After a 15-month closure, Hofbräuhaus Las Vegas has reopened its doors and welcomed guests back to its daily energetic party featuring boisterous sing-alongs, dancing in the aisles and on the benches, and premium Hofbräu beer and food. For more information, contact Nicole Easley, The Publicity Lab, nicole@thepublicitylab.com.
Siegel's Bagelmania Debuts 10,000-Square-Foot Flagship Location
With a long history of serving the best New York-style boiled bagels and Jewish delicatessen fare in Las Vegas, Siegel's Bagelmania recently debuted its new flagship location at 252 Convention Center Drive. The 10,000-square-foot space features an expansive dining room, private dining area for parties and events, and spacious outdoor patio area, a sprawling to-go delicatessen and bakery featuring a pop up Pinkbox doughnuts and full bar with signature cocktails and gaming. For more information, contact Jenn Smulo, bread & Butter, amazingbrands@wearebreadandbutter.com.
Concerts on the Beach Series Returns to Mandalay Bay
Sand, surf and songs will align under the stars when the Concerts on the Beach series returns to Mandalay Bay Resort and Casino with a Sunday, July 4 holiday weekend performance by Sublime With Rome with support acts Mystic Roots and Hirie. The popular summer music series continues with four additional shows by country superstars Lee Brice and Cole Swindell as well as Latin bands Caifanes and Bronco. For more information, contact Katharine Sherrer, MGM Resorts International, ksherrer@mgmresorts.com.
CONTACTS
Maria Phelan

LVCVA

United States

-
MORE FROM NEWS RELEASES
SUBSCRIBE TO RSS FEED
XML