Las Vegas Celebrates Global Meetings Industry Day 2021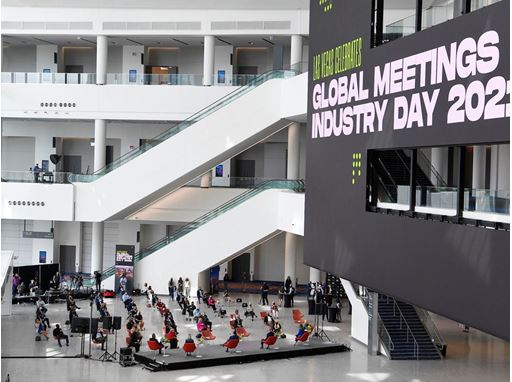 On Thursday, April 8, 2021 the Las Vegas Convention and Visitors Authority (LVCVA) joined leaders from across the Las Vegas meetings and convention industry including Caesars Entertainment, MGM Resorts International, The Venetian and The Palazzo and Wynn Las Vegas to celebrate Global Meetings Industry Day (GMID) with a panel discussion.
"This year Global Meetings Industry Day is especially meaningful to us because larger meetings are coming back to Las Vegas, and the destination is stronger than ever. We're known for providing unparalleled facilities and services, and those offerings have only improved over the past year," said Steve Hill, CEO/President of the LVCVA. "New and expanded meetings and convention venues have added 35 percent more space, totaling more than 14 million square feet citywide. To keep up with the 1.4 million-square-foot West Hall expansion at the Las Vegas Convention Center, this spring we'll debut the first-of-its-kind Convention Center Loop, developed by Elon Musk. The future is here, and we're ready to fast forward to business."
Moving forward and the return to meeting with confidence was the sentiment echoed throughout the special panel event in celebration of the meetings, conventions and trade show industry, which attracted industry leaders including Hill and fellow panelists Chandra Allison, Senior Vice President of Sales & Marketing, The Venetian Resort; Chris Flatt, Executive Vice President of Hotel Sales & Marketing, Wynn Resorts; Stephanie Glanzer, Chief Sales Officer & Senior Vice President of Sales, MGM Resorts International, and Michael Massari, Chief Sales Officer, Caesars Entertainment.
"As the meetings and events business resumes in Las Vegas, we look forward to hosting the meetings industry's leading organizations. Meeting Professionals International (MPI) in June, Cvent CONNECT in July, Professional Convention Management Association (PCMA) in January, and the NFL draft in April are among the groups that will utilize CAESARS FORUM; our new 550,000 square-foot conference center located in the center of the Las Vegas Strip featuring the world's two largest pillarless ballrooms," said Massari.
The Las Vegas convention industry is getting back to business, and the destination is gearing up to host its first major trade show in more than a year, Informa Markets' World of Concrete 2021. This show which will mark the debut of the Las Vegas Convention Center's (LVCC) new West Hall expansion and the innovative Convention Center Loop. The 1.4 million-square-foot addition joins the existing 3.2 million-square-foot campus. Finishing touches continue on the Convention Center Loop, an underground tunnel system that will transport meeting attendees throughout the entire campus in all-electric Tesla vehicles, free of charge. The LVCVA also recently acquired the Las Vegas Monorail, preserving this important transportation solution for meeting attendees. Both systems will be operational for events beginning in June and will adhere to strict health and safety protocols.
"Having been a part of the incredibly resilient Las Vegas meetings industry for many years, I have no doubt the city will rebound and come back even stronger, with new offerings and innovative solutions that speak to our new normal," said Glanzer. "It is encouraging to see meetings and trade shows committed to returning, and we are excited to welcome attendees back to the city we all know and love."
The LVCVA has launched two citywide campaigns to encourage visitors to remain smart and responsible while visiting the destination. The Meet Smart, Vegas Smart campaign includes links to the health and safety plans for meetings venues, information about the travel experience and what visitors can expect, and other resources including information regarding Nevada's COVID Trace App, current guidelines and mandates and more. The companion Vegas Smart campaign includes links to individual resort health and safety plans. Both campaigns include visuals used across the destination to remind both business and leisure visitors to keep appropriate distance, wash hands frequently and wear state-mandated facial coverings in public.
Nevada Governor Steve Sisolak recently expanded vaccine eligibility to all hospitality and food service workers in order to serve our guests safely, and as of April 5, all Nevadans aged 16 and older qualify. Las Vegas' hospitality workers are essential, as the backbone of our economy and our community.
"In-person meetings and tradeshows are critical for their ability to drive commerce and networking," said Allison. "As meetings safely return to Las Vegas, we stand ready to partner with meeting professionals to plan and host safe meetings, conventions, and tradeshows."
The LVCC and The Venetian Resort have been awarded the Global Biorisk Advisory Council (GBAC) STAR facility accreditation by ISSA, the world's leading trade association for the cleaning industry and considered the gold standard for safe facilities. Las Vegas resort partners also continue to meet and exceed guidelines mandated by state and county leaders and health officials with a comprehensive approach to implementing stringent Vegas Smart health and wellness protocols throughout the destination. Partners have received verifications including MGM Resorts International and The Venetian Resort's Health Pass technology from CLEAR, The Venetian Resort and Wynn Las Vegas' Sharecare Health Security VERIFIED® with Forbes Travel Guide and property-specific plans like MGM Resorts International's Convene with Confidence and Caesars Entertainment's Meeting & Events Health and Safety Protocols, and more.
"The excitement we are hearing from our clients about returning to in-person events is an indication of how the entire industry is ready to come back bigger and better than before," said Flatt.
In May 2020, Trade Show News Network (TSNN) recognized Las Vegas as the No. 1 trade show destination in the country for the 26th consecutive year after hosting 41 of the largest trade shows in North America. The Consumer Technology Association's CES 2020 topped TSNN's list of top trade shows with more than 2.9 million square feet of exhibit space throughout the destination. Las Vegas welcomed more than 6.6 million business travelers in 2019 and spending by visitors attending conventions directly supported 43,500 jobs, generating more than $11.4 billion in overall economic impact.  
In addition to the LVCC's West Hall expansion, development continued on a number of major projects in 2020 totaling more than 2 million square feet of new meeting space, bringing the citywide total to more than 14 million square feet, with more planned later in 2021. These innovative new spaces will enhance the meeting experience and show that Las Vegas is moving ahead to lead in a new era of business.
The destination also recently welcomed two new resorts, with a third, Resorts World, set to open this summer, becoming the first ground-up new resort on the Las Vegas Strip in more than 10 years.
GMID is an observance launched by the Meetings Mean Business Coalition in an effort to showcase the real impact that business meetings, conferences, conventions, incentive travel, trade shows and exhibitions have on people, business and communities. Meetings Mean Business Coalition, an extension of U.S. Travel, provides resources to promote and defend the value of business meetings and travel on our economy. U.S. Travel continues to be a leading voice in reminding policymakers of the value of government meetings and travel under all fiscal environments.
For more information about Las Vegas as a business destination visit VegasMeansBusiness.com.
###
ABOUT THE LVCVA
The Las Vegas Convention and Visitors Authority (LVCVA) is charged with marketing Southern Nevada as a tourism and convention destination worldwide and with operating the 4.6 million square-foot Las Vegas Convention Center (LVCC). With nearly 150,000 hotel rooms and 14 million square feet of meeting and exhibit space in Las Vegas alone, the LVCVA's mission centers on attracting leisure and business visitors to the area. The LVCVA also owns the Convention Center Loop, an underground tunnel designed by The Boring Company to transport convention attendees throughout the 200-acre LVCC campus in all-electric Teslas free of charge. It also owns the Las Vegas Monorail, an elevated 3.9-mile system with seven stops throughout the resort corridor. Both transportation systems will operate when conventions reconvene. For more information, go to https://www.lvcva.com/, https://www.visitlasvegas.com/ or https://www.vegasmeansbusiness.com/.
CONTACTS
Maria Phelan

LVCVA

United States

-
MORE FROM NEWS RELEASES
SUBSCRIBE TO RSS FEED
XML