Las Vegas and Matador Network Dispatch Global Digital Influencers for a #NonStopVegas Ride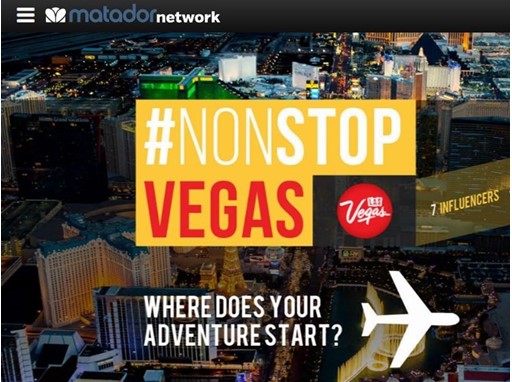 LAS VEGAS – Matador Network, the world's largest independent travel media company, in partnership with Las Vegas, one of the most visited destinations in the world with an annual count of 42.3 million travelers, dispatched eight international tastemakers from their home countries of Brazil, Denmark, Mexico, South Korea, Canada and the UK to Las Vegas for the ultimate media, influencer and destination content collaboration. The aptly named campaign #NonStopVegas was designed to underscore the accessibility to the destination via non-stop flights from each of the international markets and the allure of Las Vegas, while simultaneously driving deep engagement and increasing visibility for all the brands and partners involved. Las Vegas is an extremely accessible travel destination with more than 200 weekly flights from 19 international cities.
This campaign marks the first time a destination marketing organization has partnered with international airlines to bring awareness of carriers, routes and even available packages through a digital content campaign.
With the rise of engagement editors, and a Twitter study revealing that online influencers have as much sway on purchasing decisions as friends and family, it's no wonder that digital influencer marketing is critical to connecting with a targeted demographic. Matador and Las Vegas have come together to harness that power through a multi-platform storytelling strategy across YouTube, Instagram, Facebook, Twitter, Snapchat and Matador's channels - the site pulling in more than nine million visitors per month, a dedicated #NonStopVegas page, and two million social media followers.
"Branded content with savvy creators is the new surefire way to break into the consumer's consideration set, reach them in an environment they feel comfortable, and inspire them to act," says Scott Brannon, director of partnerships at Matador Network. "Our program is reaching millions of engaged viewers with brand-aligned content by way of a highly trusted spokesperson in their native languages. You are basically bottling sacred word-of-mouth advertising at a staggering, global scale."
"We have seen the importance of educating international audiences on the evolution of Las Vegas in an authentic and meaningful way," said Nick Mattera, senior director of digital engagement for the Las Vegas Convention and Visitors Authority. "We felt by giving these content creators a blank canvas to explore the destination, we could shift perception and increase excitement for Las Vegas in international markets where there are direct flights."
After establishing the goals and honing in on the concept, Matador handpicked content creators, well-known and respected in their home markets, from its extensive network to showcase ziplining across the expanse of downtown Las Vegas' Fremont Street Experience; journeying into the Grand Canyon by helicopter; racing premium luxury cars at SpeedVegas flying over the massive dunes beyond the city in dune buggies; taking in the Vegas Strip from the High Roller, the world's tallest observation wheel; experiencing world-renowned Cirque Du Soleil performances (and getting rare glimpses into their rehearsals); swaying to the beats in some of the hottest nightclubs in the city;  and everything else Las Vegas has to offer all summer long:
●     All the way from Brazil, Maddu flew in on Copa Airlines to showcase luxury and the finer activities through YouTube, Instagram, Twitter, and Snapchat.
●     NoMeRevientes jetted in from Mexico City via Aeromexico to create unique videos to share across NoMeRevientes, Joe Trouble/Pepe Problemas, and Luisito Comunica channels on YouTube, Facebook, Instagram, Snapchat, and Twitter.
●     Representing the Nordic countries, Bobby Anwar jumped on a Norwegian Air flight from Denmark to put up some enviable pics on Instagram.
●     Korean Englishman traversed the globe by way of Korean Air to flex their video skill muscles for their highly followed YouTube channel.
●     From across the pond, Rich McCor will fly in on British Airways to transform Las Vegas landmarks with his renowned paper cutouts for his wildly popular Instagram account in late June.
●     Joann Pai whisked down from Vancouver by Air Canada to showcase her #NonStopVegas experience through her Instagram filter.
Following the campaign, Las Vegas and Matador will have a wealth of compelling content and a prime case study for the power of digital endorsements that will continue to be shared throughout the social sphere. To date, the campaign has seen more than 1.5 million views on YouTube and 23,300+ are the average engagements on Instagram.
For more information on the influencers and partners involved, visit the newly minted #NonStopVegas page NonStopVegas​. 
CONTACTS
Amanda Peters

LVCVA

United States

702-892-0711
MORE FROM NEWS RELEASES
SUBSCRIBE TO RSS FEED
XML